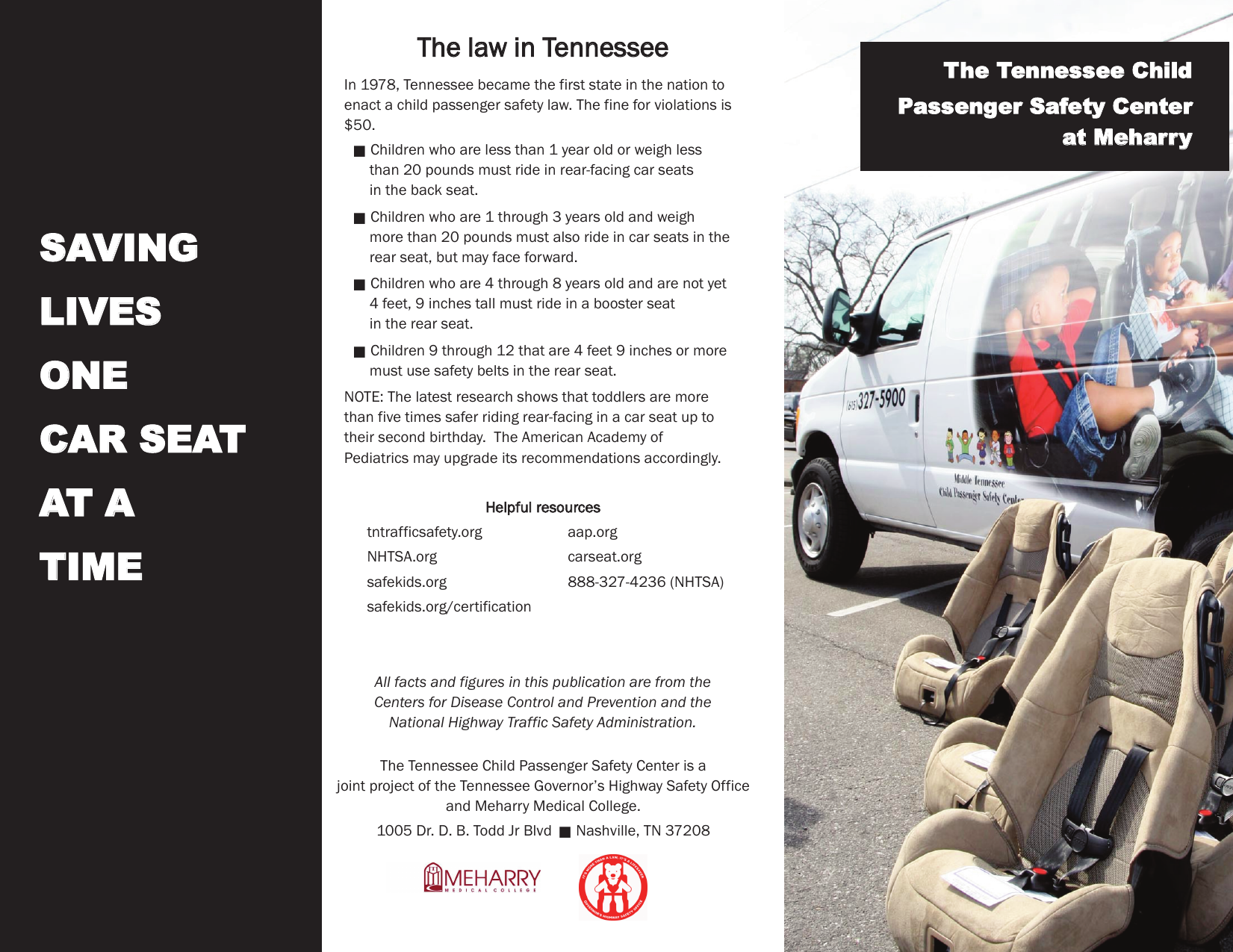 The law in Tennessee
In 1978, Tennessee became the first state in the nation to
enact a child passenger safety law. The fine for violations is
$50.
SAVING
LIVES
ONE
CAR SEAT
AT A
TIME
Children who are less than 1 year old or weigh less
than 20 pounds must ride in rear-facing car seats
in the back seat.
Children who are 1 through 3 years old and weigh
more than 20 pounds must also ride in car seats in the
rear seat, but may face forward.
Children who are 4 through 8 years old and are not yet
4 feet, 9 inches tall must ride in a booster seat
in the rear seat.
Children 9 through 12 that are 4 feet 9 inches or more
must use safety belts in the rear seat.
NOTE: The latest research shows that toddlers are more
than five times safer riding rear-facing in a car seat up to
their second birthday. The American Academy of
Pediatrics may upgrade its recommendations accordingly.
tntrafficsafety.org
Helpful resources
NHTSA.org
safekids.org
safekids.org/certification
aap.org
carseat.org
888-327-4236 (NHTSA)
All facts and figures in this publication are from the
Centers for Disease Control and Prevention and the
National Highway Traffic Safety Administration.
The Tennessee Child Passenger Safety Center is a
joint project of the Tennessee Governor's Highway Safety Office
and Meharry Medical College.
1005 Dr. D. B. Todd Jr Blvd
Nashville, TN 37208
The Tennessee Child
Passenger Safety Center
at Mehar r y
Why use a
booster
seat?
Are car seats that important?
Yes. Motor vehicle crashes are the leading cause of
pediatric mortality in the U.S. Child safety seats reduce
fatal injury in passenger cars by 71 percent for infants
less than 1 year old and by 54 percent for toddlers 1 to 4
years of age. For children 4 to 7 years of age, booster
seats have been shown to reduce injury risk by 59 percent
compared to safety belts alone.
But I have a car seat!
Three out of four children are in misused car seats. The
most common misuses are a loose seat belt securing the
car seat and a loose harness securing the child.
How do I know my seat is installed correctly?
See a certified child passenger safety technician or
come to the Tennessee Child Passenger Safety
Center (TNCPSC) at Meharry Medical College. Call us toll
free at 855-425-1137 or go to www.tntrafficsafety.org to
locate a technician near you.
Certification? To install car seats?
That's right. There are hundreds of car seats on the
market and numerous makes and models of vehicles.
There are height and weight requirements for four stages
of child development. There are seat recalls and state
laws. Technicians undergo a 32-hour training to know the
correct combinations of vehicle, car seat, and child. You
can rely upon your CPS technician.
The Tennessee CPS Center offers...
32-hour certification courses.
8-hour courses for lapsed certifications.
6-hour Continuing Education Units for certification renewal.
Contact the center if you are interested in certification or if
your workplace would like to know more about
becoming a fitting station for families in your area.
TN Child Passenger Safety Center at Meharry
Angela Brown
Program Manager
855-425-1137
Tennessee law requires
children to be in booster
seats if they are less
than 4'9" tall. If they
leave their booster
seats too soon they are
exposed to particular
injuries from their
seat belts. In fact,
emergency room doctors call these injuries to the neck and
midsection "seat belt syndrome."
A child is ready for a seat belt when...
The child sits all the way back against the car's seat.
The child's knees bend comfortably at the seat's edge.
The belt crosses the shoulder and rests on the collar
bone—not the neck.
The lap belt is as low as possible, touching the thigh,
bracing the hips.
The child can stay seated this way for the whole trip.
The BEST seat for your child?
Any and all! Despite what you may have heard, there are no
bad/better/best seats on the market today. All of them meet
Federal Motor Vehicle Safety Standards set forth by the
National Highway Traffic Safety Administration (NHTSA), and
any of them may be the best fit for your child and vehicle. The
best seat is the one that 1) fits your child, 2) fits your vehicle,
and 3) is easy to install—we want you to use it every time!
Who we are
and what we do
The Tennessee CPS Center is the
state-wide child passenger safety
program funded by the Tennessee
Governor's Highway Safety Office.
We establish fitting stations. Bring
your child in the family vehicle to a
fitting station and confirm that your
car seat is installed correctly. If not,
you'll be shown the right way at no
charge.
We certify technicians. The center
provides nationally recognized
training and administers certification
through the approving body, Safe
Kids USA, at no charge.
We conduct seat checks. The center
and its affiliated fitting stations
regularly host free seat checks in
communities throughout
Tennessee.
We spread the child passenger
safety message. The center works
with safety groups, churches,
schools, and law enforcement agencies to protect children in our communities. We provide educational
presentations, literature, and videos
to promote our safety endeavors
throughout Tennessee.
CPS STATE CONTACT
Deborah Scruggs
Program Administrator
Governor's Highway Safety Office
(615) 532-3149
deborah.scruggs@tn.gov
Call the TNCPSC, 855-425-1137
Or go to www.tntrafficsafety.org for more info.

* Your assessment is very important for improving the work of artificial intelligence, which forms the content of this project