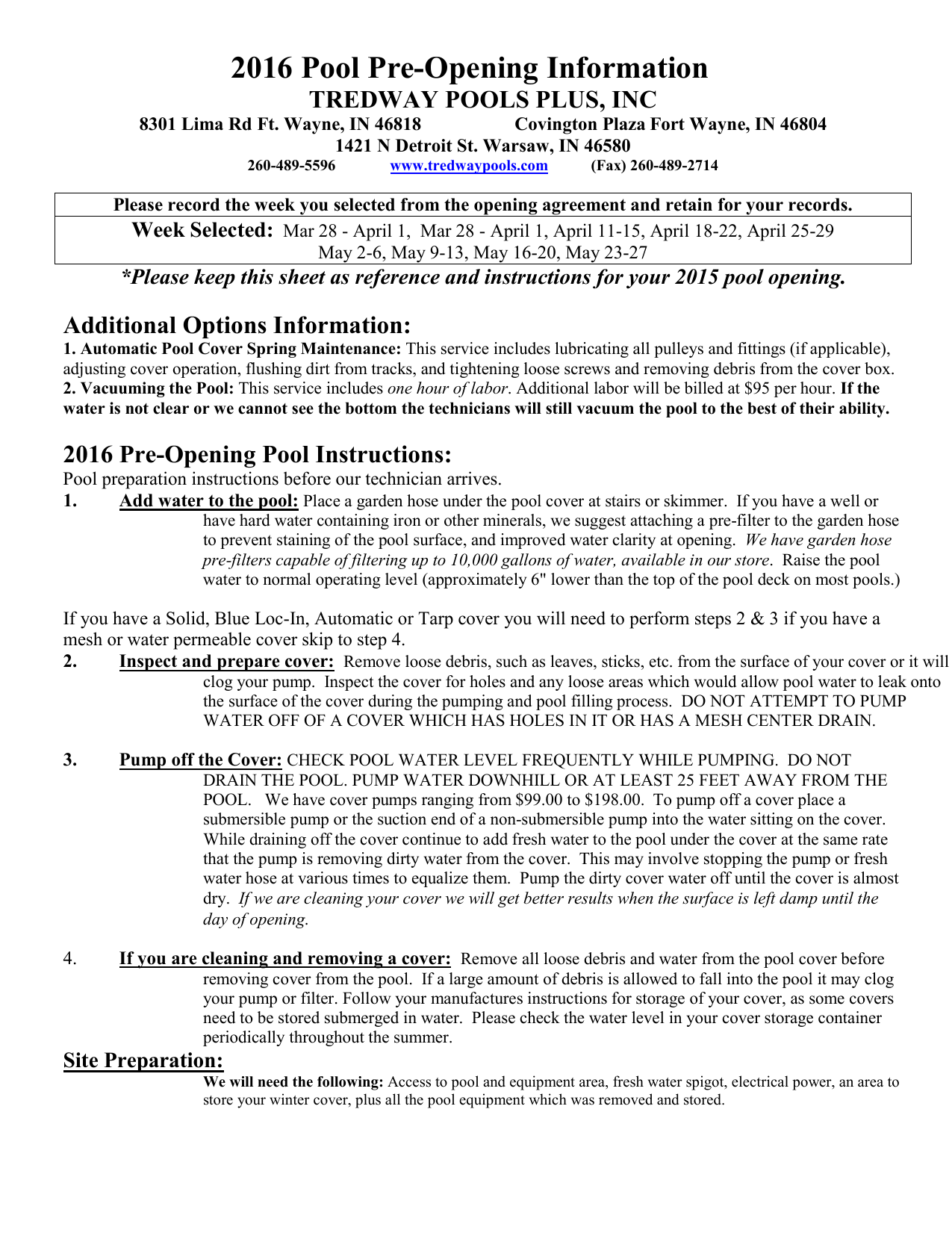 2016 Pool Pre-Opening Information
TREDWAY POOLS PLUS, INC
8301 Lima Rd Ft. Wayne, IN 46818
Covington Plaza Fort Wayne, IN 46804
1421 N Detroit St. Warsaw, IN 46580
260-489-5596
www.tredwaypools.com
(Fax) 260-489-2714
Please record the week you selected from the opening agreement and retain for your records.
Week Selected: Mar 28 - April 1, Mar 28 - April 1, April 11-15, April 18-22, April 25-29
May 2-6, May 9-13, May 16-20, May 23-27
*Please keep this sheet as reference and instructions for your 2015 pool opening.
Additional Options Information:
1. Automatic Pool Cover Spring Maintenance: This service includes lubricating all pulleys and fittings (if applicable),
adjusting cover operation, flushing dirt from tracks, and tightening loose screws and removing debris from the cover box.
2. Vacuuming the Pool: This service includes one hour of labor. Additional labor will be billed at $95 per hour. If the
water is not clear or we cannot see the bottom the technicians will still vacuum the pool to the best of their ability.
2016 Pre-Opening Pool Instructions:
Pool preparation instructions before our technician arrives.
1.
Add water to the pool: Place a garden hose under the pool cover at stairs or skimmer. If you have a well or
have hard water containing iron or other minerals, we suggest attaching a pre-filter to the garden hose
to prevent staining of the pool surface, and improved water clarity at opening. We have garden hose
pre-filters capable of filtering up to 10,000 gallons of water, available in our store. Raise the pool
water to normal operating level (approximately 6" lower than the top of the pool deck on most pools.)
If you have a Solid, Blue Loc-In, Automatic or Tarp cover you will need to perform steps 2 & 3 if you have a
mesh or water permeable cover skip to step 4.
2.
Inspect and prepare cover: Remove loose debris, such as leaves, sticks, etc. from the surface of your cover or it will
clog your pump. Inspect the cover for holes and any loose areas which would allow pool water to leak onto
the surface of the cover during the pumping and pool filling process. DO NOT ATTEMPT TO PUMP
WATER OFF OF A COVER WHICH HAS HOLES IN IT OR HAS A MESH CENTER DRAIN.
3.
Pump off the Cover: CHECK POOL WATER LEVEL FREQUENTLY WHILE PUMPING. DO NOT
DRAIN THE POOL. PUMP WATER DOWNHILL OR AT LEAST 25 FEET AWAY FROM THE
POOL. We have cover pumps ranging from $99.00 to $198.00. To pump off a cover place a
submersible pump or the suction end of a non-submersible pump into the water sitting on the cover.
While draining off the cover continue to add fresh water to the pool under the cover at the same rate
that the pump is removing dirty water from the cover. This may involve stopping the pump or fresh
water hose at various times to equalize them. Pump the dirty cover water off until the cover is almost
dry. If we are cleaning your cover we will get better results when the surface is left damp until the
day of opening.
4.
If you are cleaning and removing a cover: Remove all loose debris and water from the pool cover before
removing cover from the pool. If a large amount of debris is allowed to fall into the pool it may clog
your pump or filter. Follow your manufactures instructions for storage of your cover, as some covers
need to be stored submerged in water. Please check the water level in your cover storage container
periodically throughout the summer.
Site Preparation:
We will need the following: Access to pool and equipment area, fresh water spigot, electrical power, an area to
store your winter cover, plus all the pool equipment which was removed and stored.

* Your assessment is very important for improving the work of artificial intelligence, which forms the content of this project