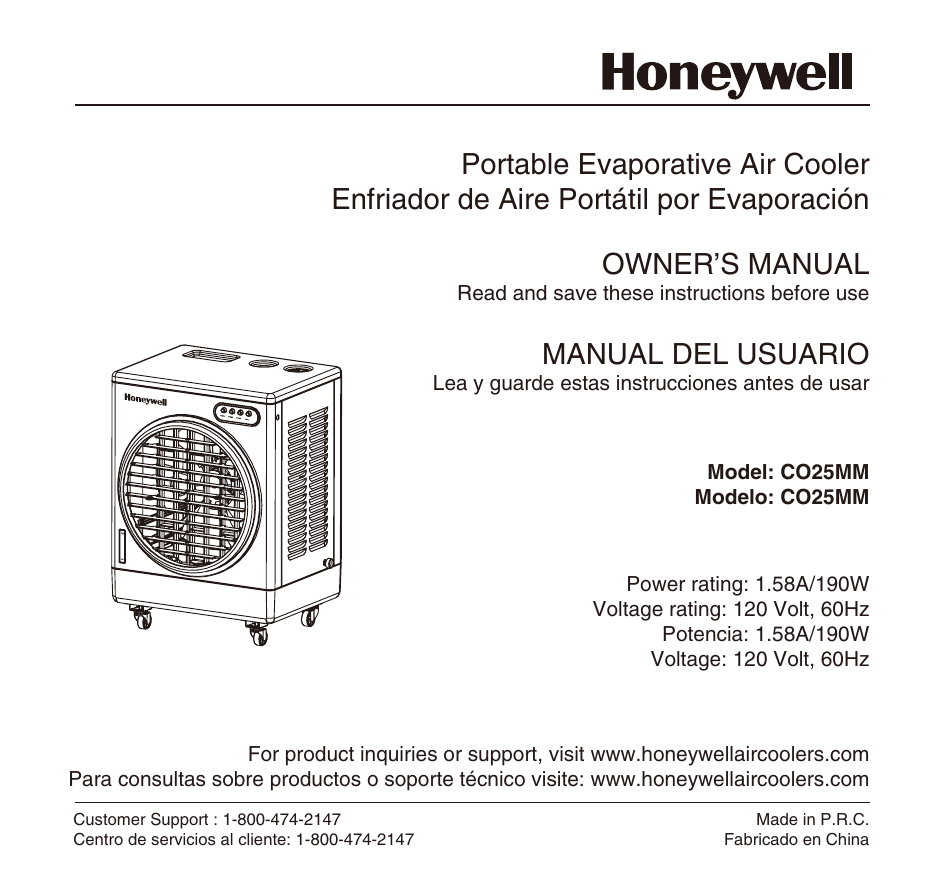 Portable Evaporative Air Cooler
Enfriador de Aire Portátil por Evaporación
OWNER'S MANUAL
Read and save these instructions before use
MANUAL DEL USUARIO
Lea y guarde estas instrucciones antes de usar
Model: CO25MM
Modelo: CO25MM
Power rating: 1.58A/190W
Voltage rating: 120 Volt, 60Hz
Potencia: 1.58A/190W
Voltage: 120 Volt, 60Hz
For product inquiries or support, visit www.honeywellaircoolers.com
Para consultas sobre productos o soporte técnico visite: www.honeywellaircoolers.com
Customer Support : 1-800-474-2147
Centro de servicios al cliente: 1-800-474-2147
Made in P.R.C.
Fabricado en China
QUICK START GUIDE
1
Fill with water and plug into a standard
power outlet.
Note: Please make sure the household power voltage
matches the product specifications.
2
3
Place near an open door or window.
Note : Evaporative air cooler requires cross ventilation.
Turn ON and enjoy the cooling breeze.
Note: Start with LOW speed and gradually increase
to higher speed for optimum cooling performance.
INDEX
Read all instructions carefully before setting up and operating the cooler, and keep this
instruction manual for future reference. This manual is designed to provide you with important information needed to setup, operate, maintain, and troubleshoot your cooler. Failure to
follow these instructions may damage and/or impair its operation and void the warranty.
SECTION
1.
2.
3.
4.
5.
PAGE
THANK YOU ..................................................................
.............................................
USER TIPS .........................................................
........................................................
SAFETY ......................................................................
................................................
PARTS DESCRIPTION .........................................................................................
USE & OPERATION .............................................................................................
Control panel .......................................................................................................
Control buttons ....................................................................................................
Filling with water ...................................................................................................
6. CLEANING & MAINTENANCE .............................................................................
7. TROUBLESHOOTING GUIDE ..............................................................................
8. TECHNICAL SPECIFICATIONS ...........................................................................
9. ELECTRICAL WIRING DIAGRAM ........................................................................
10. SERVICE AND WARRANTY ................................................................................
2
3
5
8
9
9
10
11
12
14
15
16
17
1
THANK YOU
Congratulations on your purchase of this versatile Honeywell Evaporative Air Cooler. For
optimum cooling from your cooler, please fill the water tank to maximum level and load ice
inside the ice compartment before you turn on your air cooler.
Cooler Location – Indoors (Important - Please Read!)
The cooler in front of an open door or window. Ensure that there is adequate cross - ventilation
in the room by leaving a door or window open opposite the cooler.
Following these guidelines will ensure your cooler will work as effectively as possible.
Not an Air Conditioner (Important - Please Read!)
The evaporative air cooler is not an air conditioner as it does not use a compressor or
refrigerant gas. It should not be expected to cool as efficiently as a refrigerated air conditioner.
2
USER TIPS
Energy Efficient, No Compressor
Honeywell Evaporative Air Coolers are built to maximize energy efficiency and keep costs low.
Warm air is drawn into the cooler through a dust and odor-reducing carbon filter and enters the
Honeycomb Cooling Media. Water pumped from the tank pours over the Honeycomb Cooling
Media. As the warm air passes through the Honeycomb Cooling Media, the water absorbs the
heat, naturally cooling and humidifying the air. A fan propels the cooled air out into the room. This
no-compressor system cools naturally, efficiently and inexpensively.
Honeycomb Cooling Media
Warm and
dry air
Cool and
humid air
Pump
Water
Evaporative Air Cooling Mechanism
3
USER TIPS
Indoor Use
The recommended maximum relative humidity level is 60% or
less, which allows a noticeable temperature decrease. The
temperature decrease will be greater in drier climates
because higher evaporation occurs when the humidity is low.
The evaporative air cooler should not be used in enclosed
spaces. It must be kept level and there must be water in the
water tank. The room should have doors and windows
opened to allow free air flow. The evaporative air cooler works
best when placed near an open window, so that outside air is
drawn into the evaporative air cooler, the air circulates in the
room, then exits via the door. The maximum cooling effect is
felt when a person is in the flow of air coming out of the
evaporative air cooler.
Room with open windows & door
(RECOMMENDED)
The evaporative air cooler can also be used to humidify dry
air during cool weather. To be used for humidification the
windows and doors should be closed to allow the humidified
air to accumulate.
Outdoor Use
Room with closed windows & door
(NOT-RECOMMENDED)
Unit should be placed a minimum 10 inches away from any wall.
NOTE (Important - Please Read!)
When the product is used for the first time the Honeycomb Cooling Media will have an odor
which will dissipate in a few hours or so of initial use.
4
SAFETY
READ AND SAVE THESE INSTRUCTIONS:
When using electrical appliances, basic safety precautions should always be followed:
• Your cooler runs on 120 Volt, 60 Hz current. Check the
household voltage to ensure it matches the appliance's rate
specification.
• Before operating the product remove it from its packaging
and check that it is in good condition.
• DO NOT operate any product with a damaged cord or plug.
We recommend not using an extension cord with this appliance.
• DO NOT run power cord under carpeting, or cover it with rugs
or runners. Keep the cord away from areas where it may be
tripped over.
• Always unplug the product before refilling the water tank.
• Always unplug the appliance from the power source before
cleaning, servicing or relocating the unit.
• Remove the power cord from the electrical receptacle by
grasping and pulling on the power cord plug-end only, never
pull the cord.
• DO NOT use the product in areas where gasoline, paint or
other flammable goods and objects are stored.
• When using the COOL setting, check the water tank to
ensure that it is full. Operation of this cooler on the COOL
setting with an empty tank may result in damage to the water
pump.
120V ~ 60Hz
Shock Hazard
Water Level Indicator
5
SAFETY
• DO NOT attempt repair or adjust any electrical or mechanical
functions of the cooler, as this may void the warranty.
• DO NOT cover the air inlet or outlet on the appliance as this
may cause motor damage.
• DO NOT insert or allow objects to enter any ventilation or
exhaust opening as this may damage the product and could
cause an electrical shock or fire.
• DO NOT operate with the Honeycomb media removed as this
will overload and damage the motor.
• DO NOT leave the operating appliance unattended for any
extended period of time.
• DO NOT let children play with this appliance, packaging or
plastic bags.
• If the unit is damaged or it malfunctions, do not continue to
operate it. Refer to the troubleshooting section and seek
professional advice.
• Place the unit on a level floor.
• This product is not intended for use in wet or damp locations.
• DO NOT use in bathrooms. Never locate the product where
it may fall into a bathtub or other water container.
• Store in a dry area when not in use.
• This appliance is not intended for use by persons (including
children or elderly) with reduced physical, sensory or mental
capabilities, or lack of experience and knowledge, unless they
have been given supervision or instruction concerning use of
the appliance by a person responsible for their safety.
• Always Always grip the side handles to move the cooler.
Floor Level
6
SAFETY
• This appliance equipped with a GFCI plug, press the TEST button (then RESET button) every
month to assure proper operation.
• Power cords have to be contained. If they must run along the ground, make sure every inch
of them is secured so they will not be tripped over.
• The wiring and connections must be waterproof. Be sure the connections (to the air cooler)
never get wet. Your unit is waterproof, but everything attached to it must be waterproof, too.
• Set up your unit so it cannot be tripped over or wobble loose. It must rest on a solid
support.
Warning:
• To reduce the risk of fire or electric shock, do not use this appliance with any solidstate speed
control device.
• Installation must be performed in accordance with the requirements of NEC and CEC by
authorized personnel only.
• The source of electrical supply is to be disconnected prior to the beginning of any such servicing
or cleaning operations.
7
PARTS DESCRIPTION
1
11
2
3
10
9
4
5
13
8
1
2
3
4
5
6
7
8
Tray for Tools
Side Panel
Control Panel
Horizontal Louvers
Water Tank
Water Inlet Valve
Casters
7
6
8 Water Level Indicator
9 Lever for Horizontal Louvers
10 Back Panel
11 Water Inlet Cover
12 Water Drain Plug
13 Rear Grill Removal Screws
12
USE & OPERATION
CONTROL PANEL
POWER
SPEED
SWING
COOL
9
USE & OPERATION
CONTROL BUTTONS
POWER
Press to switch the unit ON or OFF.
SPEED
Press to adjust the fan speed between Low and High speed.
COOL
To begin cooling the desired area, press the COOL button. The
water pump will operate and you will feel the cooler air after the
honeycomb cooling media is completely wet.
POWER
SPEED
SWING
Vertical Louvers
Press the SWING button to activate automatic movement of the
louvers from left to right.
SWING
Horizontal Louvers
Manually adjust the horizontal louvers to change vertical airflow.
COOL
10
USE & OPERATION
FILLING WITH WATER ( Continuous Water Supply Connection)
• Connect a garden hose connector to the water inlet valve,
Make sure garden hose connector is well screwed with water
inlet valve.
• Connect water supply to the garden hose, and turn on water
supply.
• Water inside the tank will automatically refill once, it reaches
the Min. Level.
Water inlet valve
• Similarly, the water supply to the tank will stop, once the tank
is full, and reaches Max. Level.
WARNING
• Maximum water inlet pressure 0.5 MPa.
FILLING WITH WATER (Manual Operation)
• Water tank can be refilled by using water inlet hole on the top
of unit.
11
CLEANING & MAINTENANCE
IMPORTANT
• The cooler is supplied with Honeycomb Cooling Media.
• The cleaning frequency for the Honeycomb Cooling Media depends on local air and
•
•
•
water conditions. In areas where the mineral content of water is high, mineral deposits may build
up on the Honeycomb Cooling Media and restrict air flow. Draining the water reservoir and refilling
with fresh water at least once a week will help reduce mineral deposits. If mineral deposits remain
on the Honeycomb Cooling Media, it should be removed and washed under fresh water. The
Honeycomb Cooling Media should be cleaned every two months or sooner, depending on your
needs.
Do not run the unit in COOL mode with stale water in the tank. It is recommended to empty the
tank and refill it with fresh water if the water has been standing in the tank for an extended period
of time.
For best results, allow the Honeycomb Cooling Media to dry after each use by turning off the cool
function 15 minutes before turning the unit off.
Draining the water reservoir and refilling with fresh water at least once a week will greatly reduce
mineral deposits in the pads and help to extend the life of Honeycomb Cooling Media.
WARNING
• Before cleaning the unit, switch it to the off position and remove the plug from the power socket.
• To clean the outside, use a damp cloth to remove dirt and dust.
• Never use corrosive elements or any chemicals to clean this product.
• When the product is not in use, store the unit in a dry place out of direct sunlight.
12
CLEANING & MAINTENANCE
DRAINING AND CLEANING THE WATER TANK
• Turn the power off and disconnect the unit from power supply.
• Move the unit to a location where it can be drained and remove the
•
•
drainage tube/cap.
Once the tank is empty, refill with clean water and drain it again.
This should be repeated weekly to maintain the integrity of the unit
and to remove particles filtered from the air.
Once the tank is clean, refill the water tank. The unit is now ready to
be used again.
Water Drain Plug
CLEANING THE HONEYCOMB COOLING MEDIA
• Turn off the unit, and unplug the power cord from wall Fig.1
Honeycomb
Holder
outlet.
• Rotate
•
•
•
•
the unit facing the back panel, and locate the Honeycomb
Rear Grill Removal Screws.
Back Panel
Remove both the screws with a screw driver (refer fig. 1).
Pull the rear grill panel upwards, untill it is completely
removed.
Now, the honeycomb media can be seen. Clean both the Fig.2
pads with clean cloth to remove all the dust & dirt
particles.
Honeycomb
Repeat the same procedure in order to remove the
honeycomb pad from the side panel (refer to fig.2).
Back Panel
Once, the cleaning has been performed, assemble the
unit back in the same fashion as described above.
Screw
Back Panel
Honeycomb
Holder
Screw
Side Panel
13
TROUBLESHOOTING GUIDE
PROBLEM
POSSIBLE CAUSE
SOLUTION
No discharge of air
Cord is not plugged in.
Make sure power cord is
plugged in and the supply
switch is ON.
Power is not ON.
Turn the unit ON by pressing
button on the control panel.
Pump is not turned ON.
Turn on COOL function from
Control Panel
Low or no water in tank,
when COOL is selected.
Refill water tank.
Damaged Pump or Calcium
deposits on blower.
Contact Customer Service
Center.
When the Cooler is new.
When the unit is used for the
first time, the Honeycomb
Cooling Media will have an
odor, which will dissipate
within a few hours of initial use.
If the Cooler has been used.
There may be an algae issue.
Replace the Honeycomb Cooling
Media.
Not Cooling / Unit is
making noise
Odors
Customer Support: 1-800-474-2147
14
TECHNICAL SPECIFICATIONS
MODEL NO.
Voltage
Frequency
Wattage
Ampere
Water Tank Capacity
Cooling Media
Product Dimension
Net Weight
CO25MM
120V
60Hz
190 Watts
1.58 A
6.6 Gallons
Honeycomb
24.0(L) x 19.0(W) x 32.5(H)inch
46.3 lbs
NOTE
This unit is supplied with three (3) Honeycomb Cooling Media's located on the back &
two sides.
15
ELECTRICAL WIRING DIAGRAM
16
SERVICE AND WARRANTY
1-YEAR LIMITED WARRANTY
Read all the instructions before attempting to use this product.
This 1 year limited warranty applies to repair or replacement product found to be defective in
material or workmanship.
A. This warranty does not apply to any damage resulting from commercial, abusive, unreasonable
use or supplemental damage. Defects that are the result of normal wear and tear will not be
considered manufacturing defects under this warranty.
JMA NORTH AMERICA LLC IS NOT LIABLE FOR INCIDENTAL OR CONSEQUENTIAL
DAMAGES OF ANY NATURE. ANY IMPLIED WARRANTY OF MERCHANTABILITY OR
FITNESS FOR A PARTICULAR PURPOSE ON THIS PRODUCT IS LIMITED IN DURATION
TO THE DURATION OF THIS WARRANTY.
Some jurisdictions do not allow the exclusion or limitation of incidental or consequential
damages or limitations on how long an applied warranty lasts, so the above limitations or
exclusions may not apply to you. This warranty gives you specific legal rights, and you
also may have other rights which vary from jurisdiction to jurisdiction. This warranty
applies only to the original purchaser of this product from the original date of purchase.
B. At its option, JMA NORTH AMERICA LLC will repair or replace this product if it is found to be
defective in material or workmanship.
C. This warranty does not cover damage resulting from any unauthorized attempts to repair or
from any use not in accordance with the instruction manual.
17
SERVICE AND WARRANTY
D. Please read the Instruction Manual carefully before setting up or using this product. If you
believe this product to be suffering from a manufacturing fault, or if you have inquiries about
this product, please contact our Customer Support:
CUSTOMER SUPPORT
JMA North America LLC
Mahwah, New Jersey 07495 USA
Phone : 1-800-474-2147
Email: info@jmana.us
Web: www.honeywellaircoolers.com
When contacting our Customer Support, please have the information below along with the
proof of purchase. All warranty requests must be accompanied by a proof of purchase, which
is a copy of the original receipt.
Model
: .......................................................................................................................
Date of purchase: .......................................................................................................................
Purchased from : .......................................................................................................................
18
GUÍA DE INICIO RÁPIDO
1
Llene con agua y conecte a una toma de
corriente estándar.
Nota: Por favor, asegúrese de que la toma de corriente
esta ajustada a la configuración correcta de acuerdo con
las especificaciones del producto.
2
Colocar cerca de una puerta o ventana
abierta.
Nota: Enfriadores de aire por evaporación trabajan con
el mecanismo de enfriamiento por evaporación que
requiere una ventilación cruzada
3
Encienda y disfrutar de la brisa fresca.
Nota: Comience con velocidad baja y aumentar
gradualmente a una velocidad más alta para un
rendimiento óptimo de enfriamiento.
ÍNDICE
Lea todas las instrucciones cuidadosamente antes de de instalar y operar la unidad, y por
favor mantenga este manual de instrucciones para referencia futura. Este manual está
diseñado para ofrecerle información importante necesaria para instalar, operar, mantener y
solucionar problemas de su enfriador. No seguir estas instrucciones puede dañar y / o poner
en peligro el funcionamiento y anular la garantía.
SECCION
1.
2.
3.
4.
5.
PAGINA
GRACIAS .............................................................................................................
CONSEJOS PARA EL USUARIO ........................................................................
REGLAS DE SEGURIDAD ......................................................................
................................................
DESCRIPCIÓN DE PARTES ................................................................................
USO Y OPERACIÓN ............................................................................................
Panel de Control ..................................................................................................
Botones de Control ..............................................................................................
Llenar de agua.......................................................................................................
6. LIMPIEZA Y MANTENIMIENTO ...........................................................................
7. GUIA DE SOLUCION DE PROBLEMAS ..............................................................
8. ESPECIFICACIONES TECNICAS ........................................................................
9. DIAGRAMA DE CABLEADO ELECTRICO ..........................................................
10. SERVICIO Y GARANTIA ......................................................................................
20
21
23
26
27
27
28
29
30
32
33
34
35
19
¡GRACIAS!
Felicitaciones por su compra de este versátil Enfriador de aire por evaporación Honeywell.
Para un óptimo desempeño de su unidad, primero llénela con agua. Si dispone de hielo, eso
aumentará su potencia de enfriamiento. Por favor lea estas instrucciones cuidadosamente.
Importante: Colocaci n de Enfriador - Para uso en el interior
Situe el enfriador en frente de una ventana o puerta abierta. Aseguresé que hay una adecuada ventilación en la estancia dejando una puerta o ventana abierta en el otro lado del
enfriador. Si sigue estas instrucciones se asegurará que su enfriador trabajará de forma
efectiva.
Importante: No es un Aire Acondicionado
El enfriador de aire evaporativo no es un aire acondicionado ya que no utiliza un compressor
o gas refrigerante. No deberia esperar que enfrie tan bajo como un aire acondicinado.
20
CONSEJOS PARA EL USUARIO
FRÍO ~ EFICIENTE ~ NATURAL
El enfriamiento de aire por evaporación es la manera más natural de enfriamiento, similar a una
brisa que recorre un lago. Esta disminución de la temperatura de esta brisa produce un efecto
refrescante y relajante en la personas. El enfriador de aire evaporativo refresca el aire por medio de
la evaporación del agua. Cuando el agua se evapora del aire, se obtiene como resultado una
mezcla de moléculas de aire y agua. Este intercambio químico requiere calor que es tomado de las
moléculas del agua, resultando un enfriamiento de la temperatura del aire que sale del aparato.
Medio de enfriamiento Honeycomb
Aire Cálido
y seco
Aire Húmedo
y frío
Bomba
Agua
Mecanismo de enfriamiento de aire por Evaporación
21
CONSEJOS PARA EL USUARIO
Uso En El Interior
El nivel recomendado de humedad relativa máxima es 60% o
menos, lo que permite que se aprecie un descenso en la
temperatura. La disminución de temperatura será mayor en los
climas mas secos, porque una mayor evaporación es producida
cuando la humedad es baja.
El enfriador de aire no debe ser utilizado en espacios cerrados.
Se debe mantener el nivel de agua en el tanque. La habitación
debe tener puertas y ventanas abiertas para permitir el flujo de aire
libre. El enfriador de aire por evaporación funciona mejor cuando
se coloca cerca de una ventana abierta, de modo que el aire
exterior es succionado por el enfriador, el aire circula en el cuarto,
y luego sale a través de la puerta o ventana. El efecto de
enfriamiento máximo se siente cuando la persona esta ubicado
directamente en el flujo de aire que sale desde el enfriador.
El enfriador de aire también puede ser utilizado para humidificar
el aire seco durante el invierno. Para poder utilizarlo como un
humidificador, las puertas y ventanas deben estar cerradas para
permitir que se acumule el aire humidificado. El enfriador de aire
por evaporación no es un aire acondicionado, ya que no utiliza un
compresor o un gas refrigerante. No se debe esperar que enfrie el
ambiente tan eficientemente como un aire acondicionado de
refrigeración.
Operar con la ventana y puerta
abierta (RECOMENDADO)
Operar con la ventana y puerta
cerrada (NO RECOMENDADO)
Uso En El Exterior
La unidad debe ser colocada mínimo 10 pulgadas (25,40 cm) de distancia de cualquier pared.
NOTA:
Cuando se utiliza el producto por primera vez el panal Honeycomb de enfriamiento
emitirá un olor q se disipara aproximadamente en una semana después del uso inicial.
22
REGLAS DE SEGURIDAD
LEER Y GUARDAR ESTAS INSTRUCCIONES:
Cuando se usan aparatos eléctricas, las precauciones básicas de seguridad siempre se deben
seguir:
• Su enfriador funciona con 120 Voltios, 60 Hz de corriente.
Compruebe la tensión de la casa para asegurarse de que
coincida con la especificación de potencia del aparato.
• Antes de utilizar el producto de sacarlo de su embalaje y
comprobar que esta en buenas condiciones.
• NO utilice ningún producto con un cable o enchufe dañado.
No se recomienda utilizar un cable de extensión con este
aparato.
• NO pasar el cable eléctrico por debajo de alfombras.
Mantener el cable lejos de areas donde pueda causar
tropiezos.
• Desenchufe siempre el producto antes de volver a llenar el
tanque de agua.
• Siempre desconecte el aparato de la fuente de alimentación
antes limpieza, mantenimiento o reubicación de la unidad.
• Remover el cable eléctrico del toma corriente agarrar y jalar
solo del enchufe, nunca jalar del cable.
• NO use el producto en areas donde se encuentren productos
inflamables como gasolina o pintura.
• Al usar el ajuste COOL, por favor revisar que el tanque de
agua se encuentre lleno. El funcionamiento de esta unidad en
el ajuste COOL con un tanque vacio puede resultar en danos
a la bomba de agua.
120V ~ 60Hz
Peligro De Descarga Electrica
Indicador de Nivel de Agua
23
REGLAS DE SEGURIDAD
• NO intente reparar o ajustar cualquier función mecánica o
eléctrica del enfriador, ya que esto puede anular la garantía.
• NO cubra la salida o entrada de aire en el enfriador, ya que
esto puede causar daños al motor.
• NO introduzca ni permita que objetos ingresen en le sistema
de ventilación o escape ya que estoy puede dañar el producto
y causar una descarga eléctrica o incendio.
• NO operar sin el panal Honeycomb, ya que esto sobrecarga y
daña el motor.
• NO deje el aparato sin vigilancia de funcionamiento por un
periodo de tiempo prolongado.
• NO permita que los niños jueguen con el aparato, el empaque
o bolsas de plástico.
• Si la unidad esta dañada o no funciona adecuadamente,
descontinué su uso. Consulte la sección de solución de
problemas y/o por favor busque ayuda profesional.
• Coloque la unidad en un piso nivelado.
• Nunca coloque el productos donde pueda caer en un recipiente
con agua como la tina de baño.
• NO usar en baños.
• Cuando no este en uso, siempre almacénelo en un area seca.
• Este aparato no esta diseñado para el uso de niños, personas
mayores, personas con capacidad física, sensoriales, o
mentales reducidas, o con falta de experiencia y conocimiento,
a menos que han sido supervisadas o instruidos acerca del
uso del aparato por una persona responsable por su seguridad.
• Siempre utilice las manijas para movilizar la unidad.
24
Nivel Del Piso
REGLAS DE SEGURIDAD
• Este aparato está equipado con un enchufe GFCI, presione el botón TEST (luego el botón
RESET) cada mes para asegurar un funcionamiento adecuado.
• Los cables eléctricos tienen que estar protegidos. Si van a estar extendidos a lo largo del suelo,
asegúrese de que cada centímetro esté en perfecto estado y protegido para evitar tropiezos.
• El cable y los conectores tiene que ser resistentes al agua. Asegúrese de que las conexiones
(al refrigerador de aire) nunca se humedezcan. Su equipo es resistente al agua, pero todo
aquello que se le añada tiene que serlo también.
• Coloque su unidad en un lugar en el que no pueda tropezarse con ella y esté estable. Debe
apoyarse en un soporte firme.
Advertencia:
• Para reducir el riesgo de incendios o descargas eléctricas, no utilice este aparato con cualquier
dispositivo de velocidad de estado sólido de control.
• La instalación debe realizarse de acuerdo con los requisitos de NEC y CEC, únicamente por
personal autorizado.
• Desconectar el equipo de cualquier fuente de alimentación eléctrica antes de comenzar
cualquiera operación de mantenimiento o de limpieza.
25
DESCRIPCIÓN DE PARTES
1
11
2
3
10
9
4
5
12
13
8
1
2
3
4
5
6
7
26
Bandeja de Herramientas
Panel Lateral
Panel de Control
Rejillas Horizontales
Tanque de Agua
Válvula de Entrada de Agua
Ruedas
7
6
8 Indicador de Nivel de Agua
9 Palanca para Persianas Horizontales
10 Panel Trasero
11 Tapa para Entrada de Agua
12 Tapón de Drenaje
13 Desmontaje de tornillos de la parrilla trasera
USO Y OPERACIÓN
PANEL DE CONTROL
POWER
SPEED
SWING
COOL
27
USO Y OPERACIÓN
BOTONES DE CONTROL
ENCENDIDO (POWER)
Conectar el cable de alimentación para ENCENDER/APAGAR
el enfriador . Cada vez que ENCIENDA/APAGUE el ajuste de
VELOCIDAD ENFRIADO/CAMBIO DE TEMPERATURA,
dependerá del estado de su propio botón.
POWER
VELOCIDAD (SPEED)
Encender la velocidad del ventilador entre el Nivel Bajo y Alto.
FRÍO (COOL)
"Gire la perilla Enfriar a ON para encender el enfriamiento.
Tarda unos minutos obtener el resultado completo de esta
manera.
OSCILACIÓN (SWING)
Persianas verticales
Gire la perilla Oscilación a ON. Las persianas comenzarán
a moverse de derecha a izquierda de forma automática.
Persianas horizontales
Ajuste manualmente las persianas horizontales para cambiar
el flujo de aire vertical.
28
SPEED
SWING
COOL
USO Y OPERACIÓN
LLENADO DE AGUA (Conexión Continua Suministro de Agua)
• Conecte el conector de la manguera a la válvula de entrada
de agua, asegúrese que el conector de la manguera esté bien
atornillado a la vávula de entrada de agua.
• Conecte el suministro de agua a la manguera, y abra el
suministro de agua.
• El agua en el interior del tanque, se llenará una vez
automáticamente, alcanza el mínimo nivel.
Válvula de Entrada
de Agua
• Del mismo modo, el suministro de agua del tanque se
detendrá, una vez que el tanque esté lleno, y alcance el
máximo nivel.
PRECAUCION
• Presión máxima del agua 0.5 MPa.
ENTRADA DE AGUA (Manualmente)
• El tanque de agua se puede rellenar usando el orificio de
entrada de agua en la parte superior de la unidad.
29
LIMPIEZA Y MANTENIMIENTO
IMPORTANTE
• El equipo se entrega con el medio de enfriamiento Honeycomb.
• La frecuencia de limpieza del medio de refrigeración filtro Honeycomb depende de las
•
•
•
condiciones del aire y agua. En las zonas donde el contenido del mineral del agua es
alta, los depósitos de los minerales pueden acumularse en el área de refrigeración filtro
Honeycomb y restringir el flujo de aire. Vaciando el depósito de agua y rellenándolo con agua
potable por lo menos una vez a la semana ayudará a reducir los depósitos de los minerales.
Si los depósitos de los minerales permanecen en el medio de refrigeración Honeycomb, los
medios deben ser removidos y lavados bajo agua potable. Los medios deben limpiarse cada
dos meses o antes, dependiendo de sus necesidades.
No haga funcionar la unidad en modo FRIO con agua rancia en el tanque. Se recomienda vaciar
el tanque y rellenarlo con agua fresca si el agua ha estado estancada en el tanque durante un
periodo de tiempo prolongado.
Para mejores resultados, permita que el medio de enfriamiento Honeycomb se seque luego de
cada uso apagando la función de enfriamiento durante 15 minutos antes de apagar la unidad.
Vaciando el depósito de agua y rellenándolo de agua potable por lo menos una vez a la semana
reducirá en gran medida los depósitos de minerales en las almohadillas y ayudará a prolongar la
vida util de los medios de refrigeración del panal.
PRECAUCIÓN
• Antes de limpiar la unidad, apáguela y desenchufe la ficha del tomacorriente.
• Para limpiar la parte externa, use una tela húmeda para quitar la suciedad y el polvo.
• Nunca utilizar limpiadores abrasivos.
• Cuando no utilice el producto, guárdelo en un lugar seco y alejado de la luz solar directa.
30
LIMPIEZA Y MANTENIMIENTO
LIMPIEZA Y VACIAMIENTO DEL TANQUE DE AGUA
• Apagar el equipo y desconectar de la toma corriente.
• Desplace la unidad a una ubicación donde pueda vaciarse y quite
•
•
el tapón del tubo de drenaje.
Una vez que el tanque esté vacío, rellénelo con agua limpia y vuelva
a vaciarlo. Esto debería repetirse semanalmente para mantener la
integridad de la unidad y eliminar las partículas filtradas del aire.
Si el enfriador de aire no es usado por un período largo de tiempo, el
tanque de agua debe limpiarse al menos dos veces antes de usarse
nuevamente.
Tapón de Drenaje
LIMPIEZA EL MEDIO DE ENFRIAMIENTO HONEYCOMB
Fig.1
• Apagar el equipo y desconectar de la toma corriente.
Quite
los
tornillos
de
la
rejilla
posterior
situados
en
el
•
•
•
•
•
Honeycomb
panel posterior.
Panel
Retire ambos tornillos con un destornillador (ver fig. 1).
Trasero
Tire hacia arriba del panel de rejilla trasera para quitarla.
El medio Honeycomb está ahora expuesto y se puede
Panel Trasero
limpiar con un paño para quitar todo el polvo y las
Fig.2
partículas de suciedad.
Una vez que la limpieza se ha terminado, ensamblar la
unidad nuevamente como se describe arriba.
Honeycomb
Conectar a la toma corriente y encender el equipo.
Soporte
Honeycomb
(panal)
Tornillo
Soporte Honeycomb
(panal)
Tornillo
Panel Trasero
Panel Lateral
31
GUIA DE SOLUCION DE PROBLEMAS
PROBLEMA
POSIBLE CAUSA
SOLUCIÓN
No hay salida de aire
Cable eléctrico no esta
conectado
Asegúrese que el cable eléctrico
este enchufado y el interruptor
de alimentación en ON
La unidad no esta encendida
Intente prender la unidad
apretando los botones en el panel
de control
Bomba de agua no esta
prendida
Encienda la función COOL en
el panel de control
Nivel de agua bajo o vacio en
el tanque de agua, cuando se
selecciona función COOL
Rellenar el tanque de agua
No enfría / La unidad
hace ruido
Bomba de agua dañada o
Contacte el centro de servicio
depósitos de calcio en el soplador
Emisión de olor
32
Nueva unidad
Cuando la unidad es utilizada
por primera vez, el panal
Honeycomb emite un olor que
será disipado en una semana
después del uso inicial.
Unidad usada
Puede haber depósitos de algas
en el panel Honeycomb Cambiar el panel. Contacte el
centro de servicio.
Atención al cliente: 1-800-474-2147
ESPECIFICACIONES TÉCNICAS
MODELO NO.
Tensión
Frecuencia
Vatio
Amperes
Capacidad del tanque de agua
Medios de enfriamiento
Dimensiones del Producto
Peso Neto
CO25MM
120V
60Hz
190 Watts
1,58 A
25 Litros
Honeycomb
610(W) x 480(D) x 825(H)mm
21 kg
NOTA
Este equipo se suministra con tres (3) Medios de refrigeración Honeycomb situado en
la parte posterior y a los dos lados.
33
DIAGRAMA DE CABLEADO ELÉCTRICO
INTERRUPTOR
DE ALIMENTACIÓN
INTERRUPTOR
DEL MOTOR
MOTOR PARA
MOVIMIENTO OSCILANTE
GIRAR EL
INTERRUPTOR
DEL MOTOR
INTERRUPTOR
DE LA BOMBA
34
BOMBA
SERVICIO Y GARANTIA
GARANTÍA LIMITADA DE 1 AÑO
Lea todas las instrucciones antes de intentar utilizar este produto.
Esta garantía limitada de un año se aplica a la reparación o sustitución del producto siempre
que haya algún defecto de material o de manipulación.
A. La garantía no cubre ningún daño resultante de un uso comercial, abusivo o irracional, ni
daños causados intencionadamente. Los defectos resultantes del uso normal y la rotura no
se considerarán defectos de fabricación a efectos de esta garantía.
JMA NORTH AMERICA LLC NO ES RESPONSABLE DE LOS DAÑOS SECUNDARIOS O
DERIVADOS DE NINGUNA NATURALEZA. CUALQUIER GARANTÍA TÁCITA DE
COMERCIABILIDAD O DE PREPARACIÓN PARA UN USO CONCRETO DE ESTE
PRODUCTO QUEDA LIMITADA A LA DURACIÓN DE ESTA GARANTÍA.
Algunas jurisdicciones no permiten la inclusión o limitación de los daños accidentales o derivados
del uso o sobre el periodo de duración de la garantía, de forma que las limitaciones indicadas
pueden no afectarle. Esta garantía le otorga derechos legales específicos, pero usted también
puede tener otros derechos que varíen de una jurisdicción a otra. Esta garantía solamente se
aplicará al comprador original del producto y comenzará en la fecha original de la compra.
B. Dado el caso, JMA NORTH AMERICA LLC reparará o sustituirá este producto si se detecta
algún defecto de material o de manipulación.
C. La garantía no cubre el daño causado por cualquier intento no autorizado de reparar el producto,
ni el derivado de no utilizarlo de acuerdo con el manual de instrucciones.
35
SERVICIO Y GARANTIA
D. Por favor, lea el manual de instrucciones detenidamente antes de configurar o de utilizar este
producto. Si considera que este producto sufre un defecto de fabricación, o si tiene dudas
sobre el mismo, por favor contacte con nuestro Servicio de Atención al Cliente:
ATENCIÓN AL CLIENTE
JMA North America LLC
Mahwah, New Jersey 07495 USA
Phone : 1-800-474-2147
Email: info@jmana.us
Web: www.honeywellaircoolers.com
Cuando contacte con nuestro Servicio de Atención al Cliente, por favor tenga la siguiente
información preparada como prueba de compra. Todas las solicitudes de cobertura de la
garantía tendrán que ir acompañadas de una prueba de compra, que será una copia de la
factura original.
Model
: .......................................................................................................................
Fecha de compra: .......................................................................................................................
Punto de venta : .......................................................................................................................
36
JMA North America LLC
Mahwah, New Jersey 07495 USA
Phone : 1-800-474-2147
Email: info@jmana.us
Web: www.honeywellaircoolers.com
November 2013
© 2013 AirTek Int'l Corp. Ltd. All rights reserved.
The Honeywell Trademark is used under license from
Honeywell International Inc.
Honeywell International Inc. makes no representations
or warranties with respect to this product.
This product is manufactured by Airtek Int'l Corp. Ltd.