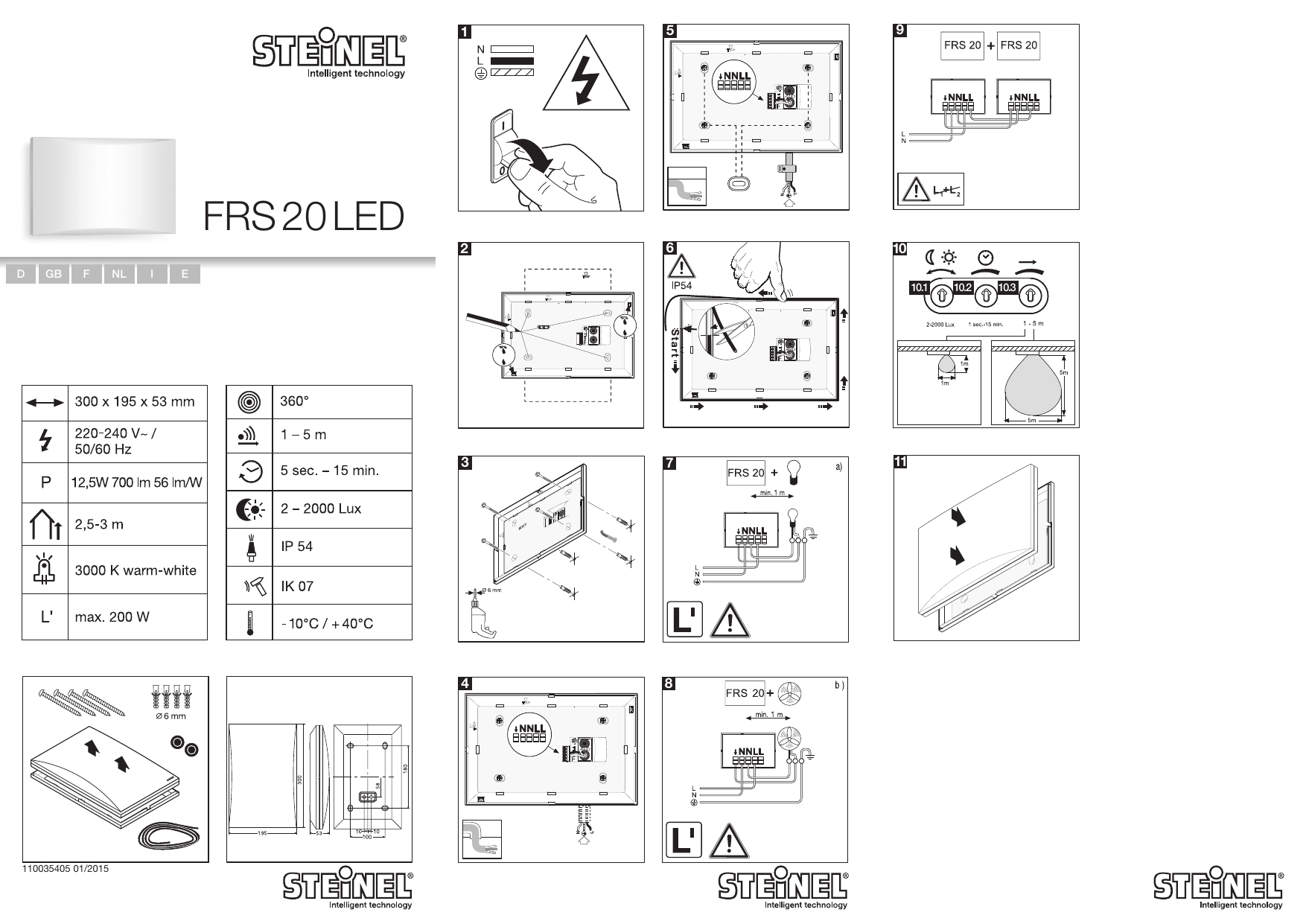 FRS 20 LED
D
GB
F
NL
I
E
P
S
DK
FIN
N
CZ
SK
PL
RO
SLO
HR
EST
LT
LV
RUS
110035405 01/2015
1
1
1
5
5
5
9
9
2
2
2
6
6
6
10
10 10
9
10.1 10.110.210.110.210.3
10.210.3 10.3
3
3
3
7
7
7
4
4
4
8
8
8
11
11 11
DEUTSCH
D
Das Prinzip
Die InnenSensorLeuchte ist ein aktiver Bewegungsmelder. Der integrierte HF-Sensor sendet hochfrequente elektromagnetische Wellen
(5,8 GHz) aus und empfängt deren Echo. Bei der kleinsten Bewegung im Erfassungsbereich der Leuchte, wird die Echoveränderung
vom Sensor wahrgenommen und das Licht für die eingestellte Zeit eingeschaltet. Eine Erfassung durch Türen, Glasscheiben oder dünne Wände ist möglich. Hinweis: Die Hochfrequenzleistung des HF-Sensors beträgt < 1 mW – das ist nur ein 1000stel der Sendeleistung eines Handys oder einer Microwelle.
Sicherheitshinweise
■Bei der Montage muss die anzuschließende elektrische Leitung spannungsfrei sein. Daher als Erstes Strom abschalten und
Spannungsfreiheit mit einem Spannungsprüfer überprüfen.
■Bei der Installation der Leuchte handelt es sich um eine Arbeit an der Netzspannung. Sie muss daher durch einen Fachmann nach
den landesüblichen Installationsvorschriften und Anschlussbedingungen durchgeführt werden. (k-VDE 0100, a-ÖVE-ÖNORM
E8001-1, h-SEV 1000)
■Nur Original-Ersatzteile verwenden.
■Gerät nicht selbst zerlegen. Die Reparatur darf nur durch eine Fachwerkstatt durchgeführt werden.
1 –W
9
Installationshinweise W
Wichtig:
Bei der Montage der InnenSensorLeuchte ist darauf zu achten, dass sie erschütterungsfrei befestigt wird.
Der Anschluss an einen Dimmer führt zur Beschädigung der InnenSensorLeuchte.
L = Phase (meistens schwarz oder braun), N = Neutralleiter (meistens blau), PE = Schutzleiter (grün/gelb)
Achtung: Schutzleiter bei Bedarf durchschleifen. Achtung: PE-Schutzleiter, falls vorhanden, mit Klebeband isolieren. In die
Netzzuleitung kann selbstverständlich ein Netzschalter zum Ein- und Ausschalten montiert sein. Wichtig: Ein Vertauschen der
Anschlüsse kann zur Beschädigung des Gereätes führen.
Anschluss eines zusätzlichen Verbrauchers:
An der InnenSensorLeuchte kann ein zusätzlicher Verbraucher mit max. 200 W (z.B. Bad-/WC-Lüfter oder zusätzliche Leuchte)
angeschlossen werden, der durch die Elektronik geschaltet wird.
10 – W
10.3
Funktion W
Bei manueller Inbetriebnahme der Leuchte über den Lichtschalter schaltet diese sich für die Einmessphase nach 10 Sek. AUS
und ist anschließend für den Sensorbetrieb aktiv. Ein erneutes Betätigen des Lichtschalters ist nicht erforderlich.
10.1 Dämmerungseinstellung (Ansprechschwelle) (Werkseinstellung: Tageslichtbetrieb 2000 Lux)
W
Stufenlos einstellbare Ansprechschwelle der Leuchte von 2 – 2000 Lux.
Einstellregler auf + gestellt = Tageslichtbetrieb ca. 2000 Lux.
Einstellregler auf – gestellt = Dämmerungsbetrieb ca. 2 Lux
Zur Einstellung des Erfassungsbereiches und für den Funktionstest bei Tageslicht ist der Einstellregler
auf Tageslichtbetrieb zu stellen.
10.2 Zeiteinstellung (Ausschaltverzögerung) (Werkseinstellung: 5 sec.)
W
Stufenlos einstellbare Leuchtdauer von 5 Sek. – 15 Min.
Einstellregler auf – gestellt = kürzeste Zeit 5 Sek. / Einstellregler auf + gestellt = längste Zeit 15 Min.
Durch jede erfasste Bewegung vor Ablauf dieser Zeit wird die Zeituhr erneut gestartet. Zur Einstellung des Erfassungsbereiches
und für den Funktionstest wird empfohlen, die kürzeste Zeit einzustellen.
Hinweis: Nach jedem Abschaltvorgang der Leuchte ist eine erneute Bewegungserfassung für ca. 1 Sekunde unterbrochen. Erst
nach Ablauf dieser Zeit kann die Leuchte bei Bewegung wieder Licht schalten.
W
10.3 Reichweiteneinstellung (Empfindlichkeit) (Werkseinstellung: 5 m)
Stufenlos einstellbare Reichweite von 1 m – 5 m
Einstellregler auf – gestellt = kürzeste Reichweite 1 m / Einstellregler auf + gestellt = längste Reichweite 5m
Betriebsstörungen (Störung / Ursache ➩ Abhilfe)
Ohne Spannung / Haussicherung defekt, nicht eingeschaltet, Leitung unterbrochen ➩ neue Haussicherung, Netzschalter einschalten, Leitung überprüfen mit Spannungsprüfer / Kurzschluss in der Netzzuleitung ➩ Anschlüsse überprüfen / Evtl. vorhandener
Netzschalter aus ➩ Netzschalter einschalten Schaltet nicht ein / Dämmerungseinstellung falsch gewählt ➩ neu einstellen / Leuchtmittel defekt ➩ Leuchtmittel austauschen / Netzschalter AUS ➩ einschalten / Haussicherung defekt ➩ neue Haussicherung, evtl.
Anschluss überprüfen Schaltet nicht aus / dauernde Bewegung im Erfassungsbereich ➩ Bereich kontrollieren Schaltet ohne
erkennbare Bewegung ein / Leuchte nicht bewegungssicher montiert ➩ Gehäuse fest montieren / Bewegung lag vor, wurde
jedoch vom Beobachter nicht erkannt (Bewegung hinter Wand, Bewegung eines kleinen Objekts in unmittelbarer Leuchtennähe etc.)
➩ Bereich kontrollieren, Reichweiteneinstellung minimieren Schaltet trotz Bewegung nicht ein / schnelle Bewegungen werden zur
Störungsminimierung unterdrückt oder Erfassungsbereich zu klein eingestellt ➩ Bereich kontrollieren
ENGLISH
The InteriorSensorLight is an active motion detector. The integrated HF-sensor emits high-frequency electromagnetic waves
(5.8 GHz) and receives their echo. The sensor detects the change in echo from even the slightest movement in the lamp's
detection zone and the light is switched on for the preset time. Detection is possible through doors, panes of glass or thin
walls. Note: The high-frequency output of the HF-sensor is < 1 mW – that's just one 1000th of the transmission power of a
mobile phone or the output of a microwave oven.
F
Safety warnings
9
1 –W
Installation W
■Pendant le montage, les conducteurs à raccorder doivent être hors tension. Il faut donc d'abord couper le courant et
s'assurer de l'absence de courant à l'aide d'un testeur de tension.
■L'installation de la lampe implique une intervention sur le réseau électrique. Elle doit donc être effectuée par un spécialiste
conformément aux directives locales et aux conditions de raccordement. (k-VDE 0100, a-ÖVE-ÖNORM E8001-1,
h-SEV 1000)
■Utiliser uniquement des pièces de rechange d'origine.
■Ne pas essayer de démonter soi-même l'appareil. Les réparations doivent être effectuées uniquement par un atelier spécialisé.
10 – W
10.3
Function W
Important :
Lors du montage, il faut veiller à ce que la lampe à détecteur pour l'intérieur soit fixée à l'abri d'éventuelles secousses.
Le raccordement à un variateur entraîne la détérioration de la lampe à détecteur pour l'intérieur.
L = phase (en général noir ou marron), N = neutre (en général bleu), PE = terre (vert/jaune)
Attention : boucler la terre si nécessaire. Attention : s'il y a un conducteur de terre, l'isoler avec du ruban adhésif. Il est bien
sûr possible de monter un interrupteur secteur sur le câble d'alimentation secteur permettant la mise en ou hors circuit de
l'appareil. Important : une inversion des branchements peut entraîner la détérioration de l'appareil.
Branchement d'un consommateur supplémentaire :
Un consommateur supplémentaire d'une puissance max. de 200 W (p.ex. aérateur de salle de bains/WC ou lampe supplémentaire) peut être raccordé à la lampe à détecteur pour l'intérieur et enclenché électroniquement.
■During installation, the electrical wiring being connected must be dead. Therefore, switch off the power first and use a voltage tester to check that the power supply is disconnected.
■Installing the light involves work on the mains voltage supply. This work must therefore be carried out by a specialist in
accordance with the applicable national wiring regulations and electrical operating conditions. (k-VDE 0100, a-ÖVEÖNORM E8001-1, h-SEV 1000)
■Only use genuine replacement parts.
■Do not dismantle the unit yourself. It must only be repaired by a specialist workshop.
Consignes de sécurité
Important:
Make sure the installation site is not subject to vibration.
Connection to a dimmer will damage the InteriorSensorLight.
L = Phase conductor (usually black or brown), N = Neutral conductor (usually blue), PE = protective-earth conductor (green/yellow)
Note: Loop the protective-earth conductor through if necessary. Note: Insulate any PE protective-earth conductor in the
power supply cable with adhesive tape. A mains switch for switching the unit ON and OFF may of course be installed in the
mains supply lead. Important: Reversing the connections may result in damage to the unit.
Connecting an additional load:
An additional load with max. 200 W (e.g. bathroom/WC fan extractor or additional light) can be connected to the
InteriorSensorLight, switched by the electronics.
1 –W
9
Conseils pour l'installation W
When the light is turned on manually at the light switch, it switches OFF after 10 secs. for the calibration phase and is then activated
for operation in the sensor mode. It is not necessary to operate the light switch a second time.
10.1 Twilight setting (response threshold) (factory setting: daylight operation 2000 lux)
W
The light's response threshold can be infinitely varied from 2 – 2000 lux.
Control dial set to + = daylight operation approx. 2000 lux.
Control dial set to – = twilight operation approx. 2 lux
The control dial must be set to daylight operation when adjusting the detection zone and performing the functional test in daylight.
W
10.2 Time setting (switch-off delay) (factory setting: 5 sec.)
Light ON time can be adjusted continuously from 5 sec to 15 min.
Control dial set to – = shortest time of 5 sec. / control dial set to + = longest time of 15 min.
Any movement detected before this time elapses will re-start the timer. The shortest time setting is recommended when
adjusting the detection zone and performing a functional test.
Note: After the light switches OFF, it takes approx. 1 sec. before it is able to start detecting movement again. The light will
only switch on in response to movement once this period has elapsed.
W Reach setting (sensitivity) (factory setting: 5 m)
10.3
Reach can be infinitely varied from 1 to 5 m
Control dial set to – = shortest reach of 1 m / control dial set to + = longest reach of 5 m.
10 – W
10.3
Fonctionnement W
Troubleshooting (Fault / Cause ➩ Remedy)
No voltage / house fuse faulty, not switched ON, break in wiring ➩ Renew house fuse, switch ON mains power switch, check
wiring with voltage tester / Short circuit in mains power supply ➩ Check connections / Any mains switch OFF ➩ Switch on
mains power switch Will not switch ON / Wrong twilight setting selected ➩ Reset / Bulb faulty ➩ Change bulb / Power
switch OFF ➩ Switch ON / House fuse faulty ➩ Renew house fuse, check connection if necessary Will not switch OFF / Permanent movement in detection zone ➩ Check zone Switches ON without any identifiable movement / Light not mounted
for detecting movement reliably ➩ Securely mount enclosure / Movement occurred, but not identified by the sensor (movement behind wall, movement of a small object in immediate lamp vicinity etc.) ➩ Check zone, reduce reach setting to a minimum Does not switch ON despite movement / Rapid movements are being suppressed to minimise malfunctioning or the
detection zone you have set is too small ➩ Check zone
Declaration of conformity
Funktionsgarantie
Functional Warranty
Dieses STEINEL-Produkt ist mit größter Sorgfalt hergestellt, funktions- und sicherheitsgeprüft nach geltenden Vorschriften und
anschließend einer Stichprobenkontrolle unterzogen. STEINEL übernimmt die Garantie für einwandfreie Beschaffenheit und Funktion. Die Garantiefrist beträgt 36 Monate und beginnt mit dem Tag des Verkaufs an den Verbraucher. Wir beseitigen Mängel, die
auf Material- oder Fabrikationsfehlern beruhen. Die Garantieleistung erfolgt durch Instandsetzung oder Austausch mangelhafter
Teile nach unserer Wahl. Eine Garantieleistung entfällt für Schäden an Verschleißteilen sowie für Schäden und Mängel, die durch
unsachgemäße Behandlung oder Wartung auftreten. Weitergehende Folgeschäden an fremden Gegenständen sind ausgeschlossen. Die Garantie wird nur gewährt, wenn das unzerlegte Gerät mit kurzer Fehlerbeschreibung, Kassenbon oder Rechnung (Kaufdatum und Händlerstempel), gut verpackt, an die zutreffende Servicestation eingesandt wird. Service: Nach Ablauf der Garantiezeit oder Mängeln ohne Garantieanspruch fragen Sie Ihre nächste Servicestation nach der Möglichkeit einer Instandsetzung.
FRANÇAIS
Le principe
La lampe à détecteur pour l'intérieur est un détecteur de mouvement actif. Le détecteur HF-intégré émet des ondes électromagnétiques à haute fréquence (5,8 GHz) et reçoit leur écho. Au moindre mouvement dans la zone de détection de la lampe,
le système détecte la modification de l'écho et la lumière est allumée pendant la durée réglée. L'appareil peut détecter les
mouvements à travers les portes, les vitres et les parois de faible épaisseur. Remarque : La puissance haute fréquence du
détecteur HF est < 1 mW – ce qui ne représente qu'un 1000ème de la puissance d'émission d'un téléphone portable ou d'un
four à micro-ondes.
Konformitätserklärung
Dieses Produkt erfüllt die Niederspannungsrichtlinie 2014/35/EG, EMV-Richtlinie 2014/30/EG, die RTTE-Richtlinie 1999/5/EG,
die RoHS-Richtlinie 2011/65/EG.
GB
Principle
This product complies with Low Voltage Directive 2014/35/EC, EMC Directive 2014/30/EC, RTTE Directive 1999/5/EC,
RoHS Directive 2011/65/EC.
This Steinel product has been manufactured with utmost care, tested for proper operation and safety and then subjected to
random sample inspection. STEINEL undertakes the guarantee for perfect condition and function. The warranty period is 36
months and starts on the date of sale to the consumer. We will remedy defects caused by material flaws or manufacturing
faults. The warranty will be met by repair or replacement of defective parts at our own discretion. The warranty shall not cover
damage to wear parts, damage or defects caused by improper treatment or maintenance. Further consequential damage to
other objects shall be excluded. Claims under warranty shall only be accepted if the product is sent fully assembled and
well packed complete with a brief description of the fault, a receipt or invoice (date of purchase and dealer's stamp) to the
appropriate service centre.
Service: Please ask your nearest service centre how to proceed for repairing faults not covered by the warranty or occurring
after the warranty expires.
Lorsque la lampe est mise en marche manuellement au moyen de l'interrupteur, elle s'éteint au bout de 10 s pour la phase
d'étalonnage et elle s'active ensuite pour le fonctionnement par détecteur. Il n'est pas nécessaire d'actionner à nouveau
l'interrupteur.
10.1 Réglage de crépuscularité (seuil de réaction) (réglage effectué en usine : fonctionnement diurne 2 000 lux)
W
Seuil de réaction de la lampe réglable en continu de 2 à 2 000 lux.
Bouton de réglage positionné sur + = fonctionnement diurne env. 2000 lux.
Bouton de réglage positionné sur – = fonctionnement nocturne env. 2 lux.
Pour régler la zone de détection et effectuer un test de fonctionnement en lumière du jour, il faut placer le bouton de réglage
sur fonctionnement diurne.
10.2 Minuterie (temporisation de l'extinction) (réglage effectué en usine : 5 s)
W
Durée d'éclairage réglable en continu de 5 s à 15 min.
Bouton de réglage sur – = durée minimale de 5 s / Bouton de réglage sur + = durée maximale de 15 min
La minuterie redémarre à chaque détection d'un mouvement avant la fin de cette durée. Pour effectuer le réglage de la zone
de détection et le test de fonctionnement, nous recommandons de mettre la vis de réglage en butée à gauche (minimum).
Remarque : après chaque extinction de la lampe, une nouvelle détection du mouvement est interrompue pendant 1 seconde
environ. Ce n'est qu'à l'issue de ce laps de temps que la lampe peut à nouveau enclencher la lumière en cas de mouvement.
10.3 Réglage de la portée (sensibilité) (réglage effectué en usine : 5 m)
W
Portée réglable en continu de 1 m à 5 m
Bouton de réglage sur – = portée minimale d'1 m / Bouton de réglage sur + = portée maximale de 5 m
Dysfonctionnements (Problèmes / Causes ➩ Remèdes)
N'est pas sous tension / fusible de la maison défectueux, appareil hors circuit, câble coupé ➩ changer le fusible défectueux,
mettre l'interrupteur en circuit, vérifier le câble à l'aide d'un testeur de tension / court-circuit dans le câble secteur ➩ contrôler
les branchements / un interrupteur éventuellement installé est en position arrêt ➩ mettre l'interrupteur en circuit Ne s'allume
pas / mauvais choix du réglage de crépuscularité ➩ régler de nouveau / ampoule défectueuse ➩ remplacer l'ampoule /
interrupteur en position ARRÊT ➩ mettre en circuit / fusible de la maison défectueux ➩ remplacer le fusible défectueux,
contrôler éventuellement les branchements Ne s'éteint pas / mouvement continu dans la zone de détection ➩ contrôler la
zone détection S'allume sans mouvement décelable / la lampe est mal fixée et bouge ➩ fixer solidement le boîtier / il y a
bien eu un mouvement, mais il n'a pas été reconnu par l'observateur (mouvement derrière un mur, mouvement d'un petit objet
à proximité immédiate de la lampe etc.) ➩ contrôler la zone de détection, réduire au minimum le réglage de la portée
Ne s'allume pas malgré un mouvement décelé / des mouvements rapides passent pour des dysfonctionnements minimes
et sont réprimés ou bien le réglage de la zone de détection est trop faible ➩ contrôler la zone de détection
Déclaration de conformité
Le produit est conforme à la directive basse tension 2014/35/CE, à la directive compatibilité électromagnétique 2014/30/CE, à
la directive RTTE 1999/5/CE, à la directive RoHS 2011/65/CE.
Garantie de fonctionnement
Ce produit Steinel a été fabriqué avec le plus grand soin. Son fonctionnement et sa sécurité ont été contrôlés conformément
aux directives en vigueur et il a été soumis à un contrôle final par sondage. STEINEL garantit un état et un fonctionnement
irréprochables. La durée de garantie est de 36 mois et débute au jour de la vente au consommateur. Nous remédions aux
défauts provenant d'un vice de matière ou de construction. La garantie sera assurée à notre discrétion par réparation ou
échange des pièces défectueuses. La garantie ne s'applique ni aux pièces d'usure, ni aux dommages et défauts dus à une
utilisation ou maintenance incorrectes. Les dommages consécutifs causés à d'autres objets sont exclus de la garantie. La
garantie ne s'applique que si l'appareil non démonté est retourné au service après-vente le plus proche, dans un emballage
adéquat, accompagné d'une brève description du défaut et d'un ticket de caisse ou d'une facture portant la date d'achat et le
cachet du vendeur. Service après-vente : Une fois la garantie expirée ou en cas de vices non couverts par la garantie, veuillez contacter la station de service après-vente la plus proche pour savoir si une remise en état est possible.
NEDERLANDS
NL
ITALIANO
I
ESPAÑOL
Het principe
Il principio
El concepto
Veiligheidsvoorschriften
Avvertenze sulla sicurezza
Indicaciones para la seguridad
De binnensensorlamp is een actieve bewegingsmelder. De geïntegreerde HF-sensor zendt hoogfrequente elektromagnetische golven
(5,8 GHz) uit en vangt de echo daarvan op. Bij de kleinste beweging in het registratiebereik van de lamp wordt de echoverandering
van de sensor waargenomen en het licht voor de ingestelde tijd ingeschakeld. Ook door deuren, ruiten of dunne wanden heen worden
bewegingen geregistreerd. Opmerking: Het hoogfrequentvermogen van de HF-sensor bedraagt < 1 mW – dat is slechts een 1000ste
van het zendvermogen van een mobiele telefoon of een magnetron.
■Bij de montage moet de elektrische leiding die u wilt aansluiten zonder spanning zijn. Daarom eerst de stroom uitschakelen en op
spanningsloosheid testen met een spanningstester.
■Bij de installatie van de lamp werkt u met netspanning. Dit moet door een vakman en volgens de geldende installatievoorschriften
en aansluitvoorwaarden worden uitgevoerd. (k- VDE 0100, a-ÖVE-ÖNORM E8001-1, h-SEV 1000).
■Gebruik uitsluitend originele reserveonderdelen.
■Demonteer het apparaat niet zelf. Reparaties mogen alleen door vakbedrijven worden uitgevoerd.
1 –W
9
Installatie W
Belangrijk:
Bij de montage van de sensorlamp voor binnenshuis moet erop worden gelet, dat deze trillingsvrij wordt bevestigd.
De aansluiting op een dimmer leidt tot beschadiging van de sensorlamp.
L = fase (meestal zwart of bruin), N = nuldraad (meestal blauw), PE = aardedraad (groen/geel)
Opgelet: aardedraad indien nodig doorschakelen. Opgelet: PE-aardedraad, indien aanwezig, met plakband isoleren. In de
stroomtoevoerkabel kan natuurlijk een netschakelaar voor in- en uitschakelen worden gemonteerd. Belangrijk: verwisseling
van de aansluitingen kan leiden tot beschadiging van het apparaat.
Aansluiting van een extra verbruiker:
Aan de binnensensorlamp kan een extra verbruiker met max. 200 W (bijv. bad-/WC-ventilator of een extra lamp) worden aangesloten,
die elektronisch geschakeld wordt.
10 – W
10.3
Functie W
Wanneer de lamp manueel wordt ingeschakeld met de lichtschakelaar schakelt die voor de inmeetfase na 10 sec. uit en is vervolgens
actief voor de sensormodus. Het opnieuw activeren van de lichtschakelaar is niet nodig.
W
10.1 Schemerinstelling (drempelwaarde) (instelling af fabriek: daglichtstand 2000 lux)
Traploos instelbare drempelwaarde van de lamp van 2 – 2000 lux.
Instelknopje op + = daglichtstand ca. 2000 lux.
Instelknopje op – = schemerstand ca. 2 lux.
Voor de instelling van het registratiebereik en voor de functietest bij daglicht moet het instelknopje op daglichtstand worden gezet.
10.2 Tijdsinstelling (uitschakelvertraging) (instelling af fabriek: 5 sec.)
W
Traploos instelbare brandduur van 5 sec. min. tot 15 min.
Instelknopje op – = kortste tijd 5 sec. / instelknopje op + = langste tijd 15 min.
De tijdklok wordt door iedere geregistreerde beweging voor afloop van deze tijd opnieuw gestart. Voor de instelling van het registratiebereik en voor de functietest raden wij aan de kortste tijd in te stellen.
Opmerking: Na iedere uitschakeling van de lamp is een hernieuwde bewegingsregistratie gedurende ca. 1 sec. niet mogelijk. Pas na
afloop van deze tijd kan de lamp bij beweging weer licht inschakelen.
10.3 Reikwijdte-instelling (gevoeligheid) (instelling af fabriek: 5 m)
W
Traploos instelbaar reikwijdte van 1 m – 5 m
Instelknopje op – = kleinste reikwijdte 1 m / instelknopje op + = grootste reikwijdte 5 m
Bedrijfsstoringen (Storing / Oorzaak ➩ Oplossing)
Geen netspanning / Zekering defect, niet ingeschakeld, leiding onderbroken ➩ Nieuwe zekering, netschakelaar inschakelen, leiding
controleren met spanningstester / Kortsluiting in de netspanningskabel ➩ Aansluitingen controleren / Evt. aanwezige netschakelaar uit
➩ Netschakelaar inschakelen Schakelt niet in / Schemerinstelling verkeerd gekozen ➩ Opnieuw instellen / Lamp defect ➩ Lampje
vervangen / Netschakelaar UIT ➩ Inschakelen / Zekering defect ➩ Nieuwe zekering, evt. aansluiting controleren Schakelt niet uit /
Permanente bewegingen in het registratiebereik ➩ Bereik controleren Schakelt zonder herkenbare beweging in / De lamp is niet
bewegingsveilig gemonteerd ➩ Behuizing vast monteren / Er was een beweging, deze werd echter niet herkend (beweging achter
muur, beweging van een klein object in de directe omgeving van de lamp etc.) ➩ Bereik controleren, reikwijdte-instelling verkleinen
Schakelt ondanks beweging niet aan / Snelle bewegingen worden onderdrukt voor het verminderen van storingen of het registratiebereik is te klein ingesteld ➩ Bereik controleren
Conformiteitsverklaring
Dit product voldoet aan de laagspanningsrichtlijn 2014/35/EG, de EMC-richtlijn 2014/30/EG, de R&TTE-richtlijn 1999/5/EG,
de RoHS-richtlijn 2011/65/EG.
Functiegarantie
Dit STEINEL-product is met grote zorgvuldigheid gefabriceerd, getest op goede werking en veiligheid volgens de geldende voorschriften en vervolgens steekproefsgewijs gecontroleerd. STEINEL verleent garantie op de storingvrije werking. De garantietermijn bedraagt
36 maanden en gaat in op de datum van aanschaf door de klant. Wij verhelpen gebreken die berusten op materiaal- of productiefouten. De garantie bestaat uit reparatie of vernieuwen van de defecte onderdelen, door ons te beoordelen. Garantie vervalt bij schade
aan onderdelen, die aan slijtage onderhevig zijn en bij schade of gebreken, die door ondeskundig gebruik of onderhoud ontstaan.
Verdergaande vervolgschade aan vreemde voorwerpen is uitgesloten. De garantie wordt alleen verleend als het niet-gedemonteerde
apparaat met korte foutbeschrijving, kassabon of rekening (aankoopdatum en winkelierstempel), goed verpakt aan het desbetreffende
serviceadres wordt gestuurd. Service: Informeer na afloop van de garantietermijn of bij gebreken die niet onder de garantie vallen bij
het dichtstbijzijnde serviceadres naar de reparatiemogelijkheden.
La lampada a sensore per interni è un segnalatore di movimento attivo. Il sensore ad alta frequenza integrato irradia onde elettromagnetiche ad alta frequenza (5,8 GHz) e riceve le onde riflesse. Al minimo movimento che si verifica nel campo di rilevamento
della lampada il sensore percepisce la variazione dell'eco e provoca l'accensione della luce per il tempo impostato. E' possibile
rilevare i movimenti anche attraverso porte, lastre di vetro e pareti sottili. Avvertenze: la potenza del sensore ad alta frequenza è
di < 1 mW – ciò equivale solo ad un millesimo della potenza di trasmissione di un telefono cellulare o di un microonde.
■Durante il montaggio non deve esserci presenza di tensione nel cavo di allacciamento alla rete. Prima del lavoro, occorre
pertanto togliere la tensione ed accertare l'assenza di tensione mediante uno strumento di misura della tensione.
■L'installazione della lampada richiede lavori alla linea di alimentazione elettrica. Essa deve pertanto venire effettuata da un
esperto con rispetto delle prescrizioni d'installazione e delle condizioni di allacciamento vigenti nel relativo paese.
(k-VDE 0100, a-ÖVE-ÖNORM E8001-1, h-SEV 1000)
■Utilizzate esclusivamente pezzi di ricambio originali.
■Non smontate l'apparecchio da soli. La riparazione deve venire eseguita esclusivamente da un'officina specializzata.
1 –W
9
Indicazioni per l'installazione W
Importante:
Nel montaggio della lampada a sensore per interni ad alta frequenza si deve provvedere a fissarla in modo tale che non si
generino vibrazioni.
L'allacciamento a un dimmer porta al danneggiamento della lampada a sensore per interni.
L = filo di fase (in genere nero o marrone), N = filo di neutro (in genere blu), PE = conduttore di terra (verde/giallo)
Attenzione: in caso di necessità fate passare il conduttore di terra per collegarlo con quello nella parete. Attenzione: isolate
con nastro adesivo il conduttore di terra PE, se presente. Ovviamente nella linea di alimentazione della rete può venire installato un interruttore di rete per accendere e spegnere. Importante: uno scambio nell'allacciamento dei fili può danneggiare
l'apparecchio.
Allacciamento di un'utenza aggiuntiva:
Alla lampada a sensore per interni ad alta frequenza è possibile allacciare un'ulteriore utenza con max. 200 W (per es. aspiratore
da bagno / WC) che viene comandata dal sistema elettronico.
10 – W
10.3
Funzionamento W
Quando la lampada viene messa in funzione manualmente mediante l'interruttore della luce, essa si spegne dopo 10 sec
per la fase di misurazione ed è dopo di ciò attiva per il funzionamento con sensore. Non è necessario azionare nuovamente
l'interruttore della luce.
10.1 Regolazione crepuscolare (soglia d'intervento) (impostazione da parte del costruttore: funzionamento con luce diurna
W
2000 Lux)
Soglia d'intervento della lampada a regolazione continua da 2 a 2000 Lux.
Regolatore impostato su + = funzionamento con luce diurna ca. 2000 Lux.
Regolatore impostato su – = funzionamento con luce crepuscolare ca. 2 Lux.
Per l'impostazione del campo di rilevamento e per il test di funzionamento con luce diurna si deve portare il regolatore su funzionamento con luce diurna.
W Regolazione del periodo di accensione (ritardo dello spegnimento) (impostazione da parte del costruttore: 5 sec)
10.2
Durata del periodo di illuminazione a regolazione continua tra 5 sec e max. 15 min.
Regolatore impostato su – = durata minima 5 sec / Regolatore impostato su + = durata massima 15 min
Ogni volta che viene rilevato un movimento prima che decorra questo periodo di tempo, il contaminuti si azzera nuovamente. Per
l'impostazione del campo di rilevamento e per l'esecuzione del test di funzionamento è consigliabile impostare il tempo minimo.
Avvertenze: ogni volta che viene spenta la lampada, per circa 1 secondo viene interrotto il rilevamento di movimenti. Solo dopo
che è trascorso questo periodo di tempo la lampada è in grado di accendere nuovamente la luce in caso di un movimento
nell'ambito del raggio d'azione.
W Regolazione del raggio d'azione (sensibilità) (impostazione da parte del costruttore: 5 m)
10.3
Raggio d'azione a regolazione continua tra 1 m e 5 m
Regolatore impostato su – = raggio d'azione minimo 1 m / Regolatore impostato su + = raggio d'azione massimo 5 m
Guasti di funzionamento (Guasto / Causa ➩ Rimedio)
Senza tensione / fusibile difettoso, lampada non accesa, linea elettrica interrotta ➩ nuovo fusibile, accendete l'interruttore di
rete, controllate la linea elettrica con un voltmetro / corto circuito nella linea di allacciamento alla rete ➩ controllate la linea elettrica / l'interruttore di rete eventualmente presente è spento➩ accendete l'interruttore di rete Non si accende / è stata scelta la
regolazione crepuscolare sbagliata ➩ effettuate una nuova regolazione / lampadina guasta➩ sostituite la lampadina / interruttore
di rete spento ➩ accendetelo / il fusibile è guasto ➩ nuovo fusibile, eventualmente controllate l'allacciamento Non si spegne /
movimento continuo nel campo di rilevamento ➩ controllate il campo si accende a sproposito senza che si sia verificato un
movimento percepibile / la lampada non è montata fissa ➩ montate e fissate bene l'involucro / si è sì verificato un movimento,
ma non è stato riconosciuto dall'osservatore (movimento verificatosi dietro la parete, movimento di un oggetto di piccole dimensioni nelle immediate vicinanze della lampada, ecc.) ➩ controllate il campo, riducete il raggio d'azione impostato Non si accende nonostante si sia verificato un movimento / ai fini della riduzione delle interferenze i movimenti rapidi vengono soppressi,
oppure il campo di rilevamento impostato è troppo piccolo ➩ controllate il campo
Dichiarazione di conformità
Questo prodotto è conforme alla direttiva sulla bassa tensione 2014/35/CE, alla direttiva sulla compatibilità elettromagnetica
1999/5/CE, alla direttiva 2011/65/CE sulla restrizione dell'uso di determinate sostanze pericolose nelle apparecchiature elettriche
ed elettroniche, alla direttiva 2014/30/CE riguardante le apparecchiature radio e le apparecchiature terminali di telecomunicazione
e il reciproco riconoscimento della loro conformità.
Garanzia di funzionamento
Questo prodotto STEINEL viene costruito con la massima cura, con controlli di funzionamento e del grado di sicurezza in
conformità alle norme vigenti in materia; vengono poi effettuati collaudi con prove a campione. STEINEL garantisce la perfetta
qualità ed il funzionamento. La garanzia si estende a 36 mesi ed inizia il giorno d'acquisto dall'utilizzatore. Noi ripariamo guasti
che sono da ricondurre a difetti di materiale o di fabbricazione. La prestazione della garanzia avviene, a nostra discrezione,
mediante la riparazione o la sostituzione dei pezzi difettosi. Il diritto alla prestazione di garanzia viene a decadere in caso di danni
a pezzi soggetti ad usura nonché in caso di danni o difetti che sono da ricondurre ad un trattamento inadeguato o ad una cattiva
manutenzione. La garanzia viene prestata solo se l'apparecchio viene rispedito al centro di assistenza competente non smontato,
ben imballato e accompagnato da una breve descrizione del difetto e dallo scontrino di cassa o dalla fattura con indicazione
della data dell'acquisto e con il timbro del rivenditore. Servizio di assistenza: in caso di periodo di garanzia scaduto o di difetti
che non danno diritto a prestazioni di garanzia, siete pregati di informarvi presso il centro di assistenza più vicino riguardo alla
possibilità di riparazione.
E
La lámpara sensor de interior es un detector de movimientos activo. El sensor de AF integrado emite ondas electromagnéticas de alta frecuencia (5,8 GHz) y recibe su eco. Al producirse el más pequeño movimiento en el campo de detección de la
lámpara, el sensor detecta la modificación del eco y se enciende la luz por el período de tiempo ajustado. Es posible la detección a través de puertas, cristales o paredes delgadas. Observación: La potencia de alta frecuencia del sensor de AF es de <
1 mW; lo que supone sólo una milésima de la potencia de emisión de un teléfono móvil o de un microondas.
■Al efectuar el montaje debe hallarse la línea de conexión eléctrica libre de tensión. Por tanto, desconecte primero la
corriente y compruebe que no hay tensión utilizando un comprobador de tensión.
■La instalación de la lámpara supone un trabajo en la red eléctrica. Por tanto, debe realizarla un especialista de acuerdo con
las normativas de instalación específicas de cada país. (k-VDE 0100, a-ÖVE-ÖNORM E8001-1, h-SEV 1000)
■¡Utilice sólo piezas de repuesto originales!
■No desmonte usted mismo el aparato. La reparación sólo la puede realizar un taller especializado.
1 –W
9
Indicaciones de instalación W
Importante:
Durante el montaje de la lámpara sensor de interior debe prestarse atención a que se fije sin sacudidas.
La conexión a un regulador de luminosidad dañará la lámpara sensor de interior.
L = fase (de color negro o marrón en la mayoría de los casos), N = neutro (azul en la mayoría de los casos),
PE = toma de tierra (verde/amarillo)
Atención: Enlazar el cable de toma de tierra según convenga. Atención: Aislar la toma de tierra, si la hay, con cinta adhesiva.
Naturalmente, el cable de alimentación de red puede llevar montado un interruptor para conectar y desconectar la tensión.
Importante: La conexión con los conductores invertidos puede originar daños en el aparato.
Conexión de un consumidor adicional:
A la lámpara sensor de interior puede conectarse un aparato conectado adicional con máx. 200 W (p. ej. ventilador del baño
o WC o lámpara adicional) que se conmuta a través del sistema electrónico.
10 – W
10.3
Función W
Con la puesta en marcha manual de la lámpara a través del interruptor de luz se apaga ésta para la fase de medición después
de 10 segundos y está activa a continuación para el funcionamiento de sensor. No es
necesario accionar de nuevo el interruptor de luz.
10.1 Regulación crepuscular (umbral de respuesta) (regulación de fábrica: funcionamiento a la luz del día 2000 Lux)
W
Umbral de respuesta con regulación continua de la lámpara de 2 – 2000 Lux.
Tornillo de regulación puesto en + = funcionamiento a la luz del día aprox. 2000 Lux.
Tornillo de regulación puesto en – = funcionamiento crepuscular aprox. 2 Lux.
Para el ajuste del campo de detección y la prueba de funcionamiento a la luz del día se ha de colocar el
tornillo de regulación en funcionamiento a la luz del día.
10.2 Temporización (retardo de desconexión) (regulación de fábrica: 5 seg.)
W
Período de alumbrado con regulación continua de 5 seg. a 15 min.
Tornillo de regulación ajustado a – = tiempo más corto 5 seg. / Tornillo de regulación ajustado a + = tiempo más largo 15 min.
Con cada movimiento detectado antes de transcurrir este período de tiempo se inicia de nuevo la cuenta del reloj. Para la
regulación del campo de detección y la prueba de funcionamiento se recomienda ajustar el tiempo mínimo. Observación:
Cada vez que se desconecta la luz hay que esperar aprox. 1 segundo para una nueva detección de movimientos. Sólo después de transcurrir este tiempo puede la lámpara encender de nuevo la luz al producirse movimiento.
W
10.3 Regulación del alcance (sensibilidad) (regulación de fábrica: 5 m)
Alcance de detección con regulación continua de 1 a 5 m.
Tornillo de regulación ajustado a – = alcance más corto 1 m / Tornillo de regulación ajustado a + = alcance más largo 5 m
Fallos de funcionamiento (Fallo / Causa ➩ Solución)
No tiene tensión / Fusible de la casa defectuoso, interruptor en OFF, línea interrumpida ➩ Montar un nuevo fusible, poner
interruptor en ON, comprobar la línea de alimentación con un comprobador de tensión / Cortocircuito en el cable de alimentación de red ➩ Comprobar conexiones / El interruptor de red está desconectado ➩ Poner interruptor en ON No se enciende/
Regulación crepuscular mal seleccionada ➩ Volver a ajustar / Bombilla defectuosa ➩ Cambiar la bombilla / Interruptor en
OFF ➩ Conectar / Fusible de la casa defectuoso ➩ Cambiar fusible y dado el caso comprobar conexión No se apaga /
Movimiento permanente en el campo de detección ➩ Controlar el campo de detección Se conecta sin movimiento apreciable / Lámpara no montada segura contra movimiento ➩ Montar la carcasa fija / Se ha producido movimiento, pero no ha
sido apreciado por el observador (movimiento detrás de la pared, movimiento de un objeto pequeño cerca de la lámpara,
etc.) ➩ Controlar el campo de detección, minimizar la regulación del alcance No se enciende a pesar del movimiento /
Los movimientos rápidos se suprimen para minimizar las perturbaciones o el campo de detección está ajustado demasiado
pequeño ➩ Controlar el campo de detección
Declaración de conformidad
Este producto cumple con la directiva para baja tensión 2014/35/CE, la directiva CEM 2014/30/CE, la directiva RTTE
(terminales de radio y telecomunicaciones) 1999/5/CE, la directiva RoHS (limitación de sustancias peligrosas) 2011/65/CE.
Garantía de funcionamiento
Este producto STEINEL ha sido elaborado con el máximo esmero, habiendo pasado los controles de funcionamiento y seguridad previstos por las disposiciones vigentes, así como un control adicional de muestreo al azar. Steinel garantiza el perfecto
estado y funcionamiento. El período de garantía es de 36 meses comenzando el día de la venta al consumidor. Reparamos
las deficiencias en el material o la fabricación. La garantía se aplica mediante reparación o cambio de piezas defectuosas, a
nuestra elección. La prestación de garantía queda anulada para daños producidos en piezas de desgaste y daños y defectos
originados por uso o mantenimiento inadecuados. Quedan excluidos de la garantía los daños consecuenciales causados en
objetos ajenos. Sólo se concede la garantía si se envía el aparato sin desarmar con una breve descripción del fallo, tique de
compra o la factura (con fecha de compra y sello del comercio), bien empaquetado, al centro de servicio correspondiente.
Servicio: Una vez transcurrido el período de garantía o en caso de defectos no cubiertos por la misma, consulte una posible
reparación con su estación de asistencia técnica más próxima.