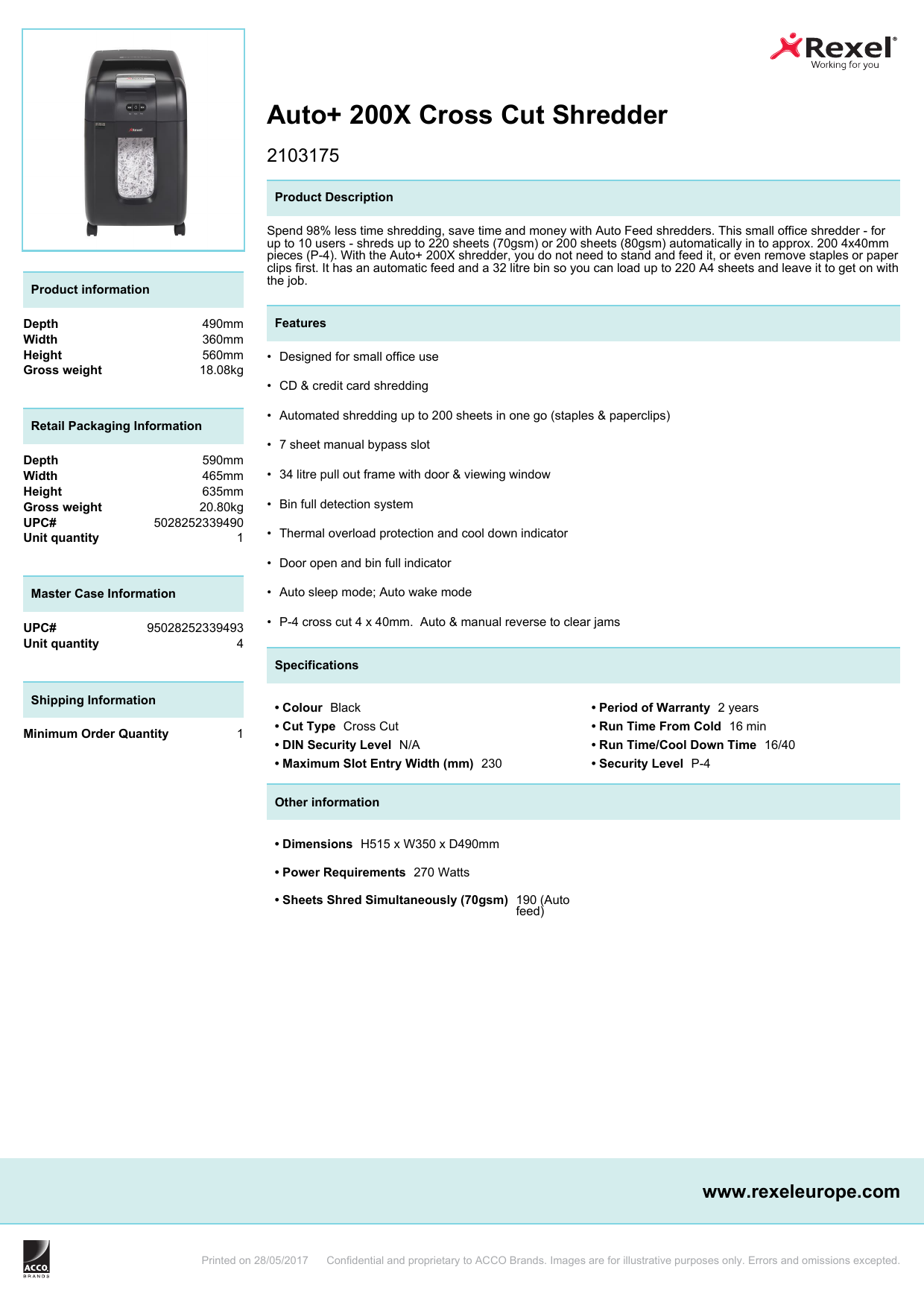 Auto+ 200X Cross Cut Shredder
2103175
Product Description
Spend 98% less time shredding, save time and money with Auto Feed shredders. This small office shredder - for
up to 10 users - shreds up to 220 sheets (70gsm) or 200 sheets (80gsm) automatically in to approx. 200 4x40mm
pieces (P-4). With the Auto+ 200X shredder, you do not need to stand and feed it, or even remove staples or paper
clips first. It has an automatic feed and a 32 litre bin so you can load up to 220 A4 sheets and leave it to get on with
the job.
Product information
Depth
Width
Height
Gross weight
490mm
360mm
560mm
18.08kg
Features
• Designed for small office use
• CD & credit card shredding
• Automated shredding up to 200 sheets in one go (staples & paperclips)
Retail Packaging Information
• 7 sheet manual bypass slot
Depth
Width
Height
Gross weight
UPC#
Unit quantity
590mm
465mm
635mm
20.80kg
5028252339490
1
• 34 litre pull out frame with door & viewing window
• Bin full detection system
• Thermal overload protection and cool down indicator
• Door open and bin full indicator
• Auto sleep mode; Auto wake mode
Master Case Information
UPC#
Unit quantity
95028252339493
4
• P-4 cross cut 4 x 40mm. Auto & manual reverse to clear jams
Specifications
Shipping Information
Minimum Order Quantity
1
• Colour Black
• Cut Type Cross Cut
• DIN Security Level N/A
• Maximum Slot Entry Width (mm) 230
• Period of Warranty 2 years
• Run Time From Cold 16 min
• Run Time/Cool Down Time 16/40
• Security Level P-4
Other information
• Dimensions H515 x W350 x D490mm
• Power Requirements 270 Watts
• Sheets Shred Simultaneously (70gsm) 190 (Auto
feed)
www.rexeleurope.com
Printed on 28/05/2017
Confidential and proprietary to ACCO Brands. Images are for illustrative purposes only. Errors and omissions excepted.

* Your assessment is very important for improving the work of artificial intelligence, which forms the content of this project