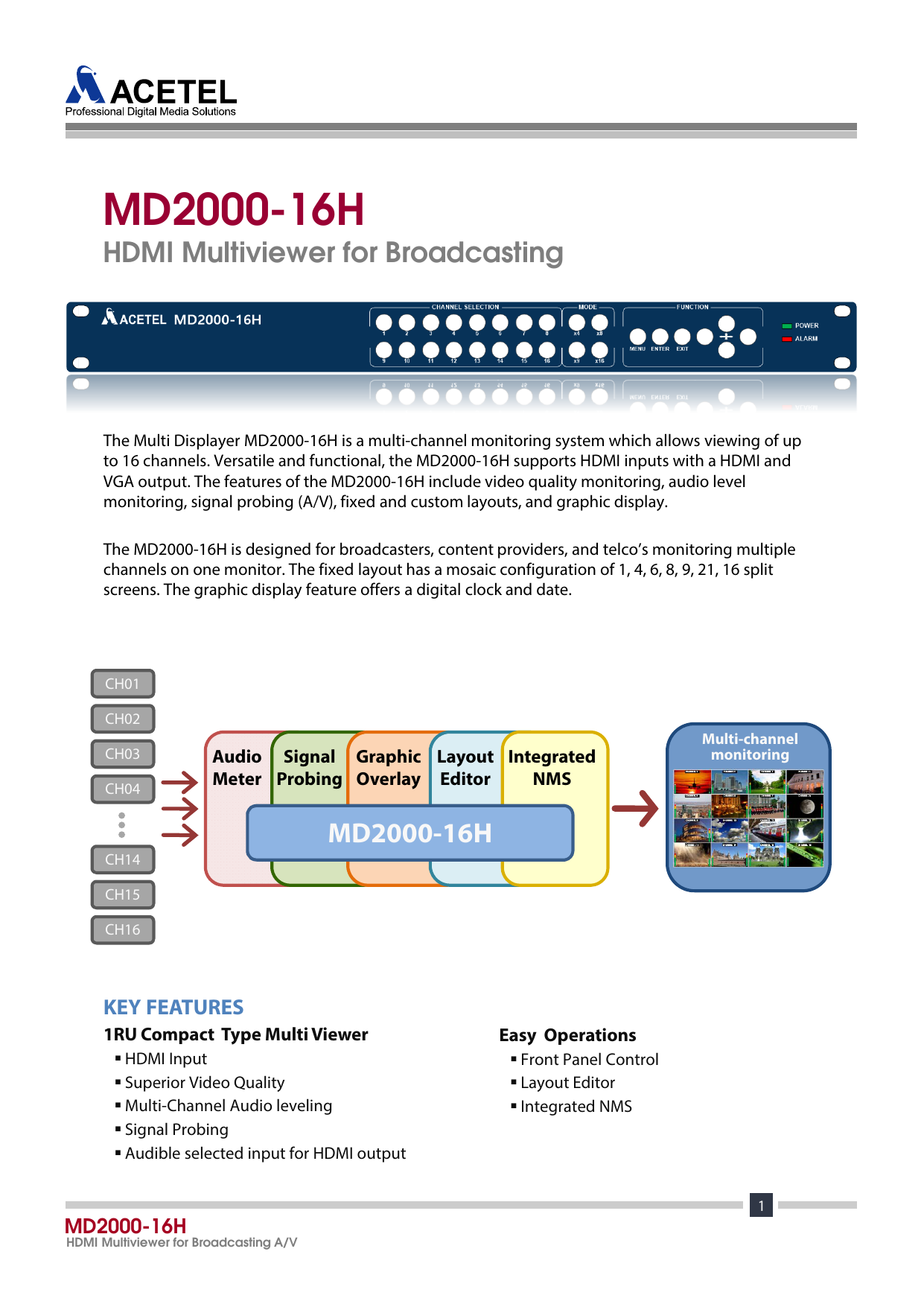 MD2000-16H
HDMI Multiviewer for Broadcasting
The Multi Displayer MD2000-16H is a multi-channel monitoring system which allows viewing of up
to 16 channels. Versatile and functional, the MD2000-16H supports HDMI inputs with a HDMI and
VGA output. The features of the MD2000-16H include video quality monitoring, audio level
monitoring, signal probing (A/V), fixed and custom layouts, and graphic display.
The MD2000-16H is designed for broadcasters, content providers, and telco's monitoring multiple
channels on one monitor. The fixed layout has a mosaic configuration of 1, 4, 6, 8, 9, 21, 16 split
screens. The graphic display feature offers a digital clock and date.
CH01
CH02
CH03
CH04
Audio Signal Graphic Layout Integrated
Meter Probing Overlay Editor
NMS
Multi-channel
monitoring
MD2000-16H
CH14
CH15
CH16
KEY FEATURES
1RU Compact Type Multi Viewer
 HDMI Input
 Superior Video Quality
 Multi-Channel Audio leveling
 Signal Probing
 Audible selected input for HDMI output
MD2000-16H
HDMI Multiviewer for Broadcasting A/V
Easy Operations
 Front Panel Control
 Layout Editor
 Integrated NMS
1
MD2000-16H
HDMI Multiviewer for Broadcasting A/V
KEY FEATURES AND BENEFITS
HDMI Input Format
 Supports various Digital inputs - For versatility in
the Head-End.
 Up to 16 channels
- up to 16 HDMI inputs (1RU)
Superior Video Output Quality
 HDMI and VGA output - Allows for Superior Video
Quality critical to monitoring purposes.
- 1024x768, 1280x1024
- 1280x720p, 1920x1080i, 1920x1080p
 Two HDMI outputs
- HDMI 1 : Layout output
- HDMI 2 : Selected input channel output
Multi-Channel Audio leveling
 Audio levels extraction - Extracted from
Embedded HDMI signals and displayed on-screen.
 Audio level display - Inside or outside the video
window for multiple channel audios.
 Audio meter position - Can be positioned in either
Left/Right or bottom of Video.
 Up to 16 stereo pairs support - 1 stereo pairs
audio (per Video) can be supported with 1RU
chassis.
 Audible Channel Audio- can select one channel to
hear audio.
Alarm Log and Schedule
 Detailed alarm logs displayed
 User can probe various alarms - Such as video or
audio alarm per channel or equipment.
 Alarm Status
- Current alarms and history
- Alarm time, resolve time
- Set threshold for alarms
- Set log file purge period
 Alarm Schedule - Alarm can be turned-off for
selected channels.
SNMP
 SNMP Trap - SNMP support for 3rd Party NMS
Flexible layout
 Flexible layout support - Full-screen or mosaic of
smaller screens of several channels displayed on
screen.
- Fixed layout : 1, 4, 6, 8, 9, 12, 16 screens
- Custom mode: 4 custom modes are supported
and easily prepared by the Layout Editor
Software (Future release)
Various Graphic Display
 Digital Clock, Date and Title display - Can be
displayed different formats clock , date and title
depending on user selection.
 Clock Display
- 12 hour or 24 hour digital clock
- Sync to NTP
 Date Display - Several Date options.
 Title Display - Graphic title can be displayed for
each channel.
Signal Probing
 Features various signal probing - For Video and
Audio and displays sophisticated on-screen alarms
specifying the problem types.
 Video Probing
- Video Loss
- Video Freeze (Set threshold)
 Audio Probing
- Audio Loss (Set threshold)
- Audio Max (Over-level)
- Audible selected input for HDMI output
Easy Operation
 Easy to use system - For basic and hassle-free
monitoring.
 Front panel control buttons - Allow for easy Fixed
layout selection.
 Per-channel front panel buttons - Allow for
immediate full screen monitoring of any channel.
Layout Editor Software
 Various graphic displays such as Clock, Date, etc
can be configured by the Layout Edit Software.
Integrated monitoring with NMS
 NMS provides Integrated monitoring for multiple
MD2000s.
 Remote access to devices off site.
 Configure and control all alarms and configurations.
2
MD2000-16H
HDMI Multiviewer for Broadcasting A/V
TECHNICAL SPECIFICATIONS
Video Input
Layout Editor Software
Input Type
Connector
Standard
HDCP
16 x HDMI
Type A
HDMI v1.4a
HDCP 1.4 Support
Intel Core i7 1) and graphics card
Windows 7 (Recommended)
Windows Vista
Over 1440 x 900 (Recommended)
TCP/IP
PC Requirements
OS
NMS Resolutions
Control Protocol
Audio Input
Input Type
Connector
Number of CHs
Power
Embedded in HDMI
Type A
1 x stereo pairs per video input
Input Voltage
Typical Power Consumption
Video Output
100VAC ~ 240VAC, 50/60Hz
40W
Physical and Environmental
Output Resolutions
1024x768, 1280x1024
1280x720p, 1920x1080i, 1920x1080p
2 x HDMI with Embedded Audio
1 x VGA
HDMI v1.2 / DVI 1.0
Connector
Standard
Dimensions (WxDxH)
Weight
Operating Temperature
Humidity
Storage Temperature
440mm x 360mm x 45mm
17.3" x 14"x 1.8"
2.5 Kg / 5.5 Ibs
0 ~ 50°C / 32 ~ 122°F
< 90% non-condensing
-20 ~ 85°C / -4 ~ 185°F
System Management and Operations
Certification
Front Panel Control
Ethernet Control through RJ-45
Layout Editor Software
Separate NMS for Integrated monitoring
KC : MSIP-REM-A02-MD2000-16H
CE : EN 60065: 2002 / A12: 2011
EN 55022: 2010 / AC: 2011 (Class A)
EN 55024: 2010
EN 61000-3-2: 2006 / A2: 2009
EN 61000-3-3: 2008
Notes :
1) Or equivalent AMD processor
Ordering Information
MD2000-16H
16 x HDMI + 16 Stereo Embedded Audios
HDMI MULTIVIEWER
10/100Base-T
CONSOL
LAN
VGA
HDMI1
HDMI2
CHANNEL 09
CHANNEL 10
CHANNEL 11
CHANNEL 12
CHANNEL 01
CHANNEL 02
CHANNEL 03
CHANNEL 04
CHANNEL 13
CHANNEL 14
CHANNEL 15
CHANNEL 16
CHANNEL 05
CHANNEL 06
CHANNEL 07
CHANNEL 08
HDMI INPUT
MODEL : MD2000-16H
MANUFACTURER :
ACETEL Co., Ltd.
Made in Korea
100-240VAC 50/60Hz
Contact
ACETEL Co., Ltd.
Suite #1801~1806 (ACE High-End Tower 8-cha)
84, Gasan digital 1-ro, Geumcheon-gu, Seoul, Korea
Tel: +82.2.2025.8677, Fax: +82.2.6123.3999
Contact@acetel.co.kr
3
© 2014 All Rights Reserved by ACETEL Apr.18.14 (Rev 1.5)
ACETEL, The ACETEL logo and MD are trademarks, registered trademarks of ACETEL Co., Ltd in the Republic of Korea and other countries.
Other company, product and service names mentioned herein may be trademarks of their respective owners.
All product and application features and specifications are subject to change at ACETEL's sole discretion at any time and without notice.