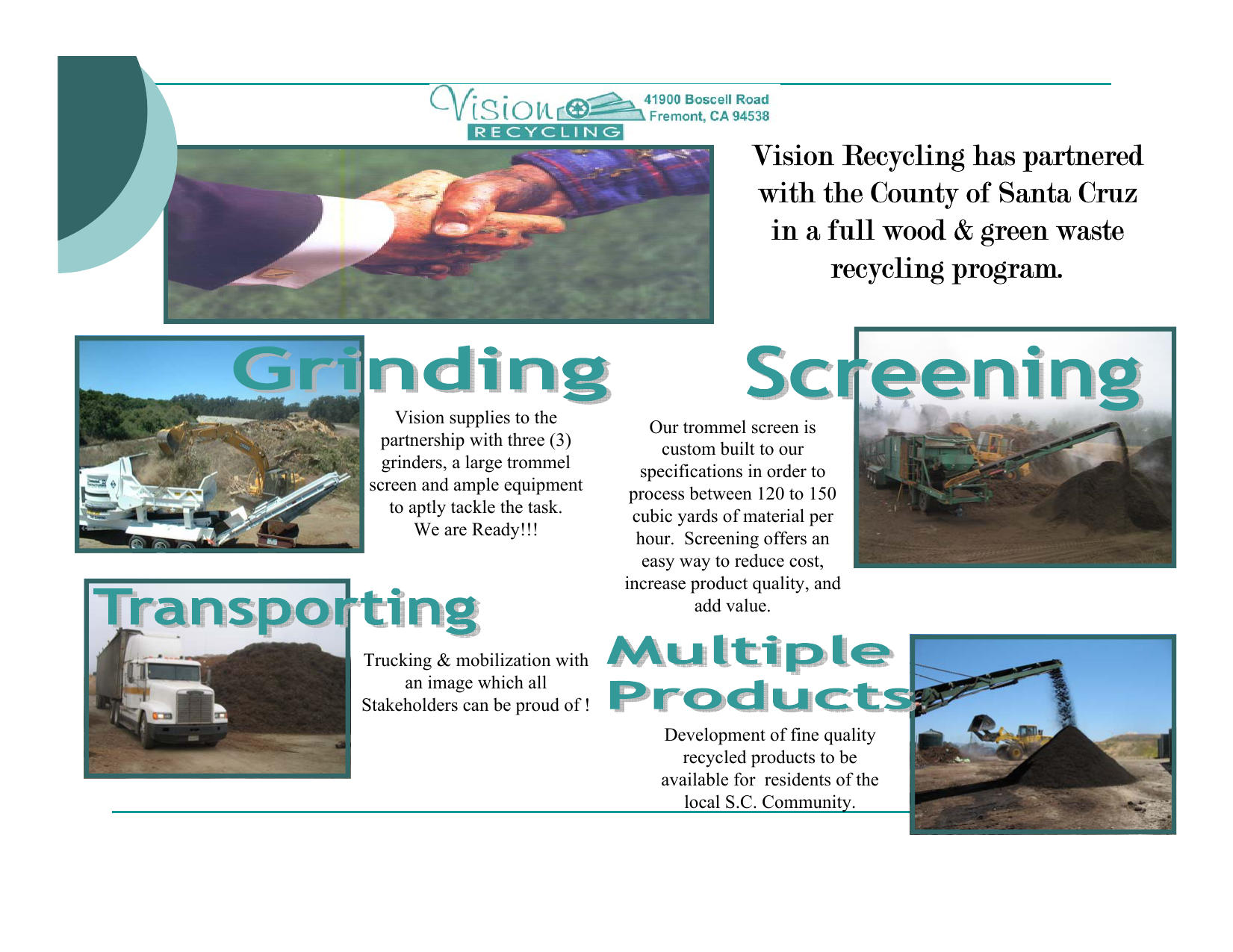 Vision Recycling has partnered
with the County of Santa Cruz
in a full wood & green waste
recycling program.
Vision supplies to the
partnership with three (3)
grinders, a large trommel
screen and ample equipment
to aptly tackle the task.
We are Ready!!!
Our trommel screen is
custom built to our
specifications in order to
process between 120 to 150
cubic yards of material per
hour. Screening offers an
easy way to reduce cost,
increase product quality, and
add value.
Trucking & mobilization with
an image which all
Stakeholders can be proud of !
Development of fine quality
recycled products to be
available for residents of the
local S.C. Community.
Vision Recycling Represents Santa Cruz County Well
Mulch
Soil
Amendment
Grinding
Trommel
Screen
Wood Chips
www.visionrecycling.com
Wood Chips ~Mulch ~ Soil Amendments
What do you get with a Vision…
The following pages show our verity of products made from these typical feedstock's.
These many fine commodities are all made in, and for Santa Cruz County!
Compost
A rich dark compost made from a combination of
green waste and food scraps which has been
shredded and stored for 14 weeks within a 100 cu
yd plastic bag with forced air injection system to
maintain aerobic conditions within the bag. The
material is monitored for temperatures (reaching
135 degrees or more), air flow and moisture.
The result is a MATURE COMPOST. A stable humus material
that
EcoComp
¾Improves soil structure
¾Improves nutrient holding capacity
¾Reduces soil compaction and crusting
¾Reduces fertilizer requirements
¾Increases ease of cultivation
¾Improves root growth and yields
¾Improves water infiltration and drought tolerance
¾Protects plants from disease
¾Increases microbial and earthworm populations
¾Prevents erosion of embankments, roadsides, and hillsides.
¾Binds heavy metals in contaminated soils.
¾Degrades many pesticides.
¾Absorbs odors and degrades volatile organic compounds
Wood Chips
Golden Blend
GOLDEN BLEND
DESCRIPTION: This is a very light colored wood chip; sometimes referred to as
"Blonde Woodchip".
SOURCE MATERIAL: Made from pallets, and various light colored wood products.
PRODUCT SIZE: 2" or smaller
APPLICATIONS: Great mulch for landscape applications where a light background is
desired. This product is good for mulching large foot traffic areas and walking paths,
tree rings and decorative flower beds. Most nails and other ferrous metals are
removed; however, there is no guarantee that it is metal free. (Magnets address
themselves only to ferrous metals which leave non-ferrous metals -brass, copper,
stainless steel, etc.).
PREMIUM WOODCHIPS
SOURCE MATERIAL: Made from dimensional lumber, trusses, wood scraps
and construction debris.
DESCRIPTION: Premium Woodchips are non-treated wood products, pre-sorted
for color and inspected to remove unsightly debris; then processed twice to a
consistent popular size.
PRODUCT SIZE: 2"or smaller
APPLICATIONS: Premium Woodchips are excellent for decorative landscape
mulching applications where fine textured reddish brown mulch is desired.
Premium Wood Chips
Mulch
FOREST FLOOR
DESCRIPTION: This material is dark, and has a coarse stringy texture, and
may be screened to remove the fine material. This material frequently
contains plastic residue and may not be suitable for residential landscapes.
SOURCE MATERIAL: Made from brush, yard trimmings, leaves and grass
clippings.
PRODUCT SIZE: The material is processed through 3 or 4 inch screens.
APPLICATIONS: This product is excellent as economic mulch for large areas
requiring erosion control and weed suppression, as well as for use as a
compost feedstock.
Forest Floor
WONDER MULCH
DESCRIPTION: "Wonder mulch" is a combination of all woody materials,
ground twice to produce a mulch of consistent size. It is then screened to
remove the fine particles to give the mulch loft and prevent compaction. The
materials are separated and inspected to reduce the amounts of paper,
plastic or other unsightly debris before processing.
SOURCE MATERIAL: Made from unpainted, untreated wood from
construction debris, pallets, and tree trimmings.
PRODUCT SIZE: 2 to 3 inches or smaller.
APPLICATIONS: Excellent combination of mulch textures for use under trees
or shrubs.
Wonder Mulch
Soil Amendments
WOODFINES
DESCRIPTION: A combination of all woody materials ground through 2"
screens, then screened further to a 3/8" product size. Resembles aged
sawdust; mulch may vary in color from one batch to another but is usually a
dark brown.
SOURCE MATERIAL: Made from brush, yard trimmings, untreated wood
and construction debris.
PRODUCT SIZE: 3/8th of an inch or smaller.
APPLICATIONS: This product is used as very fine textured mulch or as a
"bulking agent" for composting applications.
Wood Fines
Organic Soil Amendment
ORGANIC SOIL AMENDMENT
DESCRIPTION: Dark humus material produced by the decomposition of
vegetative materials.
SOURCE MATERIAL:
Made from brush, yard trimmings, leaves and grass clippings.
PRODUCT SIZE: The material has been screened to 3/8th of an inch.
APPLICATIONS: Soil Amendment, also known as "screened fines," is great
for conditioning various soil types for landscape and gardening applications,
composting, and to retain moisture in sandy soils. It is also used to loosen up
heavy clay soils and increase loamy texture to provide for easier plant root
penetration.

* Your assessment is very important for improving the work of artificial intelligence, which forms the content of this project