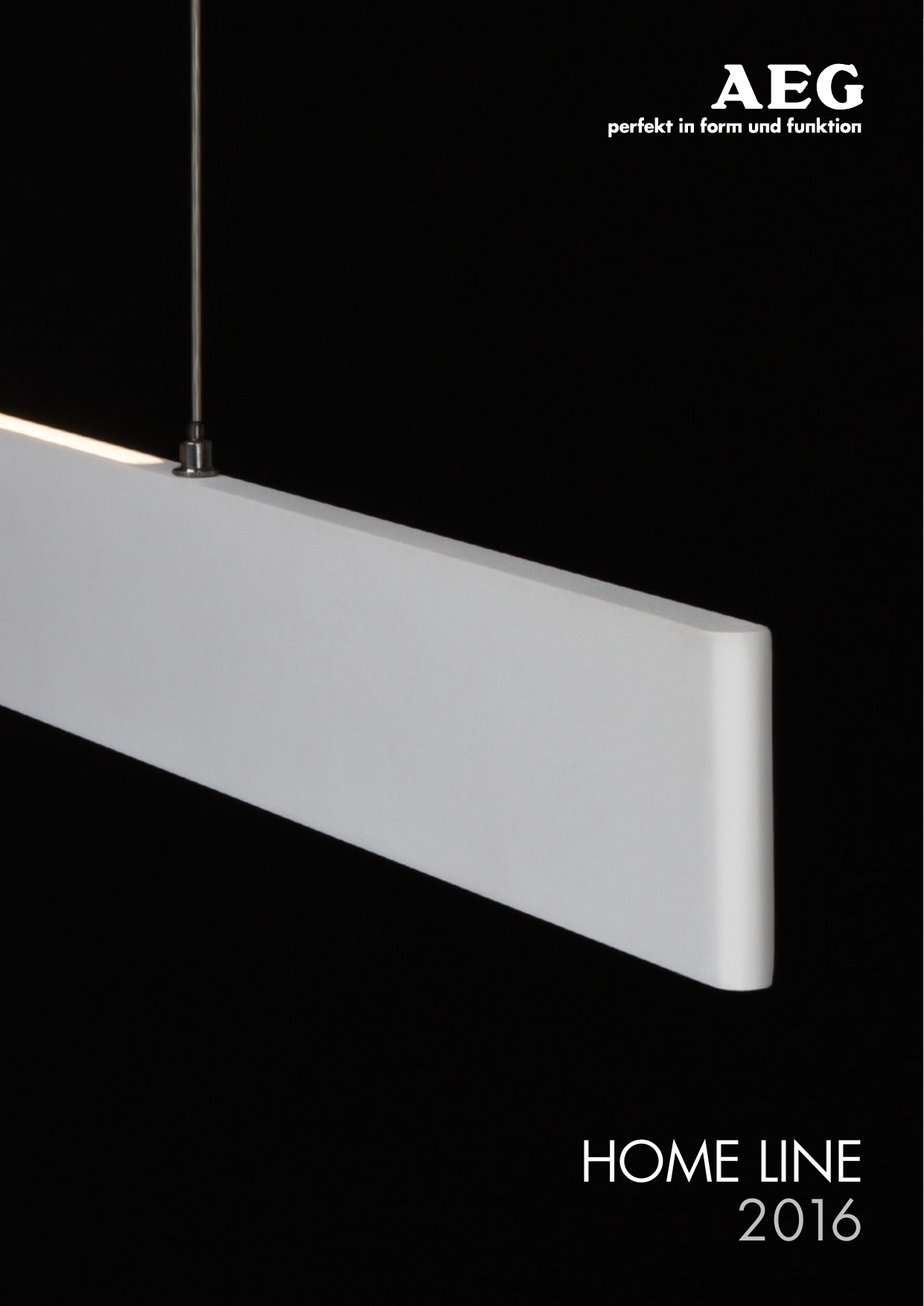 HOME LINE
2016
AEG LED
PERFEKT IN FORM UND FUNKTION
128 YEARS OF OUTSTANDING PERFORMANCE
The AEG brand represents innovative and high quality products for more than 128 years.
Advanced LED technology, high quality technique, sophisticated function combined with a clear design is
harmonized faithfully with the brand philosophy "Perfekt in Form und Funktion".
INNOVATION AND COMPETENCE
Leadership in innovation is an essential attribute of AEG brand. A continuous development of
innovations is ensured by an Innovation Centre in Foshan with highly qualified engineers and a fully
equipped test lab with up-to-date prototyping facilities.
EXCELLENT COMPONENTS
Latest LED technology and top-quality components are used for the development of products.
Consequently, AEG makes use of own developed light engines and patented technologies.
SUPERIOR QUALITY
AEG stands for perfection and functionality. Thus, high-class technique and sophisticated
function is combined with German engineering to meet uncompromising quality standards.
INDIRECT LIGHT
GLOBAL INNOVATION. INDIRECT. GENIAL.
With the innovative and patented LED technology of the premium HOME LINE, you will create a positive
atmosphere and exclusive ambience. Thanks to excellent light dispersion, spaces, furniture and valuable
pieces are optimally highlighted. By artfully reflecting the powerful LED modules within the light fixture,
indirect, non-glaring and pleasant light is the result. Simply ingenious.
HOME LINE HIGHLIGHTS
AEG LED SPOT LIGHT
TITANIA
AEG LED SPOT LIGHT
LETORA
AEG LED SPOT LIGHT
ALLORA
White / Chrome
1x5W, 500lm, 3000K
Models: 1, 2, 3, 4 flamed
White / Nickel
2x5W, 2x500lm, 3000K
Models: 1, 2, 3, 4 flamed
White / Nickel
3x5W, 3x500lm, 3000K
Models: 1, 2, 3, 4 flamed
AEG LED SPOT LIGHT
BALLEO
AEG LED TABLE LAMP
BALLEO
AEG LED RECESS LIGHT
ORBITA
White
4x5W, 4x500lm, 3000K
Models: 1, 2, 3, 4 flamed
White
18-22W, RGB
Models: Warm white, RGB
White / Nickel / Chrome
3x5W, 3x500lm, 3000K
Models: Set of 1, 3, 6
AEG LED RECESS LIGHT
ORBITA DECO
AEG LED WALL & CEILING LIGHT
FORMIT
AEG LED WALL & CEILING LIGHT
CHARON
White / Nickel / Chrome
1x5W, 1x500lm, 3000K
Models: Set of 1, 3
Nickel
3x5W, 3x500lm, 3000K
Models: 3, 4 flamed
Chrome
4x5W, 4x500lm, 3000K
Models: 1, 2, 4 flamed
PRO LINE INNOVATION
AEG LED TRACK ADVANCE
INTELLIGENT 3-CIRCUIT HIGH-VOLTAGE LIGHT-CONTROL SYSTEM
• Suitable for professional use
• Combinable with the latest AEG LED technologies Touchless easydim and Bluetooth
• High flexibility for individual interior design
• Adjustable circuits; installation of up to 3 separate circuts possible
• Compatibility with all conventional 3-circuit track systems
• Available in the colour white (RAL 9010) powder coated
AEG LED TRACK ADVANCE
White
1x5W, 500lm, 3000K
Different spots combinable individually
Diverse possibilities
AEG LED TechnologY Highlights
INDIRECT LIGHT
PATENTED LED TECHNOLOGY WITH INDIRECT LIGHT
• Innovative and patented LED technology
• Glarefree light with non-visible luminant
• Excellent light distribution for an exclusive ambience
easydim
SIMPLE BRIGHTNESS ADJUSTMENT VIA SWITCH
• Dimmable with every conventional switch
• No additional dimming switch and mounting efforts necessary
• Dimmable continuously for individual lighting atmosphere
• Patented lighting technology
touchless easydim
INDIVIDUAL BRIGHTNESS ADJUSTMENT WITH
JUST ONE SIMPLE MOVEMENT OF THE HAND
• Continuous dimming via integrated motion sensor
• No additional mounting efforts necessary
• Individual lighting control by movement of the hand
• Patented lighting technology
BLUETOOTH
INTELLIGENT LIGHT CONTROL VIA BLUETOOTH APP
• Innovative lighting solution via Bluetooth control
• Free download of LED BY AEG app for Apple and Android
• ON/OFF and continuous dimming
• Individual control of lamps and generation of groups
• Generation of scenes
• Altervative control via switch
"DESIGN
IS NOT
A QUESTION
OF
ADDING
DECORATION
to functional forms but of finding forms
which complement the character of the
object and make best use of new
technologies". Peter Behrens
elumi GmbH
Brilliantstr. 1 · D-27442 Gnarrenburg
Phone: +49 4763 89-0
info@aeg-led.lighting · www.aeg-led.lighting
Technical specifications are subject to change without notice. AEG is a registered trademark used under license from AB Electrolux (publ).