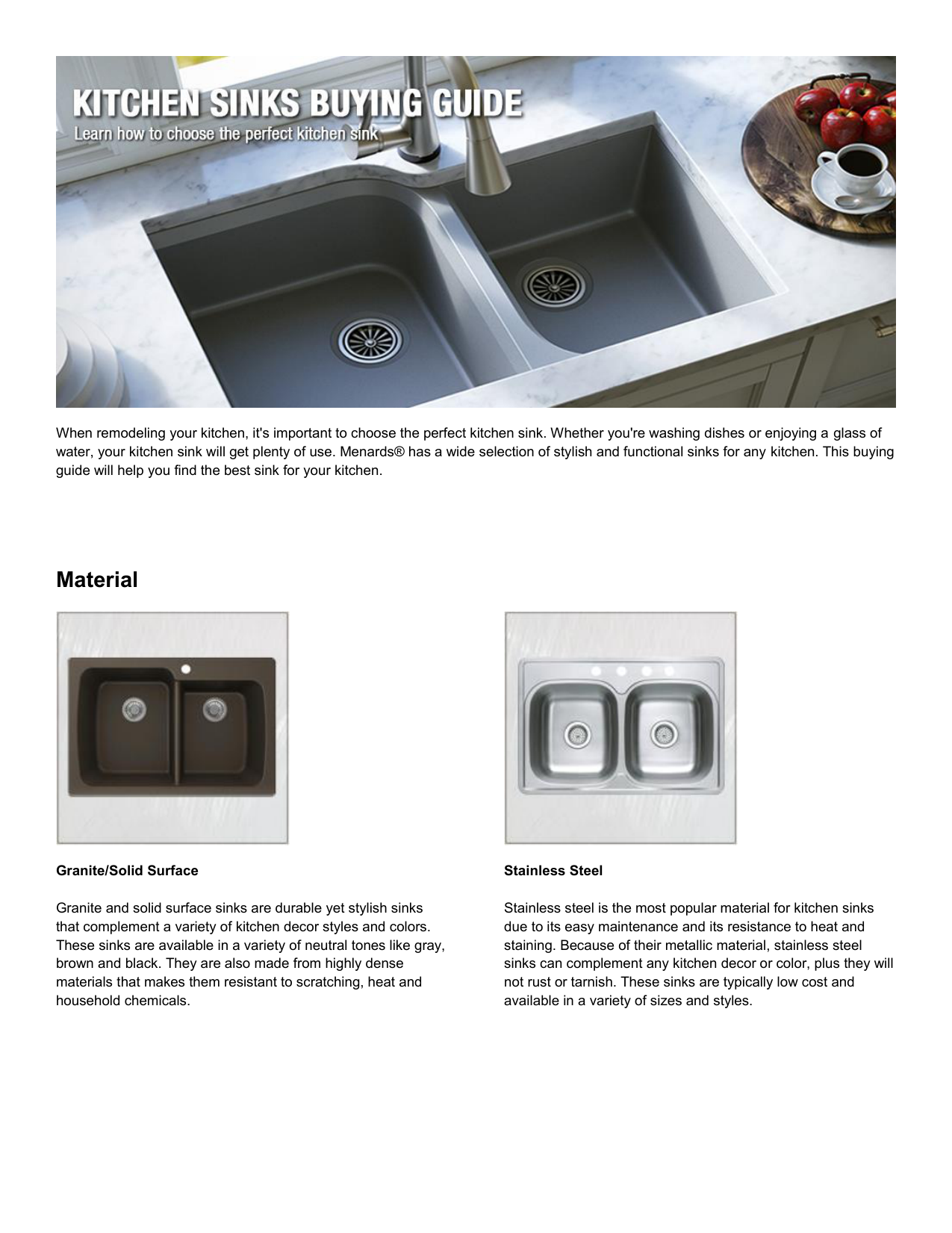 When remodeling your kitchen, it's important to choose the perfect kitchen sink. Whether you're washing dishes or enjoying a glass of
water, your kitchen sink will get plenty of use. Menards® has a wide selection of stylish and functional sinks for any kitchen. This buying
guide will help you find the best sink for your kitchen.
Material
Granite/Solid Surface
Stainless Steel
Granite and solid surface sinks are durable yet stylish sinks
that complement a variety of kitchen decor styles and colors.
These sinks are available in a variety of neutral tones like gray,
brown and black. They are also made from highly dense
materials that makes them resistant to scratching, heat and
household chemicals.
Stainless steel is the most popular material for kitchen sinks
due to its easy maintenance and its resistance to heat and
staining. Because of their metallic material, stainless steel
sinks can complement any kitchen decor or color, plus they will
not rust or tarnish. These sinks are typically low cost and
available in a variety of sizes and styles.
Cast Iron
Acrylic
Cast iron sinks are made of heavy, durable iron that is covered
with a top layer of enamel for a sink that is both strong and
stylish. These sinks are available in a variety of colors and
feature an elegant glossy sheen. These sinks are stain
resistant, and easy to clean and maintain.
Acrylic sinks are a lightweight type of sink that is made of
tough plastic. This material is highly resistant to staining and is
available in many different colors. Acrylic is one of the least
expensive sink options, and any scratches can easily be
polished or sanded away.
Copper
Fireclay
Copper is a unique sink material option that creates a dramatic
focal point for your kitchen. Plus these sinks are rust resistant
and antimicrobial. When choosing a copper sink, be sure to
choose a sink that is at least 99% copper for the elegant
copper appearance and 1% zinc to ensure the strength and
integrity of your sink.
Like the name implies, fireclay is made from clay that is fired at
extremely high temperatures to create a strong, heavy-duty
sink. These sinks are nearly impossible to dent, scratch or
chip. They feature a heavy glaze so they have a nonporous
surface that is easy to clean.
Styles
Mounting Styles
Sink Styles
There are several different mounting styles for your kitchen
sink.
Kitchen sinks are also available in a variety of different styles.
-Top-Mount sinks are an easy do-it-yourself option that is
simply dropped into place.
-Undermount sinks are installed beneath the counter for a
seamless look.
-Dual-Mount sinks are a versatile option that can be installed
as either a top-mount or undermount.
-1-bowl sinks feature a simple one-bowl design that's great for
kitchens with limited counter space.
-2-bowl/3-bowl sinks feature more than one bowl for extra
space or to accomplish multiple tasks.
-Farmhouse/apron sinks feature a large, forward-facing
section that takes up part of the counter.
-Bar/prep sinks are smaller than normal sinks to allow for
installation in your kitchen's bar or island.
©2004-2016 Menard, Inc. All Rights Reserved.

* Your assessment is very important for improving the work of artificial intelligence, which forms the content of this project