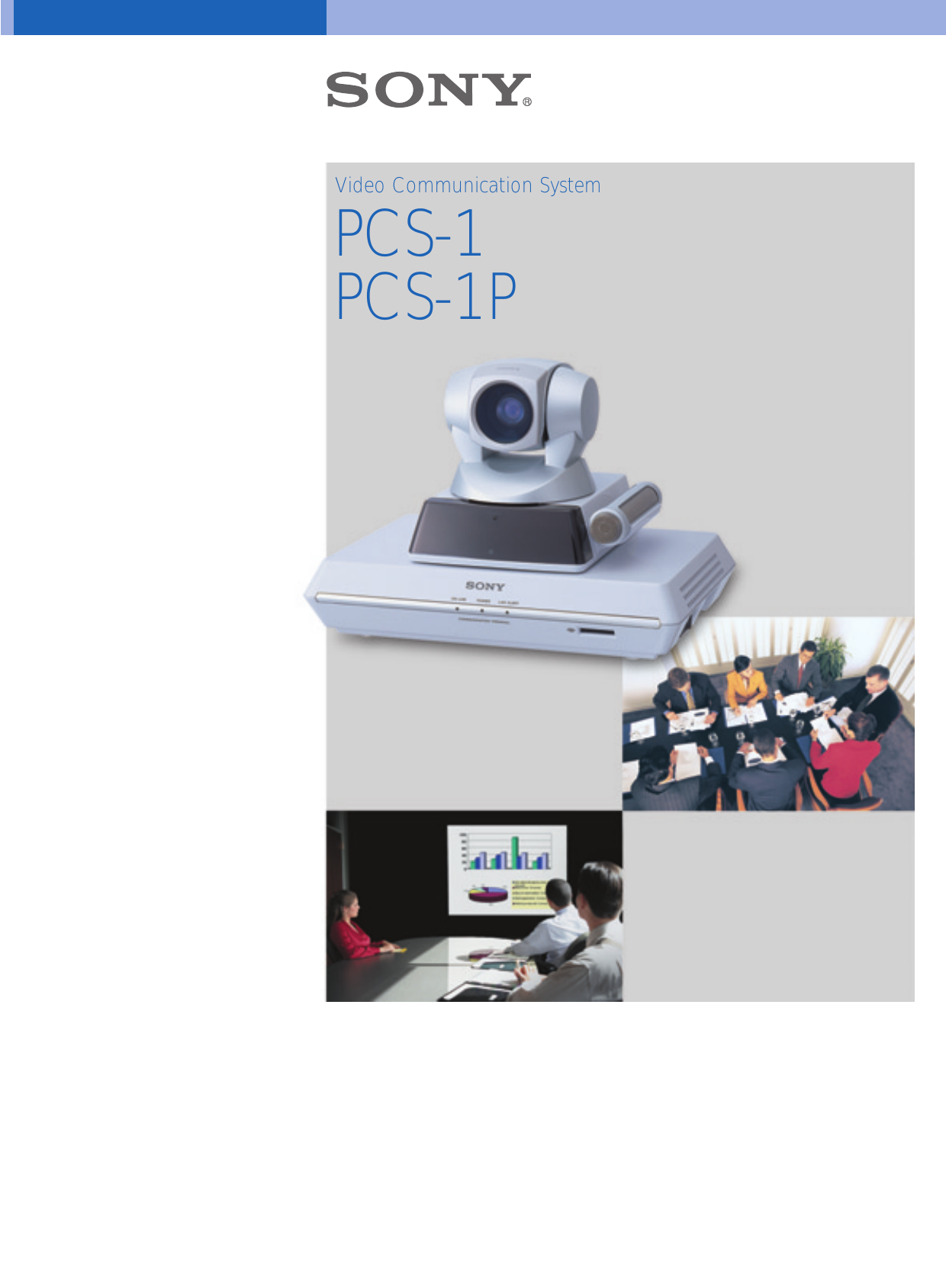 Video Communication System
PCS-1
PCS-1P
FEATURES
Data-Sharing Capabilities
Share presentation documents originated from your
PC and hand-written content on a whiteboard within
an audio- and video-based conference – as if all
meeting participants were in the same room. The
PCS-1/1P provides two major capabilities to achieve
this benefit:
Sharing Presentation Documents in XGA
Resolution
New and Powerful Method of
Communication
Incorporating the most advanced IT and worldwide-proven AV
technologies into a compact and stylish two-piece body, the Sony
PCS-1/1P Video Communication System offers a new and
powerful method of communication. It's ideal for holding
meetings, with free and dynamic exchange of ideas and opinions
– no matter how far away from each other they are located.
Connecting an optional PCS-DSB1 Data Solution Box
and the PCS-1/1P can transfer screen shots up to
XGA resolution from your PC to remote sites through
a network or an ISDN line. This allows you to share
presentation documents created in software
applications such as Microsoft® PowerPoint®,
Microsoft Excel, and Microsoft Word, as well as other
still images on your PC screen with your
videoconferencing counterparts. Up to two PCs can
be connected to a PCS-DSB1 for faster transition
between presenters, and with the touch of a button,
screen shots from the selected PC can easily be
transmitted. You can choose to view the screen
shots with a single monitor in "Picture in Picture"
mode*, or using a second monitor in "Full-screen"
mode.
* In "Picture in Picture" mode with a single monitor, screen
shots are displayed in the main screen area, while video is
displayed in a small window positioned at the corner.
Digital Whiteboard Function Support
The PCS-1/1P provides effective data-sharing capabilities, which
significantly enhance the benefits offered by conventional audioand video-based conferencing. In addition, it brings superb
acoustic quality – which has won critical acclaim from the audio
conference market – into videoconferencing applications for
more natural sound clarity.
The PCS-1/1P can provide major improvements in the way your
organization communicates, allowing you to engage in simple,
immediate, and face-to-face communication with your staff, or
to make critical project decisions.
Using a digital whiteboard recorder*, notes and
drawings on a whiteboard can be electronically
converted and then transferred in real time to remote
sites to be displayed on a screen. In addition, notes
and drawings can be captured by the "SnapShot"
mode, saved in a JPEG file, and recorded to Memory
StickTM media attached to the PCS-1/1P
– exceptionally useful for later viewing and
distribution purposes.
* Digital whiteboard recorders are available from other
manufacturers. For recommended models, please contact
your local Sony office.
Flexible Installation
Excellent Video Quality
The PCS-1/1P comprises the Camera Unit and Communication
Terminal (Main unit).
This unique two-piece design provides the flexibility to meet
various installation needs.
Its compact and stylish configuration provides the convenience of
using a projector and FPD (Flat Panel Display) together, making a
great impression on conference participants. Its small size of
147 (W) x 130 (H) x 138 (D) mm and light weight of 1.1 kg
allows the Camera Unit to be easily installed in space-critical
environments. Positioned on top of the Communication
Terminal, the combined unit provides a footprint of just
258 (W) x 171 (D) mm – small enough to sit on top of any TV
monitor.
The PCS-1/1P is equipped with encoding capabilities compliant
with the ITU-T H.323 standard for network-based
videoconferencing at up to 2 Mb/s and 30 frames/s. With
connection to an optional PCS-B768 ISDN Unit, it is possible to
hold a videoconference compliant with the ITU-T H.320 standard
at up to 768 kb/s via an ISDN line.
Outstanding Audio Quality
To communicate clearly and effectively in a meeting, audio is an
indispensable factor. Sony audio technology, which has been
leading the audio conference market for so long, now makes
videoconference audio even more natural and crisp:
Super Acoustic System Support
The optional CTE-600 Communication Transducer is an acoustic
system that comprises six radially arranged uni-directional
microphones and one omni-directional speaker. Each
microphone constantly detects the audio level in the conference
room; however, only the microphone that detects the largest
audio level sends a signal to the PCS-1/1P. What this means is
that the active speaker's voice is clearly transmitted, while
minimizing background noise. The speaker system is designed
such that sound is projected horizontally in all directions, for
clear sound quality in meetings involving as many as 15 to 20
participants.
MPEG-4 Audio Encoding*
The PCS-1/1P features AAC (Advanced Audio Coding) at 14 kHz,
compliant with the MPEG-4 standard. It emits superb audio
quality for a point-to-point videoconference via a network, with
double the bandwidth frequency of conventional audio
encoding.
* MPEG-4 Audio Encoding will be supported in host software version
1.10 or later.
Multi-point Videoconferencing
Using optional MCU (Multi-point Control Unit) Software, a multipoint videoconference comprising up to six sites can be set up.
The PCS-323M1 H.323 MCU Software enables a multi-point
videoconference compliant with the ITU-T H.323 standard, while
the PCS-320M1 H.320 MCU Software enables a multi-point
videoconference compliant with the ITU-T H.320 standard, and
also accepts audio-only connections by telephone. These
configurations also offer data-sharing capabilities. When a multipoint videoconference for seven to ten sites is required, two
PCS-1/1P units with PCS-323M1 H.323 MCU Software installed
can be cascaded.* These two units can then be connected to
further four units each, resulting in up to ten units being
connected and controlled simultaneously.
* Data-sharing capabilities are not available in this configuration.
Memory Stick Support
Attaching Memory Stick media to
the PCS-1/1P allows presentation
documents and digital photos to
be displayed in 4CIF format
without connecting to a PC.
The graphics displayed can also be
transferred to remote sites for data-sharing purposes.
In addition, an address book and system settings can be saved
and edited in the Memory Stick media.
QoS (Quality of Service) Enhancement
Functions
When holding a videoconference via a network, a
common concern is how to maintain picture quality in
varying levels of performance. The PCS-1/1P provides two
advanced functions to enhance a QoS on the network:
Adaptive Rate Control
The adaptive rate control function varies the bit rate of
A/V data corresponding to changing network
conditions and selects the most appropriate frame
rates. When network traffic becomes congested, it
automatically lowers the video bit rate, and when the
network condition recovers, it raises the bit rate up to
the initial value. This function can help prevent the
picture quality from being degraded.
ARQ (Auto Repeat reQuest)*
The ARQ function recovers lost packets by resending
the same packets, buffered in the encoder, which
helps to avoid a picture collapse.
* ARQ will be supported in host software version 1.10 or later.
OPTIONAL ACCESSORIES
PCS-DSB1
CTE-600
PCS-B768
Data Solution Box
Communication
Transducer
ISDN Unit
Dimensions:
240 (W) x 33 (H) x 160 (D) mm
Mass: 0.85 kg
Dimensions:
165 (W) x 34 (H) x 127 (D) mm
Mass: 0.40 kg
Dimensions:
φ 248 x 104 (H) mm
Mass: 1.5 kg
PCS-323M1
PCS-320M1
PCS-A1
PCS-DS150/DS150P
H.323 MCU Software
H.320 MCU Software
Microphone
Document Stand
Dimensions:
φ 74 x 16 (H) mm
Mass: 0.17 kg
Dimensions:
120 (W) x 480 (H) x 380 (D) mm
Mass: 2.6 kg
SYSTEM CONFIGURATION EXAMPLES
A videoconference via a network using a single projector or flat panel display in "Picture in Picture"
mode
A videoconference via an ISDN line using a projector and either a flat panel display or TV monitor
SPECIFICATIONS
Video
Signal system
Standards
Resolution
Frame rate
Bit rate
Audio
Bandwidth and coding
Echo cancellation
Remote Commander
PCS-1: NTSC
PCS-1P: PAL
H.261, H.263, H.263+, H.263++, MPEG-4 SP@L3*
QCIF, CIF
Max. 30 frames/s
Up to 768 kb/s in H. 320 (Incl. audio)
Up to 2 Mb/s in H.323 (Incl. audio)
G.711: 3.4 kHz at 56/64 kb/s
G.722: 7.0 kHz at 48/56/64 kb/s
G.722.1: 7.0 kHz at 24 kb/s (H.323)
G.728: 3.4 kHz at 16 kb/s
G.723.1: 3.4 kHz at 5.3/6.3 kb/s (H.323)
G.729: 3.4 kHz at 8 kb/s (H.323)
MPEG-4 AAC mono 14 kHz at 48 kb/s (H.323)
Reduction rate: 30 dB
Echo path length:
340 ms (4 kHz and below)
110 ms (4 to 8 kHz)
56 ms (8 kHz and above)
Noise suppressor included
Automatic gain control included
Format: Wireless SIRCS
I/F of PCS-1/1P
Video
Audio
Graphics
Network
Digital whiteboard
Memory Stick
Control
I/F of PCS-DSB1
Audio I/F
Graphics
XGA: 1024 pixels x 768 lines (H.263)
4CIF: 704 pixels x 576 lines (H.261 Annex D and H.263 Base)
Graphics
Sub screen size: 1/9 (One of four corners)
I/F of PCS-B768
Picture in Picture
ITU-T Standards
H.320, H.323
H.221
Bonding
H.281 FECC
H.225.0
H.245
T.120
Network Protocols
TELNET (Server)
HTTP (Server)
FTP (Server)
SNMP (Agent)
PING
DNS (Client)
DHCP (Client)
RTCP
RTP
TCP
ARP
NTP (Client)
Multipoint Capabilities
Up to 6 sites (H.323)
Up to 10 sites (H323)*
Up to 6 sites (H.320)
Lip Synchronization
Manual On/Off
Camera Unit
Image sensor
Horizontal resolution
Focal length
Focus
IRIS
Horizontal view angle
Zoom ratio
Pan angle
Tilt angle
Preset
S/N
Others
1/4 type CCD
PCS-1: 470 TV lines
PCS-1P: 460 TV lines
3.1 to 31 mm (F1.8 to 2.9)
Auto/Manual
Auto
6.6 to 65 degrees
x10 (Optical zoom), x40 (Digital zoom)
-100 to +100 degrees (Max. 300 degrees/s)
-25 to +25 degrees (Max. 125 degrees/s)
Up to 6 positions
More than 50 dB
Back light shooting
Distributed by
3TECH Engineering Limited
RmA26, 11/F., Block A,
East Sun Ind. Ctr.,16 Shing Yip St.,
Kwun Tong, Kln., HK.
MSD2003-252V1(10047V1)WEL0008
Printed in Hong Kong
Tel: +852 3599 8777
Fax: +852 3526 2083
Email: sales@3tech.com.hk
3tech.com.hk
S-video input x 1
Composite input x 1
S-video output x 2
Composite output x 1
RGB output x 1
IR for PCS-DS150/DS150P x 1
Line input (RCA) x 1
External microphone input (Plug in power) x 2
Line output (RCA) x 1 for far end audio
Line output (RCA) x 1 for recording
Internal microphone x 1
RGB (XGA) output x 1
10Base-T/100Base-TX x 1
Dedicated connector x 1
Memory Stick slot x 1
SIRCS IR output for TV monitor x 2
IR for Remote Commander x 1
Microphone input (Mini jack) x 5
Line output (Mini jack) to active speaker x 1
AUX input (RCA) x 1
AUX output (RCA) x 1
RGB (XGA, SVGA, VGA) input x 2
RGB (XGA) output x 1
ISDN: BRI (Basic Rate Interface) x 6
Environment
Operating temperature
5 °C to 35 °C
Operating humidity
30% to 70%
Storage temperature
-20 °C to +55 °C
Storage humidity 25% to 75%
Power Requirement and Consumption
Requirement
PCS-1: AC 120 V, 50/60 Hz
PCS-1P: AC 220 V to 240 V, 50/60 Hz
Consumption
DC 19.5 V, 3.5 A
Dimensions and Weight
Communication Terminal
258 (W) x 54 (H) x 171 (D) mm, 1.3 kg
Camera Unit
147 (W) x 130 (H) x 138 (D) mm, 1.1 kg
Remote Commander
50 (W) x 24 (H) x 197 (D) mm, 0.14 kg (Incl. battery)
System Components and Supplied Accessories
Communication Terminal x 1
Camera Unit x 1
Remote Commander x 1
Camera Cable (0.25 m) x 1
AC Adaptor x 1
IR Repeater x 2
Manganese Battery for Remote Commander x 2
Velcro for Communication Terminal x 2
Double-faced Tape for Camera Unit x 3
Audio Cable (1.0 m) x 1
S-Video Cable (1.5 m) x 1
Operation Manual x 1
(Japanese, English, French, Spanish, Italian, German, Simplified Chinese)
Warranty Card x 1
* MPEG-4 SP@L3 will be supported in host software version 1.10 or later.
* Two PCS-1/1P units with PCS-323M1 installed must be used.
©2003 Sony Corporation. All rights reserved.
Reproduction in whole or in part without written permission is
prohibited.
Features and specifications are subject to change without notice.
All non-metric weights and measures are approximate.
Sony is a registered trademark of Sony Corporation.
Memory Stick is a trademark of Sony Corporation.
Microsoft and PowerPoint are registered trademarks of Microsoft
Corporation.