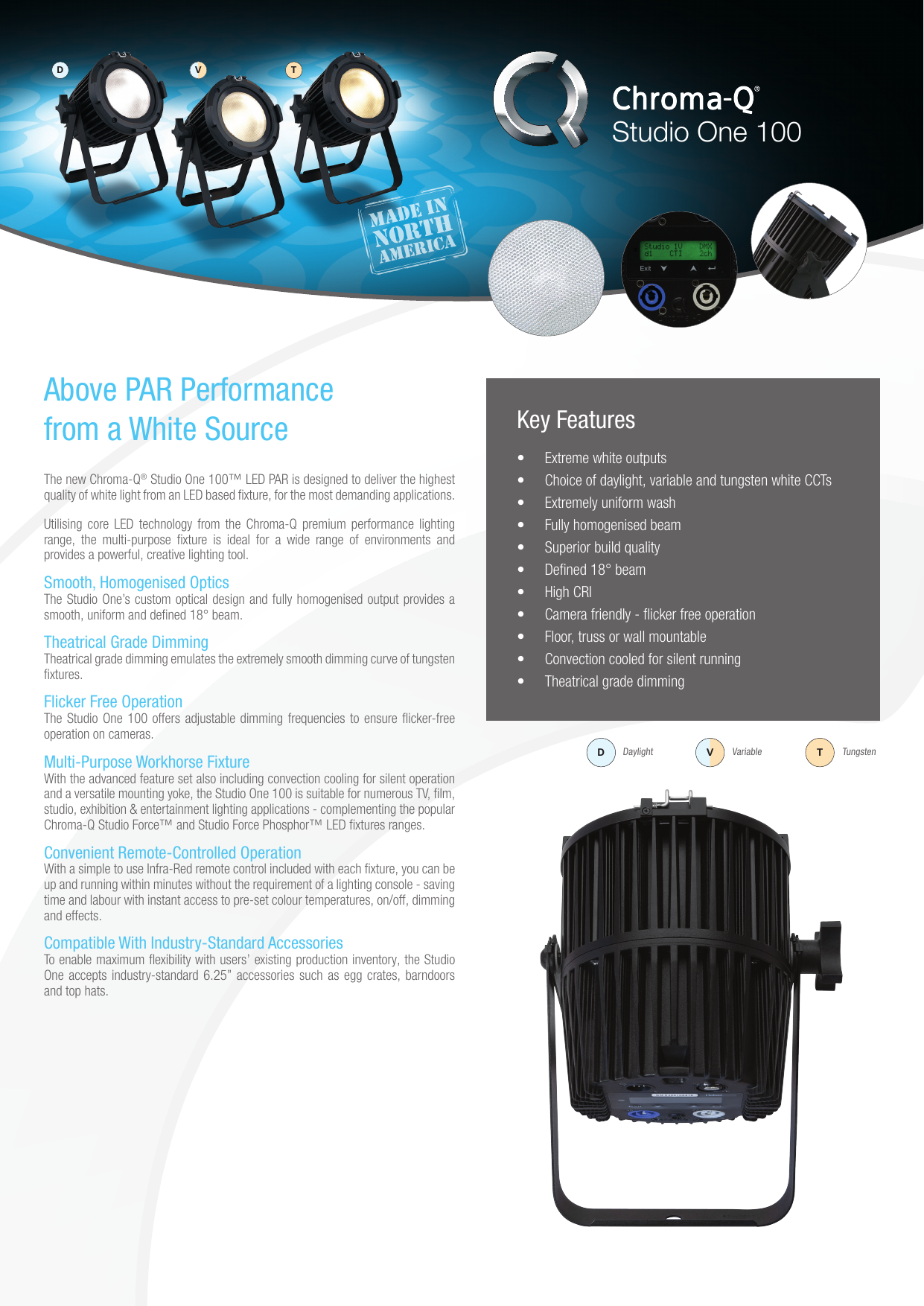 D
T
V
Studio One 100
Above PAR Performance
from a White Source
Key Features
The new Chroma-Q Studio One 100™ LED PAR is designed to deliver the highest
quality of white light from an LED based fixture, for the most demanding applications.
®
Utilising core LED technology from the Chroma-Q premium performance lighting
range, the multi-purpose fixture is ideal for a wide range of environments and
provides a powerful, creative lighting tool.
Smooth, Homogenised Optics The Studio One's custom optical design and fully homogenised output provides a
smooth, uniform and defined 18° beam.
Theatrical Grade Dimming
Theatrical grade dimming emulates the extremely smooth dimming curve of tungsten
fixtures.
•
•
•
•
•
•
•
•
•
•
•
Extreme white outputs
Choice of daylight, variable and tungsten white CCTs
Extremely uniform wash
Fully homogenised beam
Superior build quality
Defined 18° beam
High CRI
Camera friendly - flicker free operation
Floor, truss or wall mountable
Convection cooled for silent running
Theatrical grade dimming
Flicker Free Operation The Studio One 100 offers adjustable dimming frequencies to ensure flicker-free
operation on cameras.
Multi-Purpose Workhorse Fixture
D
With the advanced feature set also including convection cooling for silent operation
and a versatile mounting yoke, the Studio One 100 is suitable for numerous TV, film,
studio, exhibition & entertainment lighting applications - complementing the popular
Chroma-Q Studio Force™ and Studio Force Phosphor™ LED fixtures ranges.
Convenient Remote-Controlled Operation With a simple to use Infra-Red remote control included with each fixture, you can be
up and running within minutes without the requirement of a lighting console - saving
time and labour with instant access to pre-set colour temperatures, on/off, dimming
and effects.
Compatible With Industry-Standard Accessories
To enable maximum flexibility with users' existing production inventory, the Studio
One accepts industry-standard 6.25" accessories such as egg crates, barndoors
and top hats.
Daylight
V
Variable
T
Tungsten
Technical Specification
Studio One 100
D
V
T
Technical Specification
Product Code
Power Consumption
60W @ 120V AC; 61W @ 230V AC
Studio One 100
CHSONE100D - IP20, powerCON
& XLR 5-pin In/Out
Idle Power Consumption
3W @ 120V AC; 5W @ 230V AC
Studio One 100
CHSONE100V - IP20, powerCON
& XLR 5-pin In/Out
Power Connectors In/Out
powerCON
Data Connectors In/Out
XLR 5-pin
Studio One 100
CHSONE100T - IP20, powerCON
& XLR 5-pin In/Out
Control Protocol
ANSI E1.11 USITT DMX 512-A
Cooling System
Convection
Net Dimensions
(Full Open Yoke)
214mm x 267mm x 232mm / 8.5" x 10.5" x 9"
Operating Temperature
0°C to 40°C
Net Weight
3.8kg / 8.5lb
Construction
Cast machined aluminium
Shipping Dimensions
406mm x 228mm x 292mm / 16" x 9" x 11.5"
Colour
Black (custom colours available on request)
Shipping Weight
5.5kg / 12lb
Built-In Hardware
Split Yoke, 6.25" Accessory Holder
Power Supply
Built-in
IP Rating
IP20
Input Rating
100-240V AC 50-60Hz 125VA
Approvals
Power Factor
0.5
CISPR 15/EN55015 & EN61547, FCC Part 15
Subpart B:2012 / ICES-003:2012, CSA C22.2,
UL 1573, IEC 60598
Typical Power & Current
Measurements done with all LEDs at max. intensity.
Measurements made at nominal voltage.
Allow for deviation of +/- 10%.
Studio One 100
D
V
T
Control & Photometric
Studio
One 100 DD
Studio
One 100 VV
LED Engines
LEDs Per Engine
Control Modes
Studio
One 100 TT
Hot Lumen Output (Combined)
1
Cold White
1 channel
DIMMER,
Master, Slave
Warm White
Cold White
Warm White
2 channels CTI,
2 channels WW
CW, Master,
Slave
1 channel
DIMMER,
Master, Slave
Dimming Curve
Theatrical
Wireless Control
On / Off
Fade In
Fade Out
Studio
One 100 DD
Studio
One 100 VV
Studio
One 100 TT
2,500
2,100
2,200
Optics
Fully homogenised
Beam Angle
18°
Beam Distribution
Symmetrical direct illumination
CCT
6,100K
(+/- 200K)
3,000K
- 6,100K
3,000K
(+/- 200K)
CRI
82
86
82
Lamp Life
L70 at 50,000 hours
Accessories Included
Wireless IR Remote
Colour Frame
For the latest news and information on the Chroma-Q range, visit www.chroma-q.com
UK & International Sales
A.C. Entertainment Technologies Ltd.
Tel: +44 (0)1494 446000
Fax: +44 (0)1494 461024
sales@ac-et.com
www.ac-et.com
Northern UK Sales
A.C. Entertainment Technologies Ltd.
Tel: 0113 255 7666
Fax: 0113 255 7676
acnorth@ac-et.com
www.ac-et.com
North American Sales
A.C. Lighting Inc.
Tel: +1 416-255-9494
Fax: +1 416-255-3514
northamerica@aclighting.com
www.aclighting.com
Asian Sales
A.C. Lighting Asia KK
Tel: +81 (0)3-6907-1758
Fax: +81 (0)3-6907-1589
sales@aclighting.jp
www.aclighting.jp
Chroma-Q and all associated product names are recognised trademarks, for more information visit www.chroma-q.com/trademarks. The rights and ownership of all trademarks are recognised. Whilst every effort has been made to ensure that the information is correct, Chroma-Q
accepts no liability for errors or omissions. Technical specifications and data are provided for guidance only. Because we constantly aim to improve our products, we reserve the right to amend or alter at any time and without prior notice, the specifications of any product. E&OE.
V 1.0 - 04/16
In addition, follow us on Facebook. chromaq.lighting ......