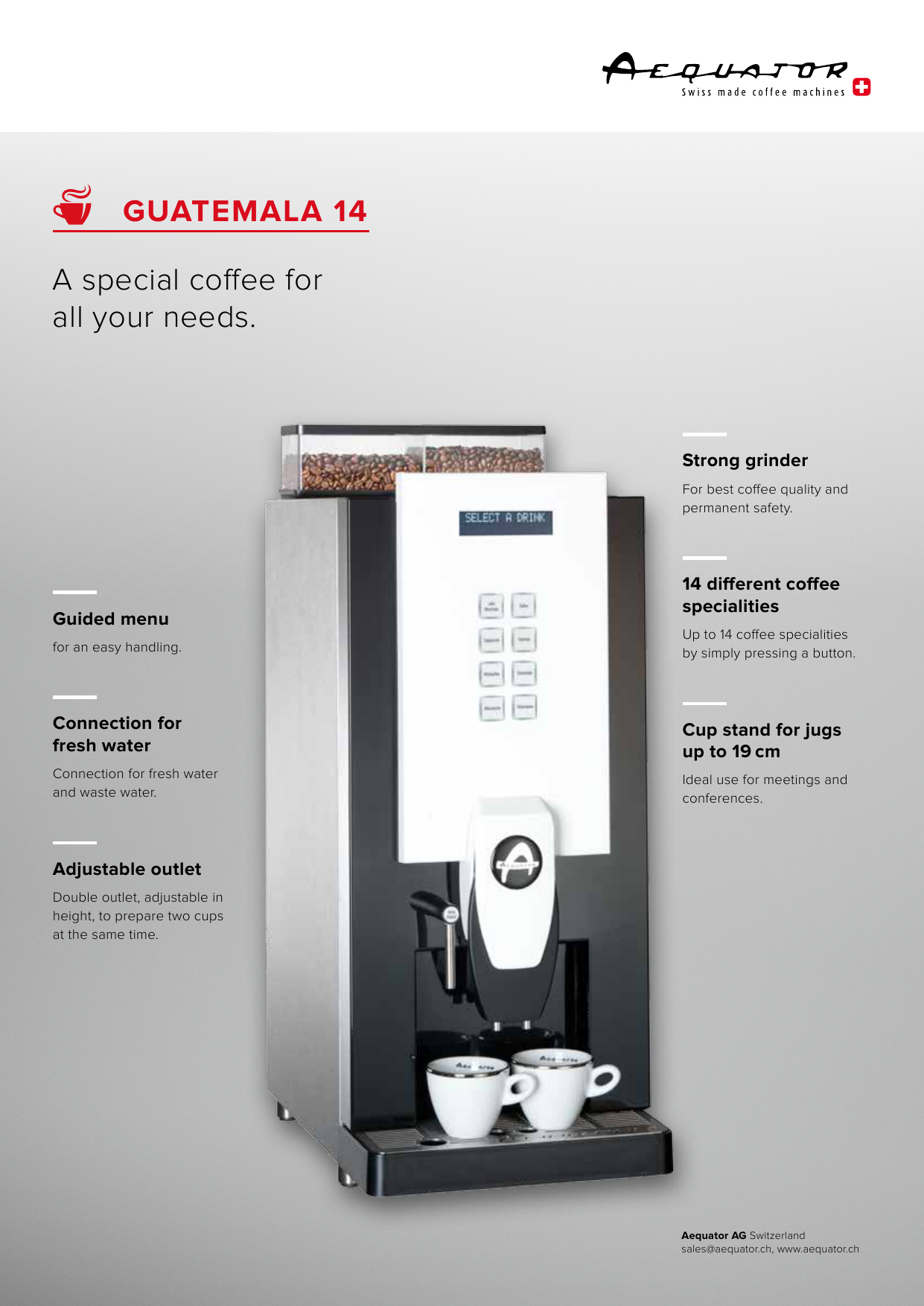 GUATEMALA 14
A special coffee for
all your needs.
Strong grinder
For best coffee quality and
permanent safety.
Guided menu
14 different coffee
specialities
for an easy handling.
Up to 14 coffee specialities
by simply pressing a button.
Connection for
fresh water
Cup stand for jugs
up to 19 cm
Connection for fresh water
and waste water.
Ideal use for meetings and
conferences.
Adjustable outlet
Double outlet, adjustable in
height, to prepare two cups
at the same time.
Aequator AG Switzerland
sales@aequator.ch, www.aequator.ch
GUATEMALA 14
Approval marks
The powerful "bean 2 cup" solution for the catering industry
has one or two powerful coffee grinders for two different
varieties of coffee, and two instant containers for drinks
containing milk and/or chocolate. New techniques are
used to meet high standards of hygiene.
Our ISO 9001 and ISO 14001 certificates
prove that the company Aequator AG
fulfils the international standards of
quality management and environment
management.
hot· stamrt
syste
milk
hygo·
ystem
dry s
ilk
hygio·d m
m
syste
liqu
milk
hygo·
ystem
s
qu al i
Technical information
Material: housing in stainless steel combined with a high gloss front
Dimensions: (W 320mm, H 810 mm, D 550 mm)
Weight: 49,5 kg netto
Electricity: 230 V, 50 Hz, 13 A, 3 kW
Performance: 180–240 cups of coffee per hour / 28 litres hot water per hour
Capacity: bean hopper for 200 cups of coffee approx
2 grinders for 2 varieties of coffee beans
2 instant containers for dried milk and chocolate
Accessories
Payment systems: payment system (integrated in the door), modem to connect
cash registers
Cup warmer: space for 160 cups (W 250 mm, H 710 mm, D 370 mm)
Various: Trolley, Cup dispenser, Design back cover
contrm ol
syste
Hot Start System
Aequator's unique heating
system creates pleasantly
hot coffee enjoyment, from
the very first cup.
High Hygiene Standard
Best hygiene milk system
keeps bacteria away and
reduces maintenance and
cleaning work (meets EU
hygiene regulations HACCP).
Grinder Control
Excellent taste guaranteed
by automatic quality control
of grinder and automatic
adjustment of grinding and
brewing times.

* Your assessment is very important for improving the work of artificial intelligence, which forms the content of this project