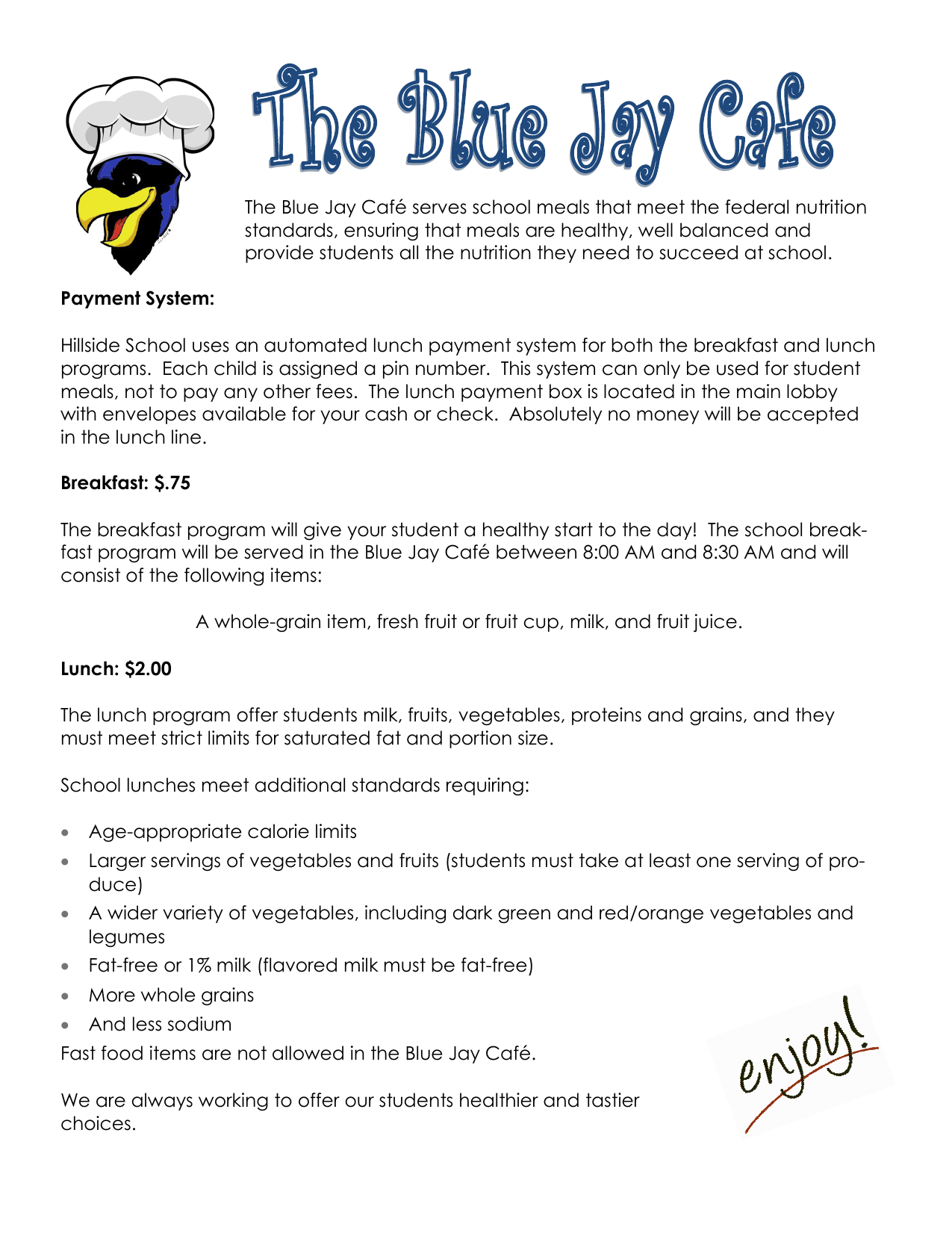 The Blue Jay Café serves school meals that meet the federal nutrition
standards, ensuring that meals are healthy, well balanced and
provide students all the nutrition they need to succeed at school.
Payment System:
Hillside School uses an automated lunch payment system for both the breakfast and lunch
programs. Each child is assigned a pin number. This system can only be used for student
meals, not to pay any other fees. The lunch payment box is located in the main lobby
with envelopes available for your cash or check. Absolutely no money will be accepted
in the lunch line.
Breakfast: $.75
The breakfast program will give your student a healthy start to the day! The school breakfast program will be served in the Blue Jay Café between 8:00 AM and 8:30 AM and will
consist of the following items:
A whole-grain item, fresh fruit or fruit cup, milk, and fruit juice.
Lunch: $2.00
The lunch program offer students milk, fruits, vegetables, proteins and grains, and they
must meet strict limits for saturated fat and portion size.
School lunches meet additional standards requiring:

Age-appropriate calorie limits

Larger servings of vegetables and fruits (students must take at least one serving of produce)

A wider variety of vegetables, including dark green and red/orange vegetables and
legumes

Fat-free or 1% milk (flavored milk must be fat-free)

More whole grains

And less sodium
Fast food items are not allowed in the Blue Jay Café.
We are always working to offer our students healthier and tastier
choices.

* Your assessment is very important for improving the work of artificial intelligence, which forms the content of this project