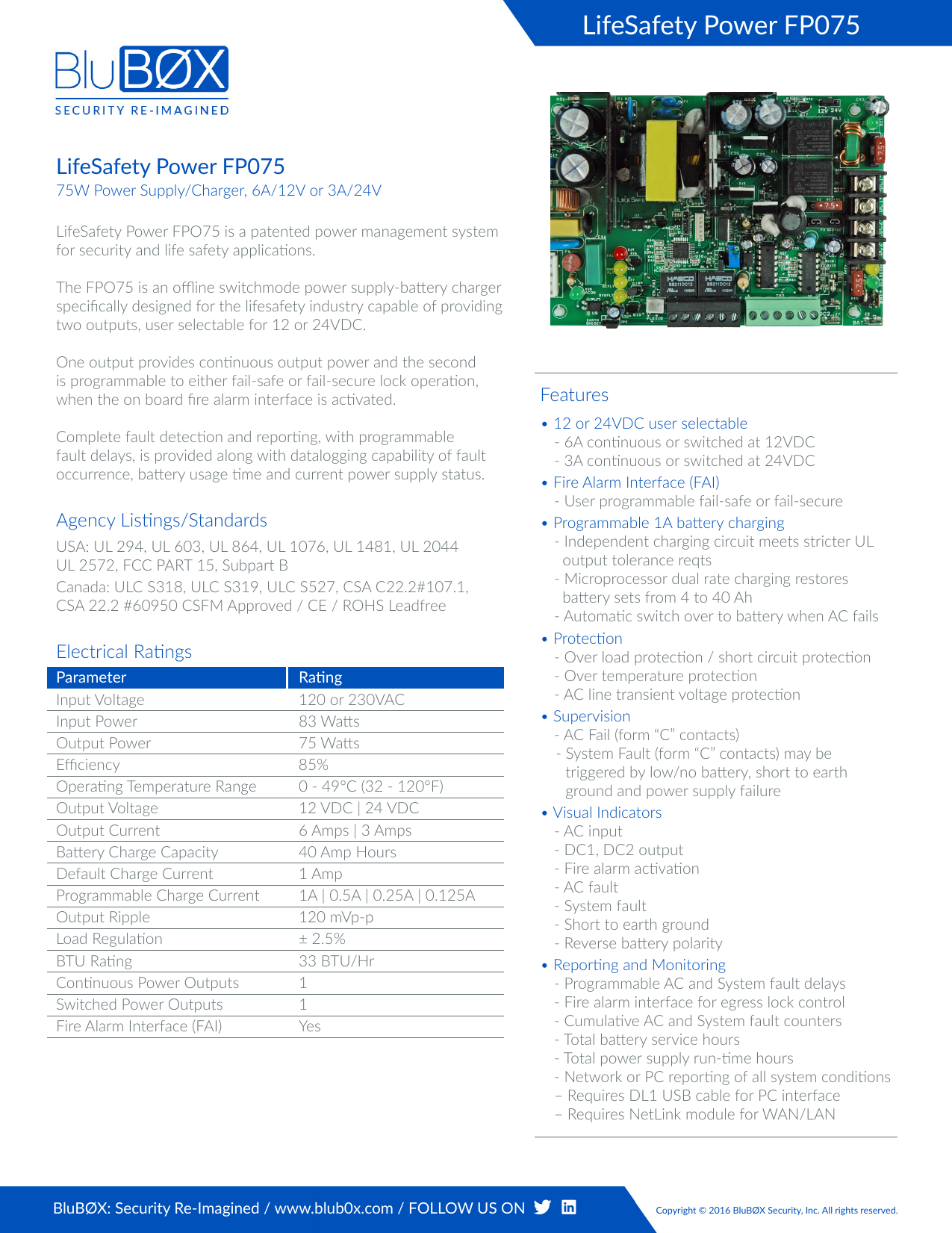 LifeSafety Power FP075
LifeSafety Power FP075
75W Power Supply/Charger, 6A/12V or 3A/24V
LifeSafety Power FPO75 is a patented power management system
for security and life safety applications.
The FPO75 is an offline switchmode power supply-battery charger
specifically designed for the lifesafety industry capable of providing
two outputs, user selectable for 12 or 24VDC.
One output provides continuous output power and the second
is programmable to either fail-safe or fail-secure lock operation,
when the on board fire alarm interface is activated.
Complete fault detection and reporting, with programmable
fault delays, is provided along with datalogging capability of fault
occurrence, battery usage time and current power supply status.
Agency Listings/Standards
USA: UL 294, UL 603, UL 864, UL 1076, UL 1481, UL 2044
UL 2572, FCC PART 15, Subpart B
Canada: ULC S318, ULC S319, ULC S527, CSA C22.2#107.1,
CSA 22.2 #60950 CSFM Approved / CE / ROHS Leadfree
Electrical Ratings
Parameter Input Voltage
Input Power
Output Power
Efficiency
Operating Temperature Range Output Voltage Output Current Battery Charge Capacity Default Charge Current Programmable Charge Current Output Ripple Load Regulation BTU Rating Continuous Power Outputs Switched Power Outputs Fire Alarm Interface (FAI) Rating
120 or 230VAC
83 Watts 75 Watts
85%
0 - 49°C (32 - 120°F)
12 VDC | 24 VDC
6 Amps | 3 Amps
40 Amp Hours
1 Amp
1A | 0.5A | 0.25A | 0.125A
120 mVp-p
± 2.5%
33 BTU/Hr
1
1
Yes
BluBØX: Security Re-Imagined / www.blub0x.com / FOLLOW US ON
Features
• 12 or 24VDC user selectable
- 6A continuous or switched at 12VDC
- 3A continuous or switched at 24VDC
• Fire Alarm Interface (FAI)
- User programmable fail-safe or fail-secure
• Programmable 1A battery charging
- Independent charging circuit meets stricter UL output tolerance reqts
- Microprocessor dual rate charging restores battery sets from 4 to 40 Ah
- Automatic switch over to battery when AC fails
• Protection
- Over load protection / short circuit protection
- Over temperature protection
- AC line transient voltage protection
• Supervision
- AC Fail (form "C" contacts)
- System Fault (form "C" contacts) may be triggered by low/no battery, short to earth ground and power supply failure
• Visual Indicators
- AC input
- DC1, DC2 output
- Fire alarm activation
- AC fault
- System fault
- Short to earth ground
- Reverse battery polarity
• Reporting and Monitoring
- Programmable AC and System fault delays
- Fire alarm interface for egress lock control
- Cumulative AC and System fault counters
- Total battery service hours
- Total power supply run-time hours
- Network or PC reporting of all system conditions
– Requires DL1 USB cable for PC interface
– Requires NetLink module for WAN/LAN Copyright © 2016 BluBØX Security, Inc. All rights reserved.
LifeSafety Power FP075
Standard Features
Fault Detection and Reporting
The microprocessor controlled charging process used by the
FPO power supply guarantees proper charging current for
the battery and the fastest charge time. The constant current
charger provides a linear, predictable charge time for any lead
acid, gel battery set from 4 to 40 amphours without stress or
damage to the battery.
The comprehensive fault detection and reporting mechanism
of the FPO series provides for both local and remote fault
reporting.
FPO power supplies are fully fault protected and feature
fiberglass printed circuit boards to protect the electronics
from water and other corrosive elements found in industrial
settings. High efficiency design promotes low heat
generation leading to longer service life.
FlexPower systems are RoHs compliant, lead-free, and meet
the latest state, federal and European requirements for
energy efficiency.
Key power functions can be monitored and reported through
any device, anywhere at any time with BluSKY™ Power
Management.
Activation Methods
• DC voltage: 9 to 33VDC, 3 to 15mA
- Dry contact NO/NC
Latch Enable
• NC contact set or switch (typically for Canadian use)
Power Supply Performance Graphs
+10
+10
Output Regulation
% Deviation
Power supply and accessory board interconnection system
uses common mounting footprints, predrilled mounting
holes, snap-in standoffs, pluggable wires, and a dual buss
distribution architecture to simplify installation and service.
Fire Alarm Interface (FAI)
Line Regulation
+5
0
–5
–10
0
Load Regulation
+5
–5
Transfer to
Battery
20
40
60
0
–10
80
100
110
Line Voltage (% of Maximum)
120
0
20
40
60
80
100
110
120
Output Power (% of Maximum)
SureCharge
+10
+5
% Recharged
Intelligent battery charging and battery state monitoring
improve battery performance. Install hours are tracked and
reported for optimum service life.
Output Regulation
% Deviation @ Full Load
Output power capability of the power supply remains
constant regardless of the output voltage setting. For
example, a FlexPower 250 watt supply will provide 10
amps at 24VDC and 20 amps at 12VDC, allowing the same
number of locking devices to be used at either the 12 or 24V
setting.
Detected Fault Conditions
• AC Power
- AC loss, AC low
• DC Power and System
- Abnormal or loss of power supply operation
- Over current, over temperature condition
- DC output high, low
- Battery Presence, Earth Ground (user optional)
- Reversed battery condition, blown fuse or loss of output voltage on selected accessory boards (detected on the power supply)
Output Regulation
% Deviation
One single switch for configuring the output between 12 and
24VDC eliminates field errors and allows for the reduction
and simplification of service inventory by eliminating the
necessity of stocking units in each voltage.
On-board visual indicators are provided to give immediate
installer feedback. Independent form C relay contacts are
provided to report AC and system fault conditions to remote
or auxiliary equipment.
0
–5
Output vs Temperature
Conventional Charge
Battery Recharge vs Time
–10
–10
0
10
20
30
40
Temperature (°C)
50
60
Charging Hours
Ordering Information
MFG Part # BluBØX Order #
FP075
670-1610
Mechanical Information
Description LSP Power Supply FPO75 6A/12V or 3A/24V 75W 40Ah
Size: 4.0" x 6.0" x 2.5" Weight: 1 lb.
- Provided with cables and mounting hardware
BluBØX: Security Re-Imagined
www.blub0x.com
e. info@blub0x.com
p. (844) 425-8209
FOLLOW US ON
BluBØX Security, Inc. is a manufacturer and service provider of web-cloud based
physical security products. Its BluSKY service delivers enterprise class unified access
control, alarm management, video surveillance, biometrics and visitor management
on any device, anywhere, any time. Its BluCHIP open hardware platform provides
industry standard components and a proprietary line of fully integrated multi-factor,
multi-biometric Person Readers.
Copyright © 2016 BluBØX Security, Inc. All rights reserved.