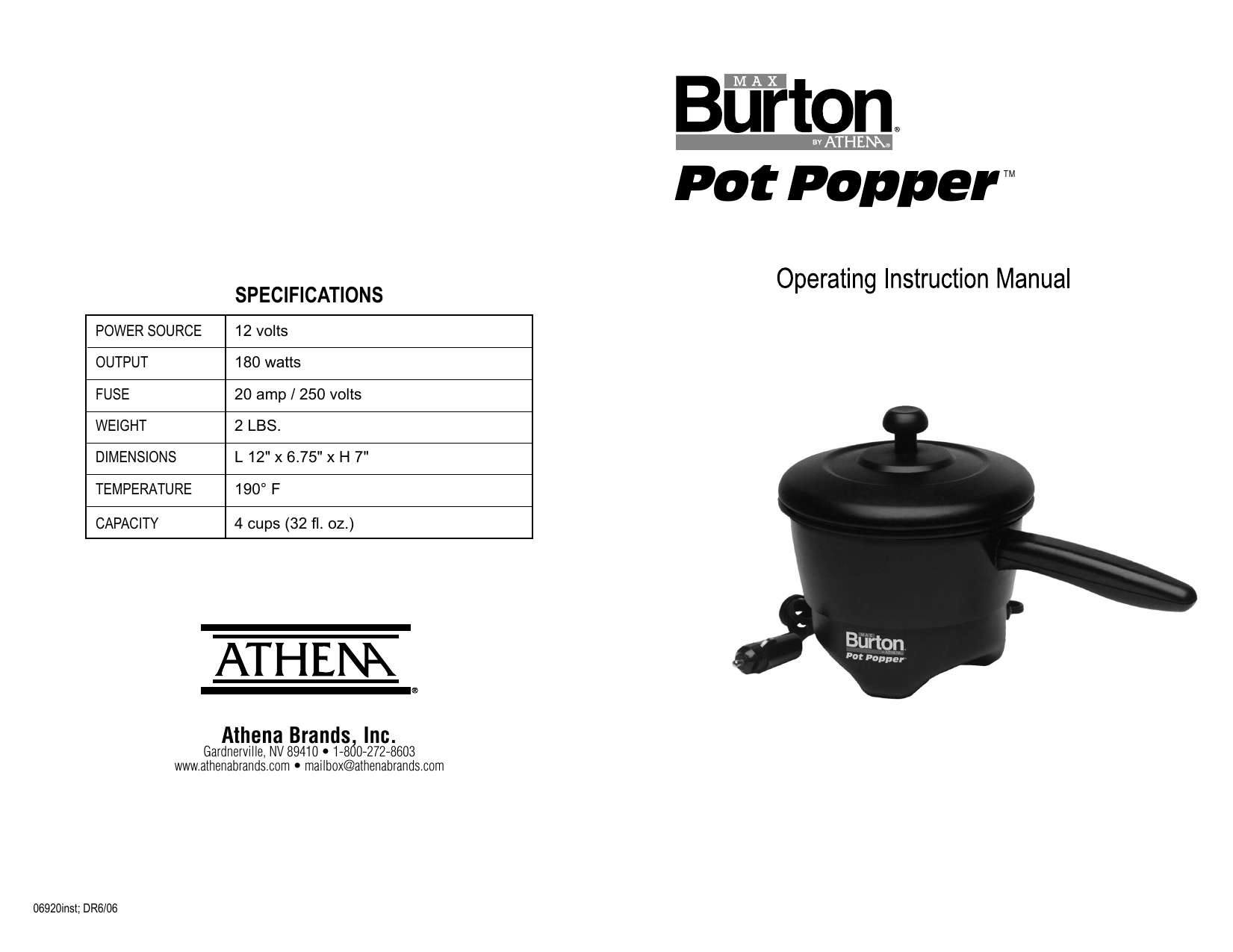 Pot Popper
SPECIFICATIONS
POWER SOURCE
12 volts
OUTPUT
180 watts
FUSE
20 amp / 250 volts
WEIGHT
2 LBS.
DIMENSIONS
L 12" x 6.75" x H 7"
TEMPERATURE
190° F
CAPACITY
4 cups (32 fl. oz.)
Athena Brands, Inc.
Gardnerville, NV 89410 • 1-800-272-8603
www.athenabrands.com • mailbox@athenabrands.com
06920inst; DR6/06
TM
Max Burton Pot Popper™ #06920
IMPORTANT SAFEGUARDS
•
•
•
•
•
•
•
•
•
•
•
•
•
Read all instructions before operating this or any electrical appliance.
Do Not touch hot surfaces.
Do Not immerse cord or base of unit in water or other liquids.
Do Not microwave or clean using a dishwasher.
Do Not use any accessory attachments with this product.
Do Not let cord hang over edge of table or counter.
Do Not clean with metal scouring pads.
Do Not use while vehicle is moving.
Unplug when not in use and before cleaning.
Allow unit to cool before storing.
Keep cord away from hot surfaces.
Administer close supervision when running the appliance around children.
This appliance will not shut off automatically. Unplug immediately after use.
Warning: This appliance is designed to get very hot very quickly and reach a temperature
of 190° F. Handle with care. It will remain hot for a significant period after it has been
unplugged. Athena Brands, Inc. is not responsible for any damage caused by use or misuse
of this product either intentional or accidental.
PARTS IDENTIFICATION
Lid handle
Lid
Handle
12-volt power cord
Heavy non-tip base
OPERATING INSTRUCTIONS
Follow the suggestions below and adjust as needed for your recipe. When ready, insert the
12-volt plug into the DC receptacle in your vehicle.
1. Boiling Water - pour desired number of cups of water into the pan and place the lid on
top. Allow approximately 8 minutes for each 5 ounces of water.
2. Steaming - Place desired food in pan and add 1/2 cup of water and place the lid on top.
Allow approximately 20 minutes to heat or until adequately cooked.
3. Soup - Place ingredients in pan according to instructions on the can or soup mix. Place
the lid on top. Heat to desired temperature. Allow approximately 10 minutes per 8 ounce
serving.
4. Popcorn - measure 1 tablespoon of cooking oil or shortening into the pan. Do not use
butter, margarine, or lard because they burn too easily. Measure 2 tablespoons of popping
corn into the pan. Place the lid on top. When popping stops place it into a bag or bowl.
To continue popping corn, put in oil and corn immediately after removing the first batch
of popped corn. Corn may be popped continuously until desired amount is popped.
5. Other Instructions ~ you can use the Pot-Popper for any of your favorite recipes by reducing
them to one or two servings - or 1 1/2 pints.
OPERATION IN VEHICLES
• Do not use while vehicle is moving.
• Make sure that your battery is strong and in good working condition before plugging
Pot Popper into your vehicle's DC receptacle.
• Do not use the unit if your vehide's electrical system is weak or damaged.
• Periodically check your vehicle's charging system for continued successful use.
CLEANING
Wash after every use with warm soapy water and rinse with clean water
Dry with a clean cloth. DO NOT IMMERSE BASE IN WATER.
TROUBLESHOOTING
If the 12-volt circuit fails to operate, try the following suggestions:
1. In the event that the unit does not appear to heat property, unplug It from the power
supply and make sure that the receptacle is dean. Also check the vehicle's fuse.
2. Be sure the contact points in the lighter receptacle are dean. DO NOT USE METAL
TOOLS. Use only insulators, such as wood, if cleaning Is needed. The adapter plug should
fit firmly in the receptacle.
3. Carefully unscrew the plug's top section. Remove and check the fuse with the proper
electronic meter. If defective, replace the fuse with a 20 amp, 250 volt rated fuse. This
fuse is readily available at local auto parts and electronic stores.
4. Check your vehicle's fuse panel to be certain that the fuse controlling the lighter Is not
worn or weak. Replace a damaged fuse with a new properly sized and rated fuse to ensure
satisfactory performance.
5. Some cigarette lighters have a separate circuit breaker located directly behind the cigarette
lighter receptacle. If your lighter is not working, this circuit breaker may have blown and
could require replacement. Consult your vehicle owner's manual for replacement.

* Your assessment is very important for improving the work of artificial intelligence, which forms the content of this project