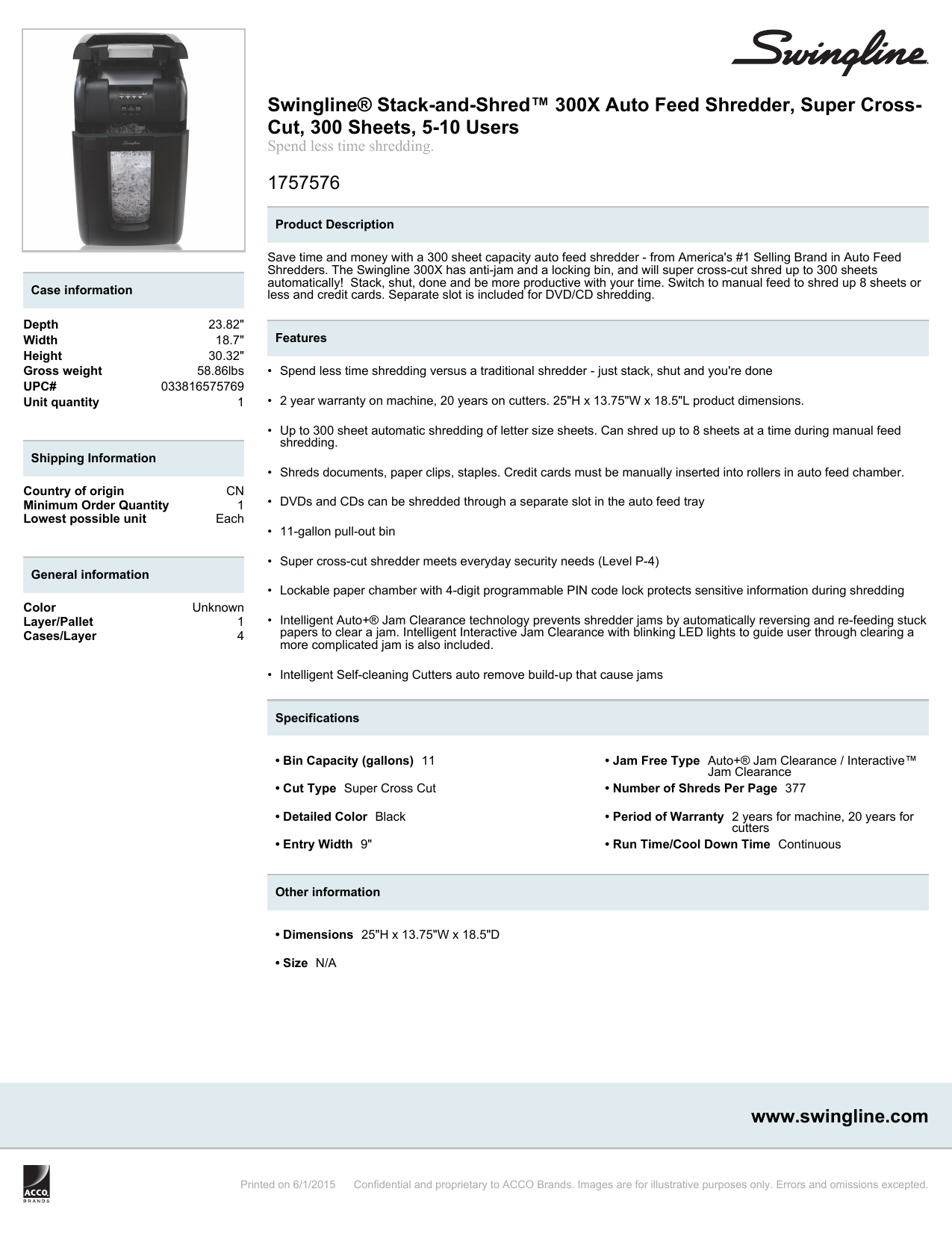 Swingline® Stack-and-Shred™ 300X Auto Feed Shredder, Super CrossCut, 300 Sheets, 5-10 Users
Spend less time shredding.
1757576
Product Description
Save time and money with a 300 sheet capacity auto feed shredder - from America's #1 Selling Brand in Auto Feed
Shredders. The Swingline 300X has anti-jam and a locking bin, and will super cross-cut shred up to 300 sheets
automatically! Stack, shut, done and be more productive with your time. Switch to manual feed to shred up 8 sheets or
less and credit cards. Separate slot is included for DVD/CD shredding.
Case information
Depth
Width
Height
Gross weight
UPC#
Unit quantity
23.82"
18.7"
30.32"
58.86lbs
033816575769
1
Features
• Spend less time shredding versus a traditional shredder - just stack, shut and you're done
• 2 year warranty on machine, 20 years on cutters. 25"H x 13.75"W x 18.5"L product dimensions.
• Up to 300 sheet automatic shredding of letter size sheets. Can shred up to 8 sheets at a time during manual feed
shredding.
Shipping Information
• Shreds documents, paper clips, staples. Credit cards must be manually inserted into rollers in auto feed chamber.
Country of origin
Minimum Order Quantity
Lowest possible unit
CN
1
Each
• DVDs and CDs can be shredded through a separate slot in the auto feed tray
• 11-gallon pull-out bin
• Super cross-cut shredder meets everyday security needs (Level P-4)
General information
• Lockable paper chamber with 4-digit programmable PIN code lock protects sensitive information during shredding
Color
Layer/Pallet
Cases/Layer
Unknown
1
4
• Intelligent Auto+® Jam Clearance technology prevents shredder jams by automatically reversing and re-feeding stuck
papers to clear a jam. Intelligent Interactive Jam Clearance with blinking LED lights to guide user through clearing a
more complicated jam is also included.
• Intelligent Self-cleaning Cutters auto remove build-up that cause jams
Specifications
• Bin Capacity (gallons) 11
• Cut Type Super Cross Cut
• Detailed Color Black
• Entry Width 9"
• Jam Free Type Auto+® Jam Clearance / Interactive™
Jam Clearance
• Number of Shreds Per Page 377
• Period of Warranty 2 years for machine, 20 years for
cutters
• Run Time/Cool Down Time Continuous
Other information
• Dimensions 25"H x 13.75"W x 18.5"D
• Size N/A
www.swingline.com
Printed on 6/1/2015
Confidential and proprietary to ACCO Brands. Images are for illustrative purposes only. Errors and omissions excepted.

* Your assessment is very important for improving the work of artificial intelligence, which forms the content of this project