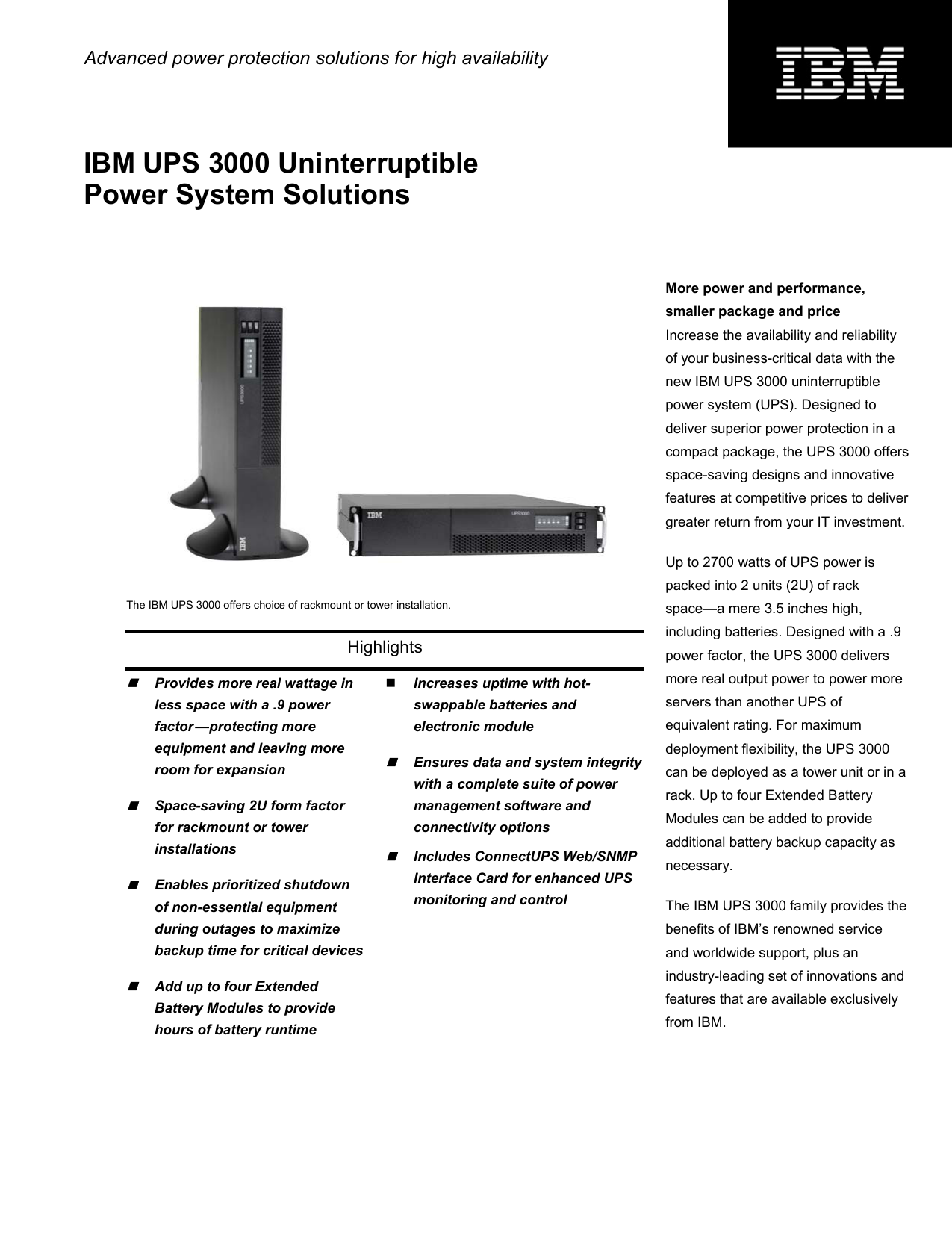 Advanced power protection solutions for high availability
IBM UPS 3000 Uninterruptible
Power System Solutions
More power and performance,
smaller package and price
Increase the availability and reliability
of your business-critical data with the
new IBM UPS 3000 uninterruptible
power system (UPS). Designed to
deliver superior power protection in a
compact package, the UPS 3000 offers
space-saving designs and innovative
features at competitive prices to deliver
greater return from your IT investment.
Up to 2700 watts of UPS power is
packed into 2 units (2U) of rack
The IBM UPS 3000 offers choice of rackmount or tower installation.
space—a mere 3.5 inches high,
including batteries. Designed with a .9
Highlights
"
Increases uptime with hot-
more real output power to power more
less space with a .9 power
swappable batteries and
servers than another UPS of
factor —protecting more
electronic module
equivalent rating. For maximum
Provides more real wattage in
equipment and leaving more
room for expansion
"
"
deployment flexibility, the UPS 3000
Ensures data and system integrity
with a complete suite of power
"
Space-saving 2U form factor
management software and
for rackmount or tower
connectivity options
installations
"
Enables prioritized shutdown
of non-essential equipment
"
power factor, the UPS 3000 delivers
"
can be deployed as a tower unit or in a
rack. Up to four Extended Battery
Modules can be added to provide
additional battery backup capacity as
Includes ConnectUPS Web/SNMP
Interface Card for enhanced UPS
monitoring and control
necessary.
The IBM UPS 3000 family provides the
during outages to maximize
benefits of IBM's renowned service
backup time for critical devices
and worldwide support, plus an
Add up to four Extended
Battery Modules to provide
hours of battery runtime
industry-leading set of innovations and
features that are available exclusively
from IBM.
Designed for high availability
Rich power-management solutions
Optional battery packs increase
This innovative UPS solution incor-
Power management is critical in
uptime
porates design advances that boost
today's environment. The IBM UPS
You can attach up to four UPS
uptime and simplify management.
3000 comes complete with a suite of
Extended Battery Modules to the UPS
easy-to-use software that allows
3000, which means you can now have
Electronics as well as battery packs
management of the UPS either locally,
hours of additional runtime during a
are hot-swappable, allowing fast, safe
with the standard serial or USB
power crisis. The Extended Battery
and easy replacement of components.
connectors, or remotely using the
Modules are 2U in height and hot-
built-in 10/100 Network Management
swappable, allowing for the easy
Module. The UPS 3000 includes a
addition of run time to any
ConnectUPS Web/SNMP Interface
configuration of the UPS 3000.
In the rare event that the electronics of
a UPS should fail, there is no need to
unplug the servers or take them offline
to replace the UPS. Simply pull and
replace the electronics pack—no need
to remove UPS from the rack. Devices
stay plugged in, and power sourcing
Card to enable direct control and
monitoring in SNMP-based networks,
Flexible design for rack or tower
plus the ability to monitor UPS status
use
and meters through a Web browser.
The UPS 3000 is a 2U rack-ready
UPS product that supports
automatically switches to line current
and back again to keep systems up
UPS
Web/SNMP Card
preconfigured shipment in an IBM
NetBAY rack. It is also designed for
IEC-320-C20
and running. This feature is commonly
flexibility, allowing you to use the UPS
reserved for high-end, higher priced
and its external battery packs in a
UPS products. Plus the IBM UPS 3000
tower configuration for stand-alone
helps protect your data and IT systems
installations. Every UPS 3000 and
with full-time surge suppression,
automatic voltage regulation and noise
Extended Battery Module option is
IEC-320-C19
Battery Connector
REPO
Port
EBM
filtering.
Circuit Breakers
IEC-320-C13
delivered with the components
necessary to complete this rack-totower conversion.
You can fine-tune power management
and increase battery life even further
by selectively powering off nonessential systems. The UPS 3000
segments outlets on the rear panel
Battery
Electronics
into three groupings so that you can
program how long each connected
When the batteries reach the end of their
useful life or the electronics module fails,
replacement is easy. With simple access
through the front panel, you can safely
install new battery and electronics module
without ever powering down the connected
server and server options or having to
remove the unit from the rack.
system runs on battery power during
an outage. With this feature, the UPS
can selectively switch off outlets
powering non-essential systems or
non-intelligent devices to increase
runtimes for essential applications.
2
A powerful partnership
UPS 3000 products are designed by
IBM and manufactured to our
demanding specifications by Eaton
Corporation, an industry leader in
power management and our longtime
power management provider. This
means you get IBM service, support,
warranty1 protection and years of
experience along with Eaton's
knowledge of UPS manufacturing and
management software.
IBM UPS 3000 at a glance
Model
UPS3000LV
Part number
21301RX
UPS3000JLV
UPS3000HV
Form factor
2U rack-mountable, with tower conversion kit included; ship-loaded approved
Input Voltage
110-127V
100V
208-240V
200V
Watts/VA Rating
2700 / 2880
2400 / 2250
2700 / 3000
2700 / 3000
Line input
NEMA L5-30P
NEMA L5-30P
Varies. See Line Input
NEMA L6-20P (part number
Options table below.
40K9772, ordered
21301JX
21302RX
UPS3000JHV
21302JX
separately).
Line output
(6) NEMA 5-15 and
(6) NEMA 5-15 and
(9) IEC-320-C13 and
(9) IEC-320-C13 and
(1) NEMA L5-30R
(1) NEMA L5-30R
(1) IEC-320-C19
(1) IEC-320-C19
Number of line
Six (plus up to 7 more
Six (plus up to 7 more with
Nine (plus up to 7 more with
Nine (plus up to 7 more with
outputs
with NetBay PDU or
NetBay PDU or DPI Rack
NetBay PDU or DPI Rack
NetBay PDU or DPI Rack
DPI Rack PDU)
PDU)
PDU)
PDU)
Interface ports
RJ-45, RS-232, integrated Network Management Module (RJ-45)
Software included
times
Software Suite CD
• 1 hot-swappable internal battery provides more than four minutes of run time at a load of 2700W
• Supports up to four Extend Battery Modules for approximately 90 additional minutes of runtime at full load. See
Weight
37 kg (82 lb.)
Dimensions
89 x 483 x 622 mm
(HxWxD)
3.5 x 19.0 x 26.9 in.
Battery backup
battery runtime chart on next page.
Color
Black
1
Warranty
3-year limited warranty
General features
Emergency power off, hot-swap electronics, optional UPS Extend Run external battery packs (up to four), hot-swap
batteries, controllable outlet groups, integrated network management, Advanced Battery Management (ABM®)
technology, overload indicator, rack mount, replace-battery indicator, resettable output circuit breakers, status
indicator LEDs
Includes
UPS signaling RS-232 cable, rack-mounting support rails, CD with software, user manual
Environmental
Operating Temperature: 0 to 40ºC (32 to 104ºF)
Storage Temperature: -15 to 50ºC (5 to 122ºF)
Relative humidity: 0% to 95% non-condensing
Altitude (max.): 3000m (10,000 ft) without derating
Configuration aid
Audible noise: less than 40 dBA typical
®
TM
IBM System x and BladeCenter Power Configurator:
Approvals
Safety Certification
UL; cUL; NOM
UL; cUL
TUV/GS; UL; cUL; NOM CE
UL; cUL
EMC Compliance
FCC Part 15 Class A
FCC Part 15 Class A; VCCI
IEC 62040-2, Class A
FCC Part 15 Class A; VCCI
Ship group
Rail set with rear brace, accessory kit, rack to tower conversion parts, UPS serial cable, UPS cable, EPO cable, four
components
rack jumper cords and one 2.5m C19-C20 PDU cable (HV models only), documentation and software CDs.
Line input options for UPS3000XHV
Option Part Number
40K9766
40K9767
40K9768
40K9769
40K9770
40K9771
40K9772
40K9773
40K9774
40K9775
40K9776
40K9777
Option Part Number
Line cord for Europe
Line cord for the United Kingdom
Line cord for Italy
Line cord for Denmark, Switzerland
Line cord for South Africa
Line cord for Israel
Line cord for U.S., Canada, Japan
(NEMA L6-20)
Line cord for Australia, New Zealand
Line cord for China
Line cord for Brazil
Line cord for India
Line cord for Argentina
3
Optional Extended Battery options at a glance
Part Number
40K9620 (for use with UPS3000XLV and UPS3000XHV)
40K9788 (for use with UPS3000JLV and UPS3000JHV)
Form Factor
2U rack-mountable with tower conversion kit included; shiploaded approved
Battery information and
• 2 hot-swappable battery trays per Extended Battery Module
runtimes
• Each Extended Battery Module supports runtimes of
approximately 20 minutes at full load, 40 minutes at half
load
Weight
54.9 kg (121 lb.)
Dimensions (HxWxD)
Rackmount configuration:
89 x 483 x 622 mm
3.5 x 19.0 x 26.9 in.
© IBM Corporation 2008
2-08
All Rights Reserved
1
For terms and conditions or copies of the IBM
limited warranty, call 1 800 772-2227 in the
U.S. and in Canada call 1 800-426-2255.
Limited warranty includes International
Warranty Service in those countries where this
product is offered. Registration is required.
Telephone support may be subject to
additional charges. For warranties including
onsite service, IBM sends a technician after
attempting to resolve the problem remotely.
Tower configuration (with pedestals)
Runtimes for UPS 3000 internal battery and with optional Extended Battery Modules
(in minutes)
Power
Internal
+ 1 EBMs
+ 2 EBMs
+ 3 EBMs
+ 4 EBMs
180W
65
285
559
787
1026
270W
57
255
500
704
918
360W
51
225
441
621
810
450W
45
200
392
552
720
540W
40
175
343
483
630
630W
35
150
294
414
540
720W
30
130
255
359
468
810W
26
115
225
317
414
900W
23
100
196
276
360
990W
20
85
167
235
306
1080W
17
75
147
207
270
1260W
13
60
118
166
216
1440W
10
45
88
124
162
1710W
8
40
78
110
144
2070W
7
35
69
97
126
2340W
6
30
59
83
108
2700W
5
25
49
69
90
Battery runtimes are approximate and may vary according to equipment, configuration, battery age, temperature, etc.
Need more information?
World Wide Web
IBM System x
ibm.com/servers/systems/x
Buy Direct
U.S.
1 888 SHOP-IBM
Canada
1 888 411-1WEB
4
2
Battery runtimes are estimates based on
testing, actual times may vary with equipment,
configuration, battery age, temperature, etc.
IBM systems are assembled in the U.S., Great
Britain, Japan, Australia and Brazil and
comprise U.S. and non-U.S. components.
IBM, the IBM logo, the e-business logo, IBM
NetBAY, ServerProven and System x are
trademarks of IBM Corporation in the United
States, other countries or both.
Other company, product and service names
may be trademarks or service marks of others.
IBM reserves the right to change
specifications or other product information
without notice. This publication could include
technical inaccuracies or typographical errors.
References in this publication to IBM products
or services do not imply that IBM intends to
make them available in all countries in which
IBM operates. IBM PROVIDES THIS
PUBLICATION "AS IS" WITHOUT
WARRANTY OF ANY KIND, EITHER
EXPRESS OR IMPLIED, INCLUDING THE
IMPLIED WARRANTIES OF
MERCHANTABILITY AND FITNESS FOR A
PARTICULAR PURPOSE. Some jurisdictions
do not allow disclaimer of express or implied
warranties in certain transactions; therefore,
this statement may not apply to you.