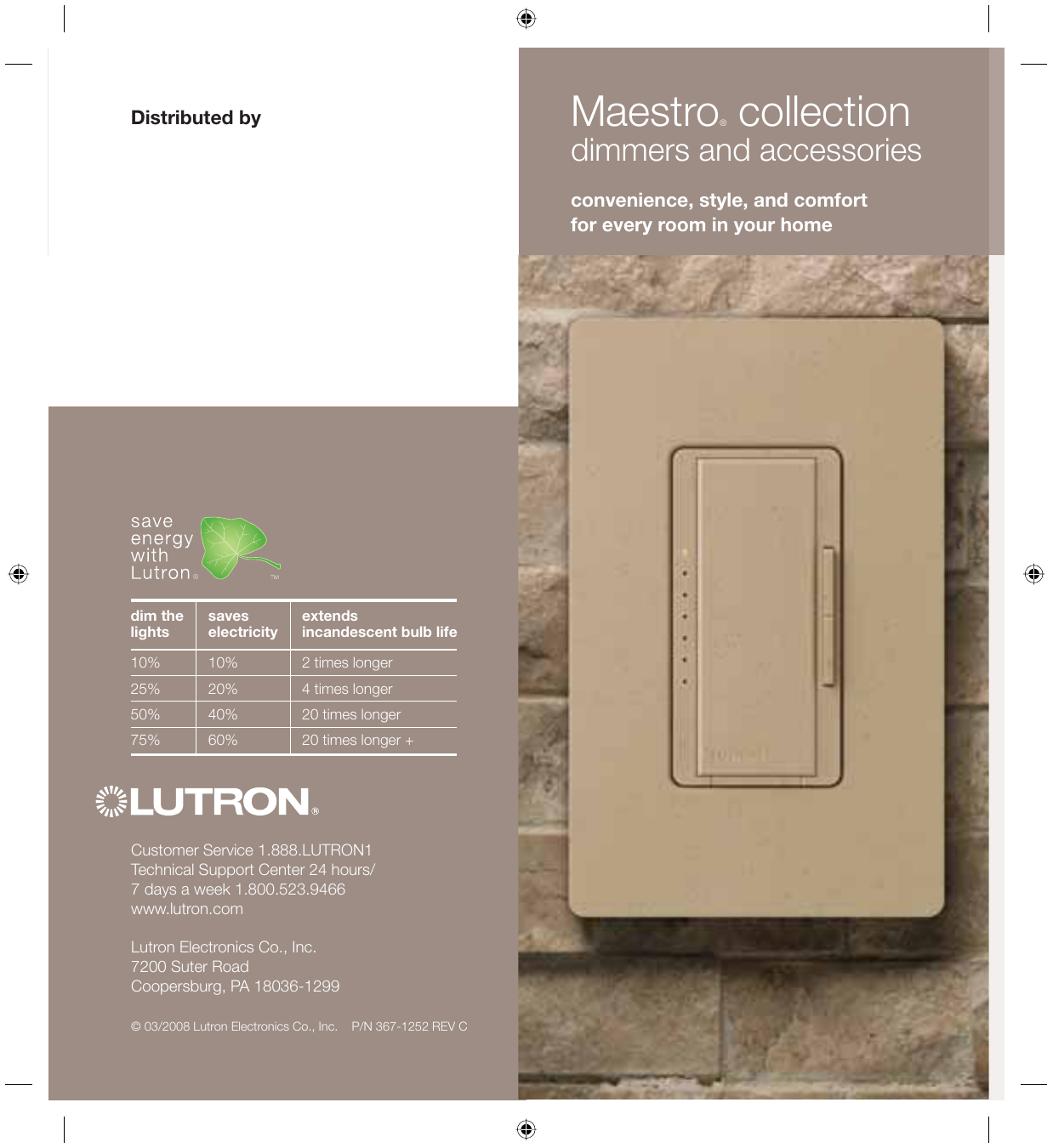 Maestro collection
Distributed by
®
dimmers and accessories
convenience, style, and comfort
for every room in your home
dim the
lights
saves
electricity
extends
incandescent bulb life
10%
10%
2 times longer
25%
20%
4 times longer
50%
40%
20 times longer
75%
60%
20 times longer +
Customer Service 1.888.LUTRON1
Technical Support Center 24 hours/
7 days a week 1.800.523.9466
www.lutron.com
Lutron Electronics Co., Inc.
7200 Suter Road
Coopersburg, PA 18036-1299
© 03/2008 Lutron Electronics Co., Inc.
P/N 367-1252 REV C
Maestro
®
convenience, style and comfort for every room in your home
•
•
•
Experience the features of Maestro.
Lights gradually fade on or off
Full-range dimming of your light
from up to 10 locations
Delayed fade-to-off allows you to
leave the room before the lights turn off
Rocker adjusts light level to suit any activity
LEDs indicate light level, as well as glow
softly, so you can find the dimmer in the dark
Large tapswitch turns light on/off to preset
level; tap twice for full on, press and hold
for delayed fade-to-off
Maestro digital fade dimmer and wallplate
in hot.
Maestro IR remote control | family room
convenience
®
Select your favorite light
level for any activity with a
touch of the silver button.
•
Dim the lights to watch television,
or bring them up to full brightness
for reading, without leaving the
comfort of your couch.
•
The remote control is compatible
with learnable remotes enabling
you to control your stereo, t.v.,
and lighting with one remote.
Maestro IR digital fade dimmer
and wallplate in white.
Maestro dimmers and accessories | kitchen
style
®
Add lighting control to make
your kitchen as versatile as
any other room in your home.
•
Brighten lights at breakfast,
when preparing meals, or for
cleaning up. Dim lights during
family meal time.
•
Stainless steel wallplates and
black lighting controls
coordinate with appliances,
counter tops, back splashes,
and cabinets to create a
seamless, contemporary look.
Maestro digital fade dimmer in midnight
with wallplate in stainless steel.
Maestro fan controls | bedroom
comfort
®
Control your fan and light from
the wall or remote control.
•
When the room temperature
changes, use the remote control
to adjust the fan speed to achieve
total comfort—without getting out
of bed.
•
7 quiet fan speeds enhance range
of comfort.
•
Brighten the lights just enough
to find your way in the middle of
the night.
Maestro IR® fan/light control
and wallplate in white.
Maestro dimmer and timer | bathroom
ease
®
Dim your lights and
automatically turn your fan
off with one control.
•
Dimmed light provides a gentle
night light, or softens the
transition into your morning
routine.
•
Set the timer to automatically turn
the fan off and save energy.
•
Reduce mold and mildew by
using the countdown timer after a
shower to eliminate moisture from
the room.
Maestro dimmer/countdown timer and
wallplate in biscuit.
Maestro dimmers | hallway and staircase
peace of mind
®
Dim the lights from every
entrance to your hallway or
either end of your staircase.
•
Always have the ability to adjust
the light level from any location to
enhance convenience and safety.
•
Easily replace existing switches
with multi-location dimmers.
•
Dim the lights to create a gentle,
reassuring night light or guide you
safely at night.
å
ç
ç
åMaestro digital fade dimmer and wallplate
in goldstone.
çMaestro companion dimmers and
wallplates in goldstone.
wireless control
Maestro Wireless
Enhance your safety by
conveniently controlling your
home's interior and exterior
lights from your car.
The Maestro Wireless controller
easily attaches to your car's visor,
and is compatible with
HomeLink®-equipped vehicles.
•
•
•
Maestro Wireless uses radio
frequency (RF) technology. RF
signals travel through walls and
floors so you don't have to be in
the same room as your lights to
control them.
Place the controller on a bedside,
mount it on a wall, or use it as
a hand-held device. You can
purchase controllers separately,
allowing you to control each
dimmer with up to four wireless
controllers.
Replace your existing switch with
the Maestro Wireless dimmer
in as little as 15 minutes to gain
wireless control.
®
| remote lighting control
NEW Maestro Wireless dimmer and controller
enables control of the lights from up to 100 feet.
coordinate
breadth of line | complete solution
Together, Maestro® digital fade
dimmers, switches,
fan controls, and accessories
provide a complete solution
throughout your home.
dimmers & switches
Lighting types:
incandescent lighting
magnetic low voltage lighting
digital fade dimmer
with remote
NEW remote
control dimmer
electronic low voltage lighting
fluorescent lighting
Fan types:
ceiling fans
ceiling fans with light kits
digital fade
dimmer*
companion
dimmer
digital switch
companion
switch
countdown
timer
general
purpose switch
exhaust fans
For specific ordering information,
visit www.lutron.com or contact
your local Lutron distributor.
fan controls
dual controls
fan/light control with
remote
fan/light
control
dual dimmer
dimmer/switch
dimmer/timer
accessories
companion
fan/light control
fan control
with remote
GFCI receptacle receptacle
cable jack
digital
fan control
companion
fan control
phone jack
wallplates
1-6 opening
6-port frame
fashion & style
colors & finishes | palettes
Create a look that is uniquely
yours with controls in rich colors.
satin finish color palette
Accent with bold colors to
enhance your décor.
Coordinate all the Maestro
controls and accessories in
a room.
hot (HT)
merlot (MR)
plum (PL)
taupe (TP)
eggshell (ES)
biscuit (BI)
midnight (MN)
sienna (SI)
terracotta (TC)
mocha stone
goldstone
desert stone
(MS)
(GS)
(DS)
Balance the elements of color
and texture in a room with
controls that seamlessly pull
everything together.
Blend to work with the colors in
your home.
gloss finish color palette
turquoise (TQ)
sea glass (SG)
white (WH)
ivory (IV)
almond (AL)
snow (SW)
palladium (PD)
light almond (LA)
gray (GR)
brown (BR)
greenbriar (GB)
bluestone (BG)
black (BL)
stainless steel (SS)
(wallplates only)
stone (ST)
limestone (LS)
Due to variations in the printing process, color
swatches printed above may not be exact.
When matching colors please request a color
sample from Lutron customer service at
1.888.LUTRON1.
Maestro collection | advantages
quality
®
The advantages of using
Maestro are easy installation,
quality and reliability.
Technical and applications
assistance available 24 hours
a day, 7 days a week
1.800.523.9466
•
•
•
•
Easy installation
Low-profile back cover
Screw and push-in terminals
Universal wiring – dimmers and companion
dimmers work in any place in the circuit
Fan/light controls work with virtually all
existing wiring
•
•
•
•
•
•
Color consistency
When you use Maestro® dimmers with
coordinated accessories, we guarantee the
color match
Our colors match today, tomorrow, always
Million-cycle operation tap switch
Designed to withstand a lifetime of
frequent use
You can confidently install Maestro dimmers
in any residential or commercial application
Accessible air-gap switch
New Front Accessible Service Switch (FASS)
makes changing lamps safer
Standard on every wallstation, including
companion dimmers
Maestro digital fade dimmer and wallplate
in terracotta.

* Your assessment is very important for improving the work of artificial intelligence, which forms the content of this project