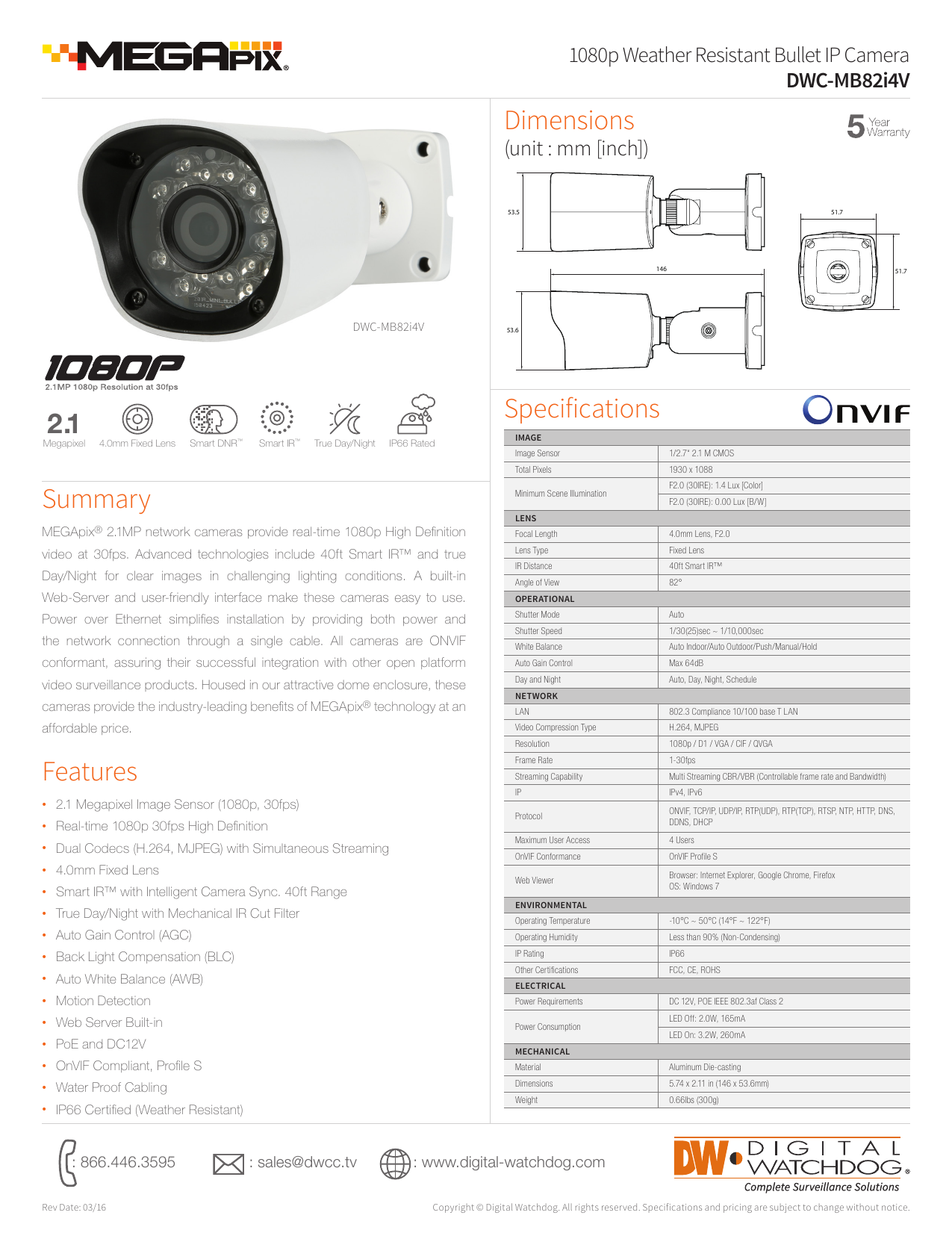 51.7
1080p Weather Resistant Bullet IP Camera
DWC-MB82i4V
51.7
51.7
Dimensions
(unit : mm [inch])
ations -
Dimension
Unit: mm
53.5
53.5
51.7
146
51.7
146
DWC-MB82i4V
53.6
53.6
2.1
Megapixel
Specifications
4.0mm Fixed Lens
Smart DNR™
Smart IR™
True Day/Night
IP66 Rated
Summary
IMAGE
Image Sensor
1/2.7" 2.1 M CMOS
Total Pixels
1930 x 1088
Minimum Scene Illumination
MEGApix® 2.1MP network cameras provide real-time 1080p High Definition
video at 30fps. Advanced technologies include 40ft Smart IR™ and true
Day/Night for clear images in challenging lighting conditions. A built-in
53.5
F2.0 (30IRE): 1.4 Lux [Color]
LENS
Focal Length
4.0mm Lens, F2.0
Lens Type
Fixed Lens 53.6
IR Distance
40ft Smart IR™
Angle of View
82°
Web-Server and user-friendly interface make these cameras easy to use.
OPERATIONAL
Power over Ethernet simplifies installation by providing both power and
Shutter Mode
Auto
Shutter Speed
1/30(25)sec ~ 1/10,000sec
White Balance
Auto Indoor/Auto Outdoor/Push/Manual/Hold
conformant, assuring their successful integration with other open platform
Auto Gain Control
Max 64dB
video surveillance products. Housed in our attractive dome enclosure, these
Day and Night
Auto, Day, Night, Schedule
the network connection through a single cable. All cameras are ONVIF
cameras provide the industry-leading benefits of MEGApix® technology at an
affordable price.
Features
NETWORK
LAN
802.3 Compliance 10/100 base T LAN
Video Compression Type
H.264, MJPEG
Resolution
1080p / D1 / VGA / CIF / QVGA
Frame Rate
1-30fps
Streaming Capability
Multi Streaming CBR/VBR (Controllable frame rate and Bandwidth)
IP
IPv4, IPv6
Protocol
ONVIF, TCP/IP, UDP/IP, RTP(UDP), RTP(TCP), RTSP, NTP, HTTP, DNS,
DDNS, DHCP
Maximum User Access
4 Users
OnVIF Conformance
OnVIF Profile S
Web Viewer
Browser: Internet Explorer, Google Chrome, Firefox
OS: Windows 7
•
2.1 Megapixel Image Sensor (1080p, 30fps)
•
Real-time 1080p 30fps High Definition
•
Dual Codecs (H.264, MJPEG) with Simultaneous Streaming
•
4.0mm Fixed Lens
•
Smart IR™ with Intelligent Camera Sync. 40ft Range
•
True Day/Night with Mechanical IR Cut Filter
Operating Temperature
-10°C ~ 50°C (14°F ~ 122°F)
•
Auto Gain Control (AGC)
Operating Humidity
Less than 90% (Non-Condensing)
•
Back Light Compensation (BLC)
IP Rating
IP66
Other Certifications
FCC, CE, ROHS
ENVIRONMENTAL
•
Auto White Balance (AWB)
•
Motion Detection
Power Requirements
•
Web Server Built-in
Power Consumption
•
PoE and DC12V
•
OnVIF Compliant, Profile S
Material
Aluminum Die-casting
•
Water Proof Cabling
Dimensions
5.74 x 2.11 in (146 x 53.6mm)
•
IP66 Certified (Weather Resistant)
Weight
0.66lbs (300g)
: 866.446.3595
Rev Date: 03/16
146
F2.0 (30IRE): 0.00 Lux [B/W]
ELECTRICAL
DC 12V, POE IEEE 802.3af Class 2
LED Off: 2.0W, 165mA
LED On: 3.2W, 260mA
MECHANICAL
: sales@dwcc.tv
: www.digital-watchdog.com
Copyright © Digital Watchdog. All rights reserved. Specifications and pricing are subject to change without notice.

* Your assessment is very important for improving the work of artificial intelligence, which forms the content of this project