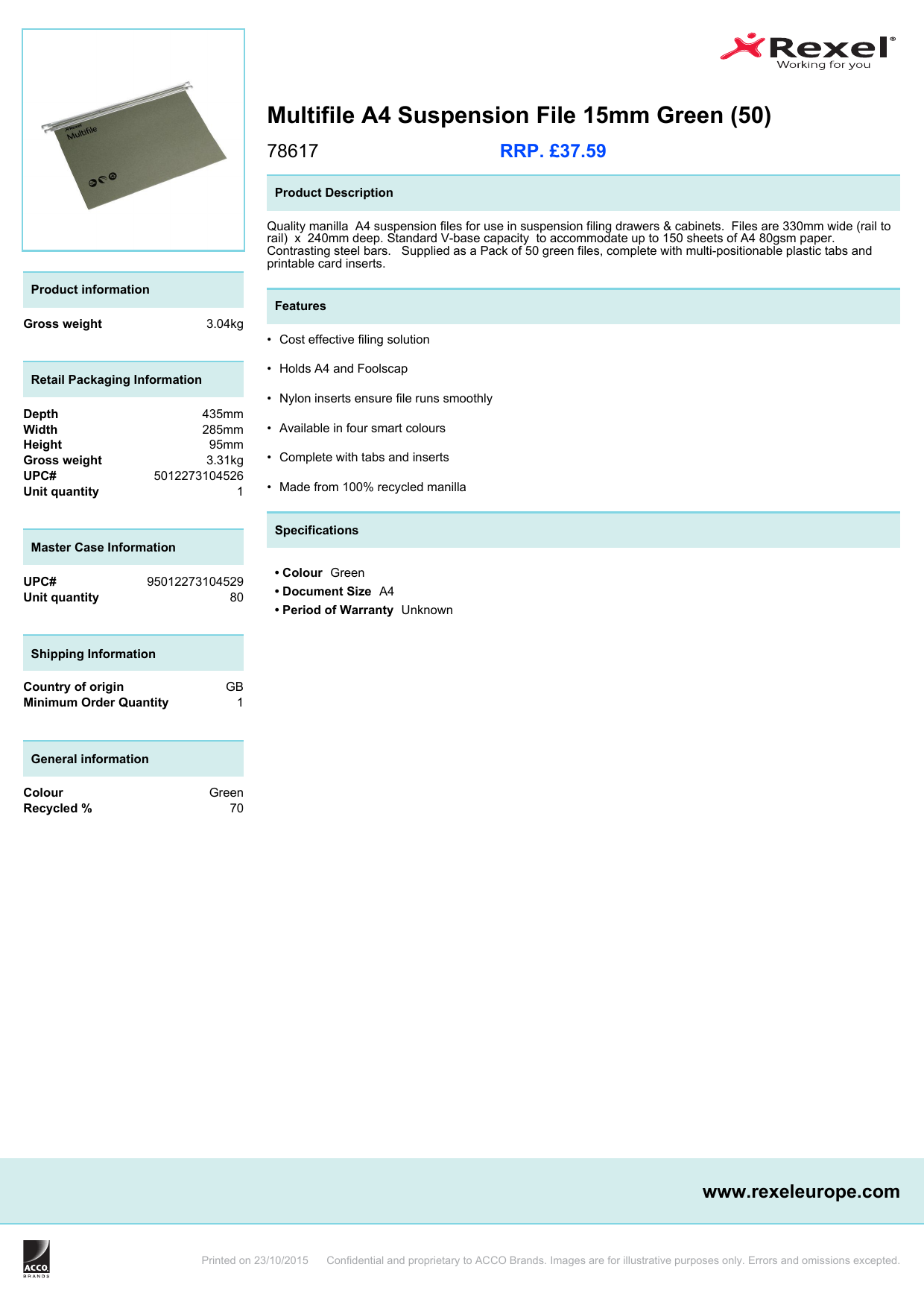 Multifile A4 Suspension File 15mm Green (50)
78617
RRP. £37.59
Product Description
Quality manilla A4 suspension files for use in suspension filing drawers & cabinets. Files are 330mm wide (rail to
rail) x 240mm deep. Standard V-base capacity to accommodate up to 150 sheets of A4 80gsm paper.
Contrasting steel bars. Supplied as a Pack of 50 green files, complete with multi-positionable plastic tabs and
printable card inserts.
Product information
Features
Gross weight
3.04kg
• Cost effective filing solution
• Holds A4 and Foolscap
Retail Packaging Information
• Nylon inserts ensure file runs smoothly
Depth
Width
Height
Gross weight
UPC#
Unit quantity
435mm
285mm
95mm
3.31kg
5012273104526
1
• Available in four smart colours
• Complete with tabs and inserts
• Made from 100% recycled manilla
Specifications
Master Case Information
UPC#
Unit quantity
95012273104529
80
• Colour Green
• Document Size A4
• Period of Warranty Unknown
Shipping Information
Country of origin
Minimum Order Quantity
GB
1
General information
Colour
Recycled %
Green
70
www.rexeleurope.com
Printed on 23/10/2015
Confidential and proprietary to ACCO Brands. Images are for illustrative purposes only. Errors and omissions excepted.

* Your assessment is very important for improving the work of artificial intelligence, which forms the content of this project