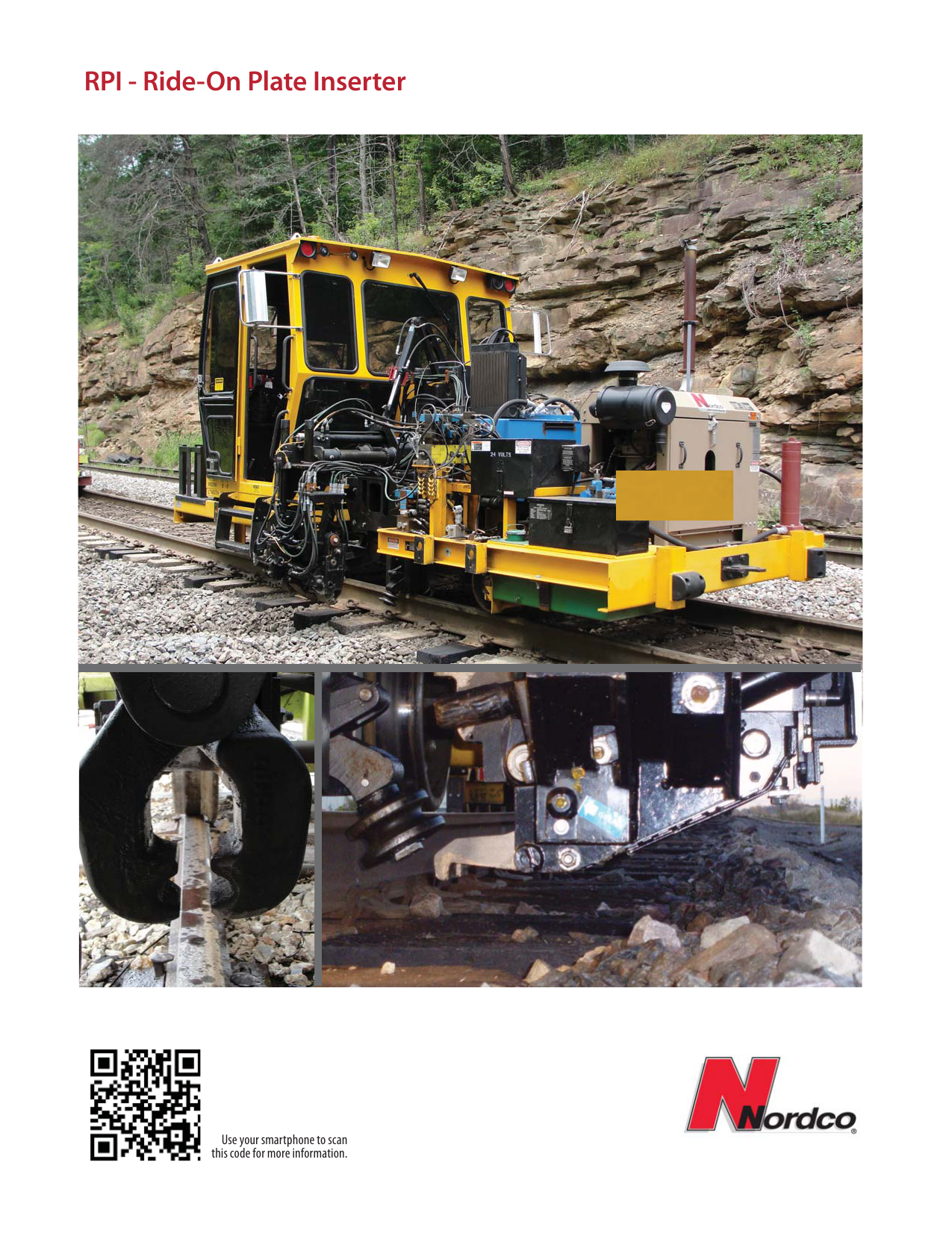 RPI - Ride-On Plate Inserter
Use your smartphone to scan
this code for more information.
Key Features
Save on personnel costs
The RPI - Ride-On Plate Inserter includes the following
key features:
• Single-operator (with two jump seats), climatecontrolled, enclosed cab; extended cab option
available
Are you currently using several crew members to walk
alongside a rail lifter machine and insert/position tie plates?
With the RPI, the rail is lifted and the tie plates on both sides
of the rail are simultaneously inserted and positioned - all by a
single operator.
• Two heavy-duty plate inserting head assemblies
over each rail
Single- or dual-rail operation
• Fully adjustable workhead to adapt to different rail
and plate heights
Single- or dual-rail operating modes make the RPI appropriate
for use by both rail and tie gangs.
• Cab-controlled power lockups
• Integrated guide rollers for stability during plate
insertion
High productivity
• John Deere four-cylinder, four-stroke diesel engine
The RPI can handle a plate insertion production pace of up to
10 ties per minute.
• Four-wheel, dual-axle, chain-driven propulsion
system
• Spring-applied, hydraulic-released brakes, with
Cobra brake shoes
• 24 VDC, circuit breaker-protected, electrical system
• Integrated, positive locking, rail-to-rail turntable
• Single, pressure-compensated hydraulic pump
Select between automatic or manual modes
Use the one-button automatic mode to automatically insert
tie plates at pre-set rail and plate heights or, when necessary,
switch to manual mode to precisely move the workhead to
the desired height/location.
• Joystick controls
One-button homing
Easily adjust the workhead
to adapt to different rail and
plate heights.
After one set of tie plates is inserted, the one-button homing
feature lowers the rail, retracts the plate fingers, and positions
the finger assembly - automatically setting up the workhead
for the next tie.
Increased operator visibility
An on-board camera and display provides additional visibility
of the workhead region, as well as the surrounding area. In
addition, the in-cab console notifies the operator of the plate
insertion status.
Quickly adjust to different working conditions
Make simple workhead adjustments to handle different rail
heights, plate lengths, ballast conditions, as well as curved
track. In addition, an integrated turntable allows the RPI to
easily reverse direction on the track.
An on-board camera/display
allows the operator to clearly see
the workhead area.
Ad-hoc rail height adjustments
Ask us about...
The Rail Bump-Up feature allows for quick, ad-hoc rail height
changes for a single plate insertion.
Rebuild Programs
Use fewer personnel carriers
Optional photo, diagram,
The optional extended cab allows up to seven extra crew
chart or screencapture
members (total capacity = 8) to ride in the cab. Fewer
[Maymean
be moved
and/or to
resized]
personnel carriers
less equipment
maintain and less
space needed on sidings for overnight storage.
Are your maintenance-of-way machines getting
older and less reliable? Nordco can rebuild virtually
all maintenance-of-way equipment, regardless of
original manufacturer, restoring your machines to
like-new status.
Component Exchange Programs
Stock fewer maintenance parts
Since the RPI uses many of the same components as other
Nordco machines, you can stock fewer maintenance parts on
your parts wagon.
Do you only need a replacement component, such
as a workhead or axle, for your maintenance-of-way
machine? You can order new or rebuilt components
to be delivered directly to your shop or field
operations.
Trade-In Programs
Interested in purchasing a new maintenance-of-way
machine, but wondering what to do with your
existing equipment? In many cases, you can trade
in your current equipment for credit towards a new
machine.
Rental Programs
Have a short-term need for a particular
maintenance-of-way machine? Check our website
for a current list of available rental equipment.
Parts Availability
Need parts for your maintenance-of-way machine?
Contact our part experts at 1-800-647-1724, Monday
through Friday, 7:30 a.m. to 5:00 p.m. US Central
Time.
Want to ensure that you order the most essential
parts to keep your maintenance-of-way machine
operational? Check our website or ask your parts
sales representative about the available critical
component kits and basic spare part kits for your
machine.
Not sure what parts to order for preventive
maintenance or winterization? You'll find a large
range of kits available - check our website or ask
your parts sales representative.
Rail jacks raise the rail while
the finger assembly inserts and
positions the plate.
Optional Equipment
Category
Cab
Repair & Maintenance
Other Accessories
Option Type
Description
Extended cab
Extended cab (includes bench seating, seat belts, and storage)
Cab accessories
Cab pressurizer, cab window shades for standard and extended cabs
Corner-mounted jackstands
Lifts the unit to allow under-machine repairs
Electric hydraulic tank fill system
Allows quick filling of hydraulic tank
Spare hose tree
Stores extra hoses on the machine
Remote coolant filter loops /
Remote fluid drains
Allows quick filter/fluid maintenance
Schroeder KF 30 case drain return
filtration
Filters oil to remove engine wear-related metal filings
Electric emergency pump
Allows workhead to be moved if engine fails
Gauges and alarms
Fuel level site gauge, speedometer, hydraulic reservoir temperature gauge,
low hydraulic oil level/high hydraulic oil temperature alarm, turntable
warning light and buzzer
Lighting and mirrors
Heated outside mirrors, perimeter lighting package
Storage
Additional book storage box, operator belongings box, track tool box
Miscellaneous
"Danger Live Track" retractable belt, DOT reflective tape, extra parts/operations/maintenance manuals, rail sweeps, tow bar with D-handle hitch pins,
windshield wipers and nozzles
Product Specifications
Category
General
Capacities
Engine
Hydraulic System
Specification
Value
Weight
22,000 lbs
Length
19' 6"
Width
8' 6"
Height
10' 6"
Wheel base
108"
Travel/towing speeds
25 mph (maximum); 20 mph (maximum)
Fuel tank
60 gallons
Hydraulic tank
98 gallons
Make/Model
John Deere 4045T
Type
Four-cylinder, four-stroke
Make/Model
Vickers PVM98 series
Type
Vickers manifold
Electrical System
Battery
24 Vdc (dual 12V DC batteries), 1150 cold-cranking amps
Axle Drive System
Drive type
Four-wheel, with two solid axles
Propulsion type
Hydraulic chain drives
Type
Spring-applied/hydraulically released
Style
Four-wheel Cobra-style
Rated draw bar pull
1,650 lbs.
Brakes
Pulling Weights
www.nordco.com
International Distributor American Equipment Company
4755 Technology Way, Suite 208
Boca Raton, FLORIDA USA 33431
Phone: 561-997-2080 / Fax: 561-997-2110
Publication 20021-100
Copyright © 2013 Nordco, Inc. All Rights Reserved. Printed in USA.