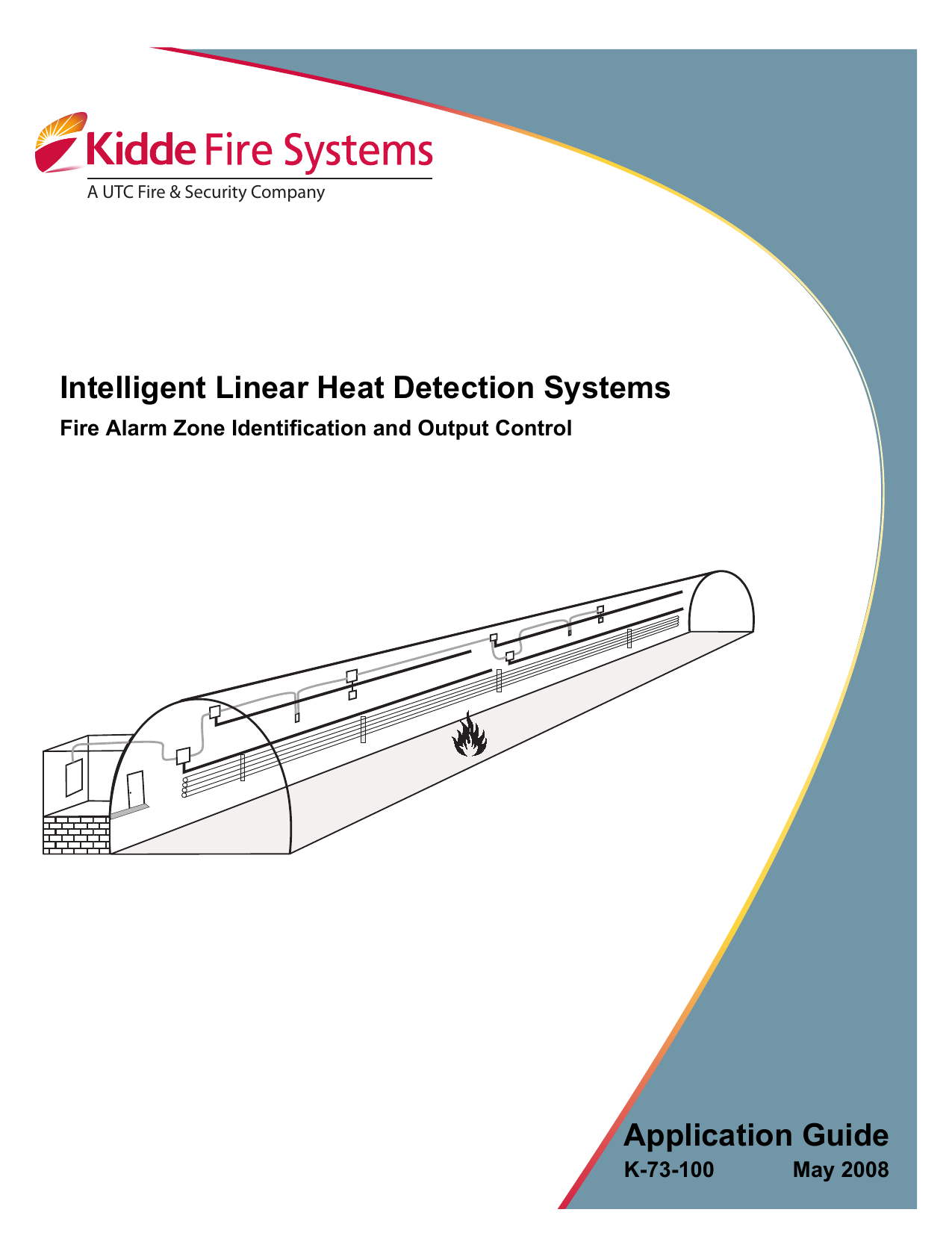 A UTC Fire & Security Company
Intelligent Linear Heat Detection Systems
Fire Alarm Zone Identification and Output Control
Application Guide
K-73-100
May 2008
Intelligent Linear Heat Detection Systems–Fire Alarm Zone Identification and Output Control
INTRODUCTION
Linear Heat Detection System using the ARIES FACP
may consist of:
Kidde provides two choices of Linear Heat Detectors:
(a) Shorting type LHS™, and (b) Integrating type AlarmLine™.
LHS is a fixed temperature sensor whose special insulation melts at its specific alarm temperature and allows its
two conductors to short together and create an alarm
condition at the fire control panel.
AlarmLine is an integrating type system that consists of
the AlarmLine sensor cable and an Interface module.
The cable is constructed with a negative temperature
coefficient material, where a change in temperature
results in an exponential decrease in resistance of the
sensor. The interface module interprets this resistance
change and provides an output to a control panel once
the field programmable alarm set point is exceeded.
AlarmLine is typically used when features such as programmable alarm threshold, pre-alarm, short-circuit trouble discrimination and ability to reset after overheat
condition are required.
•
ARIES FACP:
– Microprocessor based intelligent Fire Alarm-Suppression control panel with 1 Signaling Line Circuit (255 addresses)
•
Addressable LHD zones:
– SmartOne Addressable Input Modules (AI) each
with a maximum of 820 feet (250 m) directly
wired LHS, OR
–
An Intelligent LHD System is recommended for multizone applications where fire zone location requires zone
output control for Notification, Suppression control,
Annunciation and auxiliary functions such as breaker tripping, emergency power, HVAC control, etc. It is the preferred design method over traditional multi-zone
conventional, hard-wired linear heat detection and provides the added benefit of zone output control, text location indicator and installation cost savings. An Intelligent
SmartOne Addressable AlarmLine Module
(AAM) each with a maximum of 3,280 feet (1,000
m) directly wired AlarmLine
•
Other Input Devices:
– SmartOne smoke detectors, water-flow switches,
manual releases, etc., as required.
•
Other Output Devices:
– SmartOne Addressable Output Modules (AO),
Remote Release Modules (RRM), Addressable
Signal Modules (ASM), etc., as required.
Figure 1 illustrates an Intelligent Linear Heat Detection
System in a tunnel application. The tunnel is divided into
30 foot fire zones. Each zone has an LHD (AlarmLine or
LHS) cable zone, manual pull station, horn and strobe. A
zone alarm initiates a shut down of air supply to reduce
the spread of smoke and inhibit fire growth, activates the
notification appliances and opens the water valves for
pre-action sprinklers.
LHD Cable
Addressable Signal Module
Input Module
Horn/Strobe
e2
Zon
SLC Loop
Control Panel
e1
Zon
AO for Air Handler
Cable Tray
Manual Pull Station
Input Module (AI for LHS, AAM for AlarmLine)
Control Room
Figure 1. Tunnel Application
K-73-100
-2-
May 2008
Intelligent Linear Heat Detection Systems–Fire Alarm Zone Identification and Output Control
ADDRESSABLE LHS ZONES
For many applications, local code requires location of initiating devices to be indicated by fire zone or other
approved subdivision. Zoning cannot be accomplished
with a point locator and single continuous run of linear
heat detector. Each zone must report individual alarms to
the panel for use in zone output control of signal notification and suppression.
(1001 # 1002) + 1005 = 1006, I001
(1003 # 1004) + 1008 = 1009, I002
I001 + I002 = MP01,1007,1010
Figure 2. Sample EOC Code
Zoning is simple and easy with an Intelligent Linear Heat
Detection System. Each zone is created with an Addressable Input Module AI or AAM as appropriate, depending
on the sensor used, LHS or AlarmLine, respectively. Up
to 255 devices (any mix of devices including LHD zones,
smoke detectors, manual pull stations, waterflow
switches, etc.) can be connected to a single ARIES
addressable loop.
Table 1: Input/Output Addresses
INPUT/OUTPUT ADDRESSES
ZONING VERSUS POINT LOCATION
Traditional linear heat detector point locators display the
alarm point location in feet or meters from the start of the
linear heat detector zone to the heat actuated alarm
point. This method requires proper calibration, accurate
and available layout drawings to reliably find the location
of the fire event. In fact, a point locator is actually
designed for service and maintenance purposes, not fire
location, to find the section of cable where a fire event or
damage to the cable requires a new piece of cable to be
spliced in. Actual fire event location requires zone output control capability where the fire alarm panel can initiate programmed notification or suppression response
based on a zone alarm. Point locators are unable to
translate an event location for use in an automatic fire
alarm and suppression system.
1001
Zone 1 Tunnel Ceiling (LHD Sensor)
1002
Zone 1 Cable Tray (LHD Sensor)
1005
Zone 1 Manual Release
1006
Zone 1 Air Handler
1007
Zone 1 ASM Zone 1
1003
Zone 2 Tunnel Ceiling (LHD Sensor)
1004
Zone 2 Cable Tray (LHD Sensor)
1008
Zone 2 Manual Release
1009
Zone 2 Air Handler
1010
Zone 2 ASM Zone 2
MP01
Pre-Action Valve Actuation
I001
Identifier - Zone 1
I002
Identifier - Zone 2 Alarm
ZONE OUTPUT CONTROL
The ARIES Intelligent Fire Alarm Control Panels are
completely field programmable through the proprietary
Event Output Control (EOC) programming language.
EOC is a simple language that relates addressable input
devices to addressable output devices or modules. Typical fire alarm system designs such as cross-zones,
counting zones, time delays, etc. can be implemented
through EOC.
Figure 2 illustrates sample EOC programming code for
the tunnel example in Figure 1. Any zone alarm in the
tunnel will activate the notification appliances and release
water into the sprinkler system. If a fire is detected in any
zone, the air supply is turned off in that zone only. (See
Table 1 for address descriptions.)
K-73-100
-3-
May 2008
Intelligent Linear Heat Detection Systems–Fire Alarm Zone Identification and Output Control
TEXT ZONE LOCATION INDICATOR
INSTALLATION COST SAVINGS
The ARIES Configuration Software allows each addressable LHD zone to be assigned a descriptive, 80 character
text location. (Figure 3) Text indication is an easier
means of identifying the zone in alarm; traditional point
location indicators display the alarm location in feet or
meters from the start of the linear heat detector zone.
Installing an Intelligent Linear Heat Detection System
results in substantial installation cost savings over traditional hard wired linear heat detection systems. With conventional fire alarm panels, each initiating zone must be
home run back to the fire alarm panel, thus increasing
wiring requirements and installation time and cost. Conversely, an addressable system, such as the ARIES
intelligent fire alarm panel requires only a 2-wire signaling line circuit to interface to all initiating devices, zones
and output devices.
STEP 1: ASSIGN DESCRIPTION
TO LHS FIRE ZONE
A Kidde Intelligent Linear Heat Detection system,
designed with a ARIES fire alarm panel is a cost-effective, clean and simple fire alarm system design for typical
large linear heat detection applications.
STEP 2: DOWNLOAD
SYSTEM
CONFIGURATION
TO CCM.
ADDITIONAL INFORMATION
STEP 3: FIRE ZONE ALARM LOCATION
IS DISPLAYED AT PANEL.
AC POWER
SYSTEM TROUBLE
ALARM
SUPERVISORY
PRE-ALARM
SILENCE
SYSTEM
ACKNOWLEDGE
Additional information on the Intelligent Linear Heat
Detection System components mentioned in this guide
can be found at www.kiddefiresystems.com. Components include:
SILENCE
SYSTEM
RESET
•
•
SCROLL
1
2
3
4
5
6
7
8
9
0
•
•
Figure 3. Zone Location
LHS™ Sensor Cable
ARIES Intelligent Suppression Control System (panel
and modules)
AlarmLine™ Linear Heat Detector
Addressable AlarmLine Module
Kidde is a registered trademark of Kidde-Fenwal, Inc.
LHS, ARIES, and AlarmLine are trademarks of Kidde-Fenwal, Inc.
These instructions do not purport to cover all the details or variations in the equipment
described, nor do they provide for every possible contingency to be met in connection with
installation, operation and maintenance. All specifications subject to change without notice.
Should further information be desired or should particular problems arise which are not covered
sufficiently for the purchaser's purposes, the matter should be referred to Kidde-Fenwal, Inc.,
Ashland, Masssachusetts, 01721. Telephone: (508) 881-2000.
A UTC Fire & Security Company
400 Ma in Street
Ashland, MA 01721
Ph: 508-881-2000
Fax: 508-881-8920
www.kiddefiresystems.com
K-73-100 Rev AB
©2008 Kidde-Fenwal, Inc.
All Rights Reserved. Printed in USA.