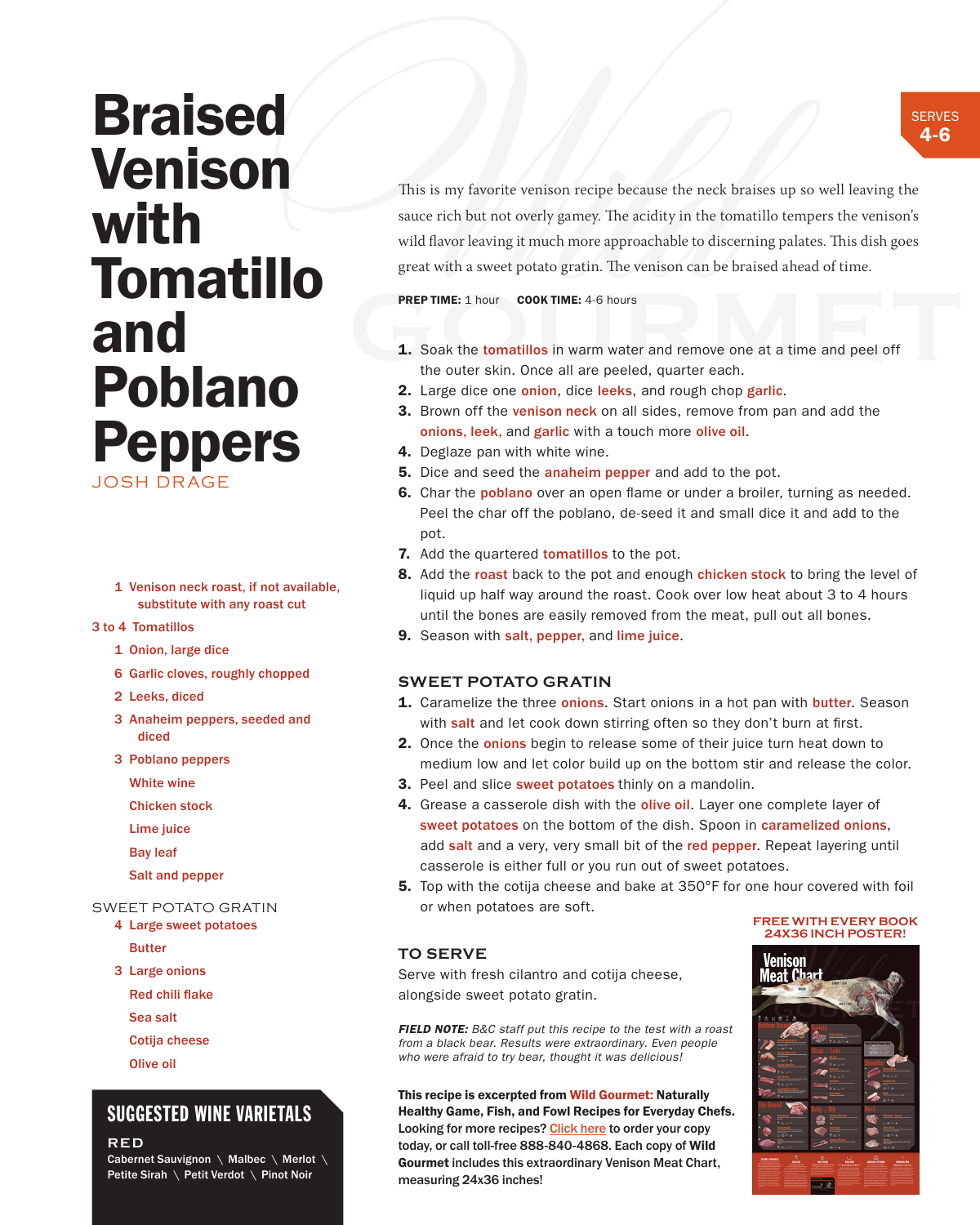 Braised
Venison
with
Tomatillo
and
Poblano
Peppers
JOS H DR AG E
1 Venison neck roast, if not available,
substitute with any roast cut
3 to 4 Tomatillos
1 Onion, large dice
6 Garlic cloves, roughly chopped
2 Leeks, diced
3 Anaheim peppers, seeded and
diced
3 Poblano peppers
White wine
Chicken stock
Lime juice
Bay leaf
Salt and pepper
SWEET POTATO GRATIN
4 Large sweet potatoes
SERVES
4-6
This is my favorite venison recipe because the neck braises up so well leaving the
sauce rich but not overly gamey. The acidity in the tomatillo tempers the venison's
wild flavor leaving it much more approachable to discerning palates. This dish goes
great with a sweet potato gratin. The venison can be braised ahead of time.
PREP TIME: 1 hour
COOK TIME: 4-6 hours
1. Soak the tomatillos in warm water and remove one at a time and peel off
the outer skin. Once all are peeled, quarter each.
Naturally Healthy
Game, Fish and Fowl
Recipes for
Everyday Chefs
2. Large dice one onion, dice leeks, and rough chop garlic.
3. Brown off the venison neck on all sides, remove from pan and add the
onions, leek, and garlic with a touch more olive oil.
4. Deglaze pan with white wine.
5. Dice and seed the anaheim pepper and add to the pot.
6. Char the poblano over an open flame or under a broiler, turning as needed.
Peel the char off the poblano, de-seed it and small dice it and add to the
pot.
7. Add the quartered tomatillos to the pot.
8. Add the roast back to the pot and enough chicken stock to bring the level of
liquid up half way around the roast. Cook over low heat about 3 to 4 hours
until the bones are easily removed from the meat, pull out all bones.
9. Season with salt, pepper, and lime juice.
SWEET POTATO GRATIN
1. Caramelize the three onions. Start onions in a hot pan with butter. Season
with salt and let cook down stirring often so they don't burn at first.
2. Once the onions begin to release some of their juice turn heat down to
medium low and let color build up on the bottom stir and release the color.
3. Peel and slice sweet potatoes thinly on a mandolin.
4. Grease a casserole dish with the olive oil. Layer one complete layer of
sweet potatoes on the bottom of the dish. Spoon in caramelized onions,
add salt and a very, very small bit of the red pepper. Repeat layering until
casserole is either full or you run out of sweet potatoes.
5. Top with the cotija cheese and bake at 350°F for one hour covered with foil
or when potatoes are soft.
FREE WITH EVERY BOOK
24X36 INCH POSTER!
Butter
TO SERVE
Serve with fresh cilantro and cotija cheese,
alongside sweet potato gratin.
3 Large onions
Red chili flake
Sea salt
Cotija cheese
Olive oil
SUGGESTED WINE VARIETALS
RED
Cabernet Sauvignon \ Malbec \ Merlot \
Petite Sirah \ Petit Verdot \ Pinot Noir
FIELD NOTE: B&C staff put this recipe to the test with a roast
from a black bear. Results were extraordinary. Even people
who were afraid to try bear, thought it was delicious!
This recipe is excerpted from Wild Gourmet: Naturally
Healthy Game, Fish, and Fowl Recipes for Everyday Chefs.
Looking for more recipes? Click here to order your copy
today, or call toll-free 888-840-4868. Each copy of Wild
Gourmet includes this extraordinary Venison Meat Chart,
measuring 24x36 inches!

* Your assessment is very important for improving the work of artificial intelligence, which forms the content of this project