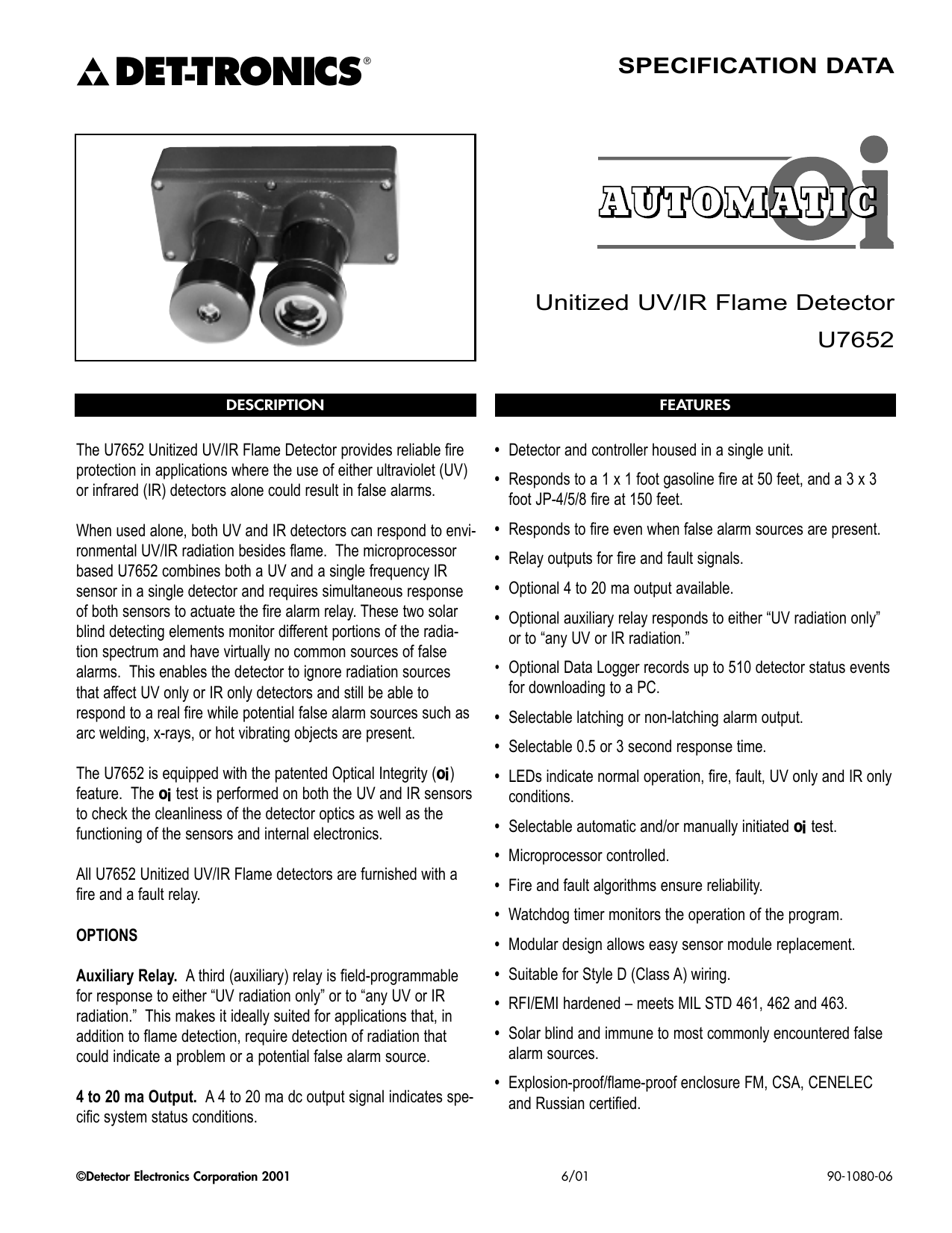 DET-TRONICS
®
SPECIFICATION DATA
Unitized UV/IR Flame Detector
U7652
DESCRIPTION
FEATURES
The U7652 Unitized UV/IR Flame Detector provides reliable fire
protection in applications where the use of either ultraviolet (UV)
or infrared (IR) detectors alone could result in false alarms.
• Detector and controller housed in a single unit.
When used alone, both UV and IR detectors can respond to environmental UV/IR radiation besides flame. The microprocessor
based U7652 combines both a UV and a single frequency IR
sensor in a single detector and requires simultaneous response
of both sensors to actuate the fire alarm relay. These two solar
blind detecting elements monitor different portions of the radiation spectrum and have virtually no common sources of false
alarms. This enables the detector to ignore radiation sources
that affect UV only or IR only detectors and still be able to
respond to a real fire while potential false alarm sources such as
arc welding, x-rays, or hot vibrating objects are present.
• Responds to fire even when false alarm sources are present.
The U7652 is equipped with the patented Optical Integrity (oi)
feature. The oi test is performed on both the UV and IR sensors
to check the cleanliness of the detector optics as well as the
functioning of the sensors and internal electronics.
• LEDs indicate normal operation, fire, fault, UV only and IR only
conditions.
• Responds to a 1 x 1 foot gasoline fire at 50 feet, and a 3 x 3
foot JP-4/5/8 fire at 150 feet.
• Relay outputs for fire and fault signals.
• Optional 4 to 20 ma output available.
• Optional auxiliary relay responds to either "UV radiation only"
or to "any UV or IR radiation."
• Optional Data Logger records up to 510 detector status events
for downloading to a PC.
• Selectable latching or non-latching alarm output.
• Selectable 0.5 or 3 second response time.
• Selectable automatic and/or manually initiated oi test.
• Microprocessor controlled.
All U7652 Unitized UV/IR Flame detectors are furnished with a
fire and a fault relay.
• Fire and fault algorithms ensure reliability.
• Watchdog timer monitors the operation of the program.
OPTIONS
Auxiliary Relay. A third (auxiliary) relay is field-programmable
for response to either "UV radiation only" or to "any UV or IR
radiation." This makes it ideally suited for applications that, in
addition to flame detection, require detection of radiation that
could indicate a problem or a potential false alarm source.
4 to 20 ma Output. A 4 to 20 ma dc output signal indicates specific system status conditions.
©Detector Electronics Corporation 2001
• Modular design allows easy sensor module replacement.
• Suitable for Style D (Class A) wiring.
• RFI/EMI hardened – meets MIL STD 461, 462 and 463.
• Solar blind and immune to most commonly encountered false
alarm sources.
• Explosion-proof/flame-proof enclosure FM, CSA, CENELEC
and Russian certified.
6/01
90-1080-06
SPECIFICATIONS
Operating Voltage
24 volts dc nominal, 18 volts dc minimum to 32
volts dc maximum.
Maximum Ripple
Ripple should not exceed 5 volts peak to peak.
The sum of dc plus ripple must be ≥18 vdc and ≤32
vdc.
Operating Power
2.0 watts nominal, 5.0 watts maximum.
Spectral Sensitivity
Range
UV: 0.185 to 0.245 micron.
IR: 4.45 microns.
Sensitivity
Detects a 1 foot by 1 foot gasoline fire at 50 feet, a
2 foot by 2 foot JP4, 5 or 8 fire at 100 feet, and a 3
foot by 3 foot JP4, 5, or 8 fire at 150 feet.
Response Time
Response time is a function of fuel type, fire size,
distance and orientation of the fire. The detector is
field programmable for a 0.5 or 3 second response
time when exposed to a saturating fire signal.
Relay Contact Rating
One Fire and one Fault relay, each rated 5 amperes
(resistive) at 30 vdc. The optional Auxiliary relay in
the U7652C is rated 1 ampere at 30 vdc.
The Fire relay has SPDT (NO/NC) contacts.
The Fault relay has SPST (NO) contacts, with
normally energized coil.
The Fire and Auxiliary relays are field programmable for latching or non-latching operation.
Enclosure Material
Copper-free aluminum (red) or 316 stainless steel,
with stainless steel mounting bracket.
Ingress Protection
NEMA/Type 4X (Indoor and outdoor use).
IP66.
Temperature Rating
Operating: –40°F to +167°F (–40°C to +75°C).
Storage: –40°F to +185°F (–40°C to +85°C).
Humidity Range
0 to 95% RH. Can withstand 100% condensing
humidity for short periods of time.
Vibration
Meets MIL STD 810C, method 514.2, procedure X,
curve AW (6 to 200 Hz, 1.5 g).
Certifications
FM
FM & CSA:
Class I, Div. 1, Groups B, C & D;
Class I, Div. 2, Groups A, B, C & D
(T4A).
Class II/III, Div. 1, Groups E, F, & G;
Class II/III, Div. 2, Groups F & G
(T4A).
NEMA/Type 4X
ULC:
Explosion-proof for Class I, Div. 1,
Groups C & D.
Dust ignition-proof for Class II,
Div. 1, Groups E, F, & G.
CENELEC:
Standard temperature version:
EEx d IIB +H2 T6
(Tamb = –40°C to +75°C).
EEx d IIB +H2 T5
(Tamb = –40°C to +90°C).
Extended temperature version:
EEx d IIB +H2 T6
(Tamb = –55°C to +75°C).
EEx d IIB +H2 T5
(Tamb = –55°C to +90°C).
EEx d IIB +H2 T4
(Tamb = –55°C to +125°C).
IP66.
®
APPROVED
Gosstandart: 1ExdIIBT6X
(Russia)
(Tamb=–40°C to +75°C).
Performance verified from
–55°C to +75°C.
IP66.
CE:
Conforms to all relevant European
norms.
Dimensions
W = 3.38 inches (8.58 cm)
H = 7.81 inches (19.8 cm)
L = 7.11 inches (18.1 cm).
Cone of Vision
90 degrees with the highest sensitivity along the
central axis.
VIEWING ANGLE
0°
15°
100
15°
RFI/EMI Hardened
Wiring
Meets RFI and EMI immunity requirements for MIL
STD 461, 462 and 463.
30°
90
30°
80
45°
70
45°
60
Accepts 16 to 22 AWG. As with any electronic
device, shielded cable provides increased RFI and
EMI immunity.
DETECTION
DISTANCE 50
(PERCENT) 40
30
20
RED BY UL AN
D
STE
B
GI
SI
RE
Shipping Weight
(Approximate)
S
RM
FI
E RE D F
T E ED
R
82
6
.A
I
ST
O
REG
I
R EG
N
IR M
ISO 9001
230
5 • N O.
25
Aluminum:
6.0 pounds (2.7 kg)
Stainless steel: 14.0 pounts (6.3 kg).
10
A1995
Detector Electronics Corporation
6901 West 110th Street • Minneapolis, Minnesota 55438 USA
Operator: (952) 941-5665 or (800) 765-FIRE
Customer Service: (952) 946-6491 • Fax (952) 829-8750
http://www.detronics.com • E-mail: detronics@detronics.com
Specifications subject to change without notice.