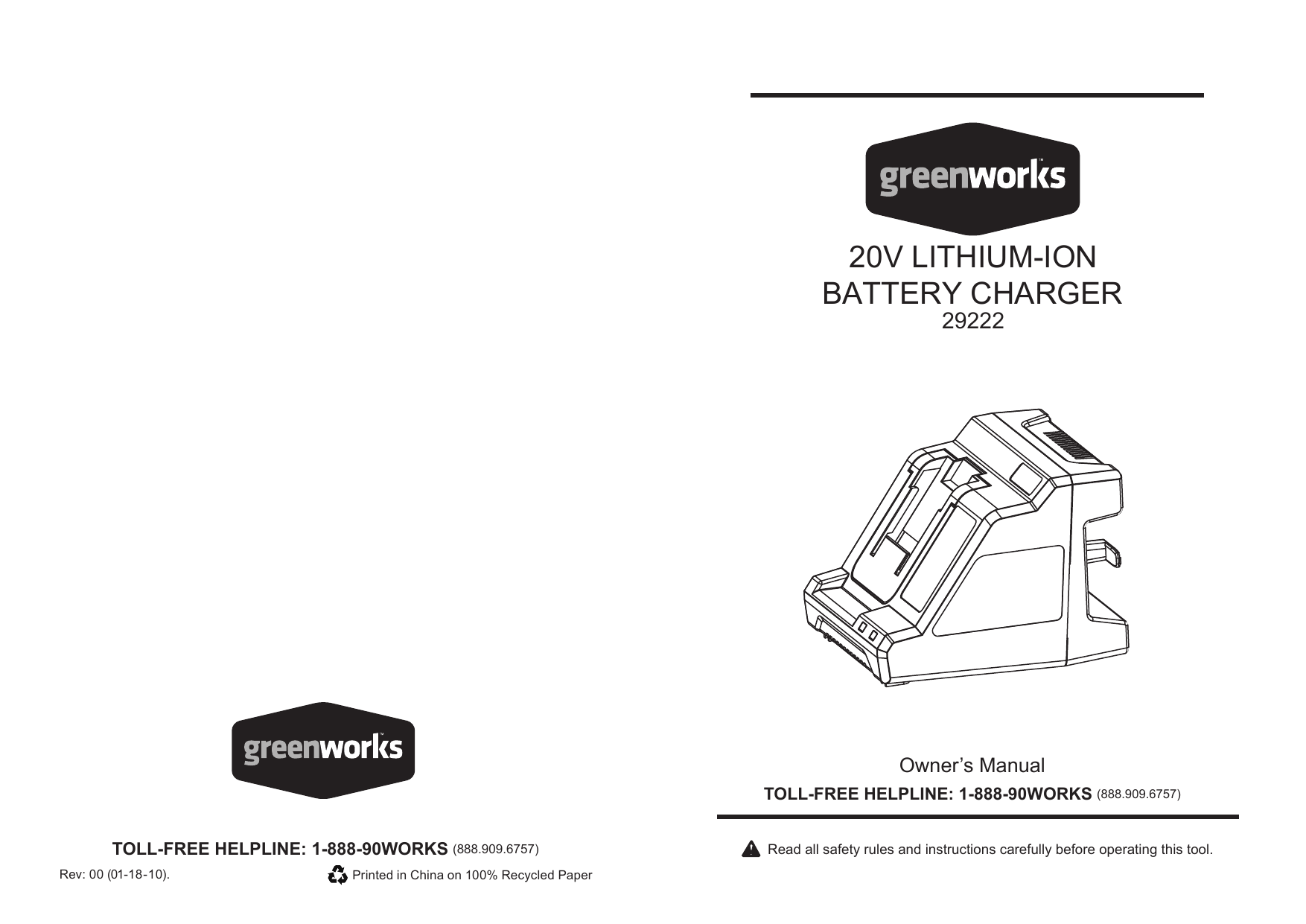 20V LITHIUM-ION
BATTERY CHARGER
29222
Owner's Manual
TOLL-FREE HELPLINE: 1-888-90WORKS (888.909.6757)
TOLL-FREE HELPLINE: 1-888-90WORKS (888.909.6757)
Rev: 00 (01-18-10).
Printed in China on 100% Recycled Paper
Read all safety rules and instructions carefully before operating this tool.
SPECIFICATIONS
BATTERY CHARGING PROCEDURE:
Charger Input: 120 V 60 Hz AC only
Charger Weight 1.67 lbs (0.76 kg)
Charger output max.: 21 V
Optimum Charging Temperature: 32° to 104° F (0° to 40° C)
NOTE: Lithium-ion batteries while in use will continue to provide full power without power fade
unlike typical batteries; when the battery is fully discharged the battery circuitry will immediately
cut power to the tool and require immediate charging.
BECOME FAMILIAR WITH THE CHARGER
Before attempting to use this charger, become familiar with all of its operating features and
safety requirements.
1
1. Charging indicator reference chart
2. Battery compartment
WA R N I N G
If the battery is inserted into the charger when warm or hot the CHECK BATTERY indicator light
may switch on. If this occurs allow the battery to cool outside of the charger for 30 minutes.
2
3. Power source LED light
4. Power cord wrap
4
5. Two-stage indicator LED light
Press the Battery Capacity Indicator (BCI) button. The lights will illuminate according to the
battery's current power level. See chart below:
5
(RED indicates charging)
(GREEN indicates fully charged)
BATTERY INSTRUCTIONS
Battery Capacity
3
LIGHT METER
Indicator (BCI) button
BATTERY METER
CHARGING THE BATTERY PACK
Lights
WA R N I N G
If any part of the charger is missing or damaged, do not operate it until the part is repaired or
replaced. Failure to heed this warning could result in possible serious injury.
BATTERY CHARGING PROCEDURE:
NOTE: The battery is not shipped fully charged.
It is recommended to fully charge before first use to
ensure that maximum run time can be achieved. This
lithium-ion battery will not develop a memory and may
be charged at any time. A fully discharged battery
pack will require approximately 4.5 hours to fully
charge.
1. Plug the charger into an AC wall outlet/ receptacle.
2. The RED LED power indicator (1) will illuminate.
3. Insert the battery into the charger. Verify that the
battery is fully inserted into the charger.
4. The RED LED indicator (3) will illuminate indicating
that the battery is in CHARGE MODE.
5. Once the battery has reached a full charge
level, the LED indicator (3) will switch from RED to
GREEN.
6. The battery may be removed or stored in the
charger once it is fully charged; however, it is
recommended to disconnect the plug from the wall
outlet/receptacle.
Capacity
4 Green Lights
The battery is at full capacity
3 Green Lights
The battery is at 70% capacity
2 Green Lights
The battery is at 45% capacity
1 Green Light
The battery is at 10% capacity and
requires charging soon
Lights go out
The battery is under 10% capacity and
requires charging immediately
SAFETY NOTES AND PRECAUTIONS
2
3
1
1. Do not disassemble the battery.
2. Keep away from children.
3. Do not expose the battery to water or salt water. You should place the battery in a cool and dry
environment.
, etc.
5. Do not reverse the positive terminal and the negative terminal of the battery.
6. Do not connect the positive terminal and the negative terminal of the battery to each other with
any metal objects.
7. Do not knock or strike the battery, nor step on it.
8. Do not solder directly onto the battery and pierce the battery with nails or other edge tools.
well with water. Immediately discontinue use of the battery if it emits an unusual smell, feels
hot, changes color, changes shape, or appears abnormal in any other way.
NOTES
WA R N I N G
• Do not use a damp cloth or detergent on the battery or battery charger.
• Always remove the battery pack before cleaning, inspecting, or performing any
maintenance on the trimmer.
CHARGER MAINTENANCE
• Keep the charger clean and clear of debris. Do not allow foreign material into the recessed
cavity or on the contacts. Wipe with a dry cloth. Do not use solvents, water, or place in wet
conditions.
• Always unplug the charger when there is no battery pack in it.
• Give the batteries a full charge before placing in storage. Do not recharge a fully charged
battery pack. Overcharging shortens the battery life.
• Recharge the battery pack anytime you notice there is less power. Never let the batteries
become completely discharged.
• Keep the charger stored in normal room temperature. Do not store it in excessive heat. Do
not use in direct sunlight. Always recharge in a room temperature of 50˚F to 100˚F. If the
battery pack is hot, let it cool down before recharging.
• Disconnect the charger from the AC power outlet when not in use and once battery has
reached a full charge.
CHARGER MOUNTING
1. This charger can be installed hanging on a wall using two screws (not supplied)
2. Locate the placement for the charger to be wall mounted.
3. If fastening to wood studs use 2 wood screws.
4. Drill two holes 3 5/32" on center. Ensure they are level.
5. If fastening to drywall use wall anchors and screws to secure the charger to the wall.

* Your assessment is very important for improving the work of artificial intelligence, which forms the content of this project