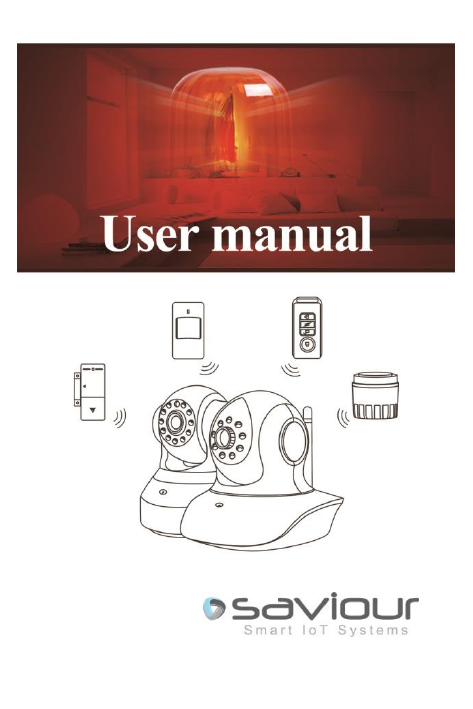 Installation Support
Please follow the instructions as mentioned below and in case
of any support please mail us at service@saviour.us or call us at:
+91-8882 777 444. We will help you out in any issue.
1.
Connect Device
Attention: Please use the provided power adapter to avoid
damage!
2.
Install Android/iOS APP
a)
Please download the app "Saviour" from
Google play store for Android and iTunes store
iOS version
b)
For detailed manuals of app and Saviour cloud
platform software for windows machines, please
refer to below location at our website:
www.saviourusa.com/downloads
c)
For installation support, please mail us at
service@saviour.us
3.
Register Account
Open Android/iOS app, click register.
Enter the user name, password to complete registration. We
recommend using email id as your account name.
4.
Add Camera
Click"+", enter device management interface,
①
Select "Quick Setup "
②
Input the WiFi router password (without any special
characters as these are not supported and only numerals and
characters allowed) when first time configure.
③
Camera default password 888888
Troubleshooting:
In case the wifi is not getting connected as you
get "Wifi configuration is failing message" in
above step, then do check below settings of
router which may require calling internet
service provider person
 DHCP is enabled on router
 The channel of router is set at 7 or 11
for better connectivity
 The security setting of router is at
TKIP+AES in place of only AES as at
times with AES setting router don't
allow connection from devices
Once corrected above settings reset the camera
and try again.
Please be noted: If fail to add camera via one key WiFi function, please use the network cable
to connect camera with router, search and add the camera in LAN. Once added go to Device
Management-> click on selected camera->Camera Setting->System Tab-> Wifi setting option and enter
wifi details and disconnect LAN cable. Camera will restart and should be online.
Imp: Make sure wifi password can't have special characters else camera will get added and also if
wrong wifi password is entered then camera would be required to reset using button provided in the
back of camera by pressing with a pin for 4-5 seconds. Also if wifi password is wrongly entered and
camera doesn't come online then kindly reset the camera to factory settings and try again.
5.
Add Sensors
1. Click "Device Management" in the app interface – Click the
">" arrow next to the camera and click the "Sensor" tab– to add
Sensor;
2. Click the corresponding sensor to start matching code; follow
the animation instruction to pairing. (if need to add multiple
sensors, just repeat the action)
3. Please wait until the screen shows adding success.
6.
Alarm Zone
1.
Lets you arm/disarm the Saviour Security System. You can
either arm/disarm selected cameras and its sensors or alarm
all the security cameras at the same time by clicking
"Arming All" or "Disarm All" to disarm all the security
cameras.
2.
Click
entering arming/disarming times so that the
camera automatically arms/disarms at certain set times.
7. Receive alerts on your mobile
①
Click "More…"—>Message Notification
②
After setup arming/disarming, turn on SMS push in
Message Notification for the respective camera in order to
receive push notifications when an alarm is triggered. You
will see Alarm screen with Siren sound on motion triggered
by Anti-theft/PIR sensor. Your app screen should not be
opened in back to else Alarm screen will not open. Just exit
the app using escape button "Press ESC to exit" or return
button of your mobile.
8.
Video interface description
Horizontal cruise
Vertical cruise
Preset position
Full screen
Listen unable
Enable listen
Talk unable
Enable talk
Snapshot, you can take picture on local storage of your
mobile.
Recording, you can record video on local storage of your
mobile.
9.
Device management
To go to the camera settings, Click Device Management, click
the ">" of the camera. They are under "System" tab of the
screen.
1. Storage status: can view SD storage, format (need to format
SD card before use), and enable recording function.
Note: SD card cannot record if the SD card cannot show
properly the remaining storage.
2. Password: You can change the camera viewing password,
password can only include a number/letter between 6~16
characters. Note: If forget password, press the Reset button on
the back of camera to reboot camera back to factory setting. The
default password is 888888.
10. Message center
Message center provides you with your alarm and system
information.
1.
Alarm info means the alarm log generated from Saviour
security camera or standard IP camera, can show the alarm
real status and time, click can view the real time.
2.
System info: remind the camera firmware upgraded
information etc.
11. Security center
Security centre include weak password remind, phone bundle,
email verification, gesture password and push notification; click
inspection will start security check.

* Your assessment is very important for improving the work of artificial intelligence, which forms the content of this project