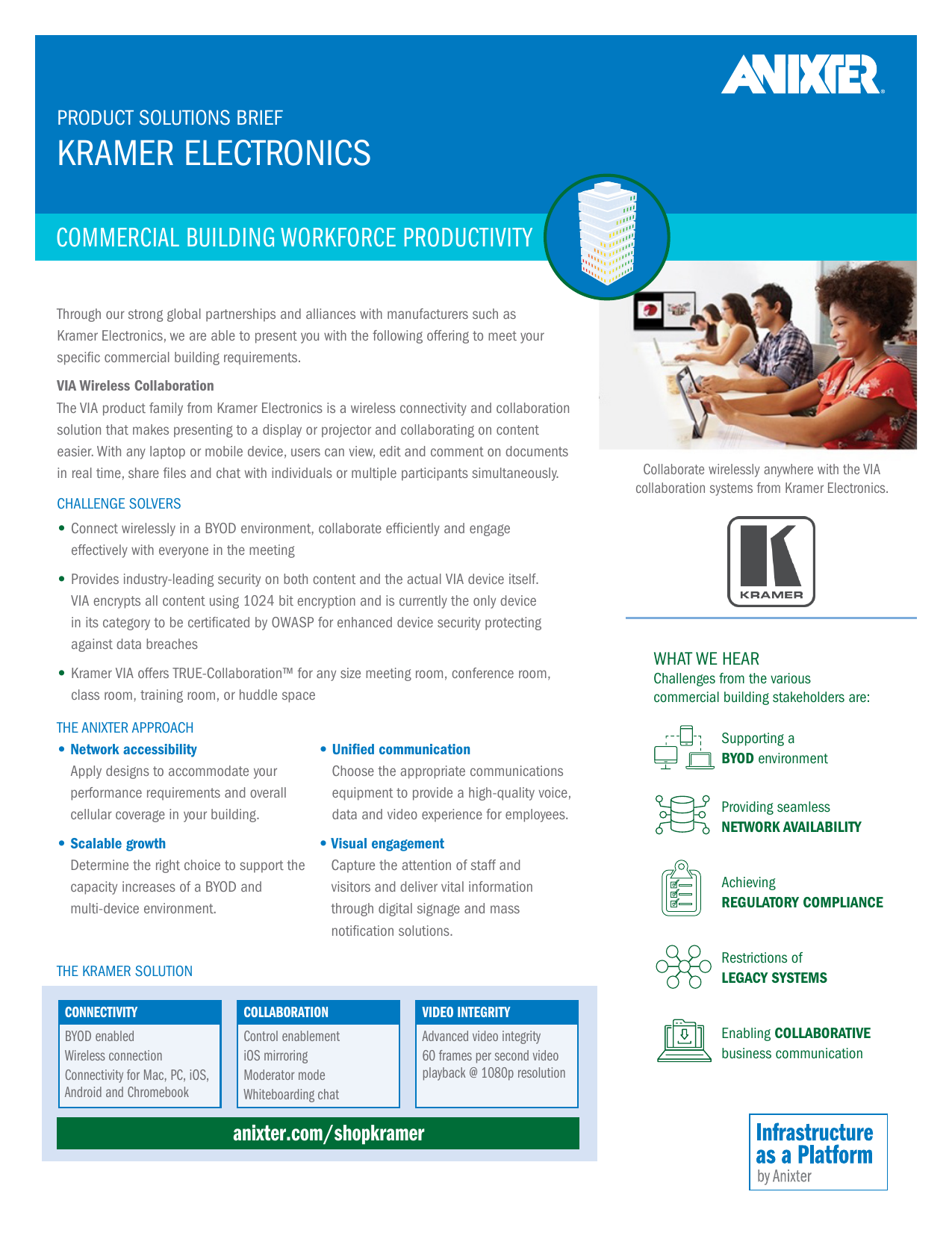 PRODUCT SOLUTIONS BRIEF
KRAMER ELECTRONICS
COMMERCIAL BUILDING WORKFORCE PRODUCTIVITY
Through our strong global partnerships and alliances with manufacturers such as
Kramer Electronics, we are able to present you with the following offering to meet your
specific commercial building requirements.
VIA Wireless Collaboration
The VIA product family from Kramer Electronics is a wireless connectivity and collaboration
solution that makes presenting to a display or projector and collaborating on content
easier. With any laptop or mobile device, users can view, edit and comment on documents
in real time, share files and chat with individuals or multiple participants simultaneously.
CHALLENGE SOLVERS
onnect wirelessly in a BYOD environment, collaborate efficiently and engage
• C
Collaborate wirelessly anywhere with the VIA
collaboration systems from Kramer Electronics.
effectively with everyone in the meeting
• P rovides industry-leading security on both content and the actual VIA device itself.
VIA encrypts all content using 1024 bit encryption and is currently the only device
in its category to be certificated by OWASP for enhanced device security protecting
against data breaches
• K ramer VIA offers TRUE-Collaboration™ for any size meeting room, conference room,
class room, training room, or huddle space
THE ANIXTER APPROACH
• Network accessibility
Apply designs to accommodate your
performance requirements and overall
cellular coverage in your building.
• Unified communication
Choose the appropriate communications
equipment to provide a high-quality voice,
data and video experience for employees.
• Visual engagement
• Scalable growth
Capture the attention of staff and
Determine the right choice to support the
visitors and deliver vital information
capacity increases of a BYOD and
through digital signage and mass
multi-device environment.
notification solutions.
WHAT WE HEAR
Challenges from the various
commercial building stakeholders are:
Supporting a
BYOD environment
Providing seamless
NETWORK AVAILABILITY
Achieving
REGULATORY COMPLIANCE
Restrictions of
LEGACY SYSTEMS
THE KRAMER SOLUTION
CONNECTIVITY
COLLABORATION
VIDEO INTEGRITY
BYOD enabled
Wireless connection
Connectivity for Mac, PC, iOS,
Android and Chromebook
Control enablement
iOS mirroring
Moderator mode
Whiteboarding chat
Advanced video integrity
60 frames per second video
playback @ 1080p resolution
anixter.com/shopkramer
Enabling COLLABORATIVE
business communication
Infrastructure as a Platform by Anixter provides a practical, configurable and integrated approach to supporting advanced mobility and
communications in your commercial building.
CONFIGURE
BUNDLE
DEPLOY
We help you discover and map your
specific needs to the best solution.
Your validated, preconfigured solutions
are packaged and site ready.
Controlled, repeatable solutions are
delivered on time and under budget.
• Connect device to your network
• Download the user-friendly app
• Log in through application interface
• Present and collaborate wirelessly
• IP, HDMI cable assemblies
• Connectivity faceplates
• Mounting and storage equipment
• HD flat-panel displays
• Custom packaging and labeling
• Time-sensitive delivery options
• Staged project shipping
• Tailored last-mile delivery
KRAMER ELECTRONICS VIA WIRELESS COLLABORATION FEATURES
INCREASE MEETING EFFICIENCY
ENABLE BYOD FUNCTIONALITY
– Seamless and simple BYOD connectivity, collaboration
and content sharing
– Utilize personal devices to review content, meet remotely or share
documents in the workplace, including iOS mirroring
– Connect up to 255 different devices
– Compatible with PC, Apple, iOS & Chromebook devices
– Provides 60 frames per second video playback
@ 1080p resolution
– VIA encrypts all content using 1024 bit encryption to protect
against data breaches
Supports Windows, MAC and Chromebook laptops, as well
as iOS, Windows and Android mobile operating systems.
FOR MORE DETAILS VISIT ANIXTER.COM/SHOPKRAMER
About Anixter: anixter.com/aboutus
Legal Statement: anixter.com/legalstatement
At Anixter, we enable the connected world. By building, connecting, protecting and powering valuable assets
and critical infrastructures, we help to sustain and grow businesses and communities worldwide. We accomplish
this by offering full-line solutions, technical intelligence, supply chain expertise and an unmatched global
distribution network.
1.800.ANIXTER | anixter.com
17T7800NA © 2017 Anixter Inc.
Products. Technology. Services. Delivered Globally.

* Your assessment is very important for improving the work of artificial intelligence, which forms the content of this project