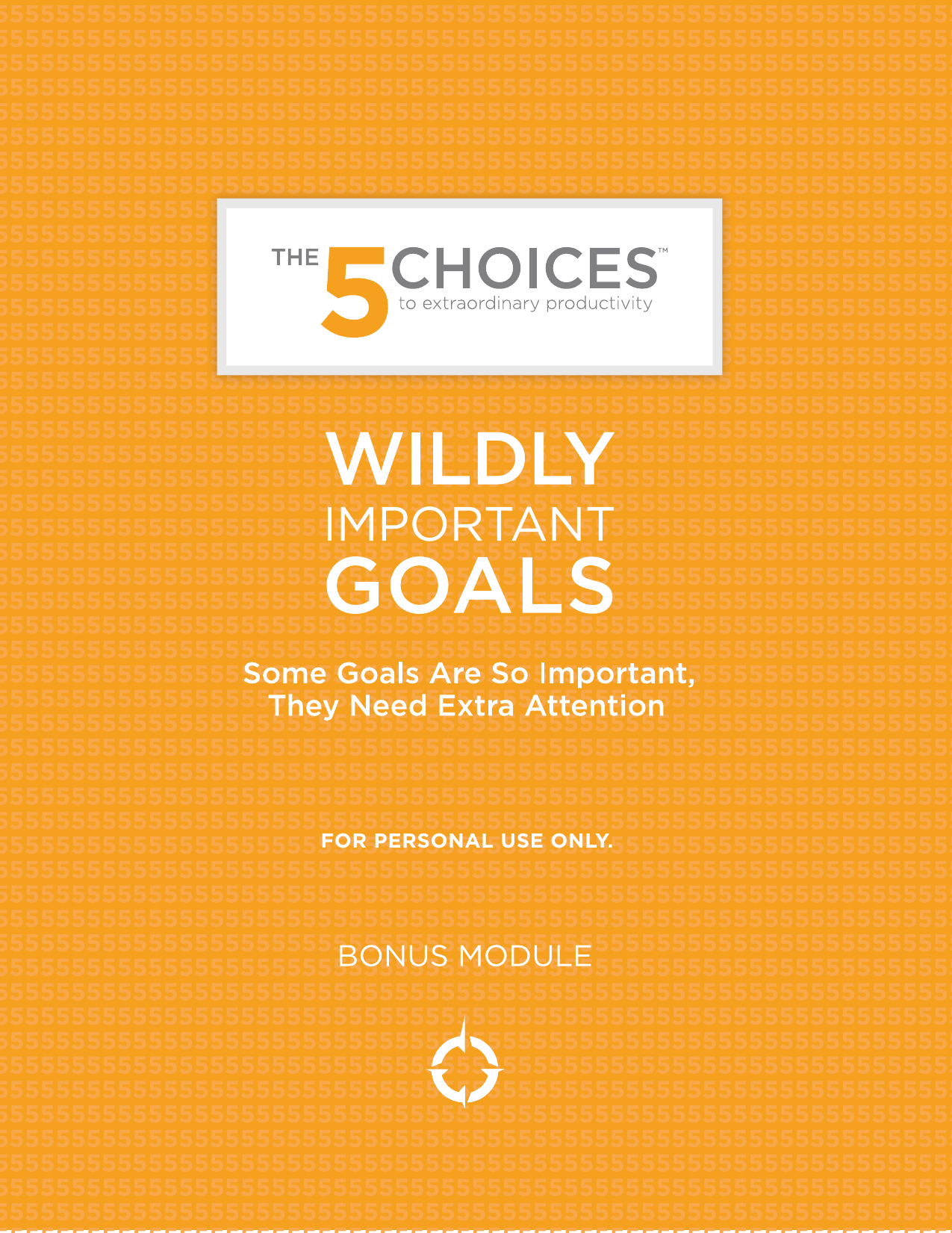 FOR PERSONAL USE ONLY.
WILDLY
IMPORTANT
GOALS
FOR PERSONAL USE ONLY.
Some Goals Are So Important,
They Need Extra Attention
ABOUT FRANKLINCOVEY
FranklinCovey is the global leader in leadership, individual effectiveness, and execution. FranklinCovey's mission is to enable greatness in people and
organizations everywhere. Organizations and individuals access FranklinCovey products and services through corporate training, licensed client facilitators,
public workshops, catalogs, and through the Internet at www.franklincovey.com. Product and program catalogs can be requested by calling 1-800-331-7716 in
the United States or by contacting your local representative outside the United States.
COPYRIGHT AND TRADEMARKS
Copyright © Franklin Covey Co. All rights reserved.
FranklinCovey owns or controls all proprietary rights and copyrights to the content contained herein. No part of this publication may be reproduced or
transmitted in any form or by any means, electronic or mechanical, including photocopying, recording, or use of any information-storage or retrieval system, for
any purpose without the express written permission of FranklinCovey. This product may not be resold. This publication is provided to you for individual use only.
Printed in the United States of America. Registered and/or pending trademarks of FranklinCovey in the United States and foreign countries are used throughout
this work. Use of the trademark symbols ® or TM is limited to one or two prominent trademark usages for each mark.
Trademarks understood to be owned by others are used in a nontrademark manner for explanatory purposes only, or ownership by others is used herein under
license or indicated to the extent known. All persons, companies, and organizations listed in examples and case studies herein are purely fictitious for teaching
purposes, unless the example expressly states otherwise. Any resemblance to existing organizations or persons is purely coincidental.
FOR PERSONAL USE ONLY.
FRA110448 Version 1.1.7
Introduction
Some goals are so important, and require such a change of behavior, that they require
special attention to accomplish. This module will help you apply 4 Disciplines that will
dramatically increase your ability to achieve these Wildly Important Goals.
To use this module:
1
Watch the video Wildly Important Goals on the Take-Home Tools & Bonus Modules
DVD.
2 Use the tools in this booklet to help you apply the principles in the video.
About the Expert: Chris McChesney is the global leader of
FranklinCovey's Execution Practice. A compelling speaker and
experienced consultant, Chris has helped people and organizations
around the world achieve their most critical and challenging goals.
This module is based on material from FranklinCovey's The 4
Disciplines of Execution®.
FOR PERSONAL USE ONLY.
© Franklin Covey Co. All rights reserved.
1
Discipline 1:
Focus on the Wildly Important
STEP 1: FOCUS
This method is not for every goal you have; in fact, it should only be used on a few (one to
two) goals at a time. Why? Because it will require you to put forth extra effort to get these
goals accomplished. It is only for goals that are so important or require such a significant
change in behavior, that the payback is worth the effort.
What is your "Wildly Important Goal"?
STEP 2: FINISH LINE
Now, take that goal and define a clear finish line so you know when you've won. You do this
by putting your goal into the
following formula:
From "X" to "Y" by "When"?
Example: Go from $1 million in personal sales production to $1.8 million by
December 31.
Example: Go from 225 lbs. to 175 lbs. by March 1.
Clarify your Wildly Important Goal:
From
to
(X)
2
© Franklin Covey Co. All rights reserved.
.
by
(Y)
(When)
FOR PERSONAL USE ONLY.
Discipline 2:
Act on the Lead Measures
In Discipline 1, you identified the thing you
want to accomplish, the "boulder" you want
to move. Now you need to identify the key
"levers" you can use to move that boulder.
These are the specific behaviors you can do
that will move you closer to the goal. These
behaviors need to be both:
•Influenceable (meaning you can
actually do something about them).
Acting on these lead measures should
be central to your Weekly and Daily Q2
Planning processes so that each week,
you are moving forward on your goal.
You may want to use the "Time Zone"
approach taught in Choice 3 of The 5
Choices to Extraordinary Productivity to
make sure you are devoting the time and
energy required.
•Predictive (meaning they will impact
the outcome you are trying to
achieve).
Example: Sales revenue is affected by faceto-face meetings with qualified contacts. So
the LEAD MEASURE is the NUMBER of faceto-face meetings with qualified contacts.
Example: Weight is affected by diet. So
the LEAD MEASURES are the NUMBER of
calories you eat and the NUMBER of calories
you burn each day.
What are the few lead measures that are
most likely to move you forward and help you
achieve your Wildly Important Goal?
1
2
3
FOR PERSONAL USE ONLY.
© Franklin Covey Co. All rights reserved.
3
Discipline 3:
Create a Compelling Scoreboard
Now that you've identified your lead
measures, you need to create a scoreboard
so you can see how the lead measures are
helping you win. This is a fun and vital part
of the process.
Look at the sample scoreboards on the
following pages, then use the blank pages
to draft out your scoreboard. Your actual
scoreboard should be someplace where
you will see it—for example, on your desk
or on the refrigerator.
A good scoreboard should:
1
Be visible—you need to see it
frequently.
2
Be simple to understand—you should
be able to quickly glance at it and
instantly see how you are doing on
your goal.
both the lead measures and the
3 Show
goal.
4 Be as easy as possible to maintain.
fun and motivating. Use pictures,
5 Be
symbols, or other visual items to help
keep you motivated to accomplish
your goal.
4
© Franklin Covey Co. All rights reserved.
FOR PERSONAL USE ONLY.
Sample
Scoreboard
Personal Sales Revenue
$1.8
$1 SEPT
OCT
NOV
DEC
Number of Face-to-Face Meetings
10
0
Week 1
2
3
4
5
FOR PERSONAL USE ONLY.
6
7
8
9 10 11 12 13 14 15 16
© Franklin Covey Co. All rights reserved.
5
Sample
Scoreboard
Weight
Weight
225 lbs
175 lbs
J
J
A
S
O
N
D
J
F
M
Calories
M
T
W
Th
F
S
Su
6
Calories
Eaten
Calories
Burned
Total
Calories
2450
2400
50
2300
2550
-200
2200
2600
-400
2150
2300
-150
2275
1900
375
2350
2400
-50
1900
2300
-400
© Franklin Covey Co. All rights reserved.
M
T
W
Th
F
S
Su
Calories
Eaten
Calories
Burned
Total
Calories
2300
2500
-200
2150
2000
150
2375
2250
125
2350
2400
-50
2275
2400
-175
2450
2400
50
2100
2300
-200
FOR PERSONAL USE ONLY.
Your
Scoreboard
(Draft Your Scoreboard Here)
FOR PERSONAL USE ONLY.
© Franklin Covey Co. All rights reserved.
7
Discipline 4:
Create a Cadence of Accountability
By identifying your Wildly Important Goal,
defining the lead measures, and creating
a compelling scoreboard, you have turned
your goal into a "winnable game." Now you
need to play the game. The key is to create a
consistent cadence of accountability.
1
Review your commitments from the
past week and whether or not you
accomplished them.
2
To do this, select a partner to whom you will
be accountable for your activities each week
(boss, peer, friend). Put that person's name
here:
My Accountability Partner:
Contact Information:
Now, identify the time you will meet with this
partner each week until your goal is achieved.
While you may think, "Oh, I'll just be
accountable to myself," your chances of
accomplishing your goal, and the weekly
actions that influence that goal, go up
substantially if you have another person
involved. If your goal truly is "wildly
important" don't skimp on this step.
When you meet with your accountability
partner, you should:
8
© Franklin Covey Co. All rights reserved.
Report on Commitments
Review and Update the Scoreboard
Look at the impact of the your
commitments on the goal. (Are
your lead-measure activities moving
you closer to the goal? If not, what
needs to change?)
3
Make New Commitments
Describe your specific commitments
to move the lead measures in the
upcoming week.
Talk about how you will overcome
any obstacles to fulfilling your
commitments in the coming week.
How do the 4 Disciplines of Execution
and the 5 Choices to Extraordinary
Productivity work together?
The 4 Disciplines are a defined
methodology to achieve specific, Wildly
Important Goals. The 5 Choices are a
broader set of skills to help you achieve
extraordinary productivity. These two
methodologies are designed to work
together perfectly.
FOR PERSONAL USE ONLY.
4 Disciplines
and 5 Choices
Here's how:
5 CHOICES
4 DISCIPLINES
Choice 1: Act on the
Important, Don't
React to the Urgent
Because Wildly Important Goals are both "important"
and require action on your part, they are a Quadrant 2
activity. Intense focus on a Wildly Important Goal is at
the very heart of Quadrant 2.
Choice 2: Go for
Extraordinary, Don't
Settle for Ordinary
Wildly Important Goals represent significant outcomes
that help us find fulfillment and success in our roles.
Wildly Important Goals come from our roles.
Choice 3:
Schedule the Big
Rocks First, Don't Sort
Gravel.
The planning processes taught in Choice 3 are the way
to operationalize Wildly Important Goals and make
them happen in the middle of your very busy life. The
weekly activities you do to move you forward on your
goal are "big rocks" and should be scheduled first, so
the "gravel" doesn't interfere with what really matters.
Choice 4: Rule Your
Technology, Don't Let
It Rule You
By using the techniques in Choice 4, you can increase
the amount of time and energy you spend on your
Wildly Important Goal. In addition, you can use
technology in powerful ways to accelerate your ability
to achieve your goal.
Choice 5: Fuel Your
Fire, Don't Burn Out
Often our Wildly Important Goals relate to Choice 5
(exercise, health, etc.). But no matter what your Wildly
Important Goal is, you need the physical and mental
energy to achieve it.
Following a pattern of consistent renewal into your life
will give you the capability to achieve and enjoy the
results of your Wildly Important Goal.
Often, when pursuing a significant goal, it is easy to
violate this principle and ignore our personal needs for
health and energy. In fact, it is during the pursuit of a
significant goal that this choice is more important than
ever.
FOR PERSONAL USE ONLY.
© Franklin Covey Co. All rights reserved.
9
NOTES
10
© Franklin Covey Co. All rights reserved.
FOR PERSONAL USE ONLY.
NOTES
FOR PERSONAL USE ONLY.
© Franklin Covey Co. All rights reserved.
11
NOTES
12
© Franklin Covey Co. All rights reserved.
FOR PERSONAL USE ONLY.