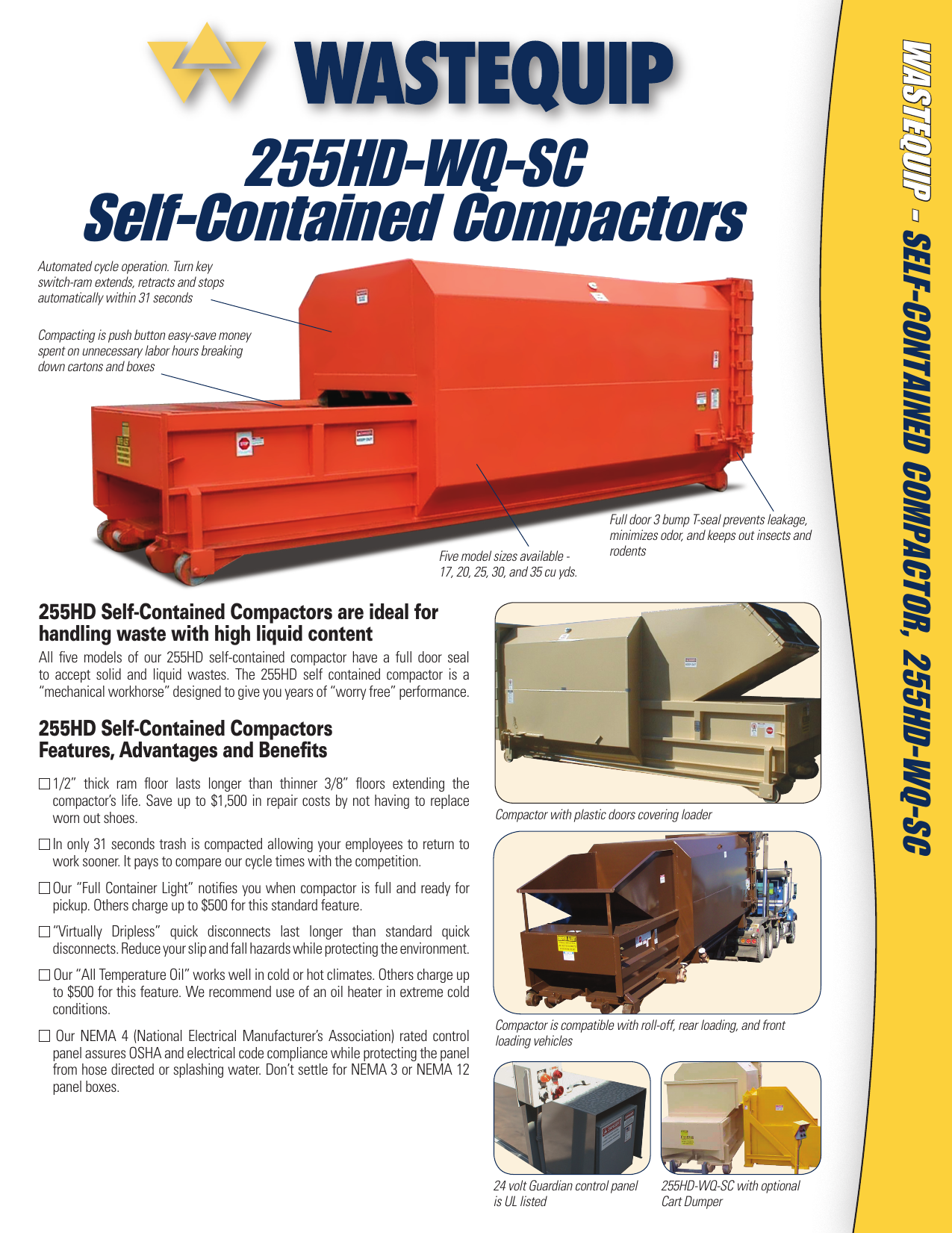 Automated cycle operation. Turn key
switch-ram extends, retracts and stops
automatically within 31 seconds
Compacting is push button easy-save money
spent on unnecessary labor hours breaking
down cartons and boxes
Five model sizes available 17, 20, 25, 30, and 35 cu yds.
Full door 3 bump T-seal prevents leakage,
minimizes odor, and keeps out insects and
rodents
255HD Self-Contained Compactors are ideal for
handling waste with high liquid content
All five models of our 255HD self-contained compactor have a full door seal
to accept solid and liquid wastes. The 255HD self contained compactor is a
"mechanical workhorse" designed to give you years of "worry free" performance.
255HD Self-Contained Compactors
Features, Advantages and Benefits
1/2" thick ram floor lasts longer than thinner 3/8" floors extending the
compactor's life. Save up to $1,500 in repair costs by not having to replace
worn out shoes.
Compactor with plastic doors covering loader
In only 31 seconds trash is compacted allowing your employees to return to
work sooner. It pays to compare our cycle times with the competition.
Our "Full Container Light" notifies you when compactor is full and ready for
pickup. Others charge up to $500 for this standard feature.
"Virtually Dripless" quick disconnects last longer than standard quick
disconnects. Reduce your slip and fall hazards while protecting the environment.
Our "All Temperature Oil" works well in cold or hot climates. Others charge up
to $500 for this feature. We recommend use of an oil heater in extreme cold
conditions.
Our NEMA 4 (National Electrical Manufacturer's Association) rated control
panel assures OSHA and electrical code compliance while protecting the panel
from hose directed or splashing water. Don't settle for NEMA 3 or NEMA 12
panel boxes.
Compactor is compatible with roll-off, rear loading, and front
loading vehicles
24 volt Guardian control panel
is UL listed
255HD-WQ-SC with optional
Cart Dumper
WASTEQUIP - SELF-CONTAINED COMPACTOR, 255HD-WQ-SC
255HD-WQ-SC
Self-Contained Compactors
255HD-WQ-SC Self-Contained Compactor
Fire Port on both sides
54¼"
255HD-WQ-SC
Self-Contained
Compactor SeriesYour Best Choice
For Handling
Liquid Waste
48"
SPECIFICATIONS
Charge box
COMPACTOR MODELS
Ram
255HD model
17 cu yds
20 cu yds
25 cu yds
30 cu yds
34 cu yds
Wastequip rating- 2.0 cubic yards
Wastec rating - 1.33 cubic yards
Clear Top Opening - 34" Length x 60" Width
Face plate - 3/8" steel with 3/8" stiffener plates
Base plate - 1/4" plate with 3" channels @ 22" spacing
Top plate - 1/4" steel plate with 3" channels @ 12" spacing
Side plates - 1/4" formed steel plate
Packer
Floor plate - 1/2" thick steel
Sides - 1/4" with 2 x 3" vertical tube stiffeners
Top rail - 3/16" tube
Breaker bar - 6 x 6 x 3/4" angle steel
Sump - 12" height, 1/4" x 48"
Electrical
Electric motor - 10 hp TEFC (Totally Enclosed Fan Cooled)
Voltage - 208/230/460, 3 phase, 60 HZ. Totally enclosed
Power box - UL Rated
Operator control station - NEMA 4 rated 110V
Automated cycle operation - Turn key switch-ram extends,
retracts and stops automatically
Hydraulic
Pump - 10.60 gpm
Ram penetration - 6"
Cycle time - 31 seconds
Hydraulic cylinder - Single straight
Cylinder bore - 5"
Cylinder rod - 2.5"
Hydraulic oil tank - 25 gal
Power unit location - Remote
Hydraulic performance
Normal ram face pressure - 40,200 lbs
Normal ram psi - 2,050 psi
Normal operating pressure - 21.97 psi
Maximum ram face pressure - 45,100 lbs
Maximum ram psi - 2,300 psi
Maximum operating pressure - 24.64 psi
Compactor
Height
48"
48"
48"
48"
48"
Opening
34" x 60"
34" x 60"
34" x 60"
34" x 60"
34" x 60"
Entire unit
Length
88 ¼"
88 ¼"
88 ¼"
88 ¼"
88 ¼"
Length (A)
203"
223"
237"
267"
293"
Standard features
Width
102"
102"
102"
102"
102"
Height (B)
90"
90"
104"
104"
104"
Weight
8,000 lbs
8,350 lbs
8,950 lbs
9,600 lbs
9,850 lbs
Standard color choices
n 1 /2" thick ram floor
n 3 1 second cycle time
n V irtually drip less quick disconnects
n F ull Container light
nA
ll temperature oil
n Multi-Cycle timer
nO
perational and service manual
n P rimed and painted in several colors
Black
Dark Gray
Light Gray
Teal
Cadet Blue
Green
Tan
Gold
Orange
Red
Blue Grey
Indigo
Royal Blue
Brown
Charcoal
Additional options
n Oil Heater
n Cart Dumper
nA
dvance Warning Light
n Photo Electric Eye
n P ressure Gauge - color coded
n Odor Control System
Container specifications
n 7 gauge floor with 3" channel frame
n 6 " x 2" x 1/4" tube rails, 36 ½" I.D.
Phone 877-468-9278
Email-sales@wastequip.com
www.wastequip.com
crossmember
n S olid steel bullnose and hook at both ends
n 4 " diameter rollers, 6" long
n L ength, Width and Height - See chart above
Parts
Wastequip offers replacements parts
and add-on features for all Wastequip
equipment
Wastequip
offers
financing
and leasing
programs
Wastequip serves North America from over 30 locations with
quality; containers, roll off hoists, self-dumping hoppers,
compactors, balers, trailers and tarps for companies in
environmental preservation and material handling
2/9/09 © 2009 Wastequip, all rights reserved. Specifications
subject to improvement without notice
Caution
This equipment should be operated by properly trained
personnel. Operators should become familiar with OSHA,
ANSI and any other applicable standards or laws for using
this equipment. Improper use, misuse, or lack of maintenance
could cause injury to people and/or property. Photos used in
the literature are illustrative only. We assume no liability or
responsibility for proper training/operation of equipment not
manufactured by Wastequip. We reserve the right to make
changes at any time without notice. Information contained
within this literature is intended to be the most accurate
available at time of printing.

* Your assessment is very important for improving the work of artificial intelligence, which forms the content of this project