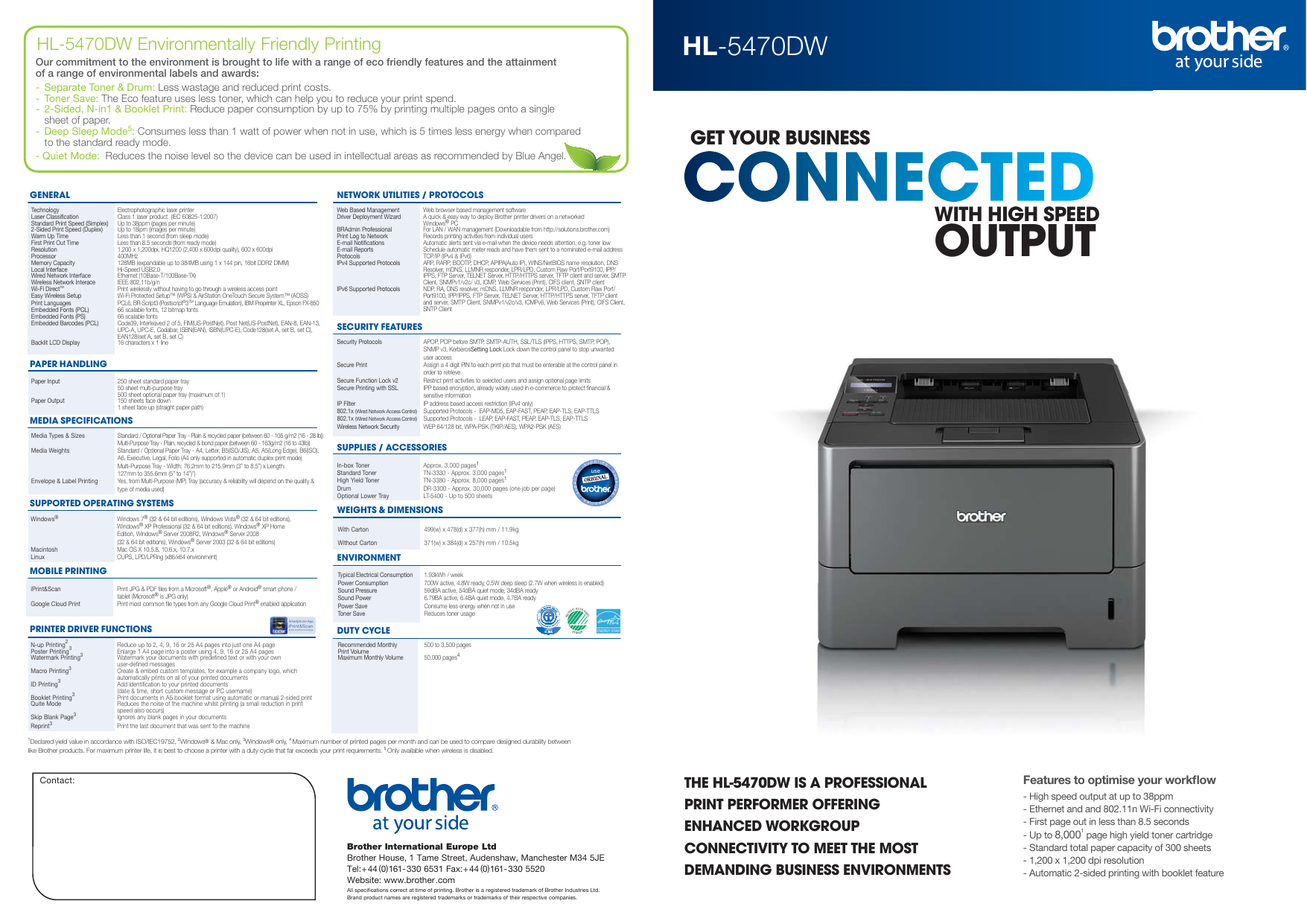 HL-5470DW
HL-5470DW Environmentally Friendly Printing
Our commitment to the environment is brought to life with a range of eco friendly features and the attainment
of a range of environmental labels and awards:
- Separate Toner & Drum: Less wastage and reduced print costs.
- Toner Save: The Eco feature uses less toner, which can help you to reduce your print spend.
- 2-Sided, N-in1 & Booklet Print: Reduce paper consumption by up to 75% by printing multiple pages onto a single
sheet of paper.
- Deep Sleep Mode5: Consumes less than 1 watt of power when not in use, which is 5 times less energy when compared
to the standard ready mode.
- Quiet Mode: Reduces the noise level so the device can be used in intellectual areas as recommended by Blue Angel.
Paper Output
MEDIA SPECIFICATIONS
Media Types & Sizes
Media Weights
Windows®
Windows 7® (32 & 64 bit editions), Windows Vista® (32 & 64 bit editions),
Windows® XP Professional (32 & 64 bit editions), Windows® XP Home
Edition, Windows® Server 2008R2, Windows® Server 2008
(32 & 64 bit editions), Windows® Server 2003 (32 & 64 bit editions)
Mac OS X 10.5.8, 10.6.x, 10.7.x
CUPS, LPD/LPRng (x86/x64 environment)
Macintosh
Linux
MOBILE PRINTING
iPrint&Scan
Google Cloud Print
Print JPG & PDF files from a Microsoft®, Apple® or Android® smart phone /
tablet (Microsoft® is JPG only)
Print most common file types from any Google Cloud Print® enabled application
APOP, POP before SMTP, SMTP-AUTH, SSL/TLS (IPPS, HTTPS, SMTP, POP),
SNMP v3, KerberosSetting Lock Lock down the control panel to stop unwanted
user access
Secure Print
Assign a 4 digit PIN to each print job that must be enterable at the control panel in
order to retrieve
Secure Function Lock v2
Restrict print activities to selected users and assign optional page limits
Secure Printing with SSL
IPP based encryption, already widely used in e-commerce to protect financial &
sensitive information
IP Filter
IP address based access restriction (IPv4 only)
802.1x (Wired Network Access Control) Supported Protocols - EAP-MD5, EAP-FAST, PEAP, EAP-TLS, EAP-TTLS
802.1x (Wired Network Access Control) Supported Protocols - LEAP, EAP-FAST, PEAP, EAP-TLS, EAP-TTLS
Wireless Network Security
WEP 64/128 bit, WPA-PSK (TKIP/AES), WPA2-PSK (AES)
SUPPLIES / ACCESSORIES
In-box Toner
Standard Toner
High Yield Toner
Drum
Optional Lower Tray
Approx. 3,000 pages1
TN-3330 - Approx. 3,000 pages1
TN-3380 - Approx. 8,000 pages1
DR-3300 - Approx. 30,000 pages (one job per page)
LT-5400 - Up to 500 sheets
su
pplies
use
pplies
SUPPORTED OPERATING SYSTEMS
SECURITY FEATURES
WEIGHTS & DIMENSIONS
With Carton
499(w) x 478(d) x 377(h) mm / 11.9kg
Without Carton
371(w) x 384(d) x 257(h) mm / 10.5kg
su
Envelope & Label Printing
Standard / Optional Paper Tray - Plain & recycled paper (between 60 - 105 g/m2 (16 - 28 lb))
Multi-Purpose Tray - Plain, recycled & bond paper (between 60 - 163g/m2 (16 to 43lb))
Standard / Optional Paper Tray - A4, Letter, B5(ISO/JIS), A5, A5(Long Edge), B6(ISO),
A6, Executive, Legal, Folio (A4 only supported in automatic duplex print mode)
Multi-Purpose Tray - Width: 76.2mm to 215.9mm (3" to 8.5") x Length:
127mm to 355.6mm (5" to 14")")
Yes, from Multi-Purpose (MP) Tray (accuracy & reliability will depend on the quality &
type of media used)
OUTPUT
Security Protocols
pplies
250 sheet standard paper tray
50 sheet multi-purpose tray
500 sheet optional paper tray (maximum of 1)
150 sheets face down
1 sheet face up (straight paper path)
IPv6 Supported Protocols
WITH HIGH SPEED
Web browser based management software
A quick & easy way to deploy Brother printer drivers on a networked
Windows® PC
For LAN / WAN management (Downloadable from http://solutions.brother.com)
Records printing activities from individual users
Automatic alerts sent via e-mail when the device needs attention, e.g. toner low
Schedule automatic meter reads and have them sent to a nominated e-mail address
TCP/IP (IPv4 & IPv6)
ARP, RARP, BOOTP, DHCP, APIPA(Auto IP), WINS/NetBIOS name resolution, DNS
Resolver, mDNS, LLMNR responder, LPR/LPD, Custom Raw Port/Port9100, IPP/
IPPS, FTP Server, TELNET Server, HTTP/HTTPS server, TFTP client and server, SMTP
Client, SNMPv1/v2c/ v3, ICMP, Web Services (Print), CIFS client, SNTP client
NDP, RA, DNS resolver, mDNS, LLMNR responder, LPR/LPD, Custom Raw Port/
Port9100, IPP/IPPS, FTP Server, TELNET Server, HTTP/HTTPS server, TFTP client
and server, SMTP Client, SNMPv1/v2c/v3, ICMPv6, Web Services (Print), CIFS Client,
SNTP Client
su
Paper Input
BRAdmin Professional
Print Log to Network
E-mail Notifications
E-mail Reports
Protocols
IPv4 Supported Protocols
ENVIRONMENT
1.93kWh / week
700W active, 4.8W ready, 0.5W deep sleep (2.7W when wireless is enabled)
59dBA active, 54dBA quiet mode, 34dBA ready
6.79BA active, 6.4BA quiet mode, 4.7BA ready
Consume less energy when not in use
C ECOL A
DI
Reduces toner usage
BE
L
Typical Electrical Consumption
Power Consumption
Sound Pressure
Sound Power
Power Save
Toner Save
R
PAPER HANDLING
Web Based Management
Driver Deployment Wizard
NO
Backlit LCD Display
NETWORK UTILITIES / PROTOCOLS
Electrophotographic laser printer
Class 1 laser product (IEC 60825-1:2007)
Up to 38ppm (pages per minute)
Up to 18ipm (images per minute)
Less than 1 second (from sleep mode)
Less than 8.5 seconds (from ready mode)
1,200 x 1,200dpi, HQ1200 (2,400 x 600dpi quality), 600 x 600dpi
400MHz
128MB (expandable up to 384MB using 1 x 144 pin, 16bit DDR2 DIMM)
Hi-Speed USB2.0
Ethernet (10Base-T/100Base-TX)
IEEE 802.11b/g/n
Print wirelessly without having to go through a wireless access point
Wi-Fi Protected Setup™ (WPS) & AirStation OneTouch Secure System™ (AOSS)
PCL6, BR-Script3 (Postscript®3TM Language Emulation), IBM Proprinter XL, Epson FX-850
66 scalable fonts, 12 bitmap fonts
66 scalable fonts
Code39, Interleaved 2 of 5, FIM(US-PostNet), Post Net(US-PostNet), EAN-8, EAN-13,
UPC-A, UPC-E, Codabar, ISBN(EAN), ISBN(UPC-E), Code128(set A, set B, set C),
EAN128(set A, set B, set C)
16 characters x 1 line
pplies
Technology
Laser Classification
Standard Print Speed (Simplex)
2-Sided Print Speed (Duplex)
Warm Up Time
First Print Out Time
Resolution
Processor
Memory Capacity
Local Interface
Wired Network Interface
Wireless Network Interace
Wi-Fi DirectTM
Easy Wireless Setup
Print Languages
Embedded Fonts (PCL)
Embedded Fonts (PS)
Embedded Barcodes (PCL)
su
GENERAL
GET YOUR BUSINESS
Smartphone App
PRINTER DRIVER FUNCTIONS
2
N-up Printing
Poster Printing3
Watermark Printing3
Macro Printing3
ID Printing3
Booklet Printing3
Quite Mode
Skip Blank Page3
Reprint3
iPrint&Scan
www.brother.eu/apps
Reduce up to 2, 4, 9, 16 or 25 A4 pages into just one A4 page
Enlarge 1 A4 page into a poster using 4, 9, 16 or 25 A4 pages
Watermark your documents with predefined text or with your own
user-defined messages
Create & embed custom templates, for example a company logo, which
automatically prints on all of your printed documents
Add identification to your printed documents
(date & time, short custom message or PC username)
Print documents in A5 booklet format using automatic or manual 2-sided print
Reduces the noise of the machine whilst printing (a small reduction in print
speed also occurs)
Ignores any blank pages in your documents
Print the last document that was sent to the machine
DUTY CYCLE
Recommended Monthly
Print Volume
Maximum Monthly Volume
31
5025
500 to 3,500 pages
4
50,000 pages
1
Declared yield value in accordance with ISO/IEC19752, 2Windows® & Mac only, 3Windows® only, 4 Maximum number of printed pages per month and can be used to compare designed durability between
like Brother products. For maximum printer life, it is best to choose a printer with a duty cycle that far exceeds your print requirements. 5 Only available when wireless is disabled.
Contact:
THE HL-5470DW IS A PROFESSIONAL
Features to optimise your workflow
PRINT PERFORMER OFFERING
- High speed output at up to 38ppm
- Ethernet and and 802.11n Wi-Fi connectivity
- First page out in less than 8.5 seconds
1
- Up to 8,000 page high yield toner cartridge
- Standard total paper capacity of 300 sheets
- 1,200 x 1,200 dpi resolution
- Automatic 2-sided printing with booklet feature
ENHANCED WORKGROUP
Brother International Europe Ltd
Brother House, 1 Tame Street, Audenshaw, Manchester M34 5JE
Tel:+44 (0)161-330 6531 Fax:+44 (0)161-330 5520
Website: www.brother.com
All specifications correct at time of printing. Brother is a registered trademark of Brother Industries Ltd.
Brand product names are registered trademarks or trademarks of their respective companies.
CONNECTIVITY TO MEET THE MOST
DEMANDING BUSINESS ENVIRONMENTS
THE HIGH PERFORMANCE PRINTER
"Professional and powerful, the
HL-5470DW is the high speed
productivity partner"
Regardless of your business size Brother understands that your business runs on information.
The HL-5470DW is packed with a range of easy-to-use, cost effective output solutions that are
designed to deliver outstanding results time after time.
PROFESSIONAL
PRODUCTIVE
A first page out time of less than 8.5
seconds and an impressive print
speed of up to 38ppm ensures large
volume print jobs are handled with
ease and deadlines are met. The
intuitive 1 Line LCD enables users
to get the results they need quickly
and easily.
Thanks to the 1,200 x 1,200dpi
print resolution you'll get sharp crisp
text and accurate reproduction
of even the finest details on the
page. With 2-sided and booklet
printing as standard you can
produce professional reports and
presentations and reduce paper
consumption by up to 75%.
FLEXIBLE
INTEGRATED
High volume printing requires
professional paper handling.
The 50 sheet multi-purpose tray
offers the flexibility of printing on
a range of media types including
envelopes and thicker paper.
The standard 250 sheet lower tray
can be further enhanced by adding
the optional 500 sheet lower tray.
Wired networked and the latest
802.11n Wi-Fi connectivity allow
seamless integration into existing
office infrastructure.PCL6 and
® TM
BR-Script3 ready (Postscript 3
Language Emulation) with support for
barcode printing as standard enables
instant compatibility with business
critical systems and applications
including SAP.
COST EFFECTIVE
RELIABLE
A range of cost saving features
including toner save mode and
booklet printing allow reductions
on print costs. The optional 8,0001
page high yield toner cartridge
together with the separate drum
unit means youcan be sure of
exceedingly low running costs.
Capable of handling up to 3,500
pages every month with ease,
the HL-5470DW delivers exceptional
quality and performance,
consistently meeting the needs
of the most demanding business
environments.
BROTHER'S DEVICE MANAGEMENT SOLUTIONS
DATA SECURITY
The HL-5470DW is compatible with a range of utilities for device administration and management:
• Business critical data will remain safe
and secure thanks to SSL encryption
ensuring that information transmitted from
computer to printer is encrypted for
maximum security.
• The secure print feature allows print
jobs to be stored in the memory, only being
released when a 4 digit PIN code is entered
on the LCD.
• BRAdmin Professional – A device management utility
for remotely monitoring and configuring your printer
fleet across multiple locations.
Remotely diagnose user issues and setup automatic
email alerts for instant notification of printer downtime
enabling you to solve potential problems before they
impact on productivity.
• Web Based Management – Manage and configure a
single device by creating a direct connection through
a standard web browser.
• Central Deployment - Deployable printer drivers that can
be distributed and then automatically installed to multiple
computers from one central location.