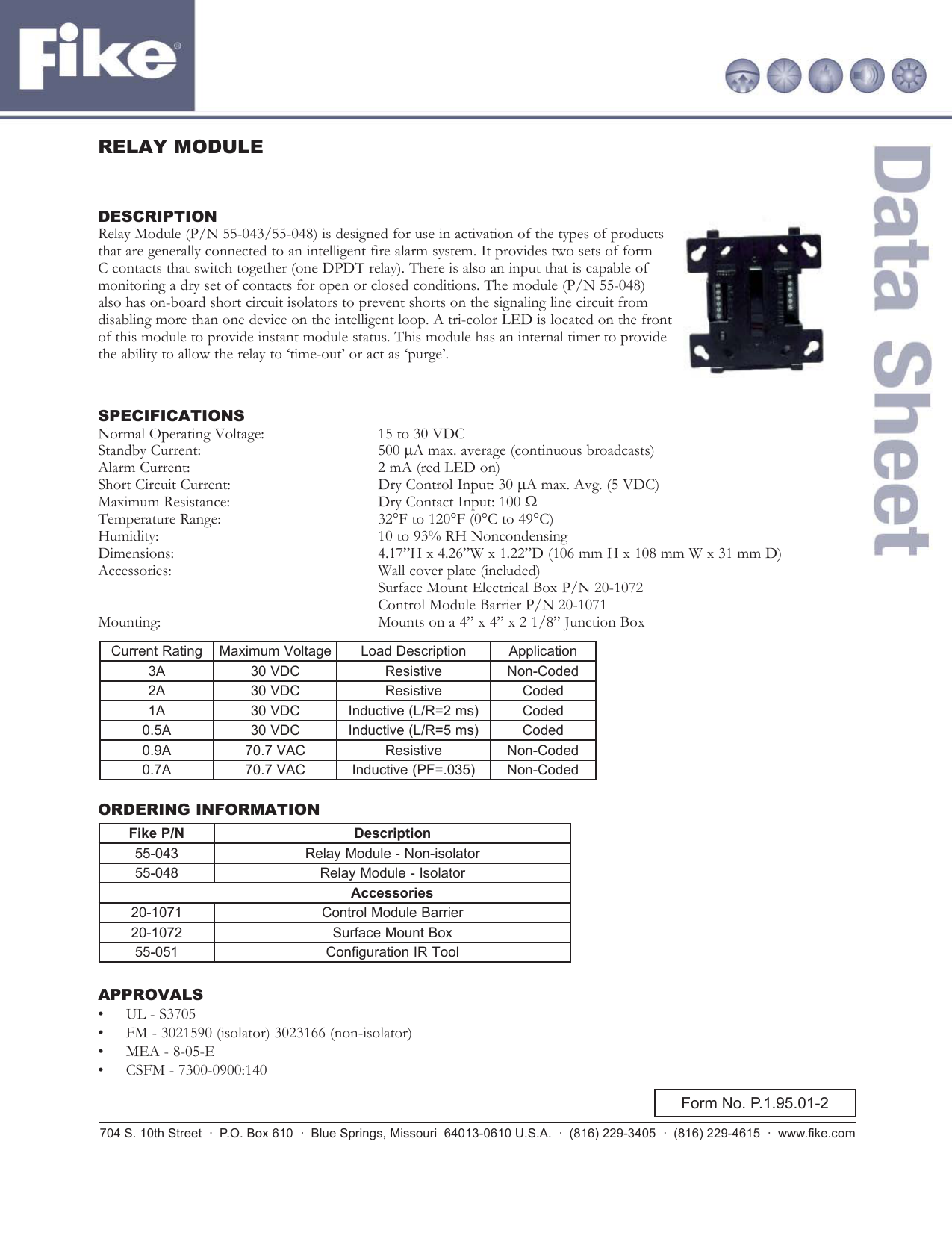 RELAY MODULE
DESCRIPTION
Relay Module (P/N 55-043/55-048) is designed for use in activation of the types of products
that are generally connected to an intelligent fire alarm system. It provides two sets of form
C contacts that switch together (one DPDT relay). There is also an input that is capable of
monitoring a dry set of contacts for open or closed conditions. The module (P/N 55-048)
also has on-board short circuit isolators to prevent shorts on the signaling line circuit from
disabling more than one device on the intelligent loop. A tri-color LED is located on the front
of this module to provide instant module status. This module has an internal timer to provide
the ability to allow the relay to 'time-out' or act as 'purge'.
SPECIFICATIONS
Normal Operating Voltage:
Standby Current:
Alarm Current:
Short Circuit Current:
Maximum Resistance:
Temperature Range:
Humidity:
Dimensions:
Accessories:
15 to 30 VDC
500 μA max. average (continuous broadcasts)
2 mA (red LED on)
Dry Control Input: 30 μA max. Avg. (5 VDC)
Dry Contact Input: 100 Ω
32°F to 120°F (0°C to 49°C)
10 to 93% RH Noncondensing
4.17"H x 4.26"W x 1.22"D (106 mm H x 108 mm W x 31 mm D)
Wall cover plate (included)
Surface Mount Electrical Box P/N 20-1072
Control Module Barrier P/N 20-1071
Mounts on a 4" x 4" x 2 1/8" Junction Box
Mounting:
Current Rating
3A
2A
1A
0.5A
0.9A
0.7A
Maximum Voltage
30 VDC
30 VDC
30 VDC
30 VDC
70.7 VAC
70.7 VAC
Load Description
Resistive
Resistive
Inductive (L/R=2 ms)
Inductive (L/R=5 ms)
Resistive
Inductive (PF=.035)
Application
Non-Coded
Coded
Coded
Coded
Non-Coded
Non-Coded
ORDERING INFORMATION
Fike P/N
55-043
55-048
20-1071
20-1072
55-051
Description
Relay Module - Non-isolator
Relay Module - Isolator
Accessories
Control Module Barrier
Surface Mount Box
Configuration IR Tool
APPROVALS
• UL - S3705
• FM - 3021590 (isolator) 3023166 (non-isolator)
• MEA - 8-05-E
• CSFM - 7300-0900:140
Form No. P.1.95.01-2
704 S. 10th Street · P.O. Box 610 · Blue Springs, Missouri 64013-0610 U.S.A. · (816) 229-3405 · (816) 229-4615 · www.fike.com
(This page is left blank intentionally)
R
Copyright © Fike Corporation All Rights Reserved.
Form No. P.1.95.01-2 August, 2008 Specifications are subject to change without notice.

* Your assessment is very important for improving the work of artificial intelligence, which forms the content of this project