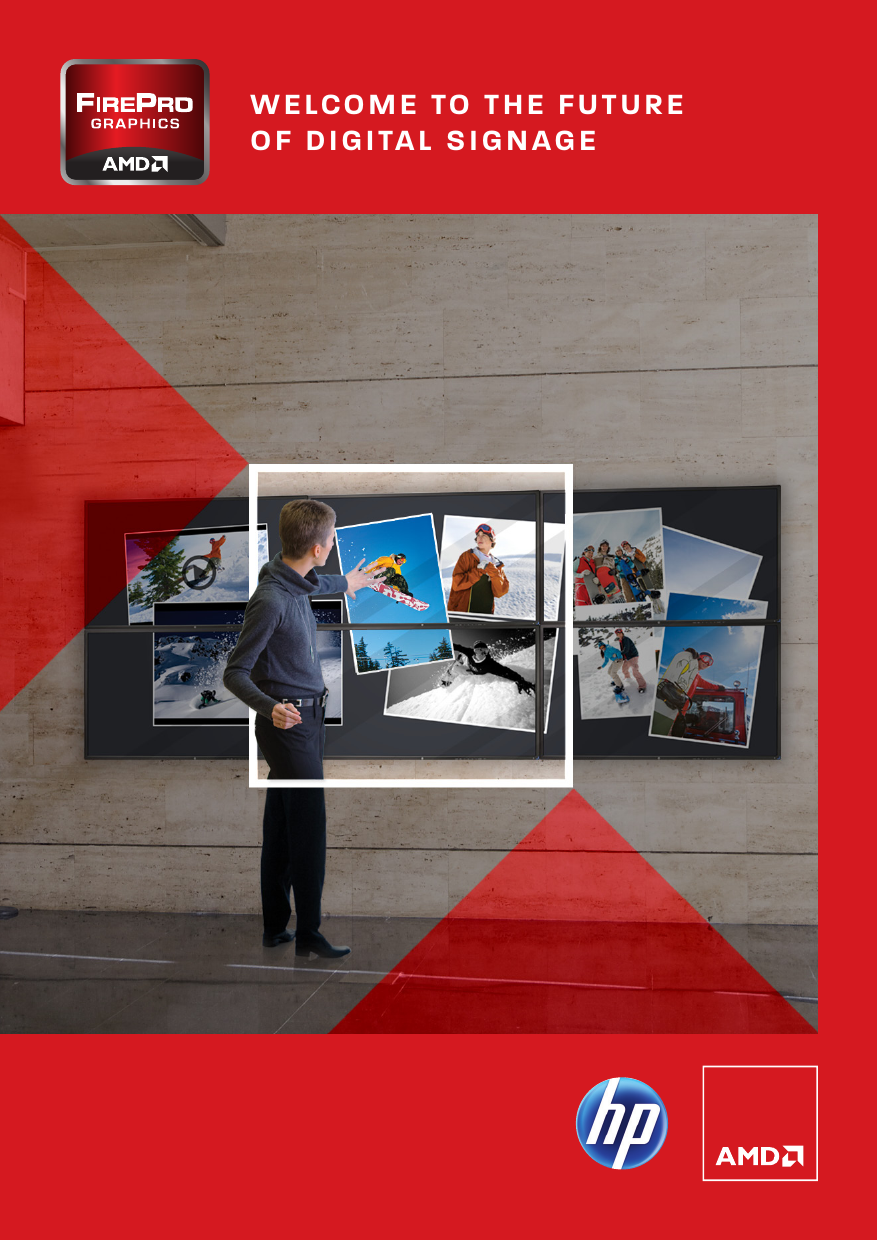 W E LCO M E TO T H E F UT URE
O F D IGITAL S IGNAG E
Welcome to the future of digital signage
Retail outlets, entertainment venues, travel hubs,
bars, restaurants, hotels, company offices – Digital
Signage (DS) is firmly established as a highly
effective communication medium across a range
of environments.
Combining still images, high-definition video and
computer-generated content, DS enables you to
inform, entertain and influence your audience with
an immediacy and dynamism far beyond the reach
of traditional communications.
AMD is an established player in the DS market,
delivering high-performance graphics technology
with AMD FirePro™ professional graphics cards.
Built for demanding applications and offering the
level of reliability, cost-effectiveness and scalability
needed in DS applications, AMD FirePro
graphics features AMD Eyefinity, a unique
multi-display technology enabling up to 6 displays
to be driven from a single graphics card. Using
only one machine with multiple AMD FirePro cards,
it is possible to create large video-walls with 12
screens and more. AMD and our partners offer
you a maximum in display density and scalability
with proven technology capable of meeting all your
Digital Out Of Home (DOOH) needs.
"The HP Z800 Workstation with AMD
FireProTM graphics can now accommodate
up to 12 independent HD Channels from a
single computer, and we are working to get
it to 16 and more."
Jean Louis Ligneau, HP
Why HP and AMD?
HP & AMD are both internationally renowned industry leaders
in IT who have collaborated to enable businesses to reach their
intended audiences through effective impactful DS solutions.
• HP & AMD solutions are built to last and are designed for
24/7 use.
• HP & AMD solutions give exceptional performance and video
scalability, supporting 12 monitor video-walls from a single
graphics system.
• HP & AMD solutions are fully tested for out of the box
functionality and compatability.
The result? Greater message impact, faster time to market, better
targeted campaigns and improved marketing adaptability.
AMD FirePro Professional Graphics
With a broad range of price points and capabilities, AMD FirePro professional graphics can
deliver the result you need at a price you can afford.
AMD FirePro for small form AMD FirePro optimised for performance
factor systems
1 - 2 Outputs
3 - 4 Outputs
6 Outputs
AMD FirePro V2270
AMD FirePro V4900
AMD FirePro V9800
AMD FirePro V2460
AMD FirePro V5900
AMD FirePro V7900
AMD Eyefinity Multi-Display Technology
AMD Eyefinity is designed to support multiple high-resolution monitor configurations and video
wall resolutions of 7680 x 3200 from single graphics card (using six 2560 x 1600 displays).
AMD FirePro professional graphics make it possible to combine multiple GPUs into your DS
system giving you the freedom to
create very large scale video walls.
AMD FirePro™ SDI-Link Technology
AMD FirePro™ SDI-Link provides ultra-low latency system
performance, powerful GPU computing and robust SDI
(Serial Digital Interface) video signal compatibility.
It enables 2D and 3D graphics to be combined with live
video broadcast.
AMD FirePro™ S400
The new ATI FirePro™ S400 synchronization module allows
AMD FirePro™ professional graphics cards to be used in
demanding applications that require synchronization to external
sources (Genlock) or synchronisation of 3D rendering of multiple
GPUs in different systems (Framelock)
www.hp.com
www.amd.com/firepro
Windows®. Life without WallsTM.
HP recommends Windows 7.
HP LD4200/4210 LCD Digital Signage Display
Experience more with HP's Digital Signage Solution
• 1920 x 1080 native resolution,1000:1 contrast ratio (3000:1
DCR), to deliver stunning video, graphics and text.
• Built to fit in indoor environments, the sleek black exterior
is desirable in locations such as retail, hospitality, airports,
bus terminals, educational settings, restaurants, conference
rooms, stock exchanges, and more.
• Mount vertically or horizontally on a wall with the VESA
mounting pattern on the back of the display, or place on a
stand (sold separately). Just add speakers (sold separately)
for compelling stereo audio.
• This is only one of HP's "unlimited" solutions for Digital
Signage, find out more by visiting www.hp.com
HP Z800 Workstation
Ultimate performance with extreme expandability
• The latest range of HP Z800 Workstation series that utilise
up to 3 AMD FirePro graphics cards, creating scalable
video-walls.
• Massive, whole-systems computational power from a
workstation that optimises the way the processor, memory,
graphics, and software technology work together.
• ENERGY STAR® qualified configurations featuring 85%
or 89% efficient power supplies and HP WattSavor which,
when activated, lowers energy consumption to less than
1 Watt in "off mode".
• Product engineering, quality assurance and rigorous testing,
means you can rely on HP Z series Workstations.
Find out more about AMD and our ISV success stories.
Ventuz
Industry:
Large-scale Interactive Presentations, Digital Signage,
Broadcast
Business opportunity:
•Enable the easy creation of dynamic, interactive content
•Deliver output to large screens and curved surfaces
•Work with extremely high resolutions
Solution:
•AMD FirePro™ professional graphics cards and AMD
Eyefinity technology
•HP Z-Series workstations
•Ventuz Real-time Graphics & Authoring software
To view the full Ventuz
case study, just scan
the QR code below.
Business impact:
•Up to six displays driven by one professional graphics card,
fewer workstations required
•Easy set-up and industry-leading display scalability
•Use one AMD FirePro professional graphics card with six
display outputs for the same price as multiple consumer cards
•Sophisticated levels of support and responsiveness for Ventuz
and its customers
Vizrt
Industry:
Large-scale Interactive Presentations, Broadcast,
Digital Signage
Business opportunity:
•Simultaneously drive up to 40 displays in one video wall
from just a few computers
•Operate within one desktop space
•Enable synchronization to external sources
•Achieve extreme resolutions
To view the full VizRT
case study, just scan
the QR code below.
Solution:
•AMD FireProTM professional graphics, AMD Eyefinity
technology and the AMD ATI FireProTM synchronization
module
•HP Z-Series workstations driving multiple displays
•Vizrt graphics software
Business impact:
•Fewer workstations needed to drive a video wall
•Reduced equipment cost
•Shorter set-up time for Vizrt and for the customer
•Much less rack space required
•Faster project delivery through customised technical
cooperation and priority support from AMD
AMD Eyefinity technology can support multiple displays using a single enabled AMD FireProTM professional graphics card; the number of supported displays varies by
card model. Microsoft® Windows® 7, Windows Vista®, or Linux® is required in order to support more than 2 displays. Depending on the card model, native DisplayPortTM
connectors and/or certified DisplayPortTM active or passive adapters to convert your monitor's native input to your card's DisplayPortTM or Mini-DisplayPortTM connector(s)
may be required. AMD Eyefinity technology is supported by the AMD FireProTM V8800, AMD FireProTM V5800 and the AMD FireProTM V4800 professional graphics cards.
SLS ("Single Large Surface") functionality requires an identical display resolution on all configured displays. See www.amd.com/firepro for details.
© 2012 Advanced Micro Devices, Inc. AMD, the AMD arrow logo, the AMD FirePro logo, and combinations thereof are trademarks of Advanced Micro Devices, Inc. All other
names used in this paper are for reference purposes only and may be trademarks of their respective owners. © Copyright 2011 Hewlett-Packard Development Company L.P.
The information contained herein is subject to change without notice.