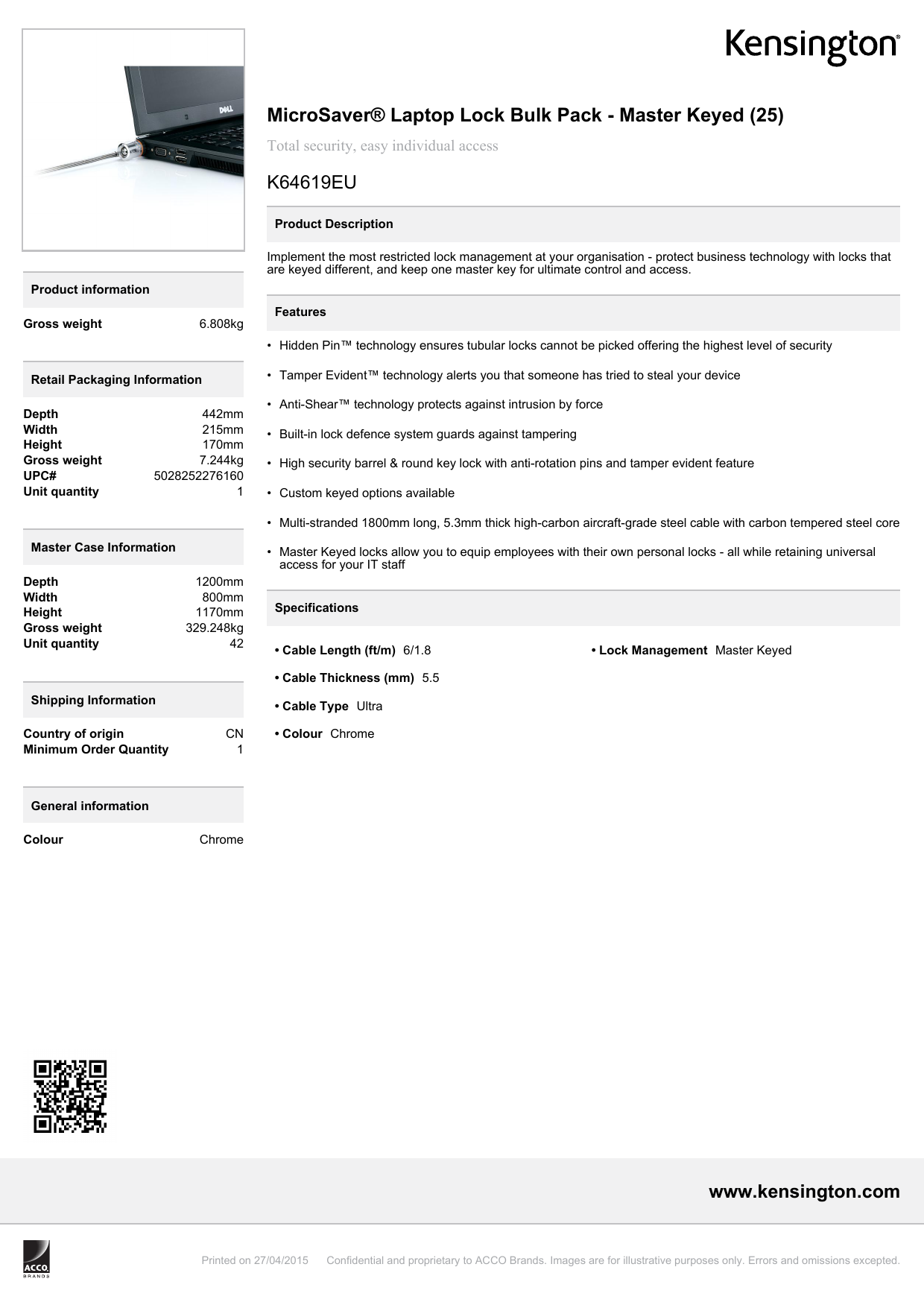 MicroSaver® Laptop Lock Bulk Pack - Master Keyed (25)
Total security, easy individual access
K64619EU
Product Description
Implement the most restricted lock management at your organisation - protect business technology with locks that
are keyed different, and keep one master key for ultimate control and access.
Product information
Features
Gross weight
6.808kg
• Hidden Pin™ technology ensures tubular locks cannot be picked offering the highest level of security
• Tamper Evident™ technology alerts you that someone has tried to steal your device
Retail Packaging Information
Depth
Width
Height
Gross weight
UPC#
Unit quantity
442mm
215mm
170mm
7.244kg
5028252276160
1
• Anti-Shear™ technology protects against intrusion by force
• Built-in lock defence system guards against tampering
• High security barrel & round key lock with anti-rotation pins and tamper evident feature
• Custom keyed options available
• Multi-stranded 1800mm long, 5.3mm thick high-carbon aircraft-grade steel cable with carbon tempered steel core
Master Case Information
Depth
Width
Height
Gross weight
Unit quantity
• Master Keyed locks allow you to equip employees with their own personal locks - all while retaining universal
access for your IT staff
1200mm
800mm
1170mm
329.248kg
42
Specifications
• Cable Length (ft/m) 6/1.8
• Lock Management Master Keyed
• Cable Thickness (mm) 5.5
Shipping Information
Country of origin
Minimum Order Quantity
• Cable Type Ultra
CN
1
• Colour Chrome
General information
Colour
Chrome
www.kensington.com
Printed on 27/04/2015
Confidential and proprietary to ACCO Brands. Images are for illustrative purposes only. Errors and omissions excepted.

* Your assessment is very important for improving the work of artificial intelligence, which forms the content of this project