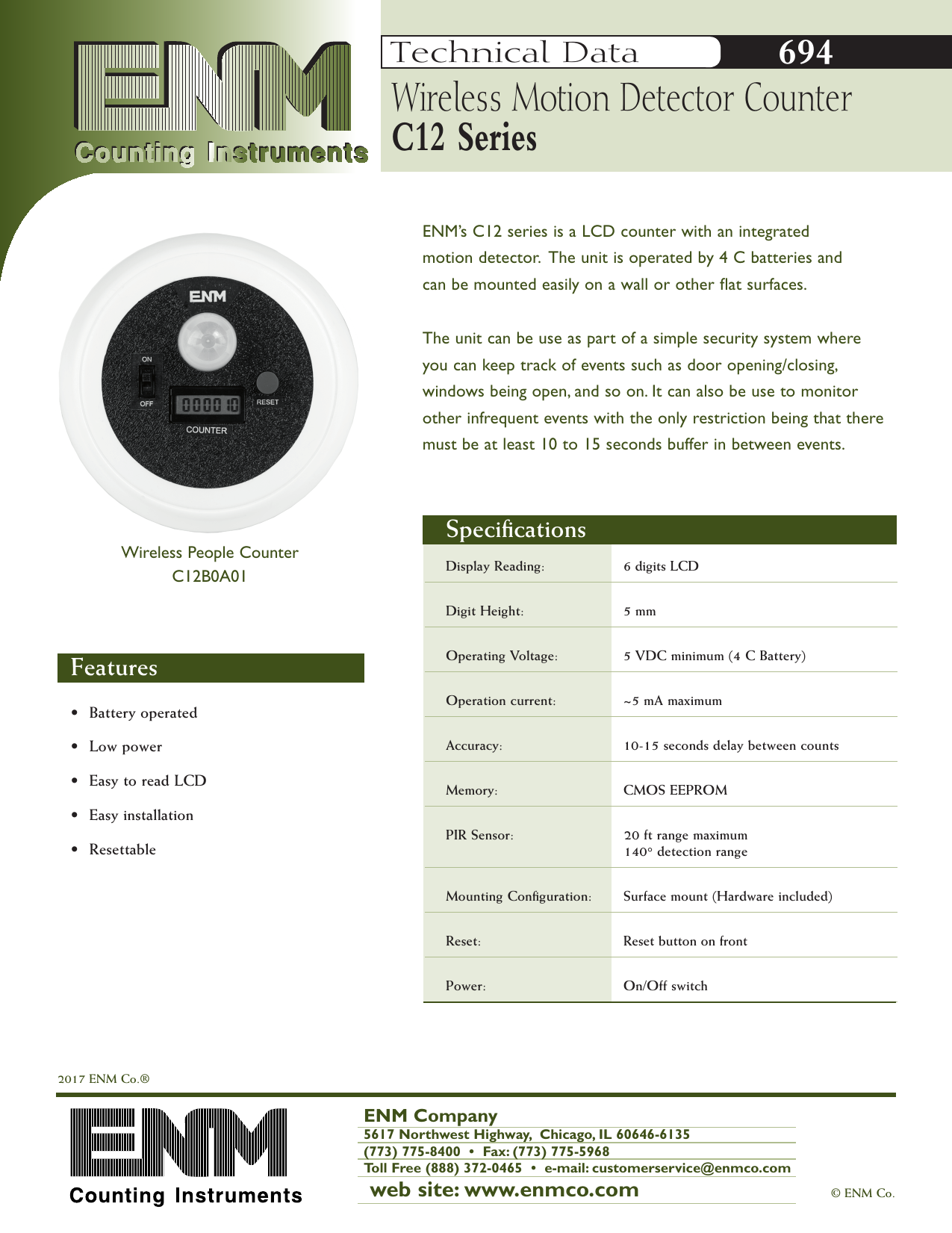 694
Wireless Motion Detector Counter
Technical Data
C12 Series
ENM's C12 series is a LCD counter with an integrated
motion detector. The unit is operated by 4 C batteries and
can be mounted easily on a wall or other flat surfaces.
The unit can be use as part of a simple security system where
you can keep track of events such as door opening/closing,
windows being open, and so on. It can also be use to monitor
other infrequent events with the only restriction being that there
must be at least 10 to 15 seconds buffer in between events.
Specifications
Wireless People Counter
C12B0A01
Features
• Battery operated
• Low power
• Easy to read LCD
Display Reading:
6 digits LCD
Digit Height:
5 mm
Operating Voltage:
5 VDC minimum (4 C Battery)
Operation current:
~5 mA maximum
Accuracy:
10-15 seconds delay between counts
Memory:
CMOS EEPROM
PIR Sensor:
20 ft range maximum
140° detection range
Mounting Configuration:
Surface mount (Hardware included)
Reset:
Reset button on front
Power:
On/Off switch
• Easy installation
• Resettable
2010 ENM Co.®
2017
ENM Company
5617 Northwest Highway, Chicago, IL 60646-6135
(773) 775-8400 • Fax: (773) 775-5968
Toll Free (888) 372-0465 • e-mail: customerservice@enmco.com
web site: www.enmco.com
© ENM Co.
C12 SerieS
Dimensional Data
694
C12 Series
2017 ENM Co.®
2010
LIMITED
LIMITEDWARRANTY
WArrANTy
ENM Company hour
resettable
electromechanical
are warranted
the consumer
be free
from
defects in material
and of
workmanship
for a products
period ofwhich
1 year.
ENMthe
meters
are warranted tocounters
the consumer
to be freetofrom
defects in to
material
and
workmanship
for a period
1 year. All ENM
fallAll
within
products
which fall
the warranty
period
due to defectswill
in material
or workmanship
willENM's
be repaired
replaced,
at ENM's
without
charge
to the
consumer
warranty period
duewithin
to defects
in material
or workmanship
be repaired
or replaced, at
option,orwithout
charge
to theoption,
consumer
when
returned
with
proof ofwhen
purchase
returned
with proof
of purchase
authorized
dealer in the
Unitedprepaid,
States, provided
transportation
prepaid,ofprovided
there
is no evidence
of improper
tampering,
to any authorized
ENM
dealer into
theany
United
States,ENM
transportation
charges
there charges
is no evidence
improper
installation,
tampering,
or otherinstallation,
abuse. All implied
or
other abuse.
All implied
warranties,
including
any implied warranty
of for
merchantability
or fitnessshall
for abeparticular
be limited
durationperiod
to the specified
express warranty
period
warranties,
including
any implied
warranty
of merchantability
or fitness
a particular purpose,
limited inpurpose,
durationshall
to the
expressinwarranty
above. ENM
specified
ENMfor
disclaims
any liability
for consequential
damages
to breach
of any
written on
or its
implied
warranty
on its products.
Datasheet
information
disclaims above.
any liability
consequential
damages
due to breach
of any due
written
or implied
warranty
products.
Datasheet
information
subject to
change. subject to change.
ENM Company
5617 Northwest Highway, Chicago, IL 60646-6135
(773) 775-8400 • Fax: (773) 775-5968 • Toll Free (888) 372-0465
e-mail: customerservice@enmco.com
ISO 9001:2000
web site: www.enmco.com
© ENM Co.

* Your assessment is very important for improving the work of artificial intelligence, which forms the content of this project