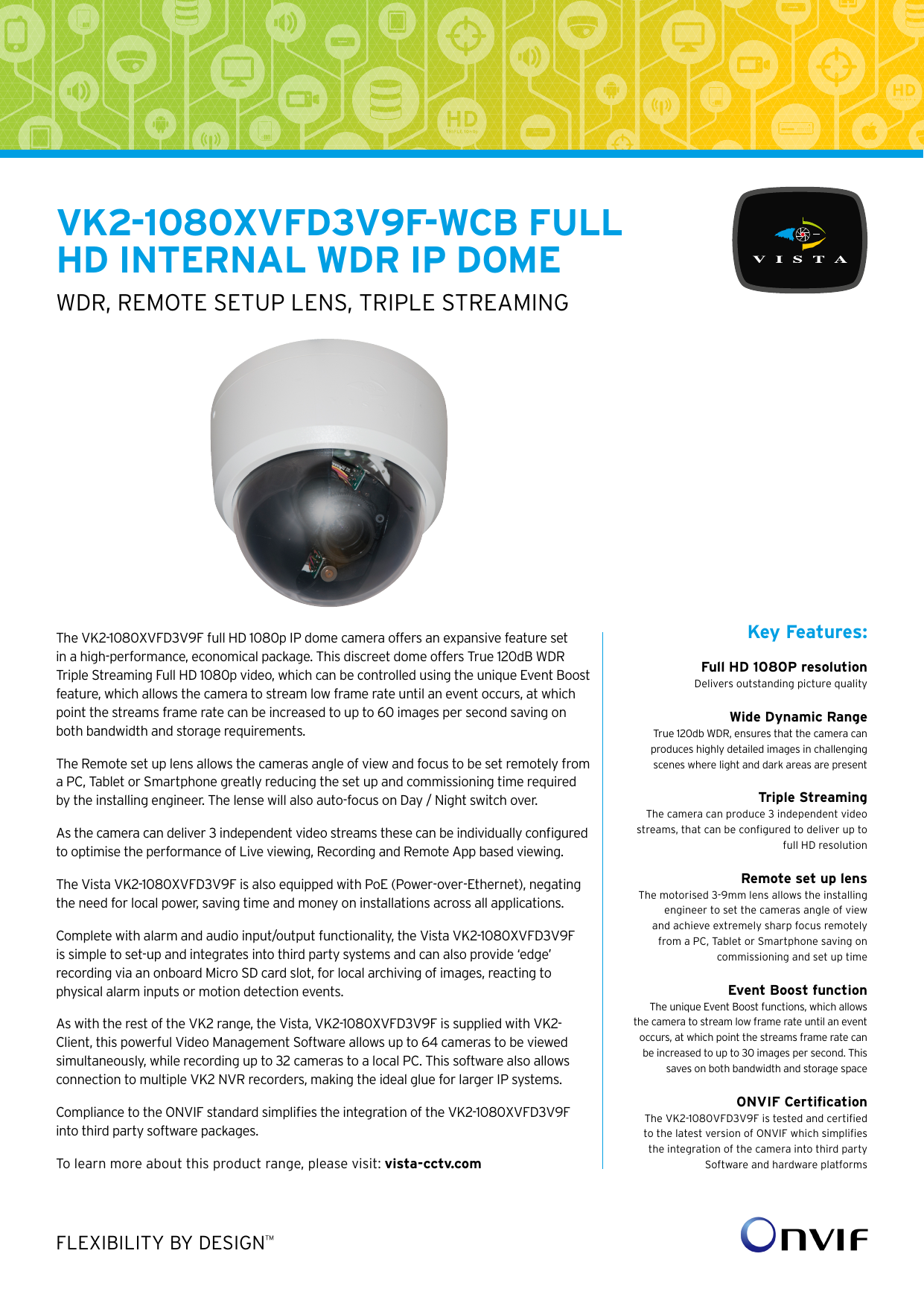 VK2-1080XVFD3V9F-WCB FULL HD INTERNAL WDR IP DOME
WDR, REMOTE SETUP LENS, TRIPLE STREAMING
The VK2-1080XVFD3V9F full HD 1080p IP dome camera offers an expansive feature set
in a high-performance, economical package. This discreet dome offers True 120dB WDR
Triple Streaming Full HD 1080p video, which can be controlled using the unique Event Boost
feature, which allows the camera to stream low frame rate until an event occurs, at which
point the streams frame rate can be increased to up to 60 images per second saving on
both bandwidth and storage requirements.
The Remote set up lens allows the cameras angle of view and focus to be set remotely from
a PC, Tablet or Smartphone greatly reducing the set up and commissioning time required
by the installing engineer. The lense will also auto-focus on Day / Night switch over.
As the camera can deliver 3 independent video streams these can be individually configured
to optimise the performance of Live viewing, Recording and Remote App based viewing.
The Vista VK2-1080XVFD3V9F is also equipped with PoE (Power-over-Ethernet), negating
the need for local power, saving time and money on installations across all applications.
Complete with alarm and audio input/output functionality, the Vista VK2-1080XVFD3V9F
is simple to set-up and integrates into third party systems and can also provide 'edge'
recording via an onboard Micro SD card slot, for local archiving of images, reacting to
physical alarm inputs or motion detection events.
As with the rest of the VK2 range, the Vista, VK2-1080XVFD3V9F is supplied with VK2Client, this powerful Video Management Software allows up to 64 cameras to be viewed
simultaneously, while recording up to 32 cameras to a local PC. This software also allows
connection to multiple VK2 NVR recorders, making the ideal glue for larger IP systems.
Compliance to the ONVIF standard simplifies the integration of the VK2-1080XVFD3V9F into third party software packages.
To learn more about this product range, please visit: vista-cctv.com
FLEXIBILITY BY DESIGN™
Key Features:
Full HD 1080P resolution
Delivers outstanding picture quality
Wide Dynamic Range
True 120db WDR, ensures that the camera can
produces highly detailed images in challenging
scenes where light and dark areas are present
Triple Streaming
The camera can produce 3 independent video
streams, that can be configured to deliver up to
full HD resolution
Remote set up lens
The motorised 3-9mm lens allows the installing
engineer to set the cameras angle of view
and achieve extremely sharp focus remotely
from a PC, Tablet or Smartphone saving on
commissioning and set up time
Event Boost function
The unique Event Boost functions, which allows
the camera to stream low frame rate until an event
occurs, at which point the streams frame rate can
be increased to up to 30 images per second. This
saves on both bandwidth and storage space
ONVIF Certification
The VK2-1080VFD3V9F is tested and certified
to the latest version of ONVIF which simplifies
the integration of the camera into third party
Software and hardware platforms
Models In This Range
TECHNICAL SPECIFICATION
Model
0750100
VK2-1080XVFD3V9F-WCB
Full HD IP Dome Camera, H.264 PoE
Micro SD card slot, White base, Clear
bubble, Black liner
VK2-1080XVFD3V9F-WCB
Housing type
White base, clear bubble, Black liner
Image sensor
1/2.8" Progressive scan RGB CMOS
Active Array
1920(H) x 1080V)
Lens
Remote setup Motorised Varifocal 3.0mm - 9.0mm, Mega Pixel IR corrected F1.2, DC IRIS
Angle of View
3.0mm – 93°(H) / 9.0mm – 31.7°(H)
Camera Angle Adjustment
Pan: 360° Tilt: 180° Rotation: 360°
Min. illumination (True Day/Night)
Colour: 0.9Lux, B/W: 0.2Lux (F1.2, 50IRE)
Scanning Mode
Progressive Scan
WDR
120dB
AE/AWB
Yes
DNR
2DNR
BLC
Yes
Day / Night
True Day/Night removable IR cut filter
Ethernet
RJ-45 10BASE-T/100BASE-TX
Video Compression
H.264(BP/MP/HP), MPEG4(SP), MJPEG
Video Resolutions
1080p, 1280x1024, 720p, D1, Half-D1, VGA, QVGA, CIF
Frame Rate
Video Streaming
Up to 60ips
Triple simultaneously H.264(or MPEG-4) and MJPEG Controllable Frame Rate and Bandwidth VBR/ CBR
H.264 and MPEG-4
Protocol
IPv4/IPv6, Manual, TCP/IP,UDP,HTTP,RTP, RTSP, NTP,DHCP,SMTP,DDNS,HTTPS,RTCP,FTP,Bonjour
Security
Password Protection, IP Filtering, HTTPS, SSL
Max. Connection
API Programming Interface
Alarm Triggers
Alarm Events
10
API Supported, Open Platform Compatible: ONVIF
Motion Detection, External Input, Manual Trigger
File upload via FTP and HTTP Notification via E-mail, HTTP and TCP
External Output activation
Video Event Buffering
Motion Detection
Pre and Post Alarm
Yes, max. 16 programmable include / exclude zones
Privacy masks
Yes max 8
FTP Image upload
Yes
JPEG Push
Yes
NAS Support
Yes
Network Time Synchronization
Yes
DDNS support
Micro SD Recording
Yes
Yes, Continuous/Schedule/Event (32Gb Class 6 or above)
Software Reset
Yes
Factory Reset
Yes, Button/Web browser
Auto Recovery
Yes
Installation Tool
Yes, SmartManager
Upgrade
Yes, Web browser/SmartManager
Alarm Input
Terminal, 1 TTL input
Alarm Output
Terminal, 1 open collector
Audio compression
G.711 PCM 8 kHz (μ-law or A-law)
Audio Streaming
Full Duplex
Audio Input / Output
External Mic in, External Speaker out
Operating Temperature
-10°C - + 45°C
Operation Humidity
0-90% (non-condensing)
Power Consumption
12VDC/PoE 290mA (5W) Power over Ethernet IEEE 802.3af Class 0
External Dimension (Φ x V)
118.4 (Φ)x 105(H)mm
Shipping Dimensions
160(H) x 160(W) x 120(D)mm
Unit Weight
325g
Shipping weight
465g
Approval
CE RoHS2: 2011/65/EU
No liability will be accepted by Vista for any errors or omissions in this information.
Subject to change without notice.
DS - VK2-1080XVFD3V9F - Version 2
EMAIL
info@vista-cctv.com
WEB
vista-cctv.com
TEL
+44 (0) 118 912 5000
Vista, 210 Wharfedale Road,
Winnersh Triangle, Wokingham,
Berkshire RG41 5TP, England.