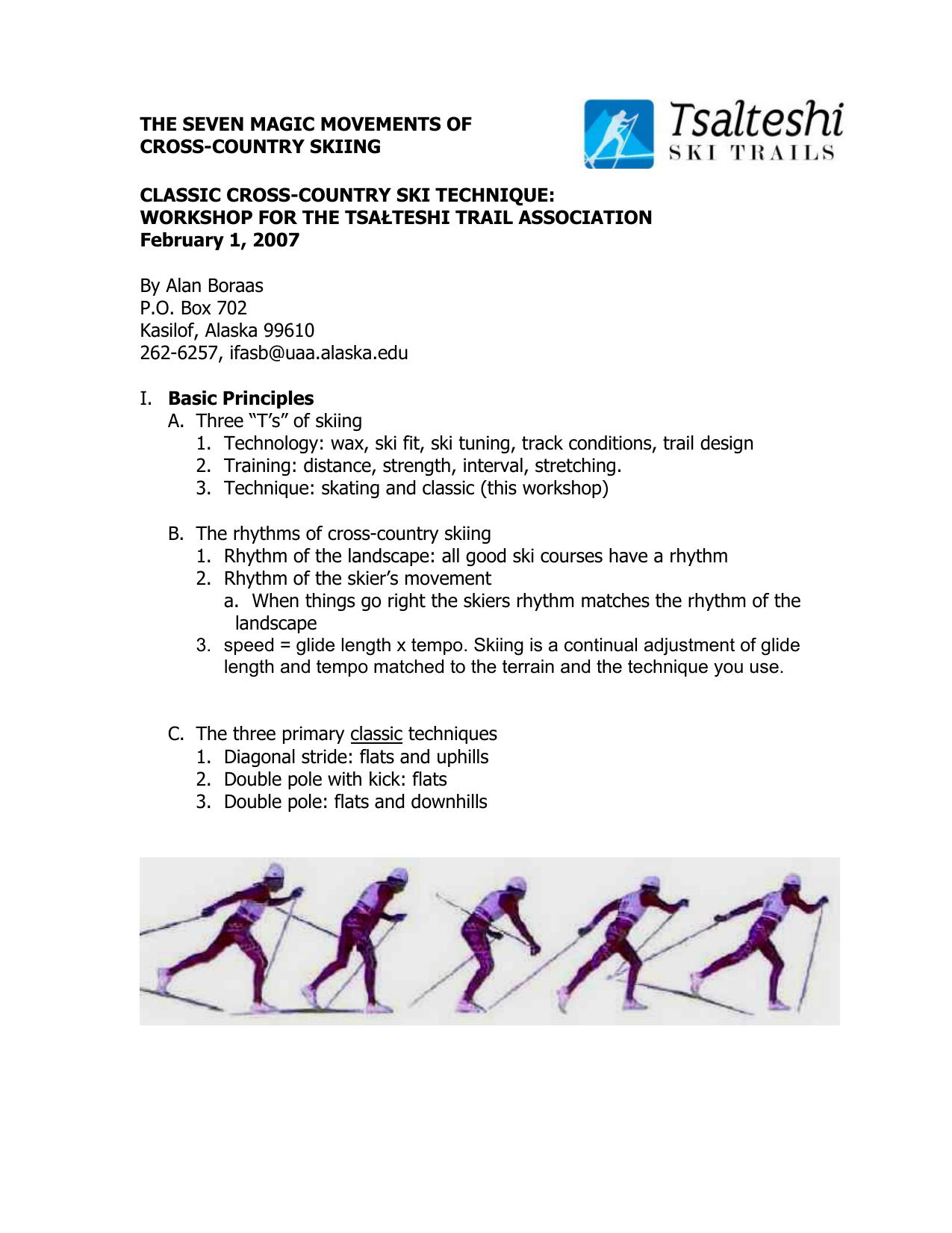 THE SEVEN MAGIC MOVEMENTS OF
CROSS-COUNTRY SKIING
CLASSIC CROSS-COUNTRY SKI TECHNIQUE:
WORKSHOP FOR THE TSAŁTESHI TRAIL ASSOCIATION
February 1, 2007
By Alan Boraas
P.O. Box 702
Kasilof, Alaska 99610
262-6257, ifasb@uaa.alaska.edu
I. Basic Principles
A. Three "T's" of skiing
1. Technology: wax, ski fit, ski tuning, track conditions, trail design
2. Training: distance, strength, interval, stretching.
3. Technique: skating and classic (this workshop)
B. The rhythms of cross-country skiing
1. Rhythm of the landscape: all good ski courses have a rhythm
2. Rhythm of the skier's movement
a. When things go right the skiers rhythm matches the rhythm of the
landscape
3. speed = glide length x tempo. Skiing is a continual adjustment of glide
length and tempo matched to the terrain and the technique you use.
C. The three primary classic techniques
1. Diagonal stride: flats and uphills
2. Double pole with kick: flats
3. Double pole: flats and downhills
2
II. The Seven Magic Movements of Cross-Country Skiing
#1 Athletic Posture
1. Knees bent
2. Slight bend at the waist
3. Back slightly rounded forward, not arched
back.
4. eyes forward
5. neck, jaw, and shoulders relaxed
Figure 1: Athletic Posture: knees
bent, back slightly rounded,
shoulders relaxed.
Skill Element
athletic posture
Problem
Stance too upright,
The Fix
strength training (lower
back and legs)
poles too tall: adjust pole
length
3
#2 Forward Lean (hips forward)
1. Flex at the ankles, not the waist
a. Phase one: forward lean initiates kick
with momentary "free fall"
b. Phase two: weight shift and glide with
sliding foot slightly ahead of hips
2. The steeper the hill, the more you need to
lean forward to adjust to the hill angle
Figure 2. Forward lean.
F
i
g
u
Figure 3. Uphill lean
Skill Element
Forward Lean
Problem
Stance too upright
The Fix
Poles too tall
Practice: 1. feet together,
2.lean forward bending at
the ankles, 3. step forward
to catch yourself
4
#3 The Kick
A. hips slightly rotate as wax (or no-wax pattern)
is planted
B. with a downward thrust and
C. opposite ski is driven down the track
Figure 3: Top:
With wax planted with his left leg, skier will "drive" his
right leg forward.
Left: Skier is driving her leg forward which then
becomes her gliding ski.
Skill Element
The kick
Problem
Late kick, kicking foot
lands behind gliding foot
The Fix
No-pole skiing
5
# 4 The Glide
1. Weight is completely transferred to the gliding ski
2. glide ski lands like an airplane on a runway touching the snow when feet
are opposite one
another.
F
i
g
u
r
e
4
.
C
o
m
p
l
e
t
e
weight shift.
Skill Element
weight shift, diagonal
Problem
Glide ski "slaps"
The Fix
Lean forward, no-pole ski
6
#5 Compression (double poling)
1. bending at the waist to drive the poles backward and skier forward
2. In classic skiing
a. Little to no compression in diagonal pole thrust
b. full compression in double poling only
Skill Element
Compression
natural head/neck
movement, double pole
Problem
no compression
Eyes look forward on full
compression
The Fix
double pole
Look at the ski label on
full compression
7
#6 Pole Plant
1. Arms bent at 60 degree angle or less (highly
variable)
2. viewed from the side poles are planted with forward
angle
3. viewed from the front poles are vertical or angled
slightly to centerline
4. shoulders are parallel not hunched on the pole arm
Skill Element
pole plant
pole plant
Problem
Arms too straight
Pole shoulder hunched
The Fix
Bend arm
Relax shoulders
#7 Arm Swing
1. Arm swing establishes tempo
a. Flats: slower tempo, longer glide, more vertical posture
b. Hills: faster tempo, shorter glide, lower posture
2. Arms extend according to desired tempo, longer arm extension=slower
tempo; shorter arm extension for faster tempo (up-hills)
Skill Element
Arm follow through
poles an extension of the
arm
Problem
no follow through; arms
collapse
Poles "flop" or "fly"
The Fix
Strength training; poleonly skiing
Pole straps improperly
adjusted
8
III.
A.
B.
C.
D.
E.
Elements of Uphill Technique
The steeper the hill, the quicker the tempo
Shorten glide and arm swing
drive lead foot uphill
Bend at the knees for more leg power
Bend at the ankles to create forward lean into the hill
IV. Downhill Technique
A. Tuck
1. High tuck (slower) or low tuck (faster)
a. to lower center of gravity
b. become more aerodynamic
c. bend legs to prepare for step turn
B. step turn
1. low center of gravity, legs bent
2. with weight on the outside ski,
3. swivel the inside ski and drive it in the direction you want to go pushing
with the outside leg
4. then quickly bring the outside ski parallel to the inside ski
C. step turn whenever possible, practice on gentle hills left and right
D. the snowplow turn is slow, unstable, becomes automatic, and causes the trail
to deteriorate; use only when absolutely necessary.
E. Telemark turns tend to tear up the tracks and when the snow sets-up makes
track-setting difficult for groomers.
F. use a half-snowplow to control your speed on the straight part of the downhill
and step turn the turn
Last: Don't worry so much about technique that you forget to have fun.

* Your assessment is very important for improving the work of artificial intelligence, which forms the content of this project