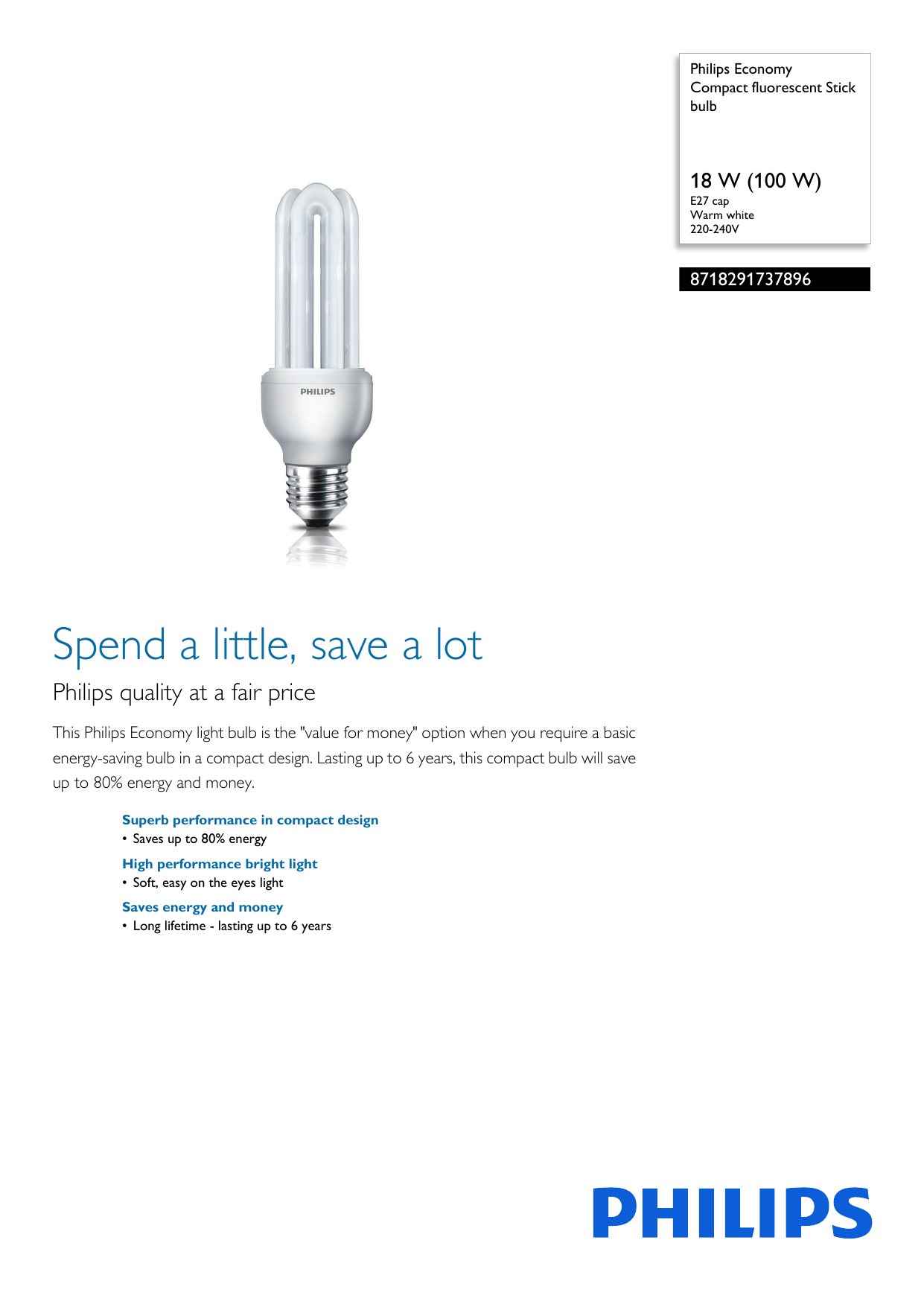 Philips Economy
Compact fluorescent Stick
bulb
18 W (100 W)
E27 cap
Warm white
220-240V
8718291737896
Spend a little, save a lot
Philips quality at a fair price
This Philips Economy light bulb is the "value for money" option when you require a basic
energy-saving bulb in a compact design. Lasting up to 6 years, this compact bulb will save
up to 80% energy and money.
Superb performance in compact design
• Saves up to 80% energy
High performance bright light
• Soft, easy on the eyes light
Saves energy and money
• Long lifetime - lasting up to 6 years
Compact fluorescent Stick bulb
8718291737896
Specifications
Highlights
18 W (100 W) E27 cap, Warm white, 220-240V
Bulb characteristics
Durability
Power consumption
Bulb dimensions
•
•
•
•
Shape: Stick
Cap/fitting: E27
Voltage: 220 - 240 V
Dimmable: No
•
•
•
•
• Wattage: 18 W
• Wattage equivalent: 100 W
• Power consumption per 1000h: 18 kW·h
Light characteristics
•
•
•
•
•
•
Light output: 1100 lumen
Color: Warm White
Color temperature: 2700 K
Light effect/finish: Warm White
Starting time: <0.5 s
Warm-up time to 60% light: <2 s
Lifetime of lamp: 6000 hour(s)
Average life (at 2.7 hrs/day): 6 year(s)
Number of switch cycles: 5000
Lumen maintenance factor: 0.8
Long lifetime - up to 6 years
• Height: 171 mm
• Width: 52.5 mm
Other characteristics
• Mercury content: =<5 mg
• Power factor: 0.85
• Lamp current: 85 mA
Rated values
• Rated power: 18.0 W
• Rated luminous flux: 1100 lm
• Rated lifetime: 6000 hour(s)
•
Philips energy-saving bulbs are designed to last. With
a lifetime of up to 6 years, you can avoid the hassle
and cost of frequently replacing bulbs, while saving
energy year in, year out.
Saves up to 80% energy
Save up to 80% energy compared to your standard
bulb. It pays for itself and saves you money year after
year. So reduce your energy bill and start saving
Now.
Soft, easy on the eyes light
Energy-saving lamps from the Philips Softone series
are designed to provide a gentle, diffused light,
perfect for general home lighting. Choose between
different color temperatures to create the
atmosphere you want.
Issue date 2014-09-25
© 2014 Koninklijke Philips N.V.
All Rights reserved.
Version: 1.0.1
Specifications are subject to change without notice.
Trademarks are the property of Koninklijke Philips N.V.
or their respective owners.
12 NC: 9296 896 30704
EAN: 87 18291 73789 6
www.philips.com
* Breaking a lamp is extremely unlikely to have any impact on your
health. If a lamp brakes, ventilate the room for 30 minutes and
remove the parts, preferably with gloves. Put them in a closed plastic
bag and offer it to the local waste facilities for recycling. Do not use
a vacuum cleaner.
* * Compact fluorescent lamps have to be treated as special waste,
they must be offered to the local waste facilities for recycling. The
European Lighting Industry has set up an infrastructure, capable of
recycling mercury, other metals, glass, etc.

* Your assessment is very important for improving the work of artificial intelligence, which forms the content of this project