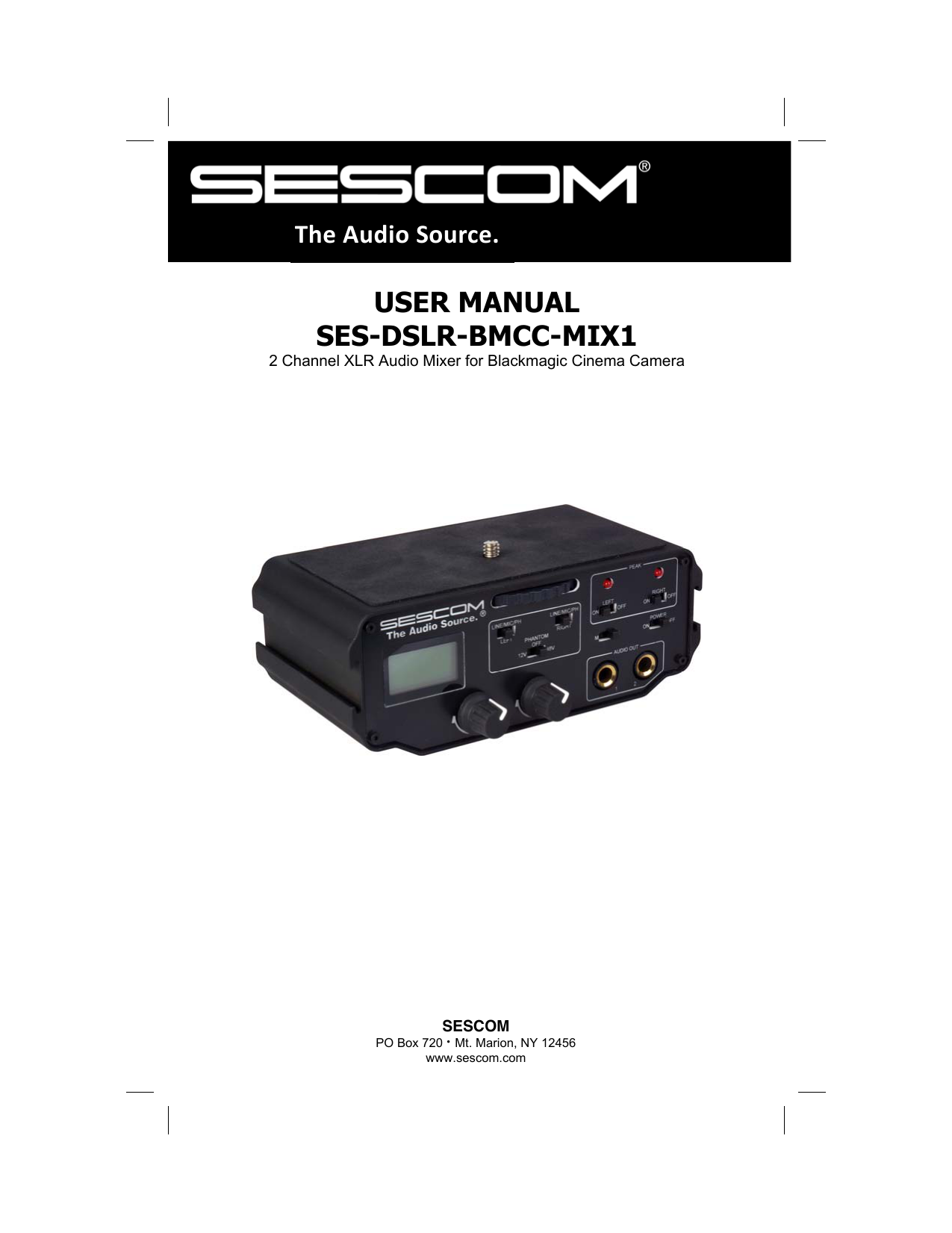 The Audio Source. USER MANUAL
SES-DSLR-BMCC-MIX1
2 Channel XLR Audio Mixer for Blackmagic Cinema Camera
SESCOM
PO Box 720 · Mt. Marion, NY 12456
www.sescom.com
SES-DSLR-BMCC-MIX1
Audio Mixer
The Sescom SES-BMCC-MIX1 audio mixer facilitates greater audio
recording control for Blackmagic Cinema Cameras and eliminates the
need for post editing syncing by recording directly to the camera.
The SES-BMCC-MIX1 makes audio recording easier with peak
switches, a mono/stereo switch, and selectable phantom power.
The built-in level meter displays audio input levels in real time and
trim controls adjust output levels for each channel
Includes
 One SES BMCC-MIX1 main unit
 Two 1/4 inch TRS balanced output cables
 One 9V alkaline battery
Specifications
Input Levels
MIC 0dB on the Level meter at -44 dBu
LINE 0dB on the Level meter at +10dBu
Gain
Unity
Frequency Response
10Hz to 100kHZ (+/-0.5 dB)
THD
Less than 0.01% @ 1 kHz, -30 dBu input
S/N Ratio
80 dB @ 1Khz, -30 dBu input
Level Meter
-18 to +3dB in 3dB increments
Dimensions LxWxH
6.1x3.86x2.52 (155x98x64mm)
Weight
21.7oz (615g)
2
1
1
sescom.com
SESCOM SES-DSLR-BMCC-MIX1
SES-BMCC-MIX1
Page 2
SES-DSLR-BMCC-MIX1 Features
12
5
3
3
7
4
8
5
8
5
6
6
10
9
11
9
1
XLR Inputs
Balanced LEFT and RIGHT XLR inputs
2
Battery Compartment
Operates on one 9–volt battery.
3
LINE/MIC/PH Switches
 Select LINE or MIC or Phantom levels
 MIC—for self powered microphones or wireless system
 LINE—for mixers and other audio devices with a line
level output. Set LINE/MIC to LINE to attenuate the
signal to about 40dB
 PH—for microphones requiring phantom power
4
PHANTOM 12V/48V Switch
Select 12 or 48 volt for condenser microphones requiring
phantom power
6
LEFT/RIGHT LED Indicator/PEAK Switches
LEDs flash red for overload/distortion
7
Level Meter
Indicates the sound level in dB for each channel
8
Left and Right Control Knobs
Adjust the signal of each channel to the optimum recording
levels
SESCOM SES-DSLR-BMCC-MIX1
Page 3
SES-DSLR-BMCC-MIX1 Features
12
5
3
3
7
4
8
9
8
5
6
6
10
9
11
9
AUDIO OUT
Audio outputs for connecting to camera
10
M/S Switch
Select mono or stereo output mode
11
POWER Switch
Main power switch for mixer
12
1/4" Male Screw
13
3/8" Female Screw
14
1/4" Female Screw
13
13
14
14
SESCOM SES-DSLR-BMCC-MIX1
Page 4
SES-DSLR-BMCC-MIX1 Set Up
Read and follow all steps below before operating the device.
1. Turn off POWER and PHANTOM switches.
2. Lift up and pull out battery compartment drawer. Insert 9V
battery and slide drawer closed until it clicks into place.
3. Connect the supplied cable to the output jack of the mixer and
to the MIC input of the DSLR camera or camcorder.
4. Attach the mixer to the base of the camera. Spin counterclockwise to tighten. If mounting to a tripod, use the tripod
socket on the bottom of the mixer.
5. Connect the supplied cables from the AUDIO OUT 1 jack
on the mixer to the AUDIO IN 1 jack on the camera and
from the AUDIO OUT 2 jack on the mixer to the AUDIO IN 2
on the camera.
5. Connect your audio device to the LEFT and RIGHT XLR inputs
on the mixer.
6. Camera Audio Settings:
- Microphone Input: 0%
- Ch 1/Ch 2 Input Levels: Mic or microphones and wireless
mics/Line for mixers
- Ch 1 Input: 30%
- Ch 2 uses CH 1 input: Off
- Ch 2 Input: 30%
- Speaker Volume: 25%
7. Set the LINE/MIC/PH switch. When using microphones and
wireless systems, set to MIC for microphone. When using other
audio devices, set to LINE for Line. When using microphones
operating on phantom power, set to PH for phantom power.
DO NOT select phantom level when recording with microphones
that do not operate on phantom power, wireless receivers,
mixing boards or any unbalanced devices, because it may
cause damage to both the adapter and audio device.
SESCOM SES-DSLR-BMCC-MIX1
Page 5
SES-DSLR-BMCC-MIX1 Set Up
8. Set the M/S Switch
- When using one channel, switch to M for mono.
- When using two channels, switch to S for stereo.
9. In case of distortion, turn down the LEFT and RIGHT level
controls, and when recording, adjust the knobs for optimum
signal levels.
10. Turn the Power Switch to ON.
11. Set the PHANTOM Switch to 12V or 48V if any channel
requires phantom power.
12. Turn on/off the L and R LED indicator switch for each channel.
The LED will flash red for overload.
13. Adjust the LEFT and RIGHT level controls to get an average
reading of between –12dB and 0dB on the Level Meter.
14. Plug headphones into the headphone terminal on the camera
to monitor the audio. Make sure that both channels can be
heard. Adjust the trim controls to a comfortable level.
When using one input, set the unused channel trim control fully
clockwise to isolate it from the working channel.
SESCOM SES-DSLR-BMCC-MIX1
Page 6
SAFETY PRECAUTIONS
1. To prevent fire or shock hazard, do not expose this equipment to high humidity and/or dust. Do not use in an unprotected outdoor installation nor any area classified as overly
damp or wet.
2. The temperature for installation should be kept between 32°F
to 140°F (0°C to 60°C). Avoid direct sunlight exposure or
extreme changes of temperature over a short period of time.
3. Do not disassemble the unit or place it on an unstable base.
4. Do not drop the unit and avoid heavy impact.
5. This unit should not be permanently installed unless proper
ventilation is provided. Any enclosure openings must not be
blocked or covered as they protect the unit from overheating.
6. Before cleaning, turn off the power and unplug the unit from
all connections. Use a damp cloth. Do not use liquid cleaners
nor aerosol cleaners.
7. Do not overload outlets and extension cords as this may
result in a risk of fire or electric shock.
8. Enclosure entry is dangerous. Never push objects of any
kind, including liquids, into this unit through openings as they
may touch dangerous voltage points or short-out parts that
could result in a fire or electric shock.
9. Do not attempt to open or service this unit yourself as opening or removing covers may expose you to dangerous voltage and other hazards.
10. There are no user-serviceable parts inside the unit. If the unit
requires service contact your authorized dealer, or an authorized repair service company.
SESCOM SES-DSLR-BMCC-MIX1
Page 7
SESCOM
PO Box 720
Mt. Marion, NY 12456
www.sescom.com
The Audio Source. 
* Your assessment is very important for improving the work of artificial intelligence, which forms the content of this project