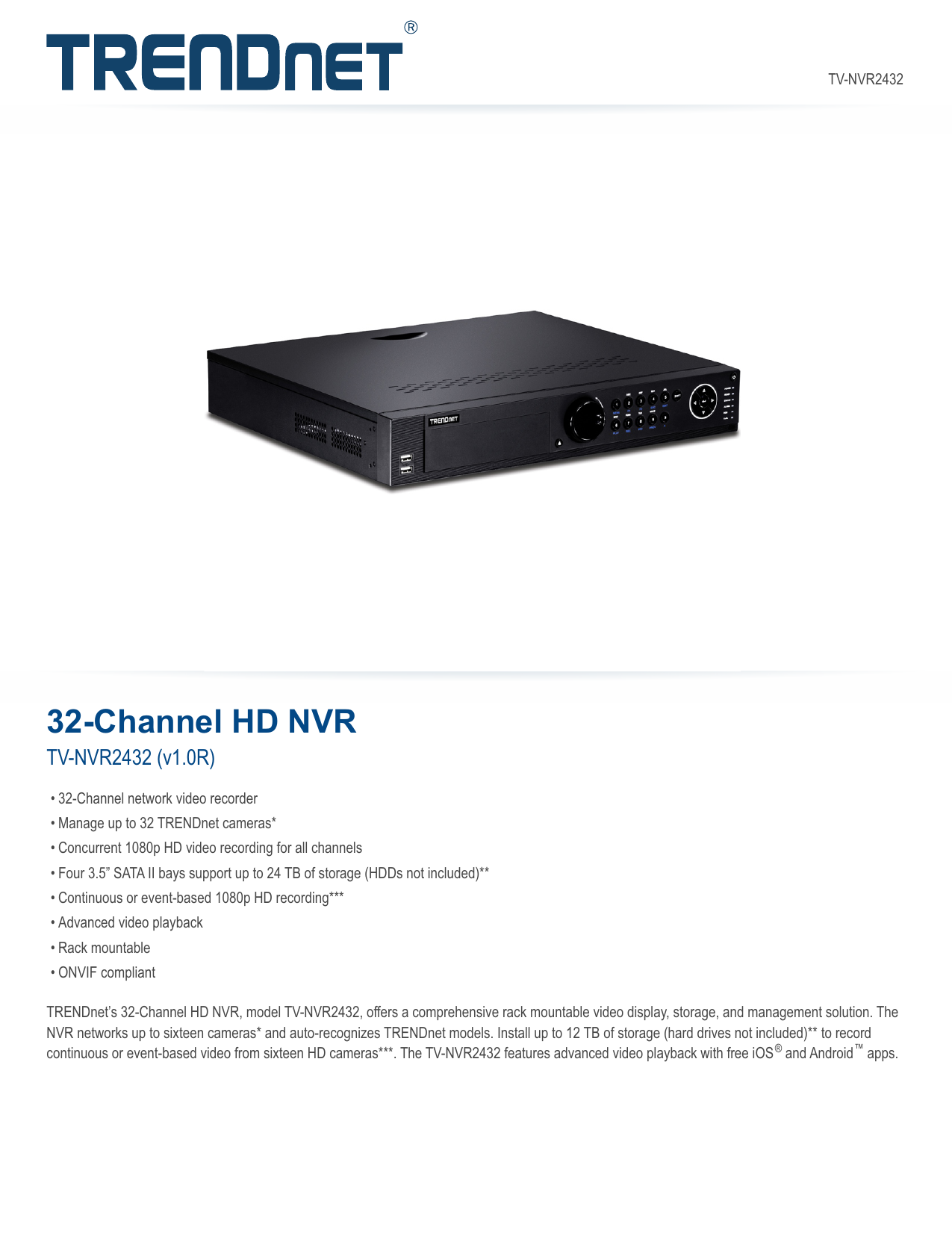 TV-NVR2432
32-Channel HD NVR
TV-NVR2432 (v1.0R)
• 32-Channel network video recorder
• Manage up to 32 TRENDnet cameras*
• Concurrent 1080p HD video recording for all channels
• Four 3.5" SATA II bays support up to 24 TB of storage (HDDs not included)**
• Continuous or event-based 1080p HD recording***
• Advanced video playback
• Rack mountable
• ONVIF compliant
TRENDnet's 32-Channel HD NVR, model TV-NVR2432, offers a comprehensive rack mountable video display, storage, and management solution. The
NVR networks up to sixteen cameras* and auto-recognizes TRENDnet models. Install up to 12 TB of storage (hard drives not included)** to record
continuous or event-based video from sixteen HD cameras***. The TV-NVR2432 features advanced video playback with free iOS ® and Android ™ apps.
TV-NVR2432
Standalone 1080p HD NVR
This 1080p HD NVR supports up to a 24 TB
hard drive and networks up to 32 network
cameras-hard drive, cameras, and display sold
separately.
Networking Solution
Easy Installation
The NVR auto-recognizes TRENDnet
cameras* - simply connect compatible
TRENDnet cameras and start recording
surveillance video.
Intuitive Interface
Users will find the management interface
intuitive and easy to use – quickly navigate live
view preferences, recording schedules, and
advanced playback options.
TV-NVR2432
Hardware
Channels
Manage up to 32 TRENDnet network cameras*
Live View
Multiple camera viewing options with variable-time
auto-scan function
Storage Bay
Four 3.5" SATA II bays supports up to 24 TB of total
storage (6 TB per bay, HDDs not included)**
Camera Management
For each camera, manage on screen display, image
settings, PTZ functionality, motion detection, privacy
masks, tamper detection, and video loss
Network Port
Gigabit Ethernet network port
Display Ports
HDMI and VGA display ports
Audio Ports
RCA Audio in and out ports
USB Ports
One USB port for the included mouse and one for
configuration backup and firmware upgrade
Mouse Included
Includes a mouse and does not require a keyboard
Rack Mount
Rack mount hardware included
Video Recording
Full 1080p HD video at 30 fps in H.264 compression
Single camera max. resolution: 6 MP in H.264
compression
Recording Time
Record per camera with 12 TB of storage (HDDs not
included)** and Full 1080p HD cameras at 30 fps with
medium VBR
Scheduled Recording
Create weekly continuous and motion detection
recording schedules for each camera with video
overwrite when storage is full
Advanced Playback
Advanced archived video playback with a quick
reference timeline and calendar
Video Export
Quickly export specific video types over a specified
time
Dynamic DNS Support
Support for dyn.com and NO-IP.com
Management
Free Apps
View live video on a mobile device with free iOS® and
Android™ apps
Remote Access
Access the NVR over the internet
Camera Setup
Auto-recognizes TRENDnet cameras*
IPv6
IPv6 support
ONVIF / PSIA
ONVIF / PSIA Compliant
Full 1080p HD Camera Support
TV-NVR2432
Specifications
Video Output
• HDMI / VGA
• Resolution:
◦ 1920 × 1080p / 60 Hz
◦ 1600 × 1200p / 60 Hz
◦ 1280 × 1024 / 60 Hz
◦ 1280 × 720 / 60 Hz
◦ 1024 × 768 / 60 Hz
• DHCP, NTP, DNS, DDNS, SMTP, FTP, SNMP v2
• HTTP, UPnP, RTSP, RTP, RTCP
Operating Temperature
• -10 - 55 °C (14 - 131 °F)
• Operating Humidity
• Max. 90% non-condensing
Audio
• Line-in with RCA connector (2.0Vp-p, 1 kΩ)
• Line-out with RCA connector
FCC
• UL
Recording
• 32-channel simultaneous recording up to 1080p 30
fps
• 4 SATA interface for HDD or SSD up to 6 TB
storage each
Weight
• 4.3 kg (9.4 lb.)
Certifications
• CE
Dimensions
• 440 x 390 x 70 mm (17.3 x 15.4 x 2.8 in.)
Power
• Input: 100 – 240 V AC 50/60 Hz
• Power consumption:
◦ Main board: 10W max.
Playback
• Playback resolution: 5 MP, 4 MP, 3 MP, 1080p,
UXGA, 720p, VGA, 4CIF, DCIF, 2CIF, CIF, QCIF
Hardware Standards
• IEEE 802.3
• IEEE 802.3u
• IEEE 802.3x
• IEEE 802.3ab
Management Interface
• Multi-language support: English, French, German,
Portuguese, and Spanish
• Live view: Simultaneous 1x1, 2x2, 3x3, 1+7, 1+5,
4x4, 5x5, 32x1 views or auto switch single view
• Scheduled recording: continuous and motion
detection with optional holiday exceptions.
• Supporting camera configuration through NVR*: On
Screen Display, display settings: brightness,
contrast, saturation, PTZ, motion detection setting,
video tamper, and video loss.
• Holiday scheduling for custom recording schedules
during observed holidays
• Advanced playback: playback multiple channels
simultaneously and search video recordings with
special event or tag
• Video export: tag, cut, and export video clips
Device Interface
• 2 x Gigabit network port
• 2 x USB 2.0, 1 x USB 3.0
• HDMI port
• VGA port
• Analog audio in / out port
• Power port
• LED indicators (Power, Storage, and Network)
Network Protocol
• IPv4, IPv6, UDP, TCP, ICMP, SSL, TLS, ONVIF
v2.2
• HDD: Encoded disk formatting, S.M.A.R.T. disk
health monitoring and testing, bad sector detection,
storage quota allocation to each video channel,
recycle old recordings or send disk full warning to
administrator by email
• USB external storage: firmware upgrade, import /
export configuration file and logs, export recorded
video files, search and playback videos directly
from external storage
• Local live view settings: define screen layout and
channel viewing sequence
• Alert messages: storage full, storage error, network
disconnected, IP conflict, illegal login, and
recording exceptions
• Supported dynamic DNS services: Dyn.com and
NO-IP.com
• Management Setting: maximum 32 user accounts
• Traffic chart and statistics for network management
TRENDnet IP View App
• Free iOS® and Android ™ app
• View your NVR video on your mobile device
• Take snapshots
• Zoom
Warranty
• 2 year limited
Package Contents
• TV-NVR2432 (No HDD installed)
• CD-ROM (Utility & User's Guide)
• Power cord (1.8 m / 6 ft.)
• Network cable (1.8 m / 6 ft.)
• HDMI cable (1.8 m / 6 ft.)
• Optical mouse
• Remote control
• SATA data cables / power cables
• Quick Installation Guide
• Rack mount hardware
*See list of compatible cameras on TRENDnet website
** 6 TB per hard drive
*** One weeks of continuous recording 32 cameras in 1080p resolution at 30 fps (medium VBR) with 24 TB of storage (HDDs not included)
20675 Manhattan Place
•
Torrance
•
CA 90501
•
USA
•
T: 1-888-326-6061
•
F: 1-310-961-5511
•
sales@trendnet.com
•
www.TRENDnet.com
TRENDnet is a registered trademark. Other Brands and product names are trademarks of their respective holders. Information provided in this document pertain to TRENDnet products and is subject to change at any time, without notice. For the most
Updated: 6/23/2016
recent product information please visit http://www.trendnet.com. Copyright © TRENDnet. All Rights Reserved.