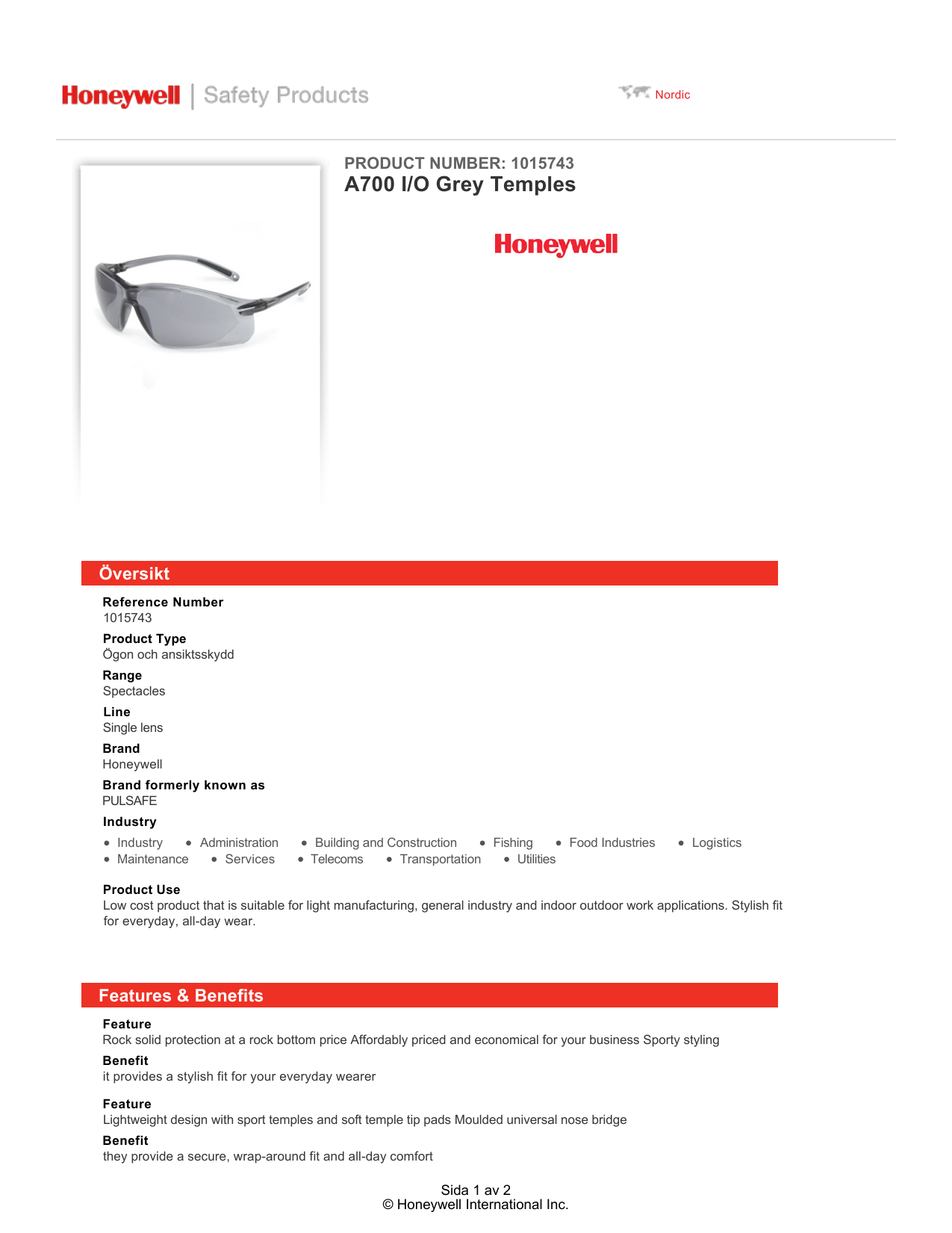 Nordic
PRODUCT NUMBER: 1015743
A700 I/O Grey Temples
Översikt
Reference Number
1015743
Product Type
Ögon och ansiktsskydd
Range
Spectacles
Line
Single lens
Brand
Honeywell
Brand formerly known as
PULSAFE
Industry
Industry
Administration
Maintenance
Services
Building and Construction
Fishing
Telecoms
Transportation
Utilities
Food Industries
Logistics
Product Use
Low cost product that is suitable for light manufacturing, general industry and indoor outdoor work applications. Stylish fit
for everyday, all-day wear.
Features & Benefits
Feature
Rock solid protection at a rock bottom price Affordably priced and economical for your business Sporty styling
Benefit
it provides a stylish fit for your everyday wearer
Feature
Lightweight design with sport temples and soft temple tip pads Moulded universal nose bridge
Benefit
they provide a secure, wrap-around fit and all-day comfort
Sida 1 av 2
© Honeywell International Inc.
A700 I-O Grey Temples - 1015743
Feature
8-base polycarbonate abrasion resistant lenses
Benefit
they provide a 180° field of distortion-free vision
Technical Description
Eyewear Type
Spectacles
Shade Lens Color
I/O Grey
Shade Lens Material
Polycarbonate
Certifications
E.C. Declaration of Conformity
EC Category PPE
2
Quality Assurance
ISO 9001 / 2000
EC Certificate Number
EC 1549
EC Attestation
EC Attestation
EC Attestation Number
EC 1594
Packaging
EAN Code
7312550157435
© Honeywell International Inc.
Sida 2 av 2
© Honeywell International Inc.

* Your assessment is very important for improving the work of artificial intelligence, which forms the content of this project