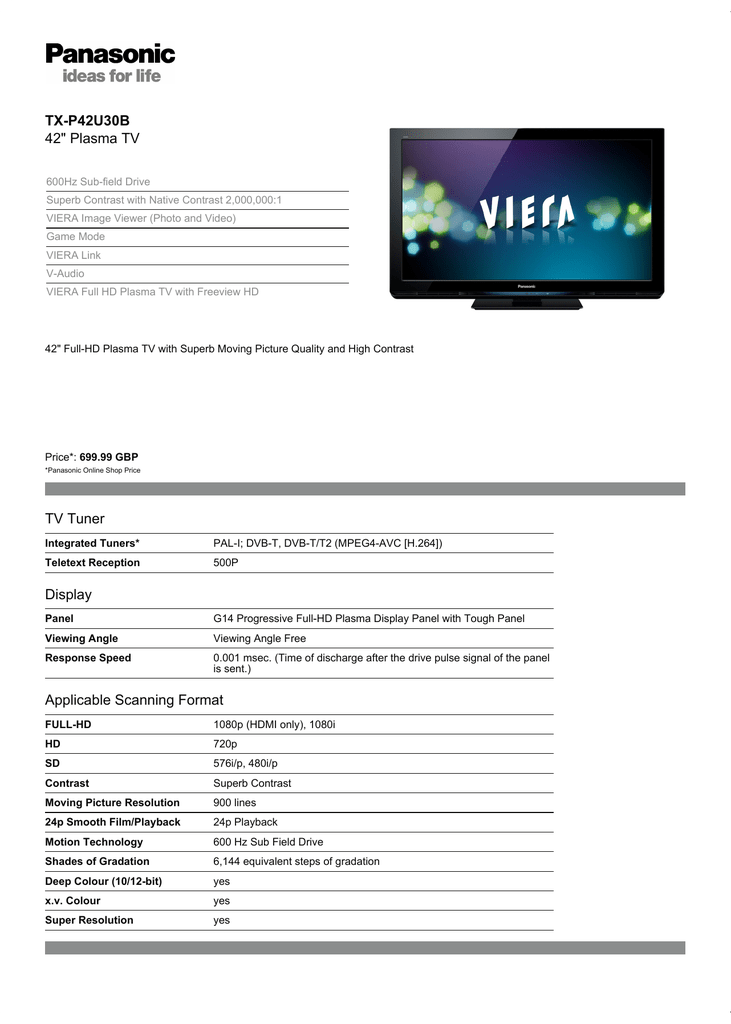 TX-P42U30B
42" Plasma TV
600Hz Sub-field Drive
Superb Contrast with Native Contrast 2,000,000:1
VIERA Image Viewer (Photo and Video)
Game Mode
VIERA Link
V-Audio
VIERA Full HD Plasma TV with Freeview HD
42" Full-HD Plasma TV with Superb Moving Picture Quality and High Contrast
Price*: 699.99 GBP
*Panasonic Online Shop Price
TV Tuner
Integrated Tuners*
PAL-I; DVB-T, DVB-T/T2 (MPEG4-AVC [H.264])
Teletext Reception
500P
Display
Panel
G14 Progressive Full-HD Plasma Display Panel with Tough Panel
Viewing Angle
Viewing Angle Free
Response Speed
0.001 msec. (Time of discharge after the drive pulse signal of the panel
is sent.)
Applicable Scanning Format
FULL-HD
1080p (HDMI only), 1080i
HD
720p
SD
576i/p, 480i/p
Contrast
Superb Contrast
Moving Picture Resolution
900 lines
24p Smooth Film/Playback
24p Playback
Motion Technology
600 Hz Sub Field Drive
Shades of Gradation
6,144 equivalent steps of gradation
Deep Colour (10/12-bit)
yes
x.v. Colour
yes
Super Resolution
yes
Picture Mode
Dynamic/Normal/Cinema/True Cinema/Game
Vreal
Vreal Plus
Sound
Speakers
2 x 10 watt 2 Speakers
Sound Mode
Music/Speech/User
Virtual Surround
V-Audio
Dolby Digital/dts/CoNEQ
Dolby Digital Plus/dts Digital Out
Input/Output
CI (Common Interface)
yes
VIERA Image Viewer
yes (AVCHD/SD-VIDEO/Motion JPEG [Lumix]/MP4 [Xacti]/JPEG/MP3/
AAC playback)
HDMI Input/ Support Feature
2 (rear)/ Audio Return Channel (Input 2)
Composite Video Input
AV2:CVBS x 1 (rear)
Component Video Input
RCA phono type x 1 set (rear)
Audio Input (for HDMI, Composi- RCA phono type x 1 set (rear)
te, Component)
21-Pin Input/Output
AV1: AV In/Out, RGB In, Q-Link (rear)
LAN Port
yes
Analogue Audio Out
RCA phono type connectors (L, R) (1 set rear)
Digital Audio Output (Optical)
yes
Headphone Jack
1 (side)
Features
EPG (Now and Next)
yes
EPG for DVB-T
Gemstar EPG: UK, Italy, Germany, Spain
VIERA Tools
yes
VIERA Link
yes (HDAVI Control 5)
Eco Navigation
yes
Multi Window
PAT
Game Mode
yes
Q-Link
yes
Off Timer
yes
Child Lock
yes
General
Energy Efficiency Class
C
Power Save Mode
yes
Visible Screen Size (diagonal)
106 cm/42 inches
On mode Average Power
Consumption***
115 W
Power Supply
AC 220 - 240 V, 50/60Hz
Annual Energy Consumption**** 168 kWh
Rated Power Consumption
255 W
Standby Power Consumption
0.40 W
Off mode Power Consumption
0.30 W
Display Resolution
1,920 (W) x 1,080 (H)
Dimensions (W x H x D) (w/o
stand)
1,023 x 637 x 93 mm
Dimensions (W x H x D) (with
stand)
1,023 x 671 x 288 mm
Weight (w/o stand)
23.5 kg
Weight (with stand)
26.5 kg
Wall Bracket
TY-WK4P1RW
NOTE
* Notice for DVB functions:
This TV is designed to meet the standards (current as of August, 2009)
of DVB-T/C/S/S2 (MPEG2 and MPEG4-AVC [H.264]) services.
The compatibility with future DVB services is not guaranteed.
DVB-T MPEG4-AVC broadcast is available in selected countries: Denmark, Spain, Estonia, France, Lithuania, Norway, Slovenia, Sweden,
Poland, Hungary, Portugal.
DVB-C feature is available only in following countries:
Sweden (ComHem, Canal Digital), Demark (YouSee), Norway (Canal
Digital), Finland (Cable Ready HD), Germany, Switzerland, Netherlands
The country list above is as of January 1st, 2010.
Check the latest information on the available services at the following
website (English only):
http://panasonic.jp/support/global/cs/tv/
** Depending on the area, this accessory may not be included.
*** Based on IEC 62087 Ed.2 measurement method.
**** Energy consumption XYZ kWh per year, based on the power consumption of the television operating 4 hours per day for 365 days. The
actual energy consumption will depend on how the television is used.

* Your assessment is very important for improving the work of artificial intelligence, which forms the content of this project