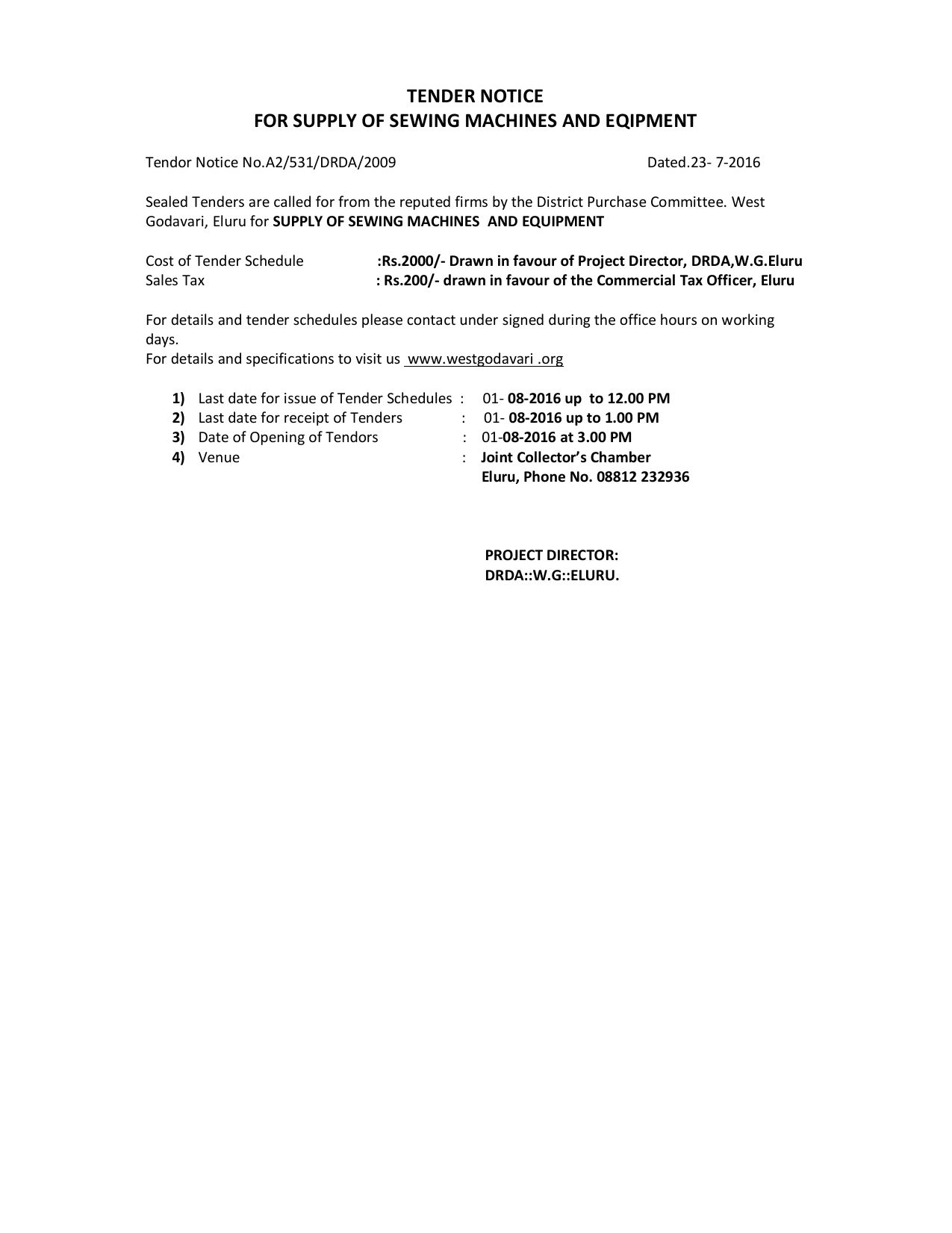 TENDER NOTICE
FOR SUPPLY OF SEWING MACHINES AND EQIPMENT
Tendor Notice No.A2/531/DRDA/2009
Dated.23- 7-2016
Sealed Tenders are called for from the reputed firms by the District Purchase Committee. West
Godavari, Eluru for SUPPLY OF SEWING MACHINES AND EQUIPMENT
Cost of Tender Schedule
Sales Tax
:Rs.2000/- Drawn in favour of Project Director, DRDA,W.G.Eluru
: Rs.200/- drawn in favour of the Commercial Tax Officer, Eluru
For details and tender schedules please contact under signed during the office hours on working
days.
For details and specifications to visit us www.westgodavari .org
1)
2)
3)
4)
Last date for issue of Tender Schedules
Last date for receipt of Tenders
Date of Opening of Tendors
Venue
: 01- 08-2016 up to 12.00 PM
: 01- 08-2016 up to 1.00 PM
: 01-08-2016 at 3.00 PM
: Joint Collector's Chamber
Eluru, Phone No. 08812 232936
PROJECT DIRECTOR:
DRDA::W.G::ELURU.
REQUIRED SEWINGMACHINES & EQUIPMENT,
Sealed Tenders are invited from the reputed Manufacturers/ Authorised
dealers for supply of SEWING MACHINES & EQUIPMENT FOR LACE PARK,
NARASAPURAM as detailed below:
1. Automatic Single Needle Juki sewing Machines.,- 100
2. Picoting machines
39
3. Double needle stitching Machine
8
4. Straight knife fabric Cutting machine
4
ANNEXURE –II
1.TECHNICAL SPECIFICATIONS OF SEWINGMACHINES FOR, LACE PARK,
NARASAPURAM ( Automatic Sewing Machines, (JUKI Brand)
Picoting
Machnies, Striht Knife Fabric Cutting machines,Double Needle automatic
sewing machines.
A.ISI Certification:
3 types of sewing machines with 2 years warranty/ maintenance
shall have the ISI marking:
B. Shall undertake to supply, the Sewing Machines along with necessary
accessories for 2 years warranty/ maintenance period and maintain sufficient
spare parts to replace worn out parts during Warranty/ maintenance period
shall provide systems for prompt repair and service of Sewing Machines.
C.Technical Specifications:
Sl.No
1
2
Item
Name
Automati
c single
needle
Sewing
Machines
(Juki )
Picoting
Machine
No.of
items
Required
100
39
Specifications
For one unit
1.
2.
3.
4.
5.
6.
7.
Max. Swing Speed: 5500 rpm
Max. Stitch length: 5 mm
Feed dog :
4 row
Hook : Automatic Lubricating
Lubrication : Automatic.
Motor Power: 250
Weight with full set: 27 to 29 kgs.
1. Stitch type : 3 needle top and bottom.
2. Lift of the pressure foot: 5 mm (with top and
bottom covering stitch)
3. Stitch pitch adjustment : 8 mm (with bottom
covering stitch)
4. Differential feed adjustment : By micro –
adjustment mechanism
5. Lubrication: Automatic ( Frame ; No lubrication)
6. Feed dog inclination adjustment: Provided as
standard.
7. Micro – lifter : Provided as standard.
8. Needle bar stroke converting function: 31 mm
9. Provided as standard:
10. Weight of the machine head : 46 kg
3
4
Double
Needle
Stitching
Machine
8
Straight
Knife
Fabric
Cutting
Machine
4
MH-380 Parallel 2-needle : MH-382 Tandem 2-needle
Max.sewing speed :6,000sti/min*
Max. Stitch length :4mm
Lift of the pressure foot :By hand: 5.5mm By knee:
10mm
Needle Bar stroke :30mm
Needle (at the time of deliverly)TV×7 (#14) #9~#21
Thread take up : Needle bar thread take-up
Stitch length adjustment : By stitch dial (lockstitch)
Condensation stitches : By lever for condensation
stitching
Looper system:Rocking type looper
Looper storke :22.6mm
Elliptical motion : 2.4~3.7mm
Lubrication : Automatic
Lubricating oil : JUKI New Defrix Oil No.1 (equivalent to
ISO VG7)
Needle cooler : Option
Motors
110V, 1ph, 50/60Hz 220V, 1ph or 3ph,
50/60Hz 380V, 3ph, 50Hz Standard: Single
Speed Optional: Dual Speed
Horsepower
.65hp, 1ph .93hp, 3ph
Weight
34 lbs. (15.4kg)
Blades
Standard: Carbon Steel Optional: High Speed
Steel, PTFE Coated, Wave Edge, Wave
Groove, Angled Tip
Belts
Standard: Medium Grit Optional: Fine, Coarse,
RougH
Options
Micro Fog, Plastic Master, Auto Stop Note:
Autostop, Micro Fog and Plastic Master are
only available in 6 in. and 8 in.
Stroke Sizes
1.125 in. (2.86cm) 1.25 in. (3.18cm) 1.5 in.
(3.81cm) 1.75 in. (4.45cm)
Blade Sizes
5 in. (12.7cm) 6 in (15.2 cm) 7 in. (17.7 cm) 8
in. (20.3 cm) 9 in. (22.8 cm) 10 in. (25.4 cm)
11.5 in. (29.2 cm) 13 in. (33 cm)
Cutting
Capacity
3.5 in (8.9cm) 4.5 in. (11.4cm) 5.5 in
(13.9cm) 6.5 in (16.5cm) 7.5 in. (19.1cm) 8.5
in. (21.5cm) 10 in. (25.4cm) 11.5 in. (29.2cm)
Disclaimer
All indicated specifications, dimensions,
weights and performance data are
approximate and subject to change without
notice.

* Your assessment is very important for improving the work of artificial intelligence, which forms the content of this project