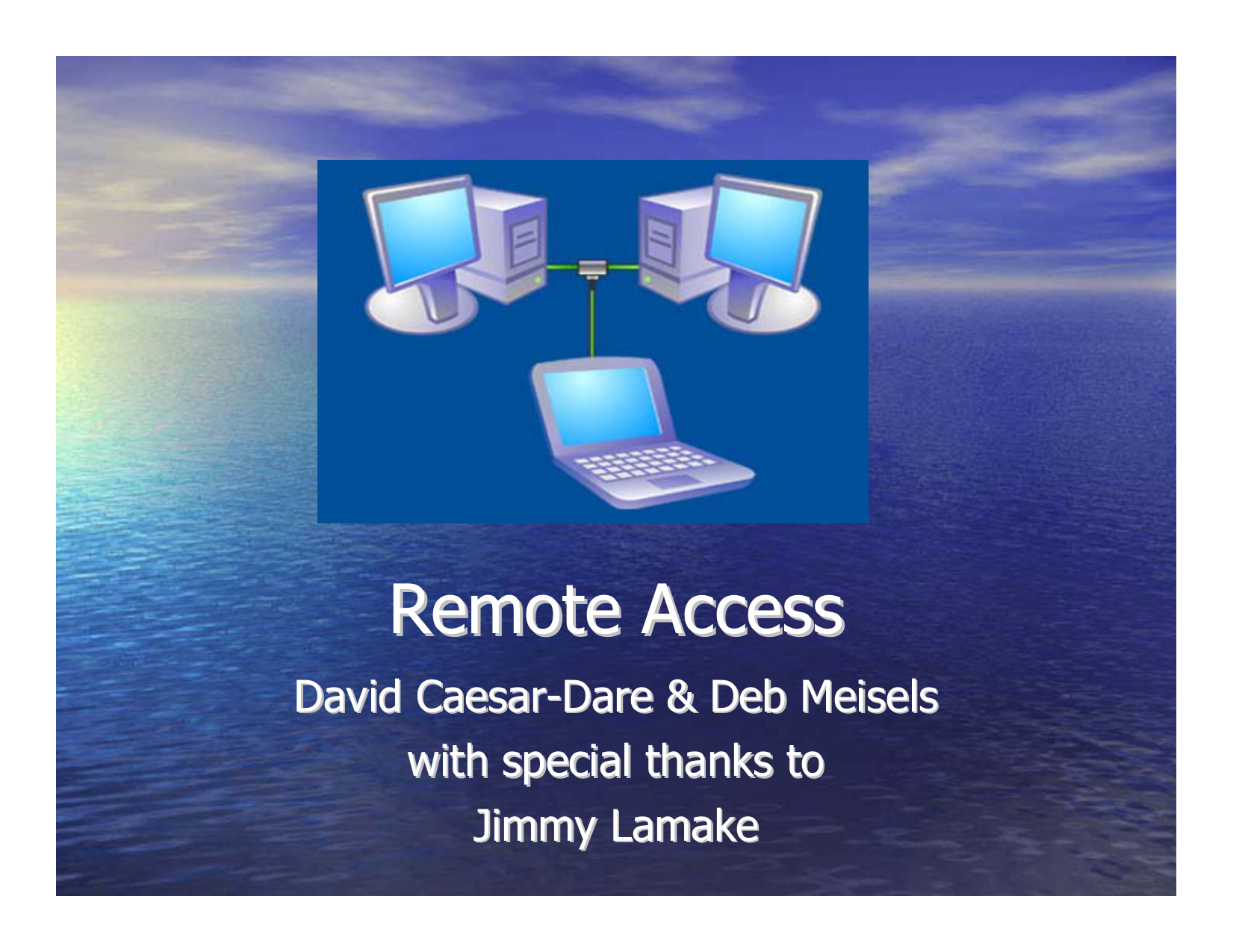 Remote Access
David Caesar-Dare & Deb Meisels
with special thanks to
Jimmy Lamake
OUR CHOICES
• Microsoft Remote Desktop
OUR CHOICES
• Microsoft Remote Desktop
• CrossLoop
OUR CHOICES
• Microsoft Remote Desktop
• CrossLoop
• GotomyPC
OUR CHOICES
• Microsoft Remote Desktop
• CrossLoop
• GotomyPC
• LogMeIn
Microsoft Remote Desktop
• One of the best features of Windows XP
Professional and Windows Vista is Remote
Desktop.
• From any Internet connection, you can
use Remote Desktop to access your home
computer, bring up information you need,
and continue with everyday life.
The Good News
The Remote Desktop Connection software
is pre-installed with Windows XP Pro and
Vista.
Basic Networking Terms
• WAN Address = Wide Area Network
Address (External Address)
• LAN Address = Computers may be on a
router (Internal Address)
• Client = Computer you are working from
• Host = Computer you are trying to access
• Port = Entry point of a computer
IP Address
• Every machine on the
•
Internet has a unique
identifying number,
called an IP Address.
A typical IP address
looks like this:
216.27.61.137
• Just as a phone
number is unique:
1.914.946.5511
Scenario 1
Two Computers Inside a LAN
______________________
____________________
Den Computer------------- Kitchen Computer
192.168.2.2
192.168.2.3
LAN
Configure Host Machine
• Host must be XP Pro, 2003 Server, Media
Center, or Vista
• Account on Host machine must have a
password
• Start / Control Panel / User Accounts
Configure Remote Desktop on Host
• Right click on My
•
•
•
Computer
Select Properties
Click "Remote" tab
Check "Allow users to
connect remotely to
this computer."
Get Your Internal IP Address
• Start / Run / CMD
• ipconfig /all
Configure XP Firewall
• Control Panel > Windows Firewall > On
¾Uncheck "Don't Allow Exceptions"
¾On Exceptions tab, check Remote Desktop
¾Click OK
Configure Zone Alarm
• Open Zone Alarm
• Under Firewall, click Add
• Input Remote Desktop, an IP range, and
set to Trusted
• Click Apply
Configure Other Firewalls
http://www.portforward.com/english/routers/firewalling/routerindex.ht
•
•
•
•
•
•
•
•
•
•
•
•
•
•
•
•
•
•
•
8Signs Firewall
Agnitum Outpost Firewall Pro
Armor2Net Firewall
BitDefender Internet Security v10
BullGuard
CA Personal Firewall
Comodo Firewall
Lavasoft Personal Firewall
LookNStop Personal Firewall
McAfee Security Center
Norton Internet Security 2007
NVidia ActiveArmor Firewall
Panda Antivirus N Firewall
Sunbelt Kerio Personal Firewall
TermiNetPersonalFirewall
The Shield Firewall
Trend Micro PC-cillin Internet Security
Windows XP Firewall
ZoneAlarm Pro Firewall
•
Instructions for both Hardware and Software Firewalls are found there
Accessing Host From Client
Click Start / All Programs / Accessories
/ Communication / Remote Desktop
Use the Host Internal IP Address from ipconfig /all
Host Computer Name:…………….
Host Computer Password:………………
You are now on the Remote Desktop inside a LAN
Scenario 2
2 Computers on a WAN
With No Host Router
Scenario 2
2 Computers on a WAN
With No Host Router
• Using ipchicken, get Host IP address
• Update Client firewall (if not Windows) to
allow access
Scenario 3
Two Computers on Different LANs
Client Computer--Internet--Router--Host Computer
69.121.66.35
69.121.66.34
School
______________________________________________
WAN
__________________________________________________
__________________________________________________
Port forward :3389
192.168.2.1
LAN
192.168.2.2
Home
Routers Separate WAN From Your LAN
The router holds the External IP Address from
your Internet provider.
69.121.66.31
WAN
------------------------------------------------LAN
192.168.2.1
192.168.2.3
192.168.2.2
Routers give out Internal IP Address for every
computer inside the LAN side
WHAT IS A PORT?
• Each machine has 64,000+ ports
• Many are reserved for specific applications
• Port 3389 is reserved for remote desktop
• For multiple accounts, the port number
increases by 1 (the second account would
be 3390, etc.)
LinkSys Router Port Forwarding
Scenario 3
Two Computers on Different LANs
• Need to Port Forward the Host Router
• Open your browser and go to
http://portforward.com/routers.htm
• Click on your specific router and print the
settings for Remote Desktop
Scenario 3 (continued)
ADD PORT FORWARD TO YOUR ROUTER
• Open your browser and go to your router's Web
•
•
•
•
page, i.e., 192.168.2.1
Input the Router User Name:_______
Router Password:_********_
Input the settings from the Port Forward page
and forward port 3389 to your Internal IP
Address, i.e., 192.168.2.3
www.portforward.com for your particular router.
Scenario 3
Get Your External IP Address
• External IP Address of the Host computer
www.ipchicken.com
69.121.66.3
Host Computer Info You Need
• Host External IP Address:____.___.___.____
• Router Model
• Router Logon and Password
• Instructions to Port Forward for the Router
• Set your Firewall to trust Port Forward
• Host Internal IP Address:____.___.___.____
• Host User Name:_________________
• Host Password:_**********_
Two Computers on Different LANs
on Client Computer
• Click Start / All Programs / Accessories
/ Communication / Remote Desktop
Input the External IP Address for the Host
computer
Login and Password
• Input your info
• Host Name:__________
• Host Password:_********_
• You are now logged on to the remote
computer.
Where do you get Remote Desktop
Connection Software if you don't
have it on your computer?
• From Microsoft
• http://www.microsoft.com/windowsx
p/downloads/tools/rdclientdl.mspx
WHERE CAN YOU FIND OUT MORE
ABOUT
MICROSOFT REMOTE DESKTOP?
• www.microsoft.com
• www.pchell.com
• www.portforward.com
• www.youtube.com
CrossLoop
• www.crossloop.com
•
•
•
•
Click on Free Download
Run, Run, English, Next
Accept agreement, Install, Finish
On Host, Click Host Tab, then
Connect, send access code to remote
person
• On Remote, click Join Tab, enter
access code, then click Connect
• On Host, accept the remote computer
CrossLoop – Simple Secure
Screen Sharing
• Connect any two PCs
• File transfer capability
• Switch control to make
collaboration easier
• View Only and Share
Control modes
What Is Unique About CrossLoop
•
•
•
Ease of use - no router configuration required
Secure and encrypted
CrossLoop does not require Windows XP
Pro
GoToMyPC
• www.gotomypc.com
• Download program on Host machine,
install, and sign up with credit card
• Log in to Web site from another computer
• Click Connect.
GoToMyPC Pricing
• Monthly Plan: $19.95/mo.
• Annual Plan: $179.40/yr. Save 25%
LogMeIn Overview
• LogMeIn is Remote Connectivity
Software
• From any Internet connection you
can use it to go to any Host computer
30-Day Trial
• Free for personal or business use
• Premium Service costs.
• For 30 days, you get Free/Pro/Reach
• Add as many computers as you want
• After 30 days you'll have the free version
Create a Sign Up
•
•
•
•
•
•
https://secure.logmein.com/home.asp
Create an account
Use https site (https = secure)
Enter your email address and choose a
password
Follow the setup wizard
Add a Computer
• From computer you are adding, go to
www.logmein.com and log in
• Click on Add Computer
• Add the software on the Host
• Input your Access Code
• You will see a square silver icon in the
sys tray of the Host computer.
Connect
• Log into www.logmein.com, click the
computer you want to access, and you're
in!
Go to Work
• From any client computer
• Send email
• Run programs
• Open files
Premium Products
• LogMeIn Pro - Securely access your PCs, hear
•
•
•
•
sound, print from anywhere and share files
LogMeIn Hamachi - Instantly connect multiple
computers in a VPN
LogMeIn IT Reach - servers over the Web
LogMeIn Backup - backups to storage devices
LogMeIn Rescue - Support remote PCs over
the Web without pre-installing software
Feature Comparison
Cost
Collaboration
Remote Desktop
CrossLoop
GoToMyPC
LogMeIn
Free
No
Free
Yes
Yes
Easiest
$$
Yes
Yes
Easy
Free/$$
Yes
Yes/$$
Moderate
File Xfer
Ease of Use Complex
Another fine presentation from the
dynamic duo of Dave and Deb
David Caesar-Dare and Deb Meisels
and special thanks to
Jimmy Lamake
That's All, Folks!

* Your assessment is very important for improving the work of artificial intelligence, which forms the content of this project