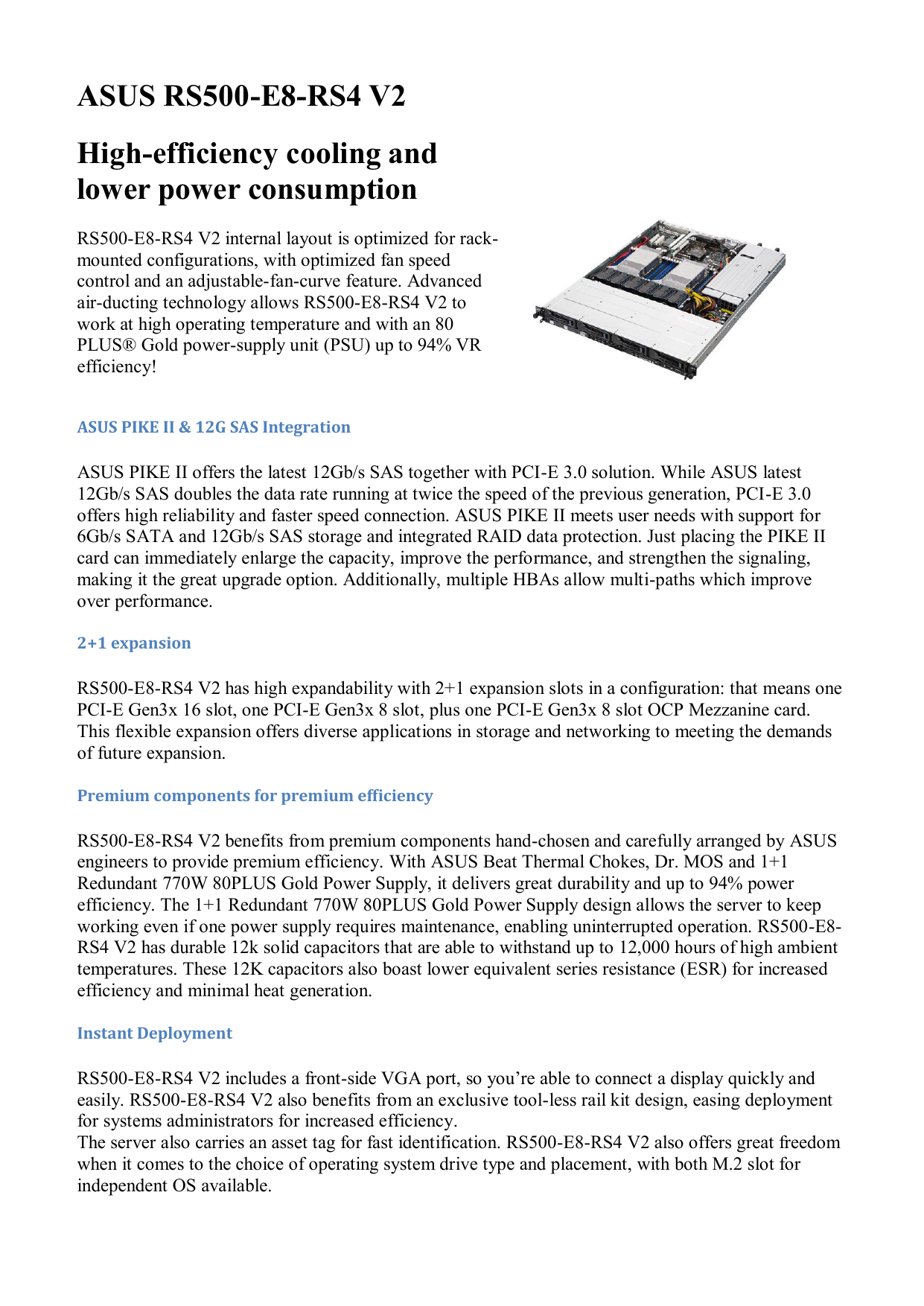 ASUS RS500-E8-RS4 V2
High-efficiency cooling and
lower power consumption
RS500-E8-RS4 V2 internal layout is optimized for rackmounted configurations, with optimized fan speed
control and an adjustable-fan-curve feature. Advanced
air-ducting technology allows RS500-E8-RS4 V2 to
work at high operating temperature and with an 80
PLUS® Gold power-supply unit (PSU) up to 94% VR
efficiency!
ASUS PIKE II & 12G SAS Integration
ASUS PIKE II offers the latest 12Gb/s SAS together with PCI-E 3.0 solution. While ASUS latest
12Gb/s SAS doubles the data rate running at twice the speed of the previous generation, PCI-E 3.0
offers high reliability and faster speed connection. ASUS PIKE II meets user needs with support for
6Gb/s SATA and 12Gb/s SAS storage and integrated RAID data protection. Just placing the PIKE II
card can immediately enlarge the capacity, improve the performance, and strengthen the signaling,
making it the great upgrade option. Additionally, multiple HBAs allow multi-paths which improve
over performance.
2+1 expansion
RS500-E8-RS4 V2 has high expandability with 2+1 expansion slots in a configuration: that means one
PCI-E Gen3x 16 slot, one PCI-E Gen3x 8 slot, plus one PCI-E Gen3x 8 slot OCP Mezzanine card.
This flexible expansion offers diverse applications in storage and networking to meeting the demands
of future expansion.
Premium components for premium efficiency
RS500-E8-RS4 V2 benefits from premium components hand-chosen and carefully arranged by ASUS
engineers to provide premium efficiency. With ASUS Beat Thermal Chokes, Dr. MOS and 1+1
Redundant 770W 80PLUS Gold Power Supply, it delivers great durability and up to 94% power
efficiency. The 1+1 Redundant 770W 80PLUS Gold Power Supply design allows the server to keep
working even if one power supply requires maintenance, enabling uninterrupted operation. RS500-E8RS4 V2 has durable 12k solid capacitors that are able to withstand up to 12,000 hours of high ambient
temperatures. These 12K capacitors also boast lower equivalent series resistance (ESR) for increased
efficiency and minimal heat generation.
Instant Deployment
RS500-E8-RS4 V2 includes a front-side VGA port, so you're able to connect a display quickly and
easily. RS500-E8-RS4 V2 also benefits from an exclusive tool-less rail kit design, easing deployment
for systems administrators for increased efficiency.
The server also carries an asset tag for fast identification. RS500-E8-RS4 V2 also offers great freedom
when it comes to the choice of operating system drive type and placement, with both M.2 slot for
independent OS available.
Easy Diagnostic and Management
RS500-E8-RS4 V2 has a built-in Q-Code/port 80 LED display LED for simple monitoring of the
entire boot process, from the early hardware-awakening stages to the launch of the operating system
and beyond. A bright CPU and Memory LED on board lets you check the server's status instantly.
With the Intelligent Platform Management Interface (IPMI) 2.0-compliant ASMB8-iKVM module in
RS500-E8-RS4 V2, you'll be able to monitor, control and manage the server remotely.
Specifications





Processor / System Bus
2 x Socket R3 (LGA 2011-3)
Intel® Xeon® processor E5-2600 v4 product family (145W) *
Intel® Xeon® processor E5-2600 v3 product family(145W)*
QPI 6.4 / 8.0 / 9.6 GT/s
*Refer to www.asus.com for CPU Support list
Generation
E8
Core Logic
Intel® C612 PCH
Memory
Total Slots : 16 (4-channel per CPU, 8 DIMM per CPU)
Capacity : Maximum up to 1024GB LRDIMM
Memory Type :
DDR4 2400 /2133 /1866/1600 RDIMM
DDR4 2400 /2133 /1866/1600 LRDIMM
Memory Size :
32GB, 16GB, 8GB, 4GB RDIMM
64GB, 32GB LRDIMM
* Please refer to ASUS server AVL for the latest update
* Actual memory frequency differs from Intel CPU types and memory module. Please check Intel
official site for more detail about the memory types supported by each CPU.
Expansion Slots
2+1
1 x PCI-E x16 (Gen3 x8 Link), FH, HL
1 x PCI-E x8 (Gen3 x8 Link), FH, HL
1 x OCP Mezzanine (Gen3 x8 link)*

* Support for MCB-10G-2S (Dual Port 10 Gigabit/s Ethernet card) (optional)
Storage
SATA Controller :
Intel® C612
9 x SATA3 6Gb/s ports (8 by 2 mini-SAS Connector)
1 x M.2 connector
Intel® Rapid Storage Technology Enterprise(RSTe) (For Windows Only)
(Support Software RAID 0, 1, 5, 10 )
SAS Controller :
ASUS PIKE II 3008 8-port SAS HBA card(Optional)
ASUS PIKE II 3108 8-port SAS HW RAID card(Optional)
12G SAS Support











HDD Bays
4 x Hot-swap 3.5" Storage Bays
1 x M.2 (NGFF 2242)
Auxiliary Storage FDD/CD/DVD
1 x Slim-type Optical Drive Bay
Options: No Device / DVD-RW
Networking
2 x Intel® I210AT + 1 x Mgmt LAN
Graphic
Aspeed AST2400 with 32MB VRAM
Front I/O Ports
2 x USB 2.0 ports
1 x VGA port
Rear I/O Ports
2 x RJ-45 ports
1 x RJ-45 Mgmt LAN port
2 x USB 3.0 ports
1 x VGA port
1 x PS/2 KB/MS port
Switch/LED
Front Switch/LED:
1 x Power switch/LED
1 x Location switch/LED
1 x Reset switch
1 x HDD Access LED
1 x Message LED
LAN 1-4 LED
* LAN3-4 for Mezzazine card use
Rear Switch/LED:
1 x Q-Code/Port 80 LED
1 x Power switch/LED
1 x Location LED
1 x Message LED
OS Support
Windows® Server 2012 R2
Windows® Server 2012
Windows® Server 2008 R2
RedHat® Enterprise Linux
SuSE® Linux Enterprise Server
CentOS
Ubuntu
VMware
Citrix XenServer
*(Subject to change without any notice)
Management Solution
ASWM Enterprise
On-Board ASMB8-iKVM for KVM-over-IP
Regulatory Compliance
BSMI, CE, C-Tick, FCC(Class A)
Dimensions
615mm x 444mm x 44mm
24.21" x 17.48" x 1.73"









Form Factor
1U
Weight
Net Weight: 10.93 Kg
Gross Weight: 17.18 Kg
Power Supply
1+1 Redundant 770W 80 PLUS Platinum Power Supply
Rating: 100-127Vac/200-240Vac,10A/5A ,50-60Hz, Class I
Environment
Operation temperature: 10℃ ~ 35℃
Non operation temperature: -40℃ ~ 70℃
Non operation humidity: 20% ~ 90% ( Non condensing)
Products certified by the Federal Communications Commission and Industry Canada will be distributed in the United States
and Canada. Please visit the ASUS USA and ASUS Canada websites for information about locally available products.
All specifications are subject to change without notice. Please check with your supplier for exact offers. Products may not be
available in all markets.
Specifications and features vary by model, and all images are illustrative. Please refer specification pages for full details.
PCB color and bundled software versions are subject to change without notice.
Brand and product names mentioned are trademarks of their respective companies.

* Your assessment is very important for improving the work of artificial intelligence, which forms the content of this project