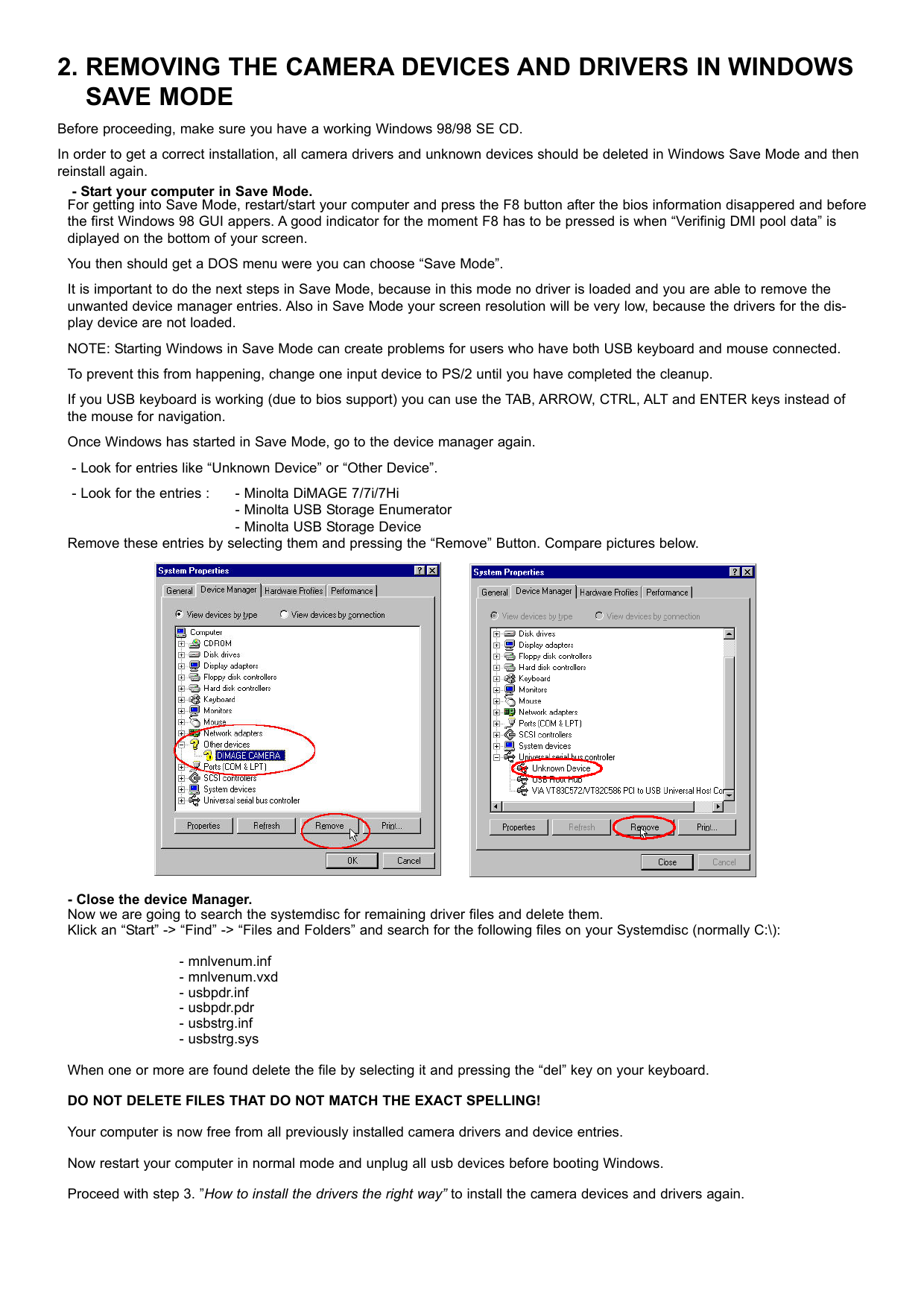 2. REMOVING THE CAMERA DEVICES AND DRIVERS IN WINDOWS
SAVE MODE
Before proceeding, make sure you have a working Windows 98/98 SE CD.
In order to get a correct installation, all camera drivers and unknown devices should be deleted in Windows Save Mode and then
reinstall again.
- Start your computer in Save Mode.
For getting into Save Mode, restart/start your computer and press the F8 button after the bios information disappered and before
the first Windows 98 GUI appers. A good indicator for the moment F8 has to be pressed is when "Verifinig DMI pool data" is
diplayed on the bottom of your screen.
You then should get a DOS menu were you can choose "Save Mode".
It is important to do the next steps in Save Mode, because in this mode no driver is loaded and you are able to remove the
unwanted device manager entries. Also in Save Mode your screen resolution will be very low, because the drivers for the display device are not loaded.
NOTE: Starting Windows in Save Mode can create problems for users who have both USB keyboard and mouse connected.
To prevent this from happening, change one input device to PS/2 until you have completed the cleanup.
If you USB keyboard is working (due to bios support) you can use the TAB, ARROW, CTRL, ALT and ENTER keys instead of
the mouse for navigation.
Once Windows has started in Save Mode, go to the device manager again.
- Look for entries like "Unknown Device" or "Other Device".
- Look for the entries :
- Minolta DiMAGE 7/7i/7Hi
- Minolta USB Storage Enumerator
- Minolta USB Storage Device
Remove these entries by selecting them and pressing the "Remove" Button. Compare pictures below.
- Close the device Manager.
Now we are going to search the systemdisc for remaining driver files and delete them.
Klick an "Start" -> "Find" -> "Files and Folders" and search for the following files on your Systemdisc (normally C:\):
-
mnlvenum.inf
mnlvenum.vxd
usbpdr.inf
usbpdr.pdr
usbstrg.inf
usbstrg.sys
When one or more are found delete the file by selecting it and pressing the "del" key on your keyboard.
DO NOT DELETE FILES THAT DO NOT MATCH THE EXACT SPELLING!
Your computer is now free from all previously installed camera drivers and device entries.
Now restart your computer in normal mode and unplug all usb devices before booting Windows.
Proceed with step 3. "How to install the drivers the right way" to install the camera devices and drivers again.

* Your assessment is very important for improving the work of artificial intelligence, which forms the content of this project