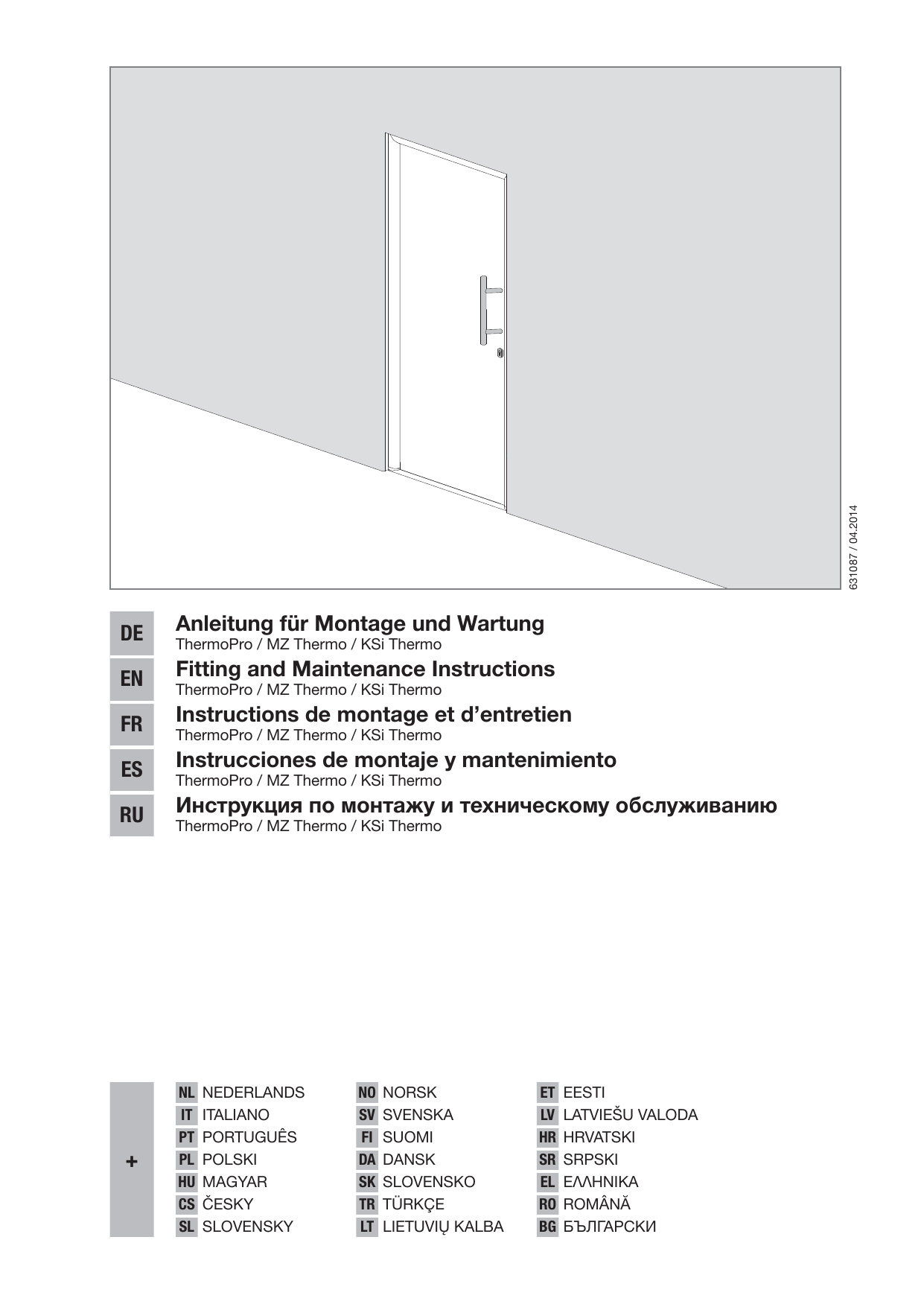 631087 / 04.2014
DE
Anleitung für Montage und Wartung
EN
Fitting and Maintenance Instructions
FR
Instructions de montage et d'entretien
ES
Instrucciones de montaje y mantenimiento
RU
Инструкция по монтажу и техническому обслуживанию
+
ThermoPro / MZ Thermo / KSi Thermo
ThermoPro / MZ Thermo / KSi Thermo
ThermoPro / MZ Thermo / KSi Thermo
ThermoPro / MZ Thermo / KSi Thermo
ThermoPro / MZ Thermo / KSi Thermo
NL
IT
PT
PL
HU
CS
SL
NEDERLANDS
ITALIANO
PORTUGUÊS
POLSKI
MAGYAR
ČESKY
SLOVENSKY
NO
SV
FI
DA
SK
TR
LT
NORSK
SVENSKA
SUOMI
DANSK
SLOVENSKO
TÜRKÇE
LIETUVIŲ KALBA
ET
LV
HR
SR
EL
RO
BG
EESTI
LATVIEŠU VALODA
HRVATSKI
SRPSKI
EΛΛHNIKA
ROMÂNĂ
БЪЛГАРСКИ
THERMOPRO / MZ THERMO / KSI THERMO
3 - 19
F
39 - 40
20 - 21
F
41 - 42
22 - 24
F
43
25
F
44
22 - 24
45
25
46
22 - 24
47
26 - 29
48
30 - 34
49
35
50
RC2
25 m
m
36 - 37
Unternehmererklärung
51
50 m
m
2
38
631087 / 04.2014
THERMOPRO / MZ THERMO / KSI THERMO
DE wichtiger Hinweis zur Vermeidung von
Sachschäden
EN Important note for avoiding damage
to property
FR Remarques importantes pour éviter
les dommages matériels
RU Важное замечание по
предотвращению травм и
материального ущерба
EN Drilling
FR Perçage
RU Сверление
DE Verschraubung handfest anziehen
DE zulässige Anordnung oder Tätigkeit
EN Tighten the screws by hand
EN Permissible arrangement or activity
FR Serrage des vis à la main
FR Disposition ou activité autorisée
вручную резьбовое
RU Затянуть
соединение
RU Допустимая планировка или
DE Verschraubung fest anziehen
DE unzulässige Anordnung oder Tätigkeit
EN Tighten the screws firmly
EN Non-permissible arrangement or
FR Serrage des vis à fond
FR Disposition ou activité interdite
затянуть резьбовое
RU Крепко
соединение
RU Недопустимая планировка или
DE regelkonformes Dichtmittel
деятельность
activity
деятельность
+
DE Bohren
DE Option
EN option
FR option
EN sealant conform to the rules
FR moyen d'étanchéite respectant la loi
RU соответствующее предписаниям
уплотняющее средство
RU Опция
DE prüfen
DE dampfdiffusionsdicht
EN Inspect
EN vapour diffusion proof
FR Vérification
FR Imperméable à la diffusion de vapeur
RU Проверить
RU Паронепроницаемое исполнение
DE Wartung jährlich
DE dampfdiffusionsoffen
EN Annual maintenance
EN open to vapour diffusion
FR Maintenance annuelle
FR Perméable à la diffusion de vapeur
техническое
RU ежегодное
обслуживание
RU Паропроницаемое исполнение
DE Bauteil oder Verpackung entfernen
DE Haus Innenbereich
EN House interior
FR Intérieur
RU Внутреннее пространство здания
DE Haus Aussenbereich
EN House exterior
FR Extérieur
und entsorgen
EN Remove and dispose of component or
packaging
FR Retrait de l'élément de construction
ou du conditionnement et élimination
и утилизировать деталь или
RU Убрать
упаковку
DE nach Innen öffnend
EN opening inwards
FR ouverture à l'intérieur
RU с открыванием наружу
RU Внешнее пространство здания
DE nach Außen öffnend
DE Tauwasserbildung
EN Condensation
FR Formation de condensation
RU образование конденсата
631087 / 04.2014
EN opening outwards
FR ouverture à l'extérieur
RU с открыванием во внутрь
3
THERMOPRO / MZ THERMO / KSI THERMO
Pflegehinweise für Griffe und Applikationen aus
Edelstahl
DE DEUTSCH
Zu dieser Anleitung
Diese Anleitung gliedert sich in einen Text- und einen
Bildteil. Den Bildteil finden Sie im Anschluss an den
Textteil.
Lesen und beachten Sie diese Anleitung. In ihr stehen
wichtige Informationen zum Produkt. Beachten Sie
insbesondere alle Sicherheits- und Warnhinweise.
Bewahren Sie diese Anleitung sorgfältig auf!
Verwendete Warnhinweise
ACHTUNG
Kennzeichnet eine Gefahr, die zur Beschädigung oder
Zerstörung des Produkts führen kann.
Sie haben ein hochwertiges Produkt aus Edelstahl
erworben. Schützen Sie es durch regelmäßige Pflege! Nur
so beugen Sie unerwünschten Korrosionserscheinungen
vor, die durch Umwelteinflüsse und nutzungsbedingte
Verunreinigungen verursacht werden. FLUGROST ist daher
auch kein Reklamationsgrund! Zur Pflege des Edelstahls
empfehlen wir unser Pflegemittel aus unserem
Verkaufsprogramm. Sie können dies über Ihren
Fachhändler beziehen. Alternativ stehen Ihnen
handelsübliche Pflegemittel für Edelstahl zur Verfügung.
Verwenden Sie aber keine aggressiven, ätzenden oder
schmirgelnde Stoffe wie zum Beispiel Säuren oder
Stahlbürsten, die die Oberfläche des Edelstahls oder
angrenzender Bauteile beschädigen. Beachten Sie daher
beim Pflegemittel auch stets die Herstellerhinweise!
Halten Sie sich beim Einbau der Tür an den "RAL-Leitfaden
zur Montage:2010-03".
▶
Ermittlung der Türposition
▶
Die Türposition in Abhängigkeit der örtlichen
Befestigungsmöglichkeiten, der Wandart und der
erforderlichen Rand- und Achsabstände für die Dübel
festlegen. Bei monolithischem oder einschaligem
Mauerwerk die Tür möglichst weit zur Gebäudeinnenseite
positionieren. Isothermenverlauf darf nicht gestört bzw.
unterbrochen werden. Die Tür ist so zu positionieren, dass
Wärmebrücken im Wandanschluss vermieden werden.
Baukörperanschluss
1.
2.
3.
4.
Raum zwischen Türrahmen und Mauerwerk mit
Isoliermaterial auffüllen (z.B. Glas- oder Steinwolle).
Rundschnur eindrücken.
Fuge innen dampfdiffusionsdicht versiegeln.
Fuge außen mit vorkomprimierten Bändern
dampfdiffusionsoffen herstellen.
Oberflächenausführung
Die Türoberfläche ist mit einer Nasslackierung bzw.
Folienbeschichtung versehen. Diese Beschichtung verleiht
der Türoberfläche folgende Eigenschaften:
ō Korrosionsschutz
ō Farbechtheit
ō Schutz vor Umgebungseinflüssen
Oberfläche überlackieren (Nachlackieren nicht
folienbeschichteter Oberflächen):
1. Oberfläche anschleifen.
2. Angeschliffene Fläche gründlich reinigen.
3. Direkt 2K-PUR-Decklackierung oder
2K-EPOXY-Haftgrund aufbringen und mit
handelsüblichen Kunstharz-Lacken streichen.
ACHTUNG
Ungeeignetes Pflegemittel
Die Oberfläche der Tür oder angrenzender Bauteile
können durch aggressive, ätzende oder schmirgelnde
Stoffe wie zum Beispiel Säuren oder durch Stahlbürsten
beschädigt werden.
▶ Verwenden Sie zur Pflege der Haustür nur handelsübliche Pflegemittel und weiche Lappen oder Tücher.
▶ Beachten sie beim Pflegemittel auch stets die
Herstellerhinweise.
4
Bewegliche Beschlagsteile einmal im Jahr ölen oder
fetten. Nur säurefreies Öl oder Vaseline verwenden.
Unter bestimmten klimatischen Bedingungen kann
Tauwasserbildung am Element auftreten.
EN ENGLISH
About These Instructions
These instructions are divided into a text section and an
illustrated section. The illustrated section can be found
after the text section.
Read and follow these instructions carefully. They contain
important information concerning the product. Please pay
particular attention to all safety and warning notices.
Keep these instructions in a safe place for future
reference.
Warnings used
ATTENTION
Indicates a danger that can lead to damage or
destruction of the product.
Determination of Door Position
Determine the door position depending on the on-site
fastening options, type of wall and the required edge and
centre line spacing for the plug. If possible, position the
door so that it is within the insulation layer of the wall.
With monolithic or single-shell masonry, position the door
as close as possible towards the building interior side. Do
not disturb or interrupt the isothermal lines. Position to
door so that there are no thermal bridges in the wall
connection.
Connection to Building Structure
1.
2.
3.
4.
Fill the space between the door frame and masonry
with insulation material (such as fibreglass or
mineral wool).
Push in the round cord.
Seal the groove on the interior so that it is impervious
to vapour diffusion.
Make the exterior groove open to vapour diffusion with
pre-compacted strips.
631087 / 04.2014
THERMOPRO / MZ THERMO / KSI THERMO
Surface
Consignes de sécurité utilisées
The door surface is furnished with a wet paint coating or a
foil-coating. This coating provides the door surface with
the following properties:
ō Corrosion protection
ō Colour fastness
ō Protection from environmental influences
Varnishing the surface (Repainting non-foil-coated
surfaces):
1. Sand the surface.
2. Clean the sanded surface thoroughly.
3. Apply 2K-PUR paint finish or 2K-EPOXY etch primer
directly and paint with conventional synthetic resin
paints.
ATTENTION
Unsuitable care products
The door surface and adjacent components can be
damaged by aggressive, corrosive or abrasive materials
such as acids or steel brushes.
▶ Only use conventional care products, as well as soft
cloths or towels, to maintain the entrance door.
▶ Always take note of the manufacturer information for
the care products.
Care information for stainless steel handles and
embellishments
You have purchased a high-grade stainless steel product.
Protect it by cleaning and maintaining it regularly. This is
the only way to prevent corrosion caused by environmental
influences and contamination related to use. Surface rust
is thus not a reason for complaint! For the care of the
stainless steel we recommend our special care product,
which you can purchase from your specialised retailer.
Alternately, you can use commercially available stainless
steel care products. Please do not use aggressive,
corrosive or abrasive materials such as acids or steel
brushes, which can damage the surface of the stainless
steel or adjacent components. For that reason, always take
note of the manufacturer information of the care products.
▶
▶
FR
Oil or lubricate movable fitting parts once a year.
Only use acid-free oil or vaseline.
Under certain climatic conditions condensation may
appear on the element.
FRANÇAIS
A propos de ce mode d'emploi
Cette notice se compose d'une partie texte et d'une partie
illustrée. Vous trouverez cette dernière à la fin de la partie
texte.
Lisez attentivement et suivez les présentes instructions.
Elles contiennent des informations importantes concernant
le produit. Veuillez en particulier respecter toutes les
consignes de sécurité et de danger.
Conservez précieusement les présentes instructions!
ATTENTION
Désigne un danger susceptible d'endommager ou de
détruire le produit.
Détermination de la position de la porte
La position de la porte doit être déterminée en fonction des
possibilités de fixation locales, du type de mur et des
écarts nécessaires par rapport aux bords des chevilles et
des axes de celles-ci. Positionnez la porte, dans la mesure
du possible, de telle manière qu'elle affleure le mur au
niveau de l'isolation. En cas de maçonnerie monolithique
ou à simple paroi, positionnez la porte le plus proche
possible de la paroi intérieure du bâtiment. Le processus
isotherme ne doit être ni altéré ni interrompu. La porte doit
être positionnée de sorte à éviter tout pont thermique dans
les raccords muraux.
Fixation à la construction
1.
2.
3.
4.
L'espace entre le cadre de porte et la maçonnerie doit
être rempli de matériaux isolants (par exemple laine de
verre ou laine de roche).
Compression de la ganse.
Scellage du joint intérieur pour éviter la diffusion
de vapeur.
Réalisez le joint extérieur avec des bandes
précomprimées pour permettre la diffusion de vapeur.
Exécution de surface
La surface de porte est munie d'un revêtement en vernis
trempé ou d'un revêtement de feuil. Ce revêtement confère
les propriétés suivantes à la surface de la porte:
ō Protection anticorrosion
ō Résistance à la décoloration
ō Protection contre les influences environnementales
Laquer la surface (Nouveau vernissage sur des
surfaces à revêtement en vernis trempé):
1. Poncer la surface.
2. Nettoyer minutieusement la surface poncée.
3. Appliquez directement une laque de finition à 2
composants PUR ou une couche passivante à 2
composants EPOXI – puis une laque synthétique
du commerce.
ATTENTION
Produits d'entretien inappropriés
La surface de la porte ou les éléments de constructions
voisins peuvent être endommagés par des brosses
métalliques ou des substances agressives, caustiques ou
décapantes telles que des acides.
▶ Pour l'entretien de votre porte d'entrée, utilisez
uniquement des produits d'entretien disponibles
dans le commerce ainsi que des chiffons doux ou
des tissus.
▶ Pour chaque produit d'entretien, veuillez toujours
vous conformer aux instructions du fabricant.
Conseils d'entretien pour poignées et parements
en acier inoxydable
Vous venez de faire l'acquisition d'un produit de grande
qualité en acier inoxydable. Protégez-le par un entretien
régulier ! De cette manière, vous préviendrez l'apparition
631087 / 04.2014
5
THERMOPRO / MZ THERMO / KSI THERMO
de traces de corrosion non souhaitées dues aux
intempéries et aux impuretés liées à son utilisation. La
présence d'une fine couche de rouille ne peut donc
constituer un motif de réclamation ! Pour l'entretien de
l'acier inoxydable, nous recommandons le produit
d'entretien issu de notre gamme de vente. Vous pouvez
l'acquérir auprès de votre distributeur. A titre alternatif,
vous pouvez également utiliser un produit d'entretien
courant pour acier inoxydable. N'utilisez jamais de produits
corrosifs, mordants ou décapants, comme des acides ou
des brosses en acier, qui endommageraient la surface de
l'acier inoxydable ou les composants attenants. Pour
chaque produit d'entretien, veuillez toujours vous
conformer aux indications du fabricant !
▶
▶
ES
Graissez ou huilez une fois par an les composants
mobiles de la ferrure. Utilisez exclusivement des huiles
désacidifiées ou de la vaseline.
Sous certaines conditions climatiques, de l'eau de
condensation peut se former sur l'élément.
ESPAÑOL
Acerca de estas instrucciones
Estas instrucciones están divididas en una parte de texto y
una parte de ilustraciones. La parte de las ilustraciones se
encuentra a continuación de la parte de texto.
Lea y tenga en cuenta estas instrucciones. Contienen
informaciones importantes sobre el producto. Tenga en
cuenta en particular todas las indicaciones de seguridad y
de advertencia.
Ejecución de la superficie
La superficie de la puerta está provista de una imprimación
de laca húmeda. Esta imprimación le proporciona a la
superficie de la puerta las siguientes características:
ō Protección anticorrosiva
ō Conservación del color
ō Protección contra influencias ambientales
Sobrelacar la superficie (Lacado posterior de
superficies sin recubrimiento de lámina):
1. Lije la superficie.
2. Limpie cuidadosamente la superficie lijada.
3. Aplique directamente laca de fondo 2K-PUR o barniz
de fijación 2K-EPOXY, y cúbrala con lacas de resina
sintética convencionales.
ATENCIÓN
Productos de cuidado inapropiados
La superficie de la puerta o de componentes colindantes
puede ser dañada por sustancias agresivas, cáusticas o
esmerilantes, tal como ácidos, o por cepillos de acero.
▶ Para el cuidado de la puerta de entrada, utilice
únicamente productos de cuidado convencionales y
paños o toallas suaves.
▶ Tenga en cuenta siempre las indicaciones del
fabricante de las sustancias de cuidado.
Indicaciones para el cuidado de tiradores y
aplicaciones de acero inoxidable
Guarde estas instrucciones cuidadosamente.
Indicaciones de advertencia utilizadas
ATENCIÓN
Indica un peligro que puede dañar o destruir el
producto.
Determinación de la posición de puerta
Determine la posición de puerta en función de las
posibilidades de fijación locales, del tipo de pared y de las
distancias necesarias de los tacos al borde y al eje. Si es
posible, posicione la puerta de manera que se encuentre
en la parte aislante de la pared. En caso de mampostería
monolítica o de una capa, posicione la puerta lo más cerca
del lado interior del edificio posible. No debe disturbarse o
interrumpirse el recorrido isotérmico. La puerta debe
posicionarse de tal manera que se eviten puentes térmicos
en la conexión a la pared.
Ha adquirido un producto de acero inoxidable de alta
calidad. Proteja el producto cuidándolo regularmente. Sólo
así podrá prevenir los efectos indeseables de corrosión
causados por las influencias ambientales y por la suciedad
debido al uso. Por ello, la presencia de ÓXIDO
SUPERFICIAL no constituye motivo de reclamación. Puede
utilizar productos de cuidado convencionales para acero
inoxidable. No utilice productos agresivos, cáusticos o
para lijar, como por ejemplo ácidos o cepillos de acero que
dañan la superficie del acero inoxidable o de los
componentes colindantes. Tenga en cuenta siempre las
indicaciones del fabricante de los productos de cuidado
conservación.
▶
▶
Lubrique o engrase las partes móviles de los herrajes
una vez al año. Emplee únicamente aceite libre de
ácidos o vaselina.
Bajo determinadas condiciones climáticas puede
crearse agua de deshielo en el elemento.
Conexión a la obra
1.
2.
3.
4.
6
Rellene el espacio entre el marco de la puerta y la
mampostería con material de aislamiento
(p. ej. fibras de vidrio o lana de escoria).
Introduzca el cordón redondo de aislamiento.
Selle la ranura interior de forma estanca contra
la difusión de vapor.
Prepare la ranura desde el exterior con bandas
precomprimidas de forma permeable a la difusión
de vapor.
RU РУССКИЙ
Введение
Данное руководство подразделяется на текстовую и на
иллюстративную части. Иллюстративная часть
находится сразу после текстовой части.
Внимательно прочитайте настоящее руководство и
соблюдайте его указания. В руководстве содержатся
важные сведения об изделии. Особое внимание
обратите на все требования по безопасности и
способы предупреждения об опасности.
631087 / 04.2014
THERMOPRO / MZ THERMO / KSI THERMO
Бережно храните это руководство в надежном
месте!
Используемые способы предупреждения об
опасности
ВНИМАНИЕ
Обозначает опасность, которая может привести к
повреждению или поломке изделия.
Определение местоположения двери
Необходимо определить местоположение двери в
зависимости от таких факторов, как местные
возможности крепления, материал стены, необходимые
расстояния от кромки и межосевые расстояния для
дюбелей. По возможности следует располагать дверь
таким образом, чтобы между стеной и дверью имелся
изоляционный слой. При наличии монолитной или
однослойной кирпичной кладки следует размещать
дверь как можно дальше к внутренней стороне здания.
Следует позаботиться о том, чтобы изотермические
процессы не были потревожены или прерваны
полностью. Дверь следует расположить таким
образом, чтобы избежать возникновения тепловых
мостиков между дверью и стеной.
Соединение со строительной конструкцией
1.
2.
3.
4.
Заполните пространство между рамой двери и
кирпичной стеной изоляционным материалом
(например, стекловолокном или минеральной
ватой).
Вдавите круглый шнур.
Герметично заделайте внутренний шов, чтобы
он был паронепроницаемым.
Шов снаружи сделайте паропроницаемым
с помощью предварительно сжатых
уплотнительных лент.
ВНИМАНИЕ
Неподходящее средство для ухода
Поверхность дверей или соседних деталей может
получить повреждение по причине воздействия
агрессивных, едких или абразивных веществ,
например, таких, как кислоты или стальные щетки.
▶ Для ухода за входной дверью используйте только
обычные средства для ухода и мягкие тряпки или
салфетки.
▶ При использовании средств для ухода всегда
учитывайте указания фирмы-изготовителя.
Рекомендации по уходу за ручками и
накладками из нержавеющей стали
Вы приобрели качественный продукт из нержавеющей
стали. Ухаживайте за ним регулярно! Только так
удастся избежать нежелательного появления коррозии,
вызванной воздействием окружающей среды или
загрязнениями, полученными в процессе эксплуатации.
Появление РЖАВЧИНЫ не является основанием для
рекламаций! Для ухода за деталями из нержавеющей
стали мы рекомендуем специальное средство из нашей
программы продаж. Вы можете приобрести его у
Вашего регионального дилера или использовать
обычное средство по уходу за нержавеющей сталью.
Не используйте агрессивные, едкие и абразивные
средства, например, кислоты или щетки со стальной
щетиной, которые могут повредить поверхность
нержавеющей стали или прилегающих деталей. При
использовании средств для ухода всегда соблюдайте
указания фирмы-изготовителя.
▶
Исполнение поверхности
Поверхность двери окрашена мокрым способом или
защищена пленочным покрытием. С помощью данного
вида покрытия поверхность двери приобретает
следующие свойства:
ō Антикоррозионная защита
ō Стойкость цвета
ō Защита от воздействий окружающей среды
Покрытие поверхности лаком (Повторное покрытие
лаком поверхности без пленочного покрытия):
1. Отшлифовать поверхность.
2. Тщательно зачистить отшлифованные места.
3. Нанести на поверхность лак 2K-PUR или грунтовку
2 K-EPOXY, после чего покрыть поверхность
обычным лаком на основе синтетического
полимера.
▶
NL
Подвижные детали направляющей следует
смазывать один раз в год. С этой целью
использовать только масло, не содержащее
кислоту, или вазелин.
При определенных климатических условиях на
поверхности элемента возможно выпадение
конденсата.
NEDERLANDS
Bij deze handleiding
Deze handleiding is samengesteld uit een tekstdeel en
illustraties. De illustraties vindt u aansluitend aan het
tekstdeel.
Lees deze handleiding en neem ze in acht. U vindt er
belangrijke informatie over het product. Gelieve in het
bijzonder alle veiligheids- en waarschuwingsverwijzingen te
respecteren.
Bewaar deze handleiding zorgvuldig!
Gebruikte waarschuwingen
OPGELET
Kentekent een gevaar dat kan leiden tot beschadiging of
vernietiging van het product.
Bepaling van de deurpositie
Bepaal de positie van de deur, rekening houdend met de
plaatselijke bevestigingsmogelijkheden, het wandtype en
de vereiste afstanden tot de rand en de as voor de
pluggen. Plaats de deur indien mogelijk zo dat ze zich in
631087 / 04.2014
7
THERMOPRO / MZ THERMO / KSI THERMO
het isolatieveld van de muur bevindt. Plaats ze bij
monolithisch of eenschalig metselwerk zoveel mogelijk
naar de binnenkant van het gebouw. Het
isothermenverloop mag niet gestoord of onderbroken
worden. De deur dient zodanig te worden gepositioneerd,
dat warmtebruggen in de wandaansluiting worden
vermeden.
Aansluiting op de bouwconstructie
1.
2.
3.
4.
Vul de ruimte tussen de deuromraming en het
metselwerk met isolatiemateriaal op
(bv. glas- of steenwol).
Druk het ronde trekkoord in.
Verzegel de binnenvoeg tegen dampdiffusie.
Maak een buitenvoeg met compriband geschikt voor
dampdiffusie.
Uitvoering van het oppervlak
Het deuroppervlak is natgelakt. Deze laklaag verleent aan
het deuroppervlak de volgende eigenschappen:
ō Corrosiebescherming
ō Kleurvastheid
ō Bescherming tegen omgevingsinvloeden
Oppervlak lakken (Bijlakken van oppervlakken zonder
filmbekleding):
1. Schuur het oppervlak.
2. Reinig het geschuurde oppervlak grondig.
3. Breng rechtstreeks 2K-PUR-deklak of 2K-EPOXYprimer aan en overschilder met kunstharslak,
verkrijgbaar in de handel.
OPGELET
Ongeschikt onderhoudsmiddel
Het oppervlak van de deur of van aangrenzende
onderdelen kan door agressieve, bijtende of schurende
stoffen zoals zuren of staalborstels worden beschadigd.
▶ Gebruik voor het onderhoud van de huisdeur enkel in
de handel verkrijgbare reinigingsmiddelen en een
zachte lap of doek.
▶ Houd bij reinigingsmiddelen ook steeds rekening met
de opmerkingen van de fabrikant.
▶
▶
Beweegbare onderdelen van het beslag jaarlijks oliën.
Gebruik enkel zuurvrije olie of vaseline.
Bij bepaalde klimaattechnische omstandigheden kan
er sprake zijn van dooiwater op het element.
Rilevamento della posizione porta
Stabilire la posizione della porta in base alle opzioni di
fissaggio locali, al tipo di parete e alla distanza necessaria
dal bordo e dall'asse per il tassello ad espansione. Se
possibile posizionare la porta in modo che si trovi al livello
dell'isolamento della parete. In caso di muratura monolitica
o ad uno strato posizionare la porta il più lontano possibile
dal lato interno dell'edificio. Non influenzare od
interrompere l'andamento delle isoterme. Posizionare la
porta in modo da evitare ponti di calore nel raccordo
parete.
Collegamento con la struttura dell'edificio
1.
2.
3.
4.
Esecuzione superficie
La superficie della porta è preverniciata con vernice a
spruzzo che le conferisce le seguenti caratteristiche:
ō Protezione anticorrosione
ō Resistenza del colore
ō Protezione dagli agenti esterni
Riverniciare la superficie (Riverniciare superfici non
rivestite in laminato plastico):
1. Affilare la superficie.
2. Pulire a fondo la superficie affilata.
3. Applicare direttamente la vernice di finitura 2K-PUR o
un fondo 2K EPOXY e passare una mano di comune
vernice in resina sintetica.
ATTENZIONE
Detergenti non adeguati
La superficie del portone o gli elementi costruttivi
circostanti possono venire danneggiati da sostanze
aggressive, corrosive o abrasive come per esempio gli
acidi o mediante spazzole d'acciaio.
▶ Per la cura della porta d'ingresso utilizzare
esclusivamente i detergenti in commercio e panni o
pezzi di stoffa morbidi.
▶ Nell'uso del detergente osservare sempre le istruzioni
del produttore.
▶
IT
ITALIANO
Su queste istruzioni
Queste istruzioni si suddividono in testo e parte illustrata.
La parte illustrata si trova al termine del testo.
Legga attentamente le seguenti istruzioni, che Le
forniranno importanti informazioni sul prodotto. Osservi in
particolar modo le indicazioni di sicurezza e le avvertenze.
La preghiamo di conservare queste istruzioni con cura!
Avvertenze utilizzate
ATTENZIONE
Indica il rischio di danneggiamento o distruzione del
prodotto.
8
Riempire lo spazio fra il telaio porta e la muratura con
del materiale isolante (p. es. lana di vetro o lana
minerale).
Spingere la guarnizione circolare all'interno.
Sigillare il giunto interno a tenuta di vapore.
Creare un giunto esterno con cerniere precompresse a
diffusione di vapore.
▶
PT
Lubrificare o ingrassare gli elementi costruttivi mobili
una volta all'anno. Utilizzare esclusivamente olio privo
di acidi o vaselina.
In determinate condizioni climatiche sull'elemento può
formarsi acqua di condensa.
PORTUGUES
Relativamente a estas instruções
Estas instruções estão estruturadas numa parte escrita e
numa parte ilustrada. A parte ilustrada encontra-se a
seguir à parte escrita.
Leia e respeite estas instruções. As mesmas contêm
informações importantes acerca do produto. Cumpra
sobretudo as instruções de segurança e de aviso.
Guarde cuidadosamente estas instruções!
631087 / 04.2014
THERMOPRO / MZ THERMO / KSI THERMO
Instruções de aviso utilizadas
ATENÇÃO
Assinala um perigo, que poderá levar à danificação ou
destruição do produto.
Apuramento da posição da porta
Definir a posição da porta, de acordo com as
possibilidades de fixação locais, o tipo de parede e as
distâncias entre eixos e rebordos necessárias para as
buchas. Posicionar a porta de forma a que fique ao nível
do isolamento da parede. Aquando de alvenaria monolítica
ou revestida, posicionar a porta o mais afastado possível
do lado interior do edifício. O processo térmico de
isolamento não deve ser impedido ou cancelado. A porta
deve ser posicionada de tal forma que as pontes de
aquecimento na ligação à parede possam ser evitadas.
Ligação ao corpo de construção
1.
2.
3.
4.
Preencher o espaço entre o aro da porta e a alvenaria
com material isolante (por exemplo, lã de vidro ou lã
mineral).
Introduzir o cordão circular.
Preencher o interior da junta, de forma a que fique
resistente à difusão de vapor.
Executar o exterior da junta com bandas
pré-comprimidas, de forma a que fiquem abertas
à difusão de vapor.
Tipo de superfície
A superfície da porta está provida de uma camada húmida
de verniz. Esta camada confere à superfície da porta as
seguintes características:
ō Protecção contra a corrosão
ō Solidez da cor
ō Protecção contra as influências atmosféricas
Aplicar um novo verniz na superfície (Lacagem
posterior de superfícies revestivas com membranas):
1. Lixar a superfície.
2. Limpar cuidadosamente a superfície lixada.
3. Aplicar directamente uma lacagem de cobertura
2K-PUR ou aderência 2K-EPOXY e aplicar um verniz
corrente de resina sintética.
ATENÇÃO
Produto de conservação inadequado
A superfície da porta ou os elementos de construção
adjacentes poderão ficar danificados devido a
substâncias agressivas, corrosivas ou esmeriladas, como
por exemplo ácidos ou escovas de aço.
▶ Para a conservação da porta de entrada utilize
somente produtos de conservação correntes e
trapos ou panos macios.
▶ Quanto ao produto de conservação, respeite sempre
as instruções do fabricante.
▶
▶
As peças móveis da ferragem deverão ser oleadas ou
lubrificadas uma vez por ano. Utilizar somente óleo
sem ácidos ou vaselina.
Sob determinadas condições climáticas é possível
verificar-se a formação de água resultante da
descongelação no elemento.
631087 / 04.2014
PL
POLSKI
Informacje dotyczące niniejszej instrukcji
Niniejsza instrukcja dzieli się na część opisową i
ilustrowaną. Część ilustrowana znajduje się bezpośrednio
po części opisowej.
Prosimy o przeczytanie i stosowanie się do niniejszej
instrukcji. Zawiera ona ważne informacje na temat
produktu. Prosimy stosować się do wszystkich ostrzeżeń i
wskazówek dotyczących bezpieczeństwa.
Prosimy o staranne przechowywanie niniejszej
instrukcji!
Stosowane wskazówki ostrzegawcze
UWAGA
Oznacza niebezpieczeństwo, które może spowodować
uszkodzenie lub zniszczenie wyrobu.
Ustalenie położenia drzwi
Miejsce montażu drzwi należy ustalić biorąc pod uwagę
istniejące możliwości mocowania, rodzaj ściany i
wymagane odstępy między krawędziami i osiami kołków
rozporowych. Drzwi należy w miarę możliwości osadzać w
jednej płaszczyźnie z warstwą izolacyjną ściany.
W ścianach murowanych monolitycznych lub
jednowarstwowych umieścić drzwi jak najbliżej wnętrza
budynku. Nie należy zakłócać ani przerywać przebiegu
izoterm. Drzwi ustawić w taki sposób, aby uniknąć
powstawania mostków cieplnych w miejscach mocowania
drzwi do ściany.
Połączenie z bryłą budynku
1.
2.
3.
4.
Przestrzeń między ramą drzwi a ścianą wypełnić
materiałem izolacyjnym (np. wełną szklaną lub
mineralną).
Wcisnąć okrągły sznur.
Szczelinę uszczelnić od wewnątrz materiałem
odpornym na przenikanie pary wodnej.
Od zewnątrz zabezpieczyć szczelinę
paroprzepuszczalną taśmą uszczelniającą.
Wykończenie powierzchni
Zewnętrzną powierzchnię drzwi tworzy warstwa lakieru,
który jest nanoszony techniką na mokro. Właściwości tej
powłoki zapewniają drzwiom:
ō ochronę przed korozją
ō trwałość koloru
ō ochronę przed wpływem warunków zewnętrznych
Lakierowanie powierzchni (Późniejsze lakierowanie
powierzchni niepowlekanych folią)
1. Powierzchnię przeszlifować.
2. Przeszlifowaną powierzchnią dokładnie oczyścić.
3. Stosować bezpośrednio 2-komponentowy lakier
kryjący poliuretanowy lub 2-komponentową
epoksydową farbę podkładową, a następnie nanieść
lakier na bazie żywicy syntetycznej ogólnie dostępny w
sprzedaży.
9
THERMOPRO / MZ THERMO / KSI THERMO
UWAGA
Nieodpowiednie środki do pielęgnacji
Agresywne i żrące środki lub materiały ścierne (np. kwasy
lub stalowe szczotki) mogą uszkodzić powierzchnię drzwi
lub przylegających elementów konstrukcyjnych.
▶ Do pielęgnacji drzwi zewnętrznych prosimy stosować
wyłącznie środki dostępne w sprzedaży i miękkie
ściereczki skórzane lub tekstylne.
▶ Należy zawsze stosować się do zaleceń producenta
środków pielęgnacyjnych.
Wskazówki dotyczące pielęgnacji uchwytów i
aplikacji ze stali nierdzewnej
Dokonaliście Państwo zakupu wysokiej jakości produktu
wykonanego ze stali nierdzewnej. Zaleca się regularne
wykonywanie konserwacji powierzchni! Tylko w ten sposób
można zapobiegać niepożądanym zjawiskom korozji,
spowodowanym przez oddziaływanie środowiska i
zanieczyszczenia związane z użytkowaniem. Dlatego RDZA
NALOTOWA na powierzchni nie stanowi podstawy
reklamacji! Do pielęgnacji i konserwacji stali nierdzewnej
polecamy nasz środek dostępny w sprzedaży u naszych
partnerów handlowych. Alternatywnie można skorzystać z
innych dostępnych na rynku środków do pielęgnacji i
konserwacji stali nierdzewnej. Nie należy stosować
agresywnych i żrących środków lub materiałów ściernych,
takich jak kwasy lub stalowe szczotki, które mogą
uszkodzić powierzchnię stali nierdzewnej lub
przylegających do niej elementów konstrukcyjnych.
Dlatego prosimy zawsze stosować się do zaleceń
producenta środków pielęgnacyjnych!
▶
▶
Ruchome części okuć należy oliwić lub smarować raz
w roku. Stosować tylko wazelinę lub olej bez dodatku
kwasów.
W określonych warunkach klimatycznych może dojść
do powstawania skroplin na elemencie.
elhelyezni, hogy a falcsatlakozásnál a hőhidak elkerülhetők
legyenek.
Csatlakozás a falazathoz
1.
2.
3.
4.
Felületi kialakítás
Az ajtófelület lakkozva van. Ez a bevonat a következő
tulajdonságokat nyújtja:
ō korrózióvédelem
ō színhűség
ō védelem a környezeti hatásokkal szemben
A felület átfestése (A nem fóliás bevonatú felületek
átfestése):
1. Csiszolja meg a felületet.
2. A megcsiszolt felületet alaposan tisztítsa meg.
3. Használjon közvetlenül 2-komponensű
PUR-fedőlakkot, vagy 2K-EPOXY-tapadóhíd
felhordása után, fesse át valamely, a kereskedelemben
kapható műgyanta lakkal.
VIGYÁZAT
Nem engedélyezett ápolószerek
Az ajtó felülete vagy az azzal határos alkatrészek az
agresszív, maró vagy dörzsölő hatású anyagok által, mint
pl. savak vagy drótkefe megsérülhetnek.
▶ A bejárati ajtó ápolásához csak kereskedelemben
kapható tisztítószert, és puha rongyot vagy kendőt
használjon.
▶ Mindig vegye figyelembe a tisztítószer gyártójának
utasításait is.
▶
HU MAGYAR
Néhány szó ezen utasításhoz
Ez az utasítás egy szöveges és egy ábrás részre tagolódik.
Az ábrás részt a szöveges rész végén találja.
Kérjük olvassa el, és tartsa be ezen utasítást. Fontos
információk vannak benne a termékről. Különösen figyeljen
a biztonsági és figyelmeztető utasításokra.
Gondosan őrizze meg ezt az utasítást!
Használt figyelmeztetések
VIGYÁZAT
Olyan veszély jelölése, ami a termék sérüléséhez vagy
tönkremeneteléhez vezethet.
Az ajtó helyzetének meghatározása
Határozza meg az ajtó pozícióját a helyi rögzítési
lehetőségek, a faltípus, és a tiplik számára szükséges
perem- és tengelytávolságok függvényében. Az ajtót
lehetőség szerint úgy pozícionálja, hogy az a fal
szigetelésének síkjában legyen. Monolit vagy egyhéjú
falazat esetén az ajtó az épület belső oldalától a lehető
legtávolabb legyen. Az izotermikus görbének nem szabad
a szerkezetből kilépnie ill. megszakadnia. Az ajtót úgy kell
10
A tok és a falazat közti teret töltse ki szigetelőanyaggal
(pl. üveg- vagy ásványgyapottal).
Nyomja a helyére a körzsinórt.
A belső fugát tömítse le párazáró tömítőanyaggal.
A külső fugát töltse ki páraáteresztő komprimált
szalaggal.
▶
A mozgó vasalatrészeket évente egyszer olajozza vagy
zsírozza meg. Csak savmentes OLAJAT vagy vazelint
használjon.
Meghatározott klimatikus feltételek teljesülése esetén
az ajtóelemen páralecsapódás léphet fel.
CS CESKY
K tomuto návodu
Tento návod je rozdělen na textovou část a obrazovou
část. Obrazovou část naleznete za textovou částí.
Přečtěte si prosím tento návod a dodržujte ho. Jsou v něm
uvedeny důležité informace o výrobku. Věnujte pozornost
zejména všem bezpečnostním a výstražným pokynům.
Tento návod pečlivě uložte!
Použité výstražné pokyny
POZOR
Označuje nebezpečí, které může vést k poškození nebo
zničení výrobku.
631087 / 04.2014
THERMOPRO / MZ THERMO / KSI THERMO
Zjištění polohy dveří
Uporabljena opozorila
Polohu dveří určete v závislosti na místních možnostech
upevnění, druhu stěny a potřebných vzdálenostech od
okrajů a os pro hmoždinky. Dveře umístěte pokud možno
tak, aby byly umístěny v izolační rovině stěny.
U monolitického nebo jednovrstvého zdiva umístěte dveře
co nejdál k vnitřní straně budovy. Průběh izoterm nesmí
být narušen nebo přerušen. Dveře je třeba umístit tak, aby
byly vyloučeny tepelné mosty v napojení na stěnu.
Připojení na těleso stavby
1.
2.
3.
4.
Prostor mezi rámem dveří a zdivem vyplňte izolačním
materiálem (např. skelnou nebo minerální vlnou).
Vtlačte těsnicí šňůru.
Mezeru zevnitř utěsněte proti difuzi par.
Mezeru zvenčí s předem komprimovanými závěsy
zpracujte tak, aby byla otevřená pro difuzi par.
POZOR
Opozorilo na nevarnost, ki lahko povzroči poškodbo ali
uničenje izdelka.
Določitev položaja vrat
Določite položaj vrat ob upoštevanju dane možnosti
pritrditve, vrste stene in potrebnih odmikov od roba in
osnih razdalj za vložke. Po možnosti nastavite vrata v
položaj, da so v nivoju izolacije stene. Pri monolitnem ali
enoplastnem tipu stene nastavite vrata kar se da blizu
notranje stene zgradbe. Izotermický priebeh sa nesmie
porušiť, príp. prerušiť. Dvere je potrebné umiestniť tak, aby
sa zabránilo tepelným mostom v napojení na stenu.
Pritrditev konstrukcije
1.
Provedení povrchové úpravy
Povrch dveří je opatřen lakem pro nanášení za mokra.
Tato povrchová úprava dává dveřím následující vlastnosti:
ō ochranu proti korozi
ō stálobarevnost
ō ochranu před vlivy okolního prostředí
Přelakování povrchu (Přelakování povrchů nepokrytých
folií):
1. Povrch přebruste.
2. Přebroušenou plochu důkladně očistěte.
3. Naneste přímo na povrch krycí lak 2K-PUR nebo
adhezní lak 2K-EPOXY a poté proveďte nátěr běžným
lakem ze syntetické pryskyřice.
POZOR
Nevhodné prostředky k ošetřování
Povrch dveří nebo sousedící díly mohou být poškozeny
agresivními, leptajícími nebo brusnými látkami, například
kyselinami nebo ocelovým kartáčem.
▶ K péči o domovní dveře používejte běžné ošetřovací
prostředky a měkkou látku.
▶ Při používání ošetřovacích prostředků dodržujte
pokyny výrobce.
▶
▶
SL
Pohyblivé díly kování jednou za rok namažte olejem
nebo tukem. Používejte pouze olej nebo mazací tuk
bez kyseliny.
Za určitých klimatických podmínek může na prvku
docházet ke kondenzaci vodních par.
SLOVENSKY
O navodilih
Ta navodila so razdeljena na tekstovni in slikovni del.
Slikovni del se nahaja za tekstovnim delom.
Preberite in upoštevajte ta navodila. V njih boste našli
pomembne informacije o proizvodu. Upoštevajte še
posebno varnostna navodila in opozorila.
Skrbno hranite ta navodila!
2.
3.
4.
Prostor med okvirjem vrat in steno zapolnite z
izolacijskim materialom (n.pr. steklena ali kamena
volna).
Vtisnite okroglo vrvico.
Fugo zadelajte znotraj z maso za protiparno zaporo.
Režo zapolnite od zunaj s predkomprimiranimi trakovi,
da ustvarite parno zaporo.
Izvedba površine
Površino vrat premažite z mokrimi premazi. Takšen premaz
zagotavlja naslednje lastnosti:
ō korozijsko zaščito
ō obstojnost barve
ō zaščito pred vplivi okolja
Lakiranje površine (Dodatočné lakovanie fóliových
povrchových úprav):
1. Površino obrusite.
2. Obrušeno površino temeljito očistite.
3. Direktno nanesite lak 2K-PUR ali temeljni premaz
2K-EPOXY in premažite še z običajnim lakom iz
umetne smole.
POZOR
Neustrezno čistilno sredstvo
Površina vrat ali ostali sestavni deli se lahko poškodujejo
zaradi agresivnih, jedkih ali grobih snovi, kot so kisline ali
zaradi kovinske krtačke.
▶ Uporabite za čiščenje vhodnih vrat samo običajna
čistilna sredstva in mehke krpe.
▶ Upoštevajte pri čistilnih sredstvih vedno tudi navodila
proizvajalca.
▶
▶
Gibljive dele okovja naoljite ali namastite enkrat na
leto. Uporabite olje brez kislin ali vazelin.
Pod določenimi klimatskimi pogoji se lahko na
elementu pojavi rosa.
NO NORSK
Vedrørende denne veiledningen
Denne veiledningen er delt inn i en tekst- og en bildedel.
Bildedelen finner du etter tekstdelen.
Les og følg denne veiledningen. Den inneholder viktig
informasjon om produktet. Legg særlig merke til alle
sikkerhetsanvisninger og advarsler.
631087 / 04.2014
11
THERMOPRO / MZ THERMO / KSI THERMO
Ta godt vare på denne håndboken!
Förvara denna anvisning på ett säkert ställe!
Brukte advarselshenvisninger
Varningsanvisningar
NB!
Kjennetegner en fare som kan føre til at produktet blir
skadet eller ødelagt.
OBS!
Markerar en fara som kan leda till att produkten skadas
eller förstörs.
Posisjonering av døren
Fastställa dörrens position
Dørens posisjon avhenger av festemulighetene på stedet,
veggtypen og pluggenes kant- og midtavstander. Om
mulig må døren posisjoneres slik at den er i veggens
isolasjonsdel. Ved monolittisk eller usammensatt mur må
døren posisjoneres så langt mot bygningens innside som
mulig. Isotermforløpet må ikke forstyrres eller avbrytes.
Døren skal plasseres slik at du unngår termiske broer i
forbindelsen mellom døren og veggen.
Fastställ dörrens position utifrån fastsättningsmöjligheterna
på platsen, typen av vägg samt kant- och axelavstånden
för pluggarna. Placera om möjligt dörren så att den ligger i
nivå med väggens isolering. Vid monolitiska eller helgjutna
murverk ska dörren placeras så långt bort från byggnadens
insida som möjligt. Den isoterma processen får inte störas
eller avbrytas. Positionera dörren så att ingen värme
överförs via vägganslutningen.
Feste til bygningsstrukturen
Anslutning till byggnadskroppen
1.
1.
2.
3.
4.
Fyll rommet mellom dørrammen og muren med
isoleringsmateriale (f.eks. glass- eller mineralull).
Trykk inn rundsnoren.
Forsegle fugen innvendig diffusjonstett.
Gjør den utvendige fugen åpen for dampdiffusjon med
forhåndskomprimerte bånd.
2.
3.
4.
Fyll utrymmet mellan dörramen och murverket med
isoleringsmaterial (t ex glas- eller stenull).
Tryck i ett rundsnöre.
Försegla den invändiga fogen för fuktskydd.
Sätt förkomprimerade tätningsband i den utvändiga
fogen för fuktutsläpp.
Overflate
Ytbehandling
Døroverflaten er belagt med våtlakk. Dette belegget gir
døroverflaten følgende egenskaper:
ō Rustbeskyttelse
ō Fargeekthet
ō Beskyttelse mot miljøpåvirkning
Dörrens yta har ett skikt av våtlack. Detta skikt ger ytan
följande egenskaper:
ō Korrosionsskydd
ō Färgbeständighet
ō Skydd mot påverkan från omgivningen
Lakkering av overflaten (Etterlakkering av overflater
som ikke er foliebelagt):
1. Puss overflaten lett.
2. Rengjør overflaten grundig etter at den er blitt pusset.
3. Påfør deretter med en gang 2K-PUR-dekklakk eller
2K-EPOXY-primer og lakker med vanlig
kunstharpikslakk.
Täcklackera ytan (Efterlackera inte foliebelagda ytor)
1. Slipa ytan.
2. Rengör den slipade ytan grundligt.
3. Stryk på 2K-PUR-täcklack direkt eller använd
2K-EPOXY-häftgrund och därefter vanlig syntetisk
lack.
NB!
Uegnet pleiemiddel
Overflaten på døren eller komponenter i nærheten kan bli
skadet av aggressive, etsende eller slipende stoffer,
f.eks. syrer, eller ved bruk av stålbørste.
▶ Bruk vanlige pleiemidler og myke kluter eller tørklær
til pleie av ytterdøren.
▶ Følg alltid anvisningene fra produsenten av
pleiemiddelet.
OBS!
Olämpliga underhållsmedel
Dörrytan eller angränsande komponenter kan skadas av
stålborstar och av aggressiva, frätande eller slipande
medel, som exempelvis syror.
▶ Använd endast vanligt rengöringsmedel och mjuka
textilier för rengöring.
▶ Följ dessutom alltid tillverkaranvisningarna för
underhållsmedlet.
▶
▶
▶
Smør bevegelige beslagsdeler med olje eller fett én
gang i året. Bruk kun syrefri olje eller vaselin.
Under spesielle klimatiske forhold kan det dannes
kondensvann på elementet.
▶
FI
SV
SVENSKA
Om denna bruksanvisning
Denna anvisning består av en textdel och en bilddel.
Bilddelen hittar du i anslutning till textdelen.
Vi ber dig att läsa och följa denna anvisning noga. Den
innehåller viktig information om produkten. Läs i synnerhet
alla säkerhets- och varningsanvisningar.
12
Smörj in rörliga beslag med olja eller fett en gång om
året. Använd endast syrafri olja eller vaselin.
Under vissa klimatförhållanden kan kondensvatten
bildas på elementet.
SUOMI
Käyttöohjetta koskevia ohjeita
Tämä käyttöohje koostuu teksti- ja kuvaosasta. Kuvaosa
on liitetty tekstiosaan.
Lue nämä ohjeet ja noudata niitä. Se sisältää tärkeää
tuotetietoa. Noudata erityisesti kaikkia turvallisuusohjeita ja
varoituksia.
631087 / 04.2014
THERMOPRO / MZ THERMO / KSI THERMO
Säilytä tämä käyttöohje huolellisesti!
Käytetyt varoitukset
VAROITUS
Merkitsee vaaraa, joka voi johtaa tuotteen
vaurioitumiseen tai tuhoutumiseen.
Ohjeita oven sijoitukseen
Määritä oven sijoituskohta riippuen paikan
kiinnitysmahdollisuuksista, seinästä ja tulppaa varten
tarvittavista reuna- ja akselietäisyyksistä. Sijoita ovi
mahdollisuuksien mukaan siten, että se on seinän
eristyspohjan päällä. Jos kyseessä on monoliittinen tai
yksikuorinen muuraus, sijoita ovi mahdollisimman kauas
rakennuksen sisäseinästä. Lämpövirtausta ei saa häiritä tai
keskeyttää. Ovi on sijoitettava siten, että seinäliitokseen ei
synny kylmäsiltoja.
Rakenteeseen liittäminen
1.
2.
3.
4.
Täytä oven kehyksen ja muurauksen välinen tila
eristeellä (esim. lasi- tai kivivillalla).
Paina pyöreä eristenauha sisään.
Täytä sisäura höyrytiiviiksi.
Käsittele ulkopuolen ura esikompressoiduilla saranoilla
höyrynläpäiseväksi.
Pinnoitevaihtoehto
Oven pinnassa on märkämaalipinnoite. Pinnoitteen
ansiosta ovipinnassa on seuraavat ominaisuudet:
ō korroosiosuojaus
ō värien kestävyys
ō suojaus ympäristön vaikutuksilta
Pinnan maalaaminen (Kalvopäällysteettömien pintojen
uudelleenmaalaus):
1. Hio pinta.
2. Puhdista hiottu pinta huolellisesti.
3. Voit käyttää pintaan suoraan 2K-PUR-pintamaalia tai
2K-EPOKSI-pohjamaalia, jonka jälkeen voit maalata
sen tavallisella keinohartsimaalilla.
VAROITUS
Sopimattomat hoitoaineet
Oven pinnat tai ympärillä olevat rakenneosat voivat
vaurioitua voimakkaiden, syövyttävien tai hankaavien
aineiden, kuten esimerkiksi happojen tai teräsharjojen
vaikutuksesta.
▶ Käytä pääoven hoitoon vain tavallisia hoitoaineita ja
pehmeää rättiä tai liinaa.
▶ Noudata hoitoaineita käyttäessäsi myös aina
valmistajan ohjeita.
▶
▶
Öljyä tai voitele liikkuvat osat kerran vuodessa.
Käytä vain hapotonta ÖLJYÄ tai vaseliinia.
Elementissä voi esiintyä äärimmäisissä
sääolosuhteissa sulamisvettä.
DA DANSK
Om denne vejledning
Vejledningen er opdelt i en tekst- og en billeddel.
Billeddelen kommer direkte efter tekstdelen.
Du bedes læse og overholde denne vejledning. Den
indeholder vigtige informationer om produktet. Du bør især
overholde alle sikkerhedsanvisninger og advarsler.
Opbevar vejledningen omhyggeligt!
Benyttede advarsler
BEMÆRK!
Henviser til en fare, der kan medføre beskadigelse eller
ødelæggelse af produktet.
Beregning af dørens position
Fastlæg dørens position ud fra de lokale
fastgørelsesmuligheder, murens materiale og de
påkrævede kant- og centerafstande for dyvlerne. Døren
skal efter mulighed placeres, så den er anbragt i murens
isoleringsplan. Ved monolitisk eller forskallet murværk skal
døren anbringes mest muligt på bygningens inderside.
Isoterm-forløbet må ikke ødelægges eller afbrydes. Døren
skal placeres på en sådan måde, at der undgås
varmebroer i murtilslutningen.
Byggeelementets tilslutning
1.
2.
3.
4.
Overfladetype
Forsyn dørens overflade med et lag vådlak. Lakeringen
giver døren følgende egenskaber:
ō Korrosionsbeskyttelse
ō Farveægthed
ō Beskyttelse mod påvirkninger fra omgivelserne
Lakering af overfladen (Efterlakering af overflader uden
foliebelægninger):
1. Slib overfladen.
2. Rens den slebne overflade grundigt.
3. Påfør 2K-PUR-dæklak eller 2K-EPOXI-hæftegrund og
mal overfladen med gængse kunstharpiks-lakker.
BEMÆRK!
Uegnet plejemiddel
Dørens overflade samt tilgrænsende komponenter kan
blive beskadiget pga. aggressive, ætsende eller slibende
stoffer og materialer såsom syrer eller stålbørster.
▶ Brug kun gængse plejemidler og bløde klude til pleje
af hoveddøren.
▶ Vær opmærksom på producentens anvisninger for
plejemidlerne.
▶
▶
631087 / 04.2014
Fyld rummet mellem dørrammen og murværket med
isoleringsmateriale (fx glas- eller stenuld).
Tryk snoren ind.
Forsegl fugen dampdiffusionstæt indvendigt.
Udvendigt skal fugen være dampdiffusionsåben
med forkomprimerede hængsler.
Smør bevægelige beslagdele en gang om året med
olie eller fedt. Brug kun syrefri olie eller vaseline.
Under bestemte klimaforhold kan der dannes
kondensvand på elementet.
13
THERMOPRO / MZ THERMO / KSI THERMO
SK
SLOVENSKO
▶
K tomuto návodu
Tento návod je rozdelený na textovú a obrazovú časť.
Obrazovú časť nájdete na záver textovej časti.
Prečítajte si a dodržiavajte tento návod. Sú v ňom uvedené
dôležité informácie o produkte. Dodržiavajte predovšetkým
všetky bezpečnostné a výstražné pokyny.
Tento návod starostlivo uchovajte!
Použité výstražné pokyny
POZOR
Označuje nebezpečenstvo, ktoré môže viesť ku
poškodeniu alebo zničeniu výrobku.
Stanovenie polohy dverí
Polohu dverí stanovte v závislosti od miestnych možností
upevnenia, od druhu stehy a osových vzdialeností pre
hmoždinky. Dvere umiestnite podľa možnosti tak, aby ležali
v izolačnej rovine steny. Pri monolitickom alebo
jednoduchom murive umiestnite dvere čo najďalej k
vnútornej strane budovy. Potek izoterm ne sme biti moten
oz. prekinjen. Vrata morajo biti položena tako, da se
preprečijo toplotni mostovi na stikih s steno.
Pripojenie stavebného objektu
1.
2.
3.
4.
Priestor medzi rámom dverí a murivom vyplňte
izolačným materiálom (napr. sklenou alebo
minerálnou vlnou).
Vtlačte kruhovú šnúru.
Fúgu utesnite vo vnútri tak, aby neumožňovala difúziu
vodných pár.
Fúgu zvonka dokončite predlisovanými páskami tak,
aby umožňovali difúziu vodných pár.
Povrchová úprava
Povrch dverí je upravený lakovaním za mokra. Táto
povrchová úprava prepožičiava povrchu dverí nasledujúce
vlastnosti:
ō Protikorózna ochrana
ō Stálofarebnosť
ō Ochrana pred vplyvmi okolia
Prelakovanie povrchu (Naknadno lakiranje površin, ki
nimajo folijskega premaza):
1. Povrch obrúsiť.
2. Obrúsený povrch dôkladne očistiť.
3. Naneste priamo 2K-PUR-krycí lak alebo
2K-EPOXY-základnú náterovú farbu a nalakujte
bežnými syntetickými lakmi.
POZOR
▶
TR
Pohyblivé diely kovania raz ročne naolejujte alebo
namažte. Používajte výlučne olej bez obsahu kyselín
alebo vazelínu.
Za určitých klimatických podmienok sa môže na prvku
vyskytovať kondenzácia vodných pár.
TÜRKCE
Bu kullanım kılavuzu hakkında
Metin ve resim bölümü olmak üzere, bu kılavuz ikiye
ayrılmaktadır. Resim bölümünü metin bölümünden sonra
bulabilirsiniz.
Lütfen bu kılavuzu okuyunuz ve içindekilere riayet ediniz.
Ürün hakkında önemli bilgiler içermektedir. Özellikle
emniyet ve tehlike uyarılarına riayet ediniz.
Bu kılavuzu iyi muhafaza ediniz!
Kullanılan uyarı bilgileri
DİKKAT
Ürüne hasar veya arızaya neden olabilecek bir
tehlikenin göstergesi.
Kapı pozisyonunun saptanması
Kapı pozisyonu çevresel imkanlara, duvar tipi ve dübeller
için gerekli olan kenar ve eksen mesafelere bağlıdır.
Mümkün oldukça kapıyı duvarın yalıtım seviyesine
yerleştiriniz. Tek taraflı veya tek sıralı örgü duvarlarda, kapı
mümkün olduğu kadar iç mekandan uzak yerleştirilmesi
gerekmektedir. İzotermik hat bozulmamalıdır yada
kesintisiz olmalıdır. Kapı, duvar bağlantısında isi köprüler
oluşmayacak şekilde yerleştirilmelidir.
Yapıya bağlantı
1.
2.
3.
4.
Kapı çerçevesi ve duvar arasındaki boş alan izolasyon
malzemesiyle doldurulmalıdır (örn. cam veya taş yünü).
Contayı yerleşiriniz.
Derzi içten buhar izolasyonu ile kapatnız.
Derz için dıştan yalıtım şeritleri hazırlayınız.
Kaplama
Kapı yüzeyinde ıslak boya kaplaması mevcuttur. Bu
kaplama kapı yüzeyinde aşağıdaki özellikleri sağlamaktadır:
ō Korozyon emniyetli
ō Gerçekçi renk
ō Çevre etkilerine karşı dayanıklılık
Yüzeyi boyatmak (Folyosuz yüzeylerin boyanması):
1. Yüzeyi zımparalayınız.
2. Zımparalanmış yüzeyi iyice temizleyiniz.
3. Son uygulama için 2K-PUR son kat boya veya
2K-EPOXY sürünüz ve piyasada satılan sentetik reçine
boyalar ile boyatınız.
Nevhodné ošetrovacie prostriedky
Povrch dverí alebo susedných konštrukčných dielov
môže by poškodený agresívnymi, žieravými alebo
abrazívnymi látkami, ako napr. kyselinami, alebo
oceľovými kefami.
▶ Na ošetrovanie domových dverí používajte bežné
ošetrujúce prostriedky a mäkké handričky alebo
utierky.
▶ Pri ošetrujúcich prostriedkoch vždy dodržujte pokyny
výrobcu.
14
631087 / 04.2014
THERMOPRO / MZ THERMO / KSI THERMO
DİKKAT
Uygun olmayan temizlik maddesi
Kapının yüzeyi veya yan parçaları agresif, eritici veya
asitler yada tel fırça gibi aşındırıcı maddelerden hasar
görebilir.
▶ Ev kapısının temizliği için sadece piyasada satılan
temiz maddeler ve yumuşak bezler veya havlular
kullanınız.
▶ Temizlik maddesinin üretici uyarılarına mutlaka riayet
ediniz.
▶
▶
Hareketli aksesuar parçaları yılda bir kere yağ veya
gres sürünüz. Sadece asit içermeyen yağ veya
Vaseline kullanınız.
İklim koşullarına bağlı yapı elemanında çiy oluşabilir.
3.
DĖMESIO!
Netinkamos priežiūros priemonės
Durų arba besiribojančių konstrukcinių elementų paviršių
galima pažeisti agresyviomis, ėsdinančiomis arba
abrazyvinėmis medžiagomis, pvz., rūgštimis ar plieniniais
šepečiais.
▶ Namo durims prižiūrėti naudokite tik įprastines
priežiūros priemones ir minkštus skudurėlius ar
šluostes.
▶ Taip pat visada atkreipkite dėmesį į priežiūros
priemonės gamintojo nurodymus.
▶
LT
LIETUVIU KALBA
Apie šią instrukciją
Ši instrukcija dalinama į tekstinę dalį ir paveikslėlius.
Paveikslėlius rasite šalia tekstinės dalies.
Perskaitykite šią instrukciją ir laikykitės visų jos nurodymų.
Joje pateikiama svarbi informacija apie gaminį. Ypač
laikykitės saugos bei įspėjamųjų nurodymų.
Rūpestingai saugokite šią instrukciją!
Naudojami įspėjamieji nurodymai
DĖMESIO!
Nurodo pavojų, dėl kurio gali būti padaryta žala arba
gaminys gali sugesti.
Durų padėties nustatymas
Nustatykite durų padėtį, priklausomai nuo vietinių tvirtinimo
galimybių, sienos rūšies ir reikalingų mūrvinės atstumų iki
krašto bei ašies. Pagal galimybę duris nustatykite taip, kad
jos būtų sulig sienos izoliacija. Monolitiniame ar
vienasluoksniame mūre duris įstatykite kuo arčiau vidinės
pastato pusės. Izotermė negali būti nei sutrikdyta, nei
nutraukta. Nustatykite duris į tokią padėtį, kad prie sienos
būtų išvengta šilumos tiltų.
Pastato prijungimas
1.
2.
3.
4.
Erdvę tarp durų rėmo ir mūro užpildykite izoliacine
medžiaga (pvz., stiklo arba akmens vata).
Įspauskite apvalią virvę.
Siūles iš vidaus užsandarinkite taip,
kad neprasiskverbtų garų.
Siūles iš išorės su iš anksto suspaustomis juostomis
palikite atviras, kad galėtų patekti garai.
Paviršiaus apipavidalinimas
Padenkite durų paviršių šlapiojo lako sluoksniu. Ši danga
durų paviršiui suteikia šias savybes:
ō apsaugą nuo korozijos
ō dažų plėvelės tvirtumą
ō apsaugą nuo aplinkos poveikio
Tiesiogiai užtepkite 2K-PUR paviršinio lako arba
2K-EPOXY reaktyvinio grunto ir padenkite įprastiniu
sintetinių polimerų laku.
▶
ET
Judančias apkaustų dalis vieną kartą per metus
sutepkite alyva arba tepalu. Naudokite tik savo
sudėtyje rūgšties neturinčią alyvą arba vazeliną.
Tam tikromis klimato sąlygomis ant elemento gali
susidaryti kondensatas.
EESTI
Käesoleva juhendi kohta
Käesolev juhend koosneb tekstist ja piltidega osast.
Piltidega osa leiate tekstiosa järel.
Palun lugege ja järgige käesolevat juhendit. Juhendist
leiate olulist informatsiooni toote kohta. Järgige eelkõige
kõiki ohutusalaseid ja hoiatavaid märkusi.
Hoidke palun käesolev kasutusjuhend hoolikalt alles!
Kasutatud hoiatusmärgid
TÄHELEPANU
Tähistab ohtu, mille tulemusena võib toode kahjustada
saada või hävida.
Ukse positsiooni kindlaks määramine
Ukse positsioon avas tuleb kindlaks määrata sõltuvalt
olemasolevatest kinnitusvõimalustest, konkreetsest seinast
ja tüüblite nõutavast kaugusest seina äärest ja üksteisest.
Võimalusel positsioneerige uks nii, et ta asuks seina
soojustustasapinnas. Monoliitse või ühekestalise seina
korral tuleb uks paigaldada võimalikult lähedale hoone
siseseinale. Isotermide kulgemisjooni ei või häirida ega
katkestada. Uks tuleb positsioneerida nii, et seina külge
kinnitamisel ei tekiks külmasildu.
Ühendus seinaga
1.
2.
3.
4.
Täitke ukse lengi ja seina vahele jääv vahe
isolatsioonimaterjaliga (nt klaas- või kivivill).
Lükake ümartihend sisse.
Sulgege vuuk seest poolt, et ei oleks võimalik tekkida
auru difusiooni.
Sulgege vuuk väljast isepaisuvate tihenditega nii,
et auru difusioon välja poole oleks võimalik.
Pealispinna viimistlus
Paviršių dar kartą nulakuokite (Plėvele nepadengtų
paviršių papildomas lakavimas).
1. Paviršių nušlifuokite.
2. Nušlifuotą paviršių kruopščiai nuvalykite.
631087 / 04.2014
Ukse pealispind on märgvärvitud. See värvikiht annab
uksele järgmised omadused:
15
THERMOPRO / MZ THERMO / KSI THERMO
ō
ō
ō
Korrosioonikaitse
Värvide püsivus
Kaitse keskkonnamõjude eest
Pealispinna ülevärvimine (Lamineerimata pindade
tagantjärele värvimine):
1. Pealispind liivapaberiga karestada.
2. Lihvitud pind põhjalikult puhastada.
3. Värvige pind kohe 2-komponentse polüuretaanvärviga
või kruntige 2-komponentse epoksiidkrundiga ning
seejärel viimistlege tavalise tehisvaiku sisaldava
värviga.
TÄHELEPANU
Mittesobilikud hooldusvahendid
Ukse või lähedal asuvate elementide pealispind võib
agressiivsete, söövitavate või abrasiivseid ainete, nagu
näiteks happed ja terasharjad, kasutamisel kahjustada
saada.
▶ Kasutage välisukse hoolduseks ainult tavalisi
hooldusvahendeid ja pehmeid lappe või rätikuid.
▶ Järgige hooldusvahendite kasutamisel alati nende
tootjate poolseid juhiseid.
▶
▶
Määrige või õlitage liikuvaid osi kord aastas. Kasutage
ainult happevaba õli või vaseliini.
Teatud klimaatilistel tingimustel võib elemendil esineda
sulavee tekkimist.
Virsmas izpildījums
Durvju virsmai ir šķidrās krāsas pārklājums. Tas durvju
virsmai piešķir šādas īpašības:
ō aizsardzību pret koroziju
ō krāsas noturību
ō aizsardzību pret apkārtējās vides apstākļiem
Virsmas pārkrāsošana (Virsmu bez plēves pārklājuma
pārkrāsošana):
1. Apstrādāt virsmu ar abrazīvu materiālu.
2. Abrazīvajai apstrādei pakļauto virsmu rūpīgi notīrīt.
3. Tieši uz virsmu uzklāt 2K PUR nosedzošo krāsojumu
2K EPOXY gruntskrāsu un pēc tam nokrāsot ar kādu
no tirdzniecībā pieejamajām uz mākslīgo sveķu bāzes
ražotajām krāsām.
UZMANĪBU!
Nepiemērots kopšanas līdzeklis
Apstrādājot durvju vai tām blakus esošo detaļu virsmas
ar stipras iedarbības, kodīgiem vai smiltis saturošiem
materiāliem, piem., skābēm, vai ar tērauda sukām, tās
var tikt bojātas.
▶ Mājas ārdurvju kopšanai izmantojiet tikai tirdzniecībā
pieejamos kopšanas līdzekļus un mīkstas lupatiņas
vai drānas.
▶ Darbojoties ar kopšanas līdzekli, vienmēr ņemiet vērā
arī ražotāja norādes.
▶
LV
LATVIESU VALODA
Par šo instrukciju
Šī instrukcija sastāv no teksta sadaļas un attēlu sadaļas.
Attēlu sadaļa seko aiz teksta sadaļas.
Izlasiet un ņemiet vērā šo instrukciju. Tā satur svarīgu
informāciju par izstrādājumu. Īpaši ievērojiet visus drošības
un brīdinājuma norādījumus.
Rūpīgi uzglabājiet šo instrukciju!
Lietotās brīdinājuma norādes
UZMANĪBU!
Apzīmē apdraudējumu, kas var izraisīt bojājumus
izstrādājumā vai to pilnībā sabojāt.
Durvju pozīcijas noteikšana
Nosakot durvju pozīciju, ir jāņem vērā vietējās
nostiprināšanas iespējas, sienas veids un dībeļiem
nepieciešamie malu un asu attālumi. Durvis pēc iespējas
izvietot tā, lai tās iegultu sienas izolācijas pamatnē.
Monolītā vai vienslāņa mūrējuma gadījumā durvis izvietot
pēc iespējas tālāk ēkas iekšpusē. Izotermu izvietojumā
nedrīkst veikt izmaiņas, resp., to pārtraukt. Durvis ir
jānovieto tā, savienojuma vietās ar sienu neveidotos
termālie tilti.
Savienošana ar būvkonstrukciju
1.
2.
3.
4.
16
Telpu starp durvju rāmi un mūrējumu aizpildīt ar
izolācijas materiālu (piem., stikla vai akmens vati).
Iespiest uz iekšu apaļa šķērsgriezuma auklu.
Iekšējo salaidumu noblīvēt tā, lai nebūtu iespējama
tvaiku difūzija.
Ārējo salaidumu ar iepriekš saspiestām eņģēm izveidot
tvaiku difūziju caurlaidīgu.
▶
Kustīgās vadotnes daļas vienreiz gadā ieeļļot vai
ieziest ar smērvielu. Izmantot tikai skābi nesaturošu
eļļu vai vazelīnu.
Noteiktos klimatiskajos apstākļos pie elementa var
veidoties kondensāts.
HR HRVATSKI
O ovoj uputi
Ova se uputa sastoji od tekstualnog i slikovnog dijela.
Slikovni dio nastavlja se na dio sa tekstom.
Molimo Vas pažljivo pročitajte ovu uputu i pridržavajte se u
njoj navedenog. Tu ćete naći važne informacije o
proizvodu. Posebno pripazite na napomene vezane za
sigurnost i upozorenja.
Uputu pažljivo sačuvajte!
Korištena upozorenja
PAŽNJA
Označava opasnost koja može prouzročiti oštećenje ili
uništenje proizvoda.
O položaju vrata
Odrediti položaj vrata za postavljanje tipli, ovisno o samoj
situaciji na mjestu ugradnje, vrsti zida te potrebnom
prostoru za okvir i ovjes. Vrata po mogućnosti postaviti na
način da su u ravnini sa zidom. Kod monolitnih ili
jednostavnih zidova vrata pozicionirajte što je moguće
dublje u zgradu. Nije dopušteno smetati ili prekidati tok
izotermi. Vrata treba tako postaviti da na zidnom priključku
ne dolazi do prijenosa topline.
631087 / 04.2014
THERMOPRO / MZ THERMO / KSI THERMO
Priključak na građevinsko tijelo
Pričvršćivanje na građevinsku podlogu
1.
1.
2.
3.
4.
Prostor između okvira vrata i zida ispunite izolacijom
(npr. staklenom ili kamenom vunom).
Utisnuti cjevastu traku.
Reške iznutra zapečatite tako da ne propuštaju paru.
Vanjske reške izvedite sa prekomprimiranim trakama.
Izvedba površine
4.
Obloga vrata premazana je slojem mokrog laka. Premaz
lakom ima sljedeće osobine:
ō zaštita od korozije
ō prirodna boja
ō zaštita od vanjskih utjecaja
Lakiranje površine (Naknadno lakiranje površina koje
nisu presvučene folijom):
1. Izbrusiti površinu.
2. Temeljito očistiti brušenu površinu.
3. Izravno nanijeti završni lak 2K-PUR ili premaz
2K-EPOXY te premazati uobičajenim lakom od
umjetne smole.
PAŽNJA
Neodgovarajuće sredstvo za održavanje
Agresivna i nagrizajuća sredstva ili grubi materijali kao što
su kiseline ili žičane četke mogu oštetiti površinu vrata ili
dijelove uz vrata.
▶ Za održavanje kućnih vrata koristite samo uobičajena
sredstva za čišćenje te mekane krpe ili ručnike.
▶ Kod sredstva za čišćenje pazite i na napomene
proizvođača.
▶
▶
SR
2.
3.
Pokretne dijelove podmazati jednom godišnje. Koristiti
isključivo ulje bez kiselina ili vazelin.
Zbog određenih se vremenskih uvjeta na elementima
može stvarati vodeni kondenzat.
SRPSKI
Ispunite prostor između rama vrata i zida od cigala sa
izolacionim materijalom (nrp. staklenom ili kamenom
vunom).
Utisnite traku za zaptivanje.
Zapečatite fuge sa unutrašnje strane tako da ne
propuštaju paru.
Izradite fuge sa spoljne strane sa unapred
komprimovanim trakama tako da ispuštaju paru.
Tip površine
Površina vrata su snabdevena sa slojem od laka. Ovaj
premaz daje sledeće karakteristike površini vrata:
ō Zaštita od korozije
ō Postojanost boje
ō Zaštita od uticaja okoline
Lakirati površinu (Naknadno lakiranje površina koje
nisu obložene folijom):
1. Obrusiti površinu.
2. Obrušene površine temeljno očistiti.
3. Za završnu obradu nanesite direktno 2K-PUR-za
lakiranje površine ili prianjanje 2K-EPOXY i premažite
sa uobičajenim lakom od veštačke smole.
PAŽNJA
Neprikladna sredstva za održavanje
Mogu oštetiti površinu vrata ili susedne delove
posredstvom agresivnih materija ili materija koji nagrizaju
ili su abrazivna, kao na primer kiseline ili čelične četke.
▶ Koristite za negovanje kućnih vrata samo uobičajeno
sredstvo za održavanje i meke tkanine ili krpe.
▶ Obratite uvek pažnju kod sredstva za održavanje na
napomene proizvođača.
▶
▶
Podmažite uljem ili mašću jednom godišnje pokretne
delove okova. Koristite samo ulje oslobođeno od
kiselina ili vazelin.
Pod određenim klimatskim uslovima može nastati
stvaranje kondenzacije na elementu.
O ovom uputstvu
Ovo uputstvo se deli na tekstualni i slikovni deo. Slikovni
deo možete pronaći u dodatku tekstualnog dela.
Pročitajte ovo uputstvo i pridržavajte ga se. U njemu ćete
naći važne informacije o proizvodu. Posebno obratite
pažnju na sve sigurnosne napomene i na sva upozorenja.
Sačuvajte brižljivo ovo uputstvo!
Korišćena upozorenja
PAŽNJA
Označava opasnost, koja može da dovede do oštećenja
ili uništenja proizvoda.
Utvrđivanje pozicije vrata
Utvrdite poziciju vrata u zavisnosti od lokalnih mogućnosti
pričvršćivanja, vrste zida i potrebnih rastojanja ivica i osa
za tiplove. Postavite vrata tako da stoje u nivou izolacije
zida. Kod monolitnog zida od cigala ili zida od cigala sa
jednom oblogom postavite vrata što je moguće prema
unutrašnjoj strani zgrade. Tok izotermi ne sme biti oštećen
odn. prekinut. Potrebno je postaviti vrata tako da se
izbegnu termički mostovi na mestu spajanja vrata sa
zidom.
631087 / 04.2014
EL
EЛЛHNIKA
Πληροφορίες για αυτές τις οδηγίες
Το παρόν εγχειρίδιο χωρίζεται σε ένα τμήμα κειμένου και
ένα τμήμα εικόνων. Το τμήμα εικόνων ακολουθεί μετά το
τμήμα κειμένου.
Παρακαλούμε διαβάστε και τηρείτε τις παρούσες οδηγίες.
Εδώ θα βρείτε σημαντικές πληροφορίες για το προϊόν.
Προσέχετε ιδιαίτερα όλες τις οδηγίες ασφαλείας και
προειδοποίησης.
Φυλάξτε τις παρούσες οδηγίες με προσοχή!
Χρησιμοποιούμενες προειδοποιήσεις
ΠΡΟΣΟΧΗ
Επισημαίνει έναν κίνδυνο, ο οποίος μπορεί να οδηγήσει σε
βλάβη ή καταστροφή του προϊόντος.
Καθορισμός θέσης πόρτας
Καθορίστε τη θέση της πόρτας λαμβάνοντας υπόψη τις επί
τόπου δυνατότητες στερέωσης, τον τύπο του τοίχου και τις
απαιτούμενες αποστάσεις περιθωρίων και αξόνων για τα
17
THERMOPRO / MZ THERMO / KSI THERMO
βύσματα. Αν είναι δυνατόν, τοποθετήστε την πόρτα έτσι
ώστε να βρίσκεται στο επίπεδο της μόνωσης του τοίχου.
Σε μονολιθικούς ή ομογενείς τοίχους μίας στρώσης,
τοποθετήστε την πόρτα κατά το δυνατόν στην εσωτερική
πλευρά του κτιρίου. Δεν πρέπει να διαταραχθεί ή να
διακοπεί η ισοθερμική διάταξη. Η πόρτα πρέπει να
τοποθετηθεί έτσι ώστε να αποφεύγονται θερμογέφυρες στη
σύνδεση τοίχου.
Σύνδεση δομικών στοιχείων
1.
2.
3.
4.
Γεμίστε το χώρο μεταξύ πλαισίου πόρτας και τοίχου με
μονωτικό υλικό (π.χ. υαλοβάμβακα ή πετροβάμβακα).
Εφαρμόστε μονωτικό κορδόνι.
Σφραγίστε τον αρμό εσωτερικά.
Δημιουργήστε εξωτερικά αρμό με προσυμπιεσμένες
ταινίες που επιτρέπουν το υλικό να αναπνέει.
Avertismente folosite
ATENȚIE
Indică un pericol care poate duce la avarierea sau
distrugerea produsului.
Stabilirea poziţiei uşii
Stabiliţi poziţia uşii în funcţie de posibilităţile de fixare de la
faţa locului, de tipul de perete, de distanţa până la margine
şi de distanţa dintre axe a diblurilor. Poziţionaţi uşa pe cât
posibil astfel încât să se găsească la nivelul izolaţiei
peretelui. În cazul zidăriei monolitice sau cu un singur strat
poziţionaţi uşa cât mai mult spre partea interioară a clădirii.
Procesul izotermic nu trebuie perturbat sau întrerupt. Uşa
trebuie poziţionată astfel încât să se evite formarea unor
punţi de căldură în racordul de perete.
Τύπος επιφάνειας
Fixarea de corpul clădirii
Η επιφάνεια της πόρτας διαθέτει επίστρωση
υδροχρώματος. Η επίστρωση αυτή έχει τα παρακάτω
χαρακτηριστικά:
ō αντισκωριακή προστασία
ō αντοχή χρωμάτων
ō προστασία από περιβαλλοντικές επιδράσεις
1.
Δεύτερη βαφή της επιφάνειας (Μην βάφετε εκ των
υστέρων επιφάνειες που δεν διαθέτουν επίστρωση
μεμβράνης):
1. Ξύστε την επιφάνεια.
2. Καθαρίστε καλά την ξυσμένη επιφάνεια.
3. Για το τελικό χέρι περάστε απευθείας με βαφή
επικάλυψης 2K-PUR ή δραστικό αστάρι 2K-EPOXY και
βάψτε με βαφές συνθετικής ρητίνης του εμπορίου.
ΠΡΟΣΟΧΗ
Ακατάλληλο προϊόν περιποίησης
Οι επιφάνειες της πόρτας ή γειτονικά μέρη μπορεί να
υποστούν ζημιές από δραστικά, διαβρωτικά ή λειαντικά
μέσα, όπως π.χ. οξέα ή ατσαλόβουρτσες.
▶ Χρησιμοποιείτε για την περιποίηση της πόρτας
εισόδου μόνο μέσα του εμπορίου και ένα μαλακό
πανί.
▶ Τηρείτε πάντα τις οδηγίες χρήσης του κατασκευαστή.
▶
▶
Λαδώστε ή γρασάρετε τα κινητά εξαρτήματα μία φορά
το χρόνο. Χρησιμοποιείτε μη όξινο λάδι ή βαζελίνη.
Υπό συγκεκριμένες κλιματικές συνθήκες μπορεί να
συγκεντρωθεί υγρασία στο στοιχείο.
RO ROMANA
2.
3.
4.
Umpleţi spaţiul dintre rama uşii şi zidărie cu material
termoizolant (ex. vată de sticlă sau vată minerală).
Introduceţi şnurul rotund.
Sigilaţi rostul de îmbinare pe dinăuntru într-o manieră
etanşă la difuzia vaporilor de apă.
Sigilaţi rostul de îmbinare pe dinafară cu benzi
precomprimate într-o manieră deschisă la difuzia
vaporilor de apă.
Prezentarea suprafeţei
Suprafaţa uşii este dată cu un strat de lac. Acest strat îi
conferă suprafeţei uşii următoarele calităţi:
ō protecţie împotriva coroziunii
ō menţine prospeţimea culorii
ō protecţie împotriva efectelor mediului înconjurător
Lăcuirea suprafeţei (Revopsirea suprafeţelor
neacoperite cu folie):
1. Şmirgheluiţi suprafaţa.
2. Curăţaţi bine suprafaţa şmirgheluită.
3. Folosiţi direct un lac de acoperire 2K-PUR sau un
grund de aderenţă 2K-EPOXY şi aplicaţi apoi un lac
pe bază de răşină sintetică.
ATENȚIE
Produse de îngrijire inadecvate
Suprafaţa uşii şi cea a elementelor de construcţie
învecinate pot fi deteriorate de substanţele agresive,
corozive sau abrazive, cum sunt acizii, sau de periile de
sârmă.
▶ Utilizaţi pentru întreţinerea uşii doar produse de
îngrijire din comerţ, lavete şi cârpe moi.
▶ Ţineţi întotdeauna cont de instrucţiunile fabricantului
produselor de îngrijire respective.
Referitor la acest document
Aceste instrucțiuni sunt compuse dintr-un text şi dintr-o
parte ilustrată. Ilustrațiile se găsesc în continuarea textului.
Vă rugăm să citiţi şi să respectaţi aceste instrucţiuni. În ele
găsiţi informaţii importante legate de acest produs.
Respectaţi îndeosebi toate instrucţiunile de siguranţă şi
avertismentele.
Păstrati cu grijă aceste instrucţiuni!
18
▶
▶
Ungeţi sau gresaţi elementele mobile de feronerie o
dată pe an. Utilizaţi doar ulei sau vaselină fără acizi.
În anumite condiţii climatice, la element se poate
produce condens.
631087 / 04.2014
THERMOPRO / MZ THERMO / KSI THERMO
BG БЪЛГАРСКИ
За настоящата инструкция
Тази инструкция е разделена на текстова част и част с
фигури. Частта с фигурите ще откриете веднага след
текстовата част.
Прочетете и вземете под внимание настоящата
инструкция. Тя съдържа важна информация за
продукта. Обърнете особено внимание на всички
указания за безопасност и предупреждения.
Съхранявайте инструкцията грижливо!
Използвани предупреждения
ВНИМАНИЕ
Обозначава опасност, която може да доведе до
повреждане или унищожаване на продукта.
ВНИМАНИЕ
Неподходящи средства за поддръжка
Повърхността на вратата или на граничните
компоненти може да бъде повредена от агресивни,
разяждащи или шлифоващи вещества, като например
киселини, или от стоманени четки.
▶ За поддръжка на жилищната врата използвайте
само стандартни препарати и меки парцали или
кърпи.
▶ Също така винаги следвайте указанията на
производителя на почистващия препарат.
▶
▶
Намаслявайте или смазвайте подвижните части на
окачването веднъж годишно. Използвайте само
несъдържащо киселини масло или вазелин.
При определени климатични условия може да се
образува конденз по елемента.
Определяне позицията на вратата
Установете позицията на вратата в зависимост от
възможностите за фиксиране, видът на стената и
изискваните разстояния между дюбелите и кантовете,
съответно осите. По възможност позиционирайте
вратата така, че да лежи на нивото на изолацията на
стената. При монолитна или еднослойна стена
разположете вратата възможно най-близо до
вътрешността на сградата. Изотермичният процес не
трябва да бъде нарушаван, респ. прекъсван. Вратата
се позиционира така, че да бъдат избегнати топлинните
мостове при монтажа за стената.
Свързване към сградата
1.
2.
3.
4.
Запълнете пространството между рамката на
вратата и стената с изолиращ материал
(напр. стъклена или минерална вата).
Притиснете облия шнур.
Запечатайте фугата отвътре, херметично спрямо
дифузия на пара.
Отвън оформете фугата паропроницаемо
с предварително пресовани уплътнителни ленти.
Изпълнение на повърхността
Повърхността на вратата е обработена чрез мокро
боядисване. Това покритие й придава следните
качества:
ō защита от корозия
ō чистота на цвета
ō защита от атмосферни влияния
Повторно боядисване на повърхността
(Пребоядисване на непокрити с фолио
повърхности):
1. Шлифовайте повърхността.
2. Почистете основно шлифованата площ.
3. Нанесете директно двукомпонентен покривен
полиуретанов лак или двукомпонентен епоксиден
грунд и накрая боядисайте със стандартен лак на
основата на синтетична смола.
631087 / 04.2014
19
THERMOPRO / MZ THERMO / KSI THERMO
TPS
EN 14351-1
EN 12400
EN12219
EN ISO 140-3
EN ISO 717-1
EN 12208
EN 1627
EN 13049
EN 12217
EN 12210
EN 12207
EN ISO 12567-1
EN ISO 10077-1
20
631087 / 04.2014
ACHTUNG / ATTENTION / ATTENTION / OPGELET / ATENCIÓN / ATTENZIONE / ATENÇÃO / UWAGA / VIGYÁZAT
/ POZOR / ВНИМАНИЕ / POZOR / NB! / OBS! / VAROITUS / BEMÆRK! / POZOR / DİKKAT / DĖMESIO! /
TÄHELEPANU
/
UZMANĪBU!
/
PAŽNJA
/
PAŽNJA
/
ΠΡΟΣΟΧΗ
/
ATENȚIE
/
ВНИМАНИЕ
+°C
0°C
+°C
-°C
-°C
+°C
+°C
0°C
0°C
-°C
-°C
631087 / 04.2014
21
1
2
150
mm
= 1/2
250
mm
2.1
2.2
250
mm
= 1/2
150
mm
3
4
4.1
B
A
A=B
5
RC2
≥ 80 mm
≥ ø 7 x 80 mm
≥ 80 mm
ETA = European Technical Approval
(www.eota.be)
e. g. Fischer FUR 10 x 80 ,
MEA MFR 10 x 80
6
22
7
631087 / 04.2014
8
9
10
±0 (OFF)
=
11
=
=
=
11.1
11.2
RAM
- 98
mm
RAM
11.3
631087 / 04.2014
11.4
11.5
23
11.6
12 A
12 C
13
Seite 32 / page 32
24
12 B
Seite 33 / page 33
Seite 34 / page 34
631087 / 04.2014
1
2
Ext.
1.1
1.2
4
4.1
Int.
3
Ext.
Ext.
Int.
Int.
6
7
7,0
9
5.1
5
Ext.
4.2
5.2
Int.
8
9.1
7,0
9.2
9.3
7,0
5,0
631087 / 04.2014
25
TPS 080
TPS 081
1
1.1
1.2
1.1
1.2
26
1.3
631087 / 04.2014
2
2.1
2.3
2.4
2.2
5 mm
3
3.1
3.2
TPS 080
TPS 081
A
B
3.3
A
3.4
B
631087 / 04.2014
A
B
3.5
B
A
27
4
4.1
A
TPS 080
4.3
B
4.2
A
4.4
B
A
B
4.5
B
A
5
5.1
5.2
5.3
5.4
5.5
28
631087 / 04.2014
6
7
7.1
7.2
631087 / 04.2014
29
6,3 x
80 m
m
+
+
C
A
D
B
1
150
mm
2.1
2
4
2
1
2.2
3
3
4
A
A
4
5.3
6
D
D
D
D
=
D
D
D
D
30
=
200 mm
200 mm
=
5.3
D
350 mm
D
=
D
350 mm
5.2
=
m
22 m
=
5.1
631087 / 04.2014
7
8
OPTION 7.1 - 7.5
Seite 34 / page 34
10
9
11
90°
Ø 7 mm
Ø 5 mm
max. 100 mm
90°
10 + 11
150
mm
A
150
mm
150
mm
150
mm
A
500
mm
A=A
B
150
mm
B
B
A
150
mm
150
mm
150
mm
A
150
mm
500
mm
A
B=B
150
mm
500
mm
A
150
mm
500
mm
A
150
mm
500
mm
A
150
mm
500
mm
A
150
mm
631087 / 04.2014
B
A=A
A=A
A=A
B=B
A
A
150
mm
B
A
150
mm B
150
mm
150
mm
31
13
32
C=C
150 B
mm
B
200
mm
A
B
150
mm
150
mm
150
mm
150
mm
=
A
A
A
500
mm
A=A
B=B
C
500
mm
500
mm
500
mm
A=A
B=B
B=B
500
mm
150
mm B
B
A
B
200
mm
A
A
A
A
150
mm
150
mm
150 B
mm
150
mm B
250
mm
A
B=B
250
mm
150
mm
B=B
B
500
mm
250
mm
A
250
mm
150
mm
150
mm
B
A
150
mm
B
500
mm
A
150 B
mm
B
B
B
200
mm
A
A=A
500
mm
A
150
mm B
12.2
150
mm
A
A=A
500
mm
A
C
150
mm
500
mm
C
A
A
200
mm
150
mm
150
mm
12.1
200
mm
B
B
C
200
mm
A=A
C=C
14
90°
631087 / 04.2014
15 A
15 B
?
15 C
16.1
16.2
16.3
=
17
20
18
=
=
=
19
21
C
631087 / 04.2014
33
22
22.1
22.2
22.3
22.4
1
4
3
B
2
OPTION
7.4
34
7.1
7.2
7.3
7.5
631087 / 04.2014
+
3
1
2
4
5
0
631087 / 04.2014
35
25 m
m
A
B
C
4,2 x 60 mm
30 mm
1
B
30 mm
A
A
30 m
m
36
631087 / 04.2014
2
3
Ø 3,5 mm
150
mm
C
=
B
=
=
=
150
mm
=
=
=
150
mm
=
=
A
=
150
mm
150
mm
=
=
=
=
150
mm
5.1
150
mm
150
mm
=
150
mm
=
150
mm
150
mm
150
mm
5
4
5.2
4,2 x
60 m
m
max. 65 mm
631087 / 04.2014
37
50 m
7,5 x 92 mm
m
A
B
C
4,2 x 60 mm
1
2
Ø 6 mm
150
mm
=
150
mm
=
=
=
C
=
B
150
mm
=
=
=
A
=
150
mm
150
mm
150
mm
=
=
=
=
150
mm
4.1
150
mm
=
=
150
mm
=
150
mm
150
mm
150
mm
4
3
5
4.2
Ø 4,5 mm
A
4,2 x
60 m
m
7,5 x
92 m
m
16 m
m
max. 90 mm
38
631087 / 04.2014
2
1
Ext.
1.1
1.2
Int.
3
4.1
4
5
Ext.
Ext.
4.2
x2
1/3
1/3
Int.
6
Int.
7
7.1
1/3
7.3
Ext.
7.2
Int.
8
9
10
10.1
631087 / 04.2014
39
11
40
11.1
11.2
631087 / 04.2014
1
2
3
4
Ext.
Ø 8 mm
Int.
4.1
5
6
8
8.1
0
7
L=+3%
8.2
8.3
Ext.
25
25
25
9.1
Int.
5,5
10
5,0
9.2
9.3
5,0
6,0
631087 / 04.2014
41
11
11.1
12
12.1
12.2
13
42
631087 / 04.2014
1
2
3.1
Ext.
Ext.
3.2
Int.
4
4.1
Ext.
Int.
5.1
5
Ext.
4.2
Int.
6
5.2
Int.
7
8
5,0
9
7,0
Ext.
7,0
Int.
9.1
Int.
5,0
10
9.2
10.1
10.2
10.3
9.3
631087 / 04.2014
43
1
1.1
2
Ext.
1.2
1.3
Int.
3
4
Ext.
Ext.
Int.
Int.
6
2,0
9
4.1
5
5.1
Ext.
4.2
5.2
Int.
7
8
9.1
10
position 1 = 8 mm
position 2 = 7 mm
3,0
9.2
9.3
3,0
6,0
44
631087 / 04.2014
4,5 - 6,5 mm
631087 / 04.2014
45
STANDARD
OPTION
3
46
1
2
3
1
2
4
631087 / 04.2014
1.1
1.2
2.1
631087 / 04.2014
1.3
90°
3
3.1
3.3
3.4
2.2
Ø 3 mm
3.2
47
-
+
48
631087 / 04.2014
Seite 45 /
page 45
2
4
631087 / 04.2014
49
DE Klebekraft
EN Adhesive power
FR Force de colle
ES Fuerza adhesiva
< 5 N / 25 mm
RU Клеящая способность
PL Siła klejenia
DE Reißkraft
10
11 12
EN Tear-out force
1
2
9
3
8
7
4
6
5
max 3 h
FR Force de ceder
ES Fuerza tensil
<50 N / 25 mm
RU Разрывное усилие
PL Siła zrywania
NO Dersom du bruker maskeringstape under monterings- eller
SV
DE Bei der Verwendung von Abdeckklebebändern beim Einbau /
EN
FR
ES
RU
NL
IT
PT
PL
HU
CS
SL
50
Einputzen / Malern, dürfen nur schwach klebende
Klebebänder verwendet werden
If using tape to protect surfaces during fitting/plastering/
painting, only use masking tape that will not damage painted
surfaces when removed!
En cas d'utilisation de films adhésifs de protection lors de la
pose / du crépissage / de la peinture, seuls des rubans
adhésifs à faible adhérence doivent être utilisés afin d'exclure
tout endommagement des surfaces vernies lors du retrait !
Si se utilizan cintas adhesivas de protección para los trabajos
de montaje/revoque/pintura, sólo deben utilizarse cintas
adhesivas de adhesión ligera, para evitar que se produzcan
daños en las superficies lacadas al retirar las cintas.
При использовании защитной клейкой ленты для
монтажных, штукатурных и малярных покрасочных работ
следует использовать только клейкие ленты с низкой
адгезией, чтобы исключить, таким образом, повреждения
лакированой поверхности.
Bij gebruik van afdekplakbanden bij montage/bepleisteren/
schilderen, mogen alleen zwak plakkende plakbanden
worden gebruikt, die bij het verwijderen de beschadiging van
gelakte oppervlakken uitsluiten!
Se si utilizza nastro adesivo per pacchi durante il montaggio/
l'intonacatura/l'imbiancatura, quest'ultimo non deve avere
troppa aderenza per escludere che la superficie laccata
venga danneggiata alla sua rimozione!
Aquando da utilização de fitas adesivas de cobertura na
montagem, limpeza ou lacagem, somente as fitas adesivas
suaves devem ser utilizadas para que não causem danos nas
superfícies lacadas quando forem removidas!
Do zabezpieczenia drzwi podczas montażu/tynkowania/
malowania należy stosować wyłącznie słabe samoprzylepne
taśmy malarskie, aby podczas usuwania nie spowodowały
uszkodzenia lakierowanej powierzchni
A beépítés/takarítás/festés során a takaró ragasztószalag
használatakor figyeljen arra, hogy csak gyengén ragadó
ragasztószalagot használjon, ami az eltávolítás során nem
károsítja a festett felületeket!
Při používání maskovacích lepicích pásek během montáže/
omítání/malování se smí používat jen slabě lepící pásky, které
při odstraňování vylučují poškození lakovaných ploch.
Pri použití krycích lepiacich pások pri montáži/začisťovaní/
maľovaní sa smú použiť iba slabo lepiace pásky, ktoré pri
odstraňovaní vylúčia poškodenie lakovaných povrchových
úprav!
FI
DA
SK
TR
LT
ET
LV
HR
SR
EL
RO
BG
malingsarbeid, må dette være en type maskeringstape med
svakt lim, slik at de lakkerte overflatene ikke skades når den
fjernes!
Om maskeringstejp används vid montering, målning och
liknande arbeten får den inte ha för kraftigt klister som kan
skada den lackerade ytan när man tar bort den.
Käytä asennettaessa, rapattaessa tai maalattaessa vain
kevyesti kiinnittyviä peiteteippejä, jotka eivät poistettaessa
vahingoita pintoja!
Ved brug af klæbebånd til afdækning i forbindelse med
montering/pudse- og malerarbejde må der kun anvendes
svagt klæbende klæbebånd, der ikke kan beskadige lakerede
overflader!
Ob uporabi prekrivnih lepilnih trakov pri delih vgradnje/
ometavanja/pleskanja se lahko uporabijo samo rahlo lepljivi
prekrivni trakovi, ki pri odstranjevanju ne poškodujejo
lakiranih površin!
Montaj/Sıva/Boya çalışmalarda sadece yapışkanlığı az olan
ve bandı sökerken boyaya zarar vermeyen maskeleme
bantlar kullanılmalıdır!
Kai montuojant, tinkuojant / dažant naudojamos
dengiamosios lipnios juostos, leidžiama naudoti tik silpnai
limpančias lipnias juostas, kurias nuėmus nebūtų pažeidžiami
lakuoti paviršiai
Paigaldamisel/krohvimisel/viimistlemisel võib toote kinni
katmiseks kasutada ainult selliseid kleeplinte, mille liim ei ole
väga tugev, mis välistab eemaldamisel värvitud pealispindade
kahjustada saamise!
Iebūvēšanas/apmetuma kārtas uzklāšanas/krāsošanas laikā
izmantojot nosedzošās līmlentes, drīkst izmantot tikai
līmlentes ar vāju pielipšanas spēju, kas to noņemšanas laikā
nesabojā nokrāsoto virsmu!
Ako se koriste ljepljive trake za prekrivanje prilikom ugradnje/
žbukanja/bojenja dopušteno je koristiti samo slabo ljepljive
trake, koje kod odstranjivanja ne oštećuju lakirane površine!
U slučaju korišćenja lepljivih traka za prekrivanje kod
ugradnje/malterisanja/krečenja, dozvoljena je samo upotreba
lepljivih traka koji nemaju jaku lepljivost, tako da se prilikom
njihovog otklanjanja ne oštete lakirane površine!
Σε περίπτωση χρήσης κολλητικών ταινιών κάλυψης κατά την
τοποθέτηση/εντοιχισμό/βαφή, επιτρέπεται να
χρησιμοποιηθούν μόνο κολλητικές ταινίες που κολλάνε
ελαφρώς, οι οποίες κατά την αφαίρεσή τους δεν θα
προκαλέσουν ζημιές στις βαμμένες επιφάνειες!
La utilizarea de bandă adezivă pentru vopsit în timpul
montării/tencuirii/vopsirii recomandăm folosirea unei benzi
slab adezive, care la îndepărtare să nu afecteze suprafaţa
vopsită sau lăcuită!
При използването на покривни ленти за лепене при
монтаж/замазване/боядисване, могат да се използват
само слабо лепливи ленти, които при отстраняване
изключват повредата на боядисаните повърхности!
631087 / 04.2014
Unternehmererklärung
Fachunternehmen = Ersteller
Straße
PLZ, Ort
Bauherrschaft / Auftraggeber
Straße
PLZ, Ort
Standort des Gebäudes
Straße
PLZ, Ort
Die Haustür mit den Abmessungen von einer Breite ............ mm und Höhe ............ mm
hat einen berechneten UD Wert ............ W/m2K.
Hiermit bestätigen wir, dass die Tür nach den anerkannten Regeln der Technik eingebaut wurde und die EnEV 2009
einhalten.
.............................................................................
.............................................................................
Ort, Datum
Unterschrift Auftragnehmer / Fachunternehmen
Hiermit bestätige ich den Erhalt und die Kenntnis des Inhaltes der Unternehmererklärung.
.............................................................................
.............................................................................
Ort, Datum
Unterschrift
Diese Unternehmererklärung ist zum Nachweis der Pflicht § 26 EnEV 2009 mindestens fünf Jahreaufzubewahren!
631087 / 04.2014
51
Weitergabe sowie Vervielfältigung dieses
Dokuments, Verwertung und Mitteilung seines
Inhalts sind verboten, soweit nicht ausdrücklich
gestattet. Zuwiderhandlungen verpflichten zu
Schadenersatz. Alle Rechte für den Fall der
Patent-, Gebrauchsmuster- oder
Geschmacksmustereintragung vorbehalten.
Änderungen vorbehalten.
Šíření a rozmnožování tohoto dokumentu,
zužitkování a sdělování jeho obsahu je zakázáno,
pokud není výslovně povoleno. Jednání v rozporu s
tímto ustanovením zavazuje k náhradě škody.
Všechna práva pro případ zápisu patentu, užitného
vzoru nebo průmyslového vzoru vyhrazena. Změny
vyhrazeny.
Без наличия специального разрешения
Dissemination as well as duplication of this
запрещено любое распространение или
document and the use and communication of its
воспроизведение данного документа, а также
content are prohibited unless explicitly permitted.
использование и размещение где-либо его
Noncompliance will result in damage compensation содержания. Несоблюдение данного положения
obligations. All rights reserved in the event of
влечет за собой санкции в виде возмещения
patent, utility model or design model registration.
ущерба. Все объекты патентного права
Subject to changes.
(торговые марки, промышленные образцы и т.д.)
защищены. Оставляем за собой право на
внесение изменений.
Toute transmission ou reproduction de ce
document, toute exploitation ou communication de
son contenu sont interdites, sauf autorisation
Posredovanje kakor tudi razmnoževanje tega
expresse. Tout manquement à cette règle est illicite dokumenta, izkoriščanje in posredovanje njegove
et expose son auteur au versement de dommages vsebine je prepovedano, v kolikor ni izrecno
et intérêts. Tous droits réservés en cas de dépôt
dovoljeno. Kršitve zavezujejo k poravnavi škode.
d'un brevet, d'un modèle d'utilité ou d'agrément.
Pridržane so vse pravice za primer registracije
Changements de construction réservés.
patentnih in uporabnih vzorcev. Pridržana je pravica
do sprememb.
Doorgeven of kopiëren van dit document, gebruik
en mededeling van de inhoud ervan zijn verboden
indien niet uitdrukkelijk toegestaan. Overtredingen
verplichten tot schadevergoeding. Alle rechten voor
het inschrijven van een patent, een gebruikmodel of
een monster voorbehouden. Constructiewijzigingen
voorbehouden.
Quedan prohibidos la divulgación y la reproducción
de este documento, así como su uso indebido y la
comunicación del contenido, salvo por autorización
explícita. En caso de infracción se hace
responsable de indemnización por daños y
perjuicios. Se reservan todos los derechos, en
particular para el caso de concesión de patente, de
modelo de utilidad o industrial. Reservado el
derecho a modificaciones.
Il trasferimento di dati a terzi e la copia del
documento stesso, utilizzando il contenuto per
scopi diversi da quelli preposti, è vietato, salvo
diversamente accordato per iscritto dalla società.
La mancanza di piena adesione a queste condizioni
farà scaturire azione legale contro la persona o la
società recante l'offesa. Tutti i diritti, riferiti a
Certificazioni, già esistenti o in via di applicazione,
sono riservati. La Ditta si riserva la facoltà di
apportare modifiche al prodotto.
É proibida a divulgação e a reprodução do
presente documento, bem como a utilização e a
comunicação do seu teor, desde que não haja
autorização expressa para o efeito. O
incumprimento obriga a indemnizações.
Reservados todos os direitos de patentes, modelos
registados ou registo de modelos registados de
apresentação. Reservados os direitos de alteração.
Zabrania się przekazywania lub powielania
niniejszego dokumentu, wykorzystywania lub
informowania o jego treści bez wyraźnego
zezwolenia. Niestosowanie się do powyższego
postanowienia rodzi obowiązek odszkodowawczy.
Wszystkie prawa z rejestracji patentu, wzoru
użytkowego lub zdobniczego zastrzeżone. Zmiany
zastrzeżone.
Tilos ezen dokumentum továbbadása,
sokszorosítása, valamint tartalmának felhasználása
és közlése. A tilalmat megszegők kártérítésre
kötelezettek. Az összes szabadalmi-, használati
minta- és ipari jog fenntartva. A változtatás jogát
fenntartjuk.
Be atskiro aiškaus leidimo, draudžiama šį
dokumentą platinti, kopijuoti, naudoti ir perduoti jo
turinį. Pažeidus šiuos reikalavimus gali būti
pareikalauta atlyginti žalą. Saugomos visos teisės į
patentą, modelį arba pavyzdžio ar modelio
registravimą. Pasiliekame teisę daryti pakeitimus.
Käesoleva dokumendi paljundamine, müümine ja
selle sisu edastamine on keelatud, kui ei ole
meiepoolset ühest luba. Selle rikkumisel tuleb
hüvitada meile tekitatud kahju. Kõik õigused
patendi, kaubamärgi või tunnuse sissekande
tegemiseks reserveeritud. Kaitstud autoriõigustega.
Šīs instrukcijas pavairošana, tās satura realizācija
pārdošanas ceļā un izpaušana ir aizliegta, ja vien
no ražotāja iepriekš nav saņemta īpaša atļauja. Šī
noteikuma neievērošana vainīgajai personai uzliek
par pienākumu atlīdzināt radušos zaudējumus.
Visas tiesības attiecībā uz patenta , rūpnieciskā
parauga vai šī parauga rūpnieciskā dizaina
reģistrāciju rezervētas. Paturam tiesības veikt
izmaiņas.
Ukoliko nije tako izrijekom rečeno, prosljeđivanje ili
umnožavanja ovih dokumenata, korištenje ili
objavljivanje njihovih sadržaja nije dozvoljeno. U
suprotnom ćete snositi posljedice. Pridržano pravo
za slučaju patenta, naputka za korištenje ili unosa
uzoraka po izboru. Pridržano pravo promjena.
Videreformidling og distribusjon av dette
dokumentet samt anvendelse og spredning av
innholdet er ikke tillatt, med mindre det foreligger
uttrykkelig tillatelse. Krenkelse av denne
bestemmelsen medfører skadeerstatningsansvar.
Dalje prenošenje kao i umnožavanje ovog
Alle rettigheter forbeholdes mht. patent- design- og
dokumenta, iskorišćavanje i saopštavanje njegovog
mønsterbeskyttelse. Forbehold om endringer.
sadržaja je zabranjeno, ukoliko drugačije nije izričito
odobreno. Suprotni postupci obavezuju na
naknadu štete. Sva prava su zadržana za slučaj
Överlåtelse och mångfaldigande av detta
upisivanje patenta, upotrebe uzoraka ili dizajn
dokument, utnyttjande och överföring av dess
innehåll är ej tillåtet utan vårt tillstånd. Överträdelse uzoraka. Pridržano pravo na izmene.
leder till skadestånd. Med förbehåll för ändringar
vad gäller patent, användning eller smak. Rätten till
Απαγορεύεται η ανατύπωση του παρόντος
ändringar förbehålles.
εγγράφου, η χρήση και η διανομή του περιεχομένου
του χωρίς ρητή άδεια. Οι παραβάτες υποχρεούνται
Tämän dokumentin luovuttaminen kolmansille
σε αποζημίωση. Με την επιφύλαξη παντός
tahoille tai sen kopioiminen, sen sisällön käyttö tai
δικαιώματος για την περίπτωση διπλώματος
tietojen välittäminen eteenpäin on kiellettyä, mikäli
ευρεσιτεχνίας, υποδείγματος ή σχεδίου. Διατηρούμε
sitä ei ole nimenomaisesti sallittu. Määräysten
το δικαίωμα για αλλαγές.
vastainen käyttö velvoittaa korvausvaatimusten
maksamiseen. Kaikki patentointia sekä
Transferul către terţi a prezentului document cât şi
hyödyllisyysmalleja ja niiden hakemista koskevat
multiplicarea acestuia, comercializarea cât şi
oikeudet pidätetään. Oikeudet muutoksiin
dezvăluirea conţinutului acestuia sunt interzise atât
pidätetään.
timp cât nu aţi obţinut o aprobare expresă în acest
sens. Contravenţiile vă vor obliga la plata de
Det er ikke tilladt at give dette dokument videre
despăgubiri. Toate drepturile referitoare la
eller at mangfoldiggøre det, bruge det i anden
înregistrarea brevetului, a modelului de utilitate sau
sammenhæng eller at meddele dets indhold til
a modelului industrial sunt rezervate. Ne rezervăm
andre, medmindre der udtrykkeligt er givet
dreptul de a efectua modificări.
tilladelse hertil. Overtrædelser medfører pligt til
skadeserstatning. Alle rettigheder forbeholdes i
tilfælde af patenttildeling, registrerede varemærker Предаването и размножаването на този
документ, използването и оповестяването на
eller beskyttet design. Ret til ændringer
неговото съдържание са забранени, освен ако
forbeholdes.
не е налице изрично разрешение за това.
Нарушаването на тази забрана поражда
Postúpenie, ako aj rozmnožovanie tohto
задължение за обезщетение. Всички права за
dokumentu, zhodnotenie a sprostredkovanie jeho
регистрация на патент, полезен модел или
obsahu je zakázané, pokiaľ to nie je výslovne
промишлен дизайн са запазени. Правото за
povolené. Konanie v rozpore s týmto nariadením
нанасяне на промени се запазва.
zaväzuje k náhrade škody. Všetky práva pre prípad
registráciu patentu, úžitkového vzoru alebo vzorky
vyhradené. Zmeny vyhradené.
Bu dokümanın başka kişilere verilmesi ve de
çoğaltılması, içeriğinden faydalanması ve başka
kişilere iletilmesi izin verilmedikçe yasak. Aykırı
hareketler tazminat ödenmesini gerektiriyor. Patent,
kullanım numuneler, veya kişisel zevk örnekleri tüm
haklar gizlidir. Değişiklik yapma hakları saklıdır.
Weitergabe sowie Vervielfältigung dieses
Dokuments, Verwertung und Mitteilung seines
Inhalts sind verboten, soweit nicht ausdrücklich
gestattet. Zuwiderhandlungen verpflichten zu
Schadenersatz. Alle Rechte für den Fall der
Patent-, Gebrauchsmuster- oder
Geschmacksmustereintragung vorbehalten.
Änderungen vorbehalten.