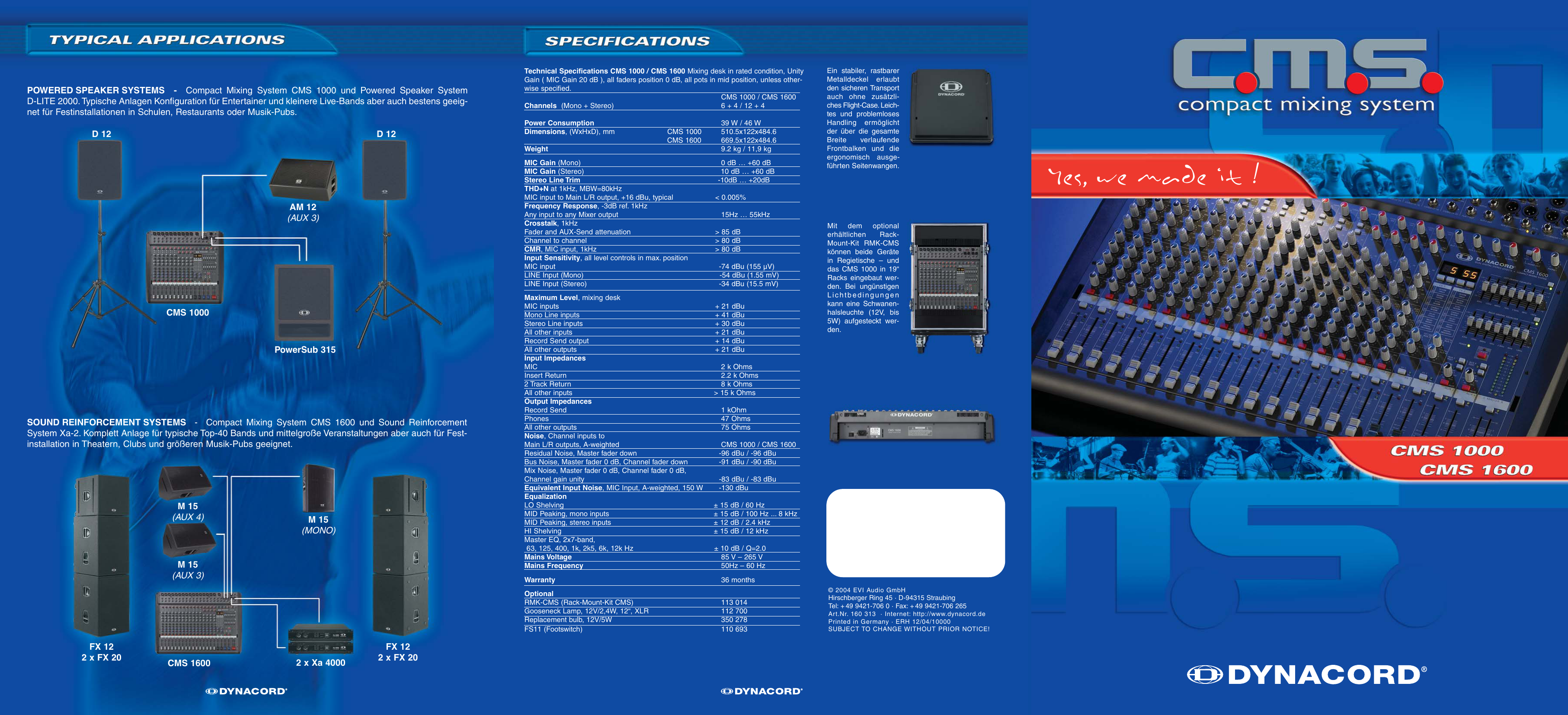 POWERED SPEAKER SYSTEMS - Compact Mixing System CMS 1000 und Powered Speaker System
D-LITE 2000. Typische Anlagen Konfiguration für Entertainer und kleinere Live-Bands aber auch bestens geeignet für Festinstallationen in Schulen, Restaurants oder Musik-Pubs.
D 12
D 12
Technical Specifications CMS 1000 / CMS 1600 Mixing desk in rated condition, Unity
Gain ( MIC Gain 20 dB ), all faders position 0 dB, all pots in mid position, unless otherwise specified.
CMS 1000 / CMS 1600
Channels (Mono + Stereo)
6 + 4 / 12 + 4
Power Consumption
Dimensions, (WxHxD), mm
39 W / 46 W
510.5x122x484.6
669.5x122x484.6
9.2 kg / 11,9 kg
CMS 1000
CMS 1600
Weight
MIC Gain (Mono)
MIC Gain (Stereo)
Stereo Line Trim
THD+N at 1kHz, MBW=80kHz
MIC input to Main L/R output, +16 dBu, typical
Frequency Response, -3dB ref. 1kHz
Any input to any Mixer output
Crosstalk, 1kHz
Fader and AUX-Send attenuation
Channel to channel
CMR, MIC input, 1kHz
Input Sensitivity, all level controls in max. position
MIC input
LINE Input (Mono)
LINE Input (Stereo)
AM 12
(AUX 3)
CMS 1000
PowerSub 315
SOUND REINFORCEMENT SYSTEMS - Compact Mixing System CMS 1600 und Sound Reinforcement
System Xa-2. Komplett Anlage für typische Top-40 Bands und mittelgroße Veranstaltungen aber auch für Festinstallation in Theatern, Clubs und größeren Musik-Pubs geeignet.
M 15
(AUX 4)
M 15
(MONO)
M 15
(AUX 3)
FX 12
2 x FX 20
CMS 1600
2 x Xa 4000
FX 12
2 x FX 20
Maximum Level, mixing desk
MIC inputs
Mono Line inputs
Stereo Line inputs
All other inputs
Record Send output
All other outputs
Input Impedances
MIC
Insert Return
2 Track Return
All other inputs
Output Impedances
Record Send
Phones
All other outputs
Noise, Channel inputs to
Main L/R outputs, A-weighted
Residual Noise, Master fader down
Bus Noise, Master fader 0 dB, Channel fader down
Mix Noise, Master fader 0 dB, Channel fader 0 dB,
Channel gain unity
Equivalent Input Noise, MIC Input, A-weighted, 150 W
Equalization
LO Shelving
MID Peaking, mono inputs
MID Peaking, stereo inputs
HI Shelving
Master EQ, 2x7-band,
63, 125, 400, 1k, 2k5, 6k, 12k Hz
Mains Voltage
Mains Frequency
0 dB … +60 dB
10 dB … +60 dB
-10dB … +20dB
Ein stabiler, rastbarer
Metalldeckel erlaubt
den sicheren Transport
auch ohne zusätzliches Flight-Case. Leichtes und problemloses
Handling ermöglicht
der über die gesamte
Breite
verlaufende
Frontbalken und die
ergonomisch ausgeführten Seitenwangen.
< 0.005%
15Hz … 55kHz
> 85 dB
> 80 dB
> 80 dB
-74 dBu (155 µV)
-54 dBu (1.55 mV)
-34 dBu (15.5 mV)
+
+
+
+
+
+
21
41
30
21
14
21
dBu
dBu
dBu
dBu
dBu
dBu
Mit dem optional
erhältlichen
RackMount-Kit RMK-CMS
können beide Geräte
in Regietische – und
das CMS 1000 in 19"
Racks eingebaut werden. Bei ungünstigen
Lichtbedingungen
kann eine Schwanenhalsleuchte (12V, bis
5W) aufgesteckt werden.
2 k Ohms
2.2 k Ohms
8 k Ohms
> 15 k Ohms
1 kOhm
47 Ohms
75 Ohms
CMS 1000 / CMS 1600
-96 dBu / -96 dBu
-91 dBu / -90 dBu
-83 dBu / -83 dBu
-130 dBu
±
±
±
±
15
15
12
15
dB
dB
dB
dB
/
/
/
/
60 Hz
100 Hz ... 8 kHz
2.4 kHz
12 kHz
± 10 dB / Q=2.0
85 V – 265 V
50Hz – 60 Hz
Warranty
36 months
Optional
RMK-CMS (Rack-Mount-Kit CMS)
Gooseneck Lamp, 12V/2,4W, 12", XLR
Replacement bulb, 12V/5W
FS11 (Footswitch)
113
112
350
110
© 2004 EVI Audio GmbH
014
700
278
693
Hirschberger Ring 45 · D-94315 Straubing
Tel: + 49 9421-706 0 · Fax: + 49 9421-706 265
Art.Nr. 160 313 · Internet: http://www.dynacord.de
Printed in Germany · ERH 12/04/10000
SUBJECT TO CHANGE WITHOUT PRIOR NOTICE!
Yes, we made it !
In der Welt des Überflusses und der Massenproduktion sind nach wie vor Qualität, Funktionalität und
Design entscheidende Faktoren. Wir aus dem Hause
DYNACORD entwickeln und produzieren "Made in
Germany" erstklassige Produkte, die durch Praxis
optimierte Detaillösungen positive Erlebnisse vermitteln und Ihnen im täglichen Gebrauch lange
Freude bereiten. Höchstmögliche Qualität unserer
Produkte und die vollste Zufriedenheit der Kunden
ist unser oberstes Gebot.
Höchste Audio-Qualität im Übertragungsweg zwischen
Signalquelle und Endverstärker konnte bisher nur mit
professionellen und teuren Einzelkomponenten wie
Mischpult, Effektgeräten und Equalizern sowie umständlicher und komplexer Verkabelung erreicht werden.
Die neuen Compact Mixing Systeme CMS 1000 und
CMS 1600 von DYNACORD sind als "All-in-one"
Systemlösungen konzipert, einfach zu transportieren
und extrem schnell einsatzbereit. Erstmals wird dem
Anwender eine Kombination aus höchstqualitativen
Mixerteil in Verbindung mit professionellen Digitaleffektgeräten in Studioqualität, Graphic-Equalizern sowie
einer Vielzahl praxiserprobter Problemlöser geboten.
CMS 1000 und CMS 1600 sind die ideale
Komplettlösung zum Antrieb aktiver Lautsprechersysteme oder beliebiger Endstufen- Boxenkombinationen. Die
Einsatzmöglichkeiten reichen von typischer Livemusik
über das Verleihgeschäft bis hin zu anspruchsvollen
Festinstallationen in Gastronomie oder Schulen sowie
professionellen Multimedia Anwendungen.
Alle 6 bzw. 12 Mono Eingänge des CMS 1000 bzw. CMS 1600 sind mit XLR- (Mic)
und Klinkenbuchsen (Line) sowie einen gemeinsamen Gainsteller mit 60 dB
Regelumfang ausgestattet. Somit lassen sich auch problemlos Line-Pegel über die
XLR Mic-Inputs verarbeiten.
Über die Insert-Buchsen können Zusatzgeräte wie Kompressoren oder Gates pro
Kanal problemlos eingeschleift werden. Ein schaltbares Lo-Cut Filter eliminiert tieffrequente Störfrequenzen unterhalb 80 Hz. Die 3-fach Klangregelung ist mit einem
von 100 Hz bis 8 kHz durchstimmbaren semiparametrischen Mid-EQ ausgestattet.
Der Lo-Shelving EQ arbeitet bei 60 Hz und der Hi-Shelving EQ bei 12 kHz mit
einem Regelbereich von jeweils +/- 15 dB. Insgesamt 4 AUX-Wege ermöglichen
die getrennte Ansteuerung der beiden internen Effektgeräte sowie zwei getrennt
regelbaren Monitorwegen. AUX1 und AUX2 regeln "postfade" die Sendpegel zu
den eingebauten Effektgeräte FX1 und FX2. AUX3 und AUX4 sind "prefade" für
getrennte Monitormixe vorgesehen, können aber zur Ansteuerung weiterer
Effektgeräte in der Summe auf "postfade" umgeschaltet werden.
MUTE und PFL sind ebenso pro Kanal vorhanden wie eine Aussteuerungsanzeige
mit Signal- und Peak Led´s. Besonders hochwertige, staubgeschützte ALPS Fader
regeln die Lautstärke der einzelnen Kanäle zueinander und überzeugen mit extrem
hohen Dämpfungswerten.
Die vier Mic / Stereo-Line Kanäle besitzen getrennte Mic-Gain und Line-Trim
Steller - anstelle der Lo-Cut und Vocal Voicing Filter in den Mono Kanälen - und
sind komplett 2-kanalig ausgeführt. Stereophone Signale von Keyboards oder
Samplern belegen somit nur jeweils einen der zur Verfügung stehenden
Kanalzüge. Die Mischung von Stereo-Line und Mikrofonsignal ist ebenfalls problemlos möglich.
Diskret aufgebaute Mikrofon Eingangsverstärker
in höchster Audio-Qualität mit 60 dB Gain
Regelumfang und extrem geringen Rausch- und
Klirranteilen setzen neue Maßstäbe in professioneller Mixertechnologie. In 6er Gruppen schaltbare Phantom Power, 3-fach Klangregelung mit
semiparametrischen Mitten, 4 AUX Wege, PFL und
MUTE, staubgeschützte ALPS-Fader, 2x 7-Band
Grahpic EQ, zwei Feedbackfilter und 4 LineStereokanäle sind nur einige der professionellen
Ausstattungsdetails.
Zwei getrennt ansteuerbare 24/48 bit Stereo
Digitaleffektgeräte bieten insgesamt 198 liveoptimierte Presets in Studioqualität. Raum- und
Plattenhall, Echo-Reverb, Chorus-Reverb, Mono /
Stereo-Delay und eine ganze Reihe von
Spezialeffekten sind bequem über up/down Tasten
abrufbar. Bevorzugte Presets können im Programmiermodus abgespeichert werden und stehen
beim nächsten Einschalten des CMS sofort zur
Verfügung. Über einen Global- bzw. zwei getrennte
Fußschalter lassen sich die Effekte gemeinsam
oder einzeln zu- bzw. abschalten.
Im Summenteil sind alle Bedienbereiche praxisgerecht und übersichtlich angeordnet. Die Returnpegel der eingebauten Effektgeräte FX1 und FX2, die Sendpegel
für AUX3 und AUX4 sowie die Stereo Master sind als Fader ausgeführt. Der 2x 7-Band
Graphic Equalizer kann bequem per Schalter zwischen Master und AUX3 / AUX4
umgeschaltet werden. Über separate AUX1 und AUX2 Send Regler können weitere Effektgeräte - parallel zu den internen - oder auch solo angesteuert werden.
Über den separat regelbaren und pre/post schaltbaren Mono-Out können Anlagen
für Nebenräume, Sidefills oder auch aktive Subwoofer betrieben werden. Für
Spielpausen steht ein praktischer Stand-by Schalter zur Verfügung. Die 2-Track
Return Wege sind hiervon nicht betroffen und erlauben das getrennt regelbare
Einspielen von Band- oder CD Material auf die Master oder AUX3 und AUX4 Wege.
Alle XLR Ausgänge sind elektronisch symmetrisch aufgebaut und für knackfreien
Betrieb über Relais geschaltet.
Wird in der Master-Sektion keine
Equalization für die Hauptanlage
oder zur Raumanpassung benötigt,
kann der eingebaute 2x 7-Band
Graphic Equalizer bequem per
Tastendruck in die Monitorschienen eingeschleift werden und steht
somit den AUX3 und AUX4 Wegen
für einen optimalen Monitormix zur
Verfügung. Das gewählte Routing
wird mittels LED´s übersichtlich
angezeigt.
AUX3 und AUX4 verfügen in der
Summe über ein schaltbares, von
80 Hz bis 7,7 kHz durchstimmbares
Anti-Feedback-Filter. Auftretende
Rückkopplungen durch ungünstige
Mikrofonplatzierung oder zu hohe
Lautstärken können ohne zusätzliche Equalizer schnell und zielgenau eliminiert werden.
Dieses pro Mic / Line Kanal schaltbare Filter hebt besonders "dünne"
Stimmen deutlich aus dem Gesamtmix hervor. Eine asymmetrische Filterstruktur betont speziell
den Grundtonbereich der Stimme
und bringt sie durch dezentes
Shelving transparent in den Vordergrund. Diese "Grundentzerrung"
kann mit keinem normalen
Equalizer erzeugt werden.