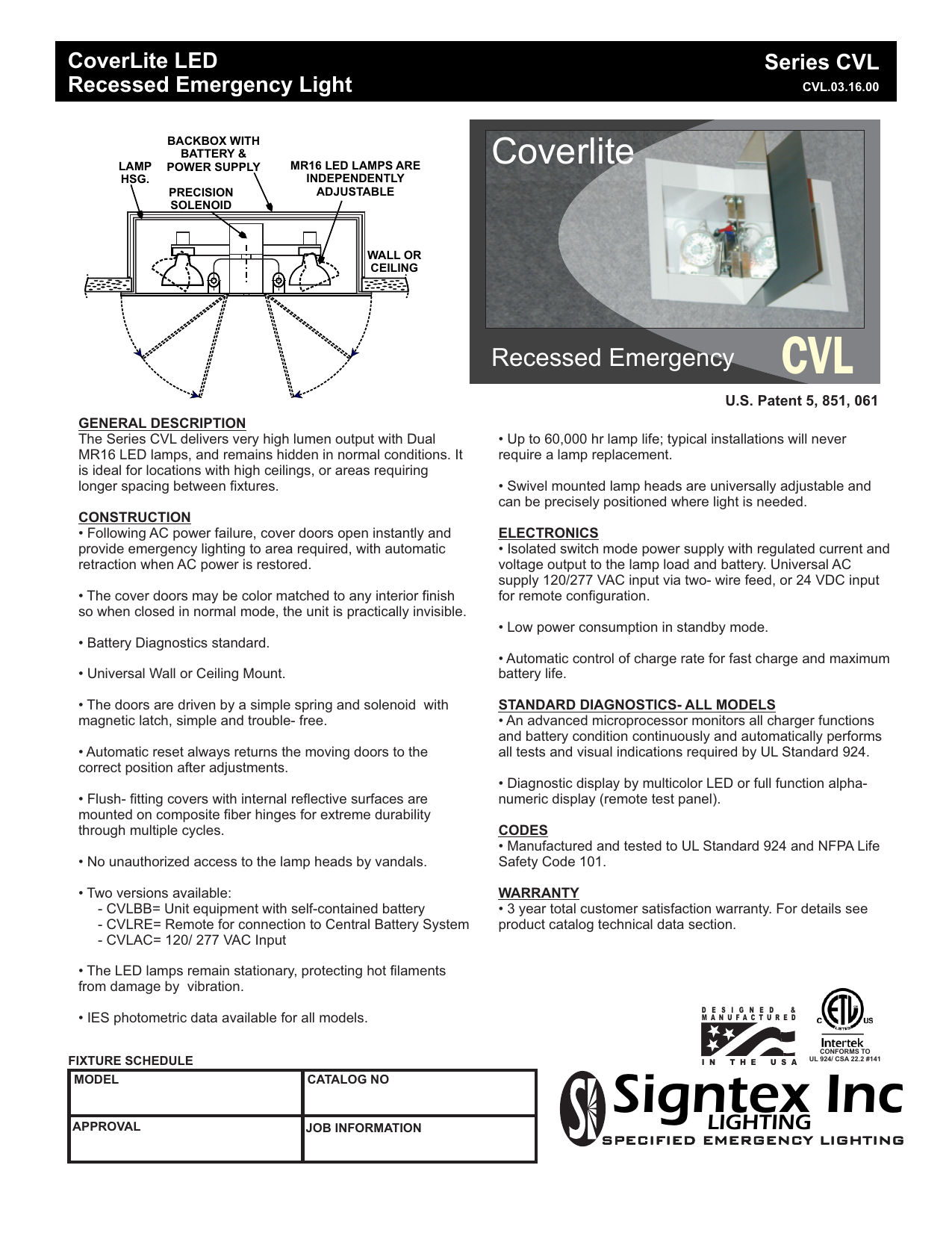 CoverLite LED
Recessed Emergency Light
LAMP
HSG.
BACKBOX WITH
BATTERY &
POWER SUPPLY
PRECISION
SOLENOID
Series CVL
CVL.03.16.00
MR16 LED LAMPS ARE
INDEPENDENTLY
ADJUSTABLE
Coverlite
WALL OR
CEILING
Recessed Emergency
CVL
U.S. Patent 5, 851, 061
GENERAL DESCRIPTION
The Series CVL delivers very high lumen output with Dual
MR16 LED lamps, and remains hidden in normal conditions. It
is ideal for locations with high ceilings, or areas requiring
longer spacing between fixtures.
CONSTRUCTION
• Following AC power failure, cover doors open instantly and
provide emergency lighting to area required, with automatic
retraction when AC power is restored.
• The cover doors may be color matched to any interior finish
so when closed in normal mode, the unit is practically invisible.
• Up to 60,000 hr lamp life; typical installations will never
require a lamp replacement.
• Swivel mounted lamp heads are universally adjustable and
can be precisely positioned where light is needed.
ELECTRONICS
• Isolated switch mode power supply with regulated current and
voltage output to the lamp load and battery. Universal AC
supply 120/277 VAC input via two- wire feed, or 24 VDC input
for remote configuration.
• Low power consumption in standby mode.
• Battery Diagnostics standard.
• Automatic control of charge rate for fast charge and maximum
battery life.
• Universal Wall or Ceiling Mount.
• The doors are driven by a simple spring and solenoid with
magnetic latch, simple and trouble- free.
• Automatic reset always returns the moving doors to the
correct position after adjustments.
• Flush- fitting covers with internal reflective surfaces are
mounted on composite fiber hinges for extreme durability
through multiple cycles.
• No unauthorized access to the lamp heads by vandals.
• Two versions available:
- CVLBB= Unit equipment with self-contained battery
- CVLRE= Remote for connection to Central Battery System
- CVLAC= 120/ 277 VAC Input
STANDARD DIAGNOSTICS- ALL MODELS
• An advanced microprocessor monitors all charger functions
and battery condition continuously and automatically performs
all tests and visual indications required by UL Standard 924.
• Diagnostic display by multicolor LED or full function alphanumeric display (remote test panel).
CODES
• Manufactured and tested to UL Standard 924 and NFPA Life
Safety Code 101.
WARRANTY
• 3 year total customer satisfaction warranty. For details see
product catalog technical data section.
• The LED lamps remain stationary, protecting hot filaments
from damage by vibration.
• IES photometric data available for all models.
FIXTURE SCHEDULE
D E S I G N E D
&
M A N U F A C T U R E D
I N
MODEL
CATALOG NO
APPROVAL
JOB INFORMATION
T H E
U S A
CONFORMS TO
UL 924/ CSA 22.2 #141
Signtex Inc
LIGHTING
SPECIFIED EMERGENCY LIGHTING
CoverLite LED
Recessed Emergency Light
Series CVL
CVL.03.16.00
SUGGESTED SPECIFICATIONS:
CODE
RT
Remote Test Panel
DP
Damp Location
SM
Surface Mount
CFX
Custom Finish
Custom "X" TO BE SPECIFIED
OPTIONS:
Install COVERLITE Series CVL recessed emergency light fixture manufactured
by Signtex, Inc., available as unit equipment including battery diagnostics as
standard, or as a remote device connected to a central power source. In normal
mode, dual lamp heads, charger and battery shall be fully recessed and covered by
hinged doors with reflective internal surfaces with no exposed mounting screws.
Upon loss of utility power, doors will open immediately, lamps will be energized and
light will be reflected on to the path of egress. Upon restoration of utility power,
lamps will extinguish and the reflective doors will automatically retract. The door
linkage shall allow manual movement without breakage or misalignment. Door and
lamp position shall be adjustable to allow placement of light beams to any desired
position. Lamps shall be 12 VDC LED MR16 with total power rating up to 16 watts.
The battery charger shall be an isolated power supply with universal 120/277 VAC
input via two- wire feed. Automatic battery diagnostics shall be included with all
models and shall perform all test functions and fault displays required by UL
Standard 924.
BATTERY DIAGNOSTIC FUNCTIONS:
Microcontroller performs tests as follows:
Continuous
Monitoring
Every
28 Days
Every
12 Months
Lamp
Connections
Transfer
switch
function
Battery
Connections
Reduced
Battery
Capacity
Full
emergency
operation test
with
test/ fail
and manual
report signal
SELF- TEST DIAGNOSTIC FUNCTIONS
STATUS
MOUNTING DATA & DIMENSIONS:
REAR VIEW
AC SUPPLY
SIDE VIEW
3 1/2" K.O.
MAX 7/8" DIA
2 PLCS
FRONT VIEW
INSTALLED
GREEN ON
ORANGE ON
RED FLASH FAST
GREEN FLASH
ORANGE FLASH
RED FLASH SLOW
REMOTE OPTION
3 1/2"
MAX
MIRROR DOOR ADJUST
10"
LAMP
HEAD
LED DISPLAY
NORMAL FULL CHARGE
NORMAL FAST CHARGE
FAILED BATTERY
FAILED LAMP
FAILED TRANSFER
FAILED CHARGER
12- 24V
DC
SUPPLY*
10"
BACKBOX
7"
10"
PANEL
*SEE SIGNTEX DATA SHEET SERIES CBS
CENTRAL BATTERY SYSTEM FOR DETAILS
15 1/2"
CHARGE OR DIAGNOSTIC
STATUS INDICATOR
(ABSENT WITH REMOTE
DISPLAY)
TEST
BUTTON
TOP VIEW
4" MAX
DOORS ADJUSTABLE
THRU 90°
REMOTE
SURFACE
MOUNT
OPTION
1/16"
MAX ABOVE
SURFACE
10"
BACKBOX
PANEL OPENING
PANEL
REQUIRED:
K.O.
6" HT x 9" WIDE
7/8" DIA
Hanger Bars Supplied by Others 2 PLCS
WALL OR CEILING SURFACE
MOUNT OPTION WITH BATTERY
3 3/8"
HEAD
EMERGENCY MODE
OPERATION
15 1/2"
10"
FACEPLATE
NOTE: THIS DEVICE CONTAINS A MICROPROCESSOR TO CONTROL EMERGENCY LIGHTING. OPERATION CAN BE DISRUPTED BY EMI
(ELECTRO- MAGNETIC INTERFERENCE) EMITTED BY CERTAIN TYPES OF HIGH-POWERED EQUIPMENT. DO NOT CONNECT IN THE SAME
CIRCUIT OR SHARE NEUTRAL WIRING WITH FREQUENCY-CHANGING DIMMING EQUIPMENT USED WITH HID FIXTURES OR SIMILAR.
CONTACT FACTORY FOR MORE INFORMATION.
ORDERING INFORMATION: EXAMPLE: CVLBB-8LC-2-RT
-2
BB
LC
-8
CVL
MODEL
SERIES
CVL= COVERLITE LED
RECESSED
EMERGENCY
LIGHT
OPERATION
LAMP
WATTAGE
BATTERY
TYPE
BATTERY
RUN TIME
6
8
LC=SEALED
LEAD
CALCIUM
NC=NICKEL
CADMIUM
1.5 = 90 MIN
2 = 2 HR
BB= SELF
CONTAINED
BATTERY
RE= REMOTE
WITH CBS
AC= AC Supply
120/277V
-RT
OPTIONS
See Above
Signtex
Inc
LIGHTING
220 VFWAvenue,Grasonville,MD21638
TEL:(410)827-8300 Fax:(410)827-8866
[email protected] www.signtexinc.com
DISTRIBUTOR:
Specifications and Dimensions subject to change without notice.

* Your assessment is very important for improving the work of artificial intelligence, which forms the content of this project