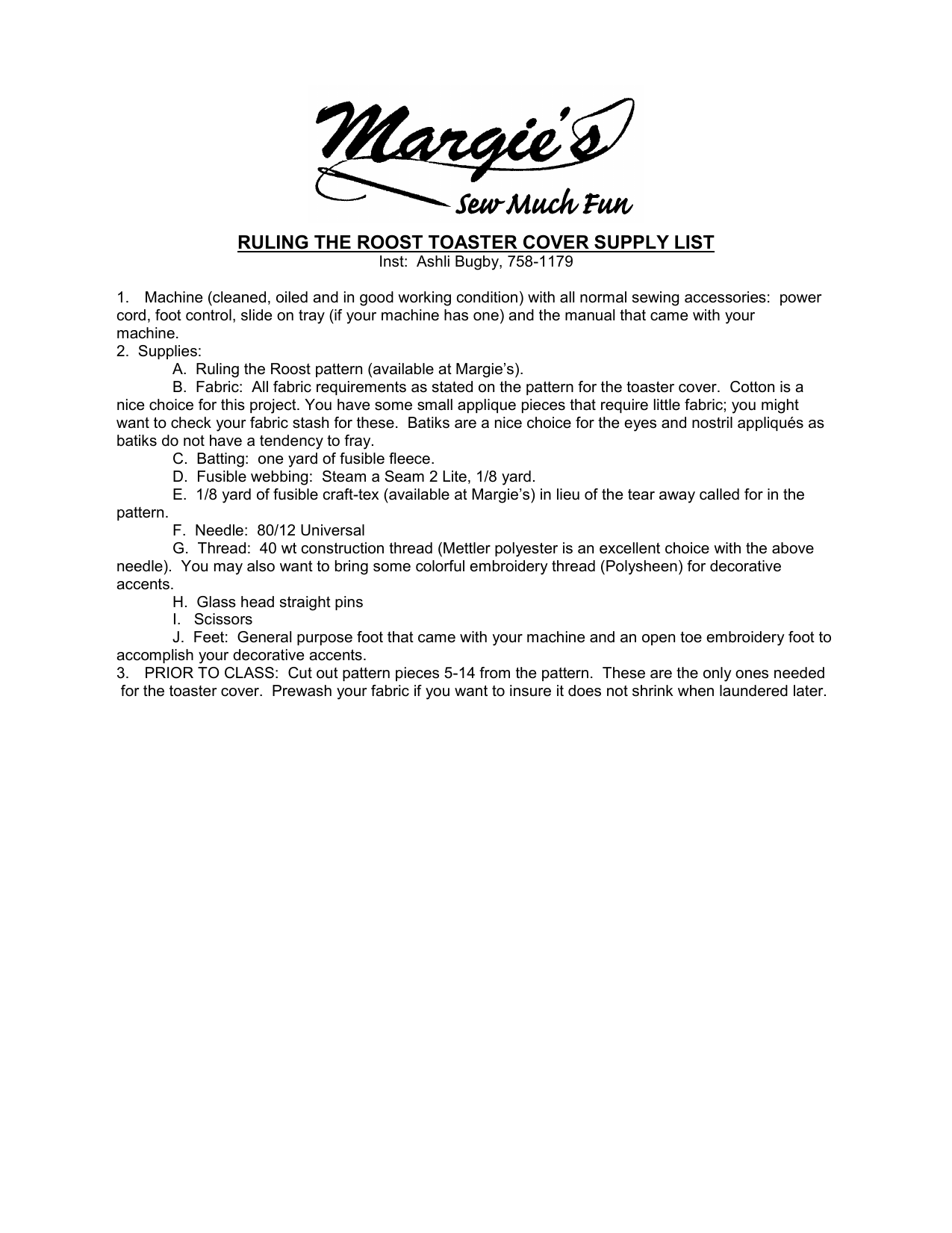 RULING THE ROOST TOASTER COVER SUPPLY LIST
Inst: Ashli Bugby, 758-1179
1. Machine (cleaned, oiled and in good working condition) with all normal sewing accessories: power
cord, foot control, slide on tray (if your machine has one) and the manual that came with your
machine.
2. Supplies:
A. Ruling the Roost pattern (available at Margie's).
B. Fabric: All fabric requirements as stated on the pattern for the toaster cover. Cotton is a
nice choice for this project. You have some small applique pieces that require little fabric; you might
want to check your fabric stash for these. Batiks are a nice choice for the eyes and nostril appliqués as
batiks do not have a tendency to fray.
C. Batting: one yard of fusible fleece.
D. Fusible webbing: Steam a Seam 2 Lite, 1/8 yard.
E. 1/8 yard of fusible craft-tex (available at Margie's) in lieu of the tear away called for in the
pattern.
F. Needle: 80/12 Universal
G. Thread: 40 wt construction thread (Mettler polyester is an excellent choice with the above
needle). You may also want to bring some colorful embroidery thread (Polysheen) for decorative
accents.
H. Glass head straight pins
I. Scissors
J. Feet: General purpose foot that came with your machine and an open toe embroidery foot to
accomplish your decorative accents.
3. PRIOR TO CLASS: Cut out pattern pieces 5-14 from the pattern. These are the only ones needed
for the toaster cover. Prewash your fabric if you want to insure it does not shrink when laundered later.

* Your assessment is very important for improving the work of artificial intelligence, which forms the content of this project