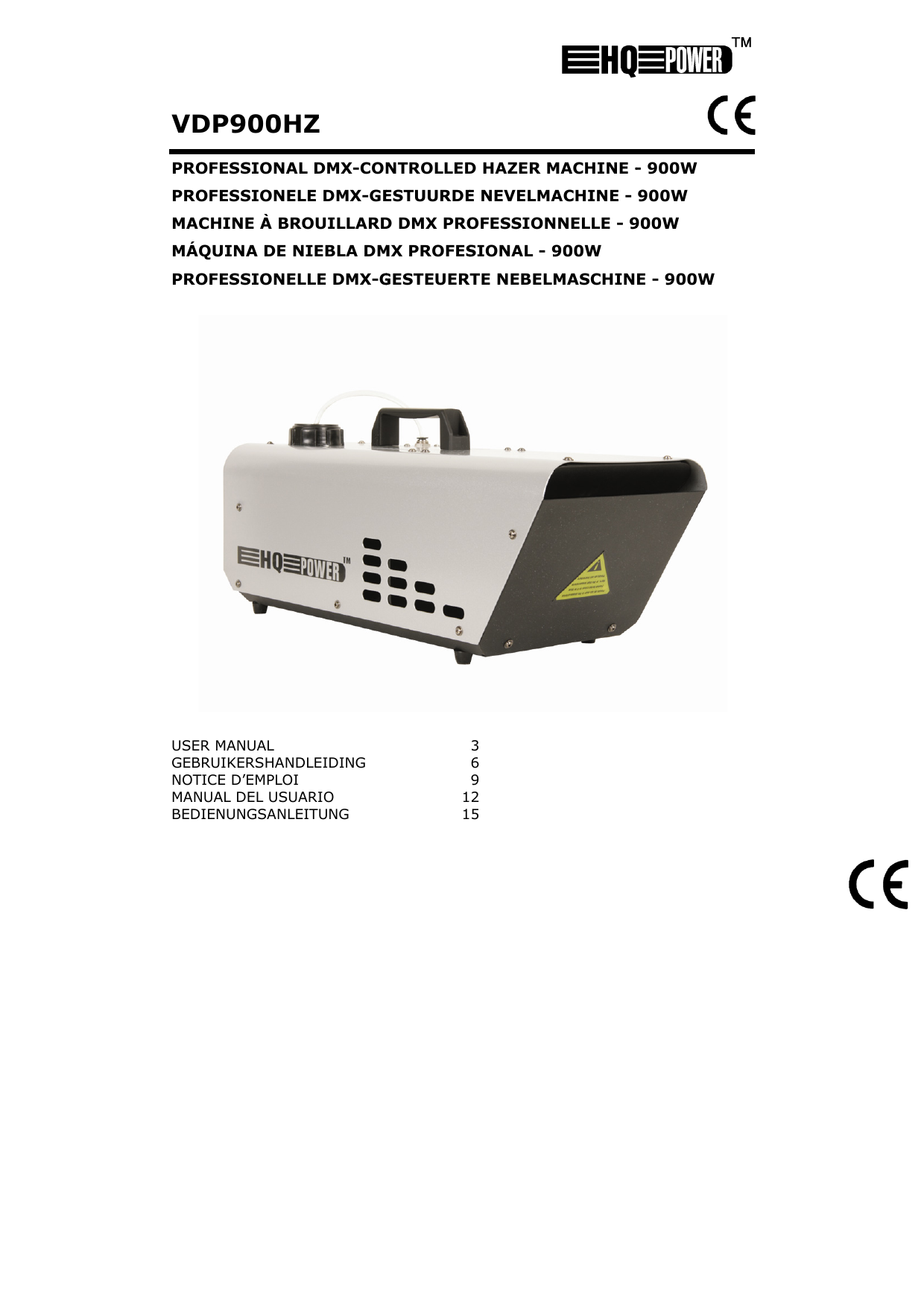 P900HZ
VDP
PROFESSIONAL
L DMX-CON
NTROLLED
D HAZER MACHINE
M
- 900W
PROFESSIONEL
LE DMX-GE
ESTUURDE
E NEVELMA
ACHINE - 900W
MACH
HINE À BRO
OUILLARD
D DMX PRO
OFESSION
NNELLE - 900W
9
MÁQU
UINA DE NIEBLA
N
DM
MX PROFES
SIONAL - 900W
9
PROFESSIONEL
LLE DMX-G
GESTEUERTE NEBELMASCHINE - 900W
USER MANUAL
M
GEBRUIKERSHAND
DLEIDING
NOTICE
E D'EMPLOI
MANUA
AL DEL USUA
ARIO
BEDIEN
NUNGSANLEITUNG
3
6 9 12 15 VDP900HZ
09.11.2010
2
©Vellema
an nv
VDP900HZ
USER MA
ANUAL
1. Intrroduction
To all re
esidents of the
e European Union
Importa
ant environmental information about this product
T
This
symbol on the device or th
he package indicates that dispo
osal of the devic
ce after its lifecy
ycle
D not dispose of
o the unit (or batteries)
b
as uns
sorted municipa
al
could harm the environment. Do
d be taken to a specialized com
mpany for recycling. This device
e should be retu
urned
waste; it should
to your distributor or to a locall recycling service. Respect the
e local environmental rules.
If in dou
ubt, contact yo
our local waste
e disposal autthorities.
Thank yo
ou for buying the
e VDP900HZ! Please
P
read the manual
m
thorough
hly before bringiing this device in
nto
service. If
I the device was
s damaged in tra
ansit, don't insta
all or use it and contact your dealer.
2. Safe
ety Instruc
ctions
Be very careful during the installation: touching live wires
w
can cause life-threatening
l
hocks.
electrosh
Do not to
ouch the device
e during operatio
on as the housin
ng heats up.
Keep this
s device away from
f
rain and moisture.
m
Unplug the
t
mains lead before
b
opening the
t
housing.
• Damag
ge caused by dis
sregard of certain guidelines in this manual is not covered by the warranty and
the dea
aler will not accept responsibilitty for any ensuiing defects or problems.
• A qualified technician should install an
nd service this device.
d
• Do not switch the deviice on immediattely after it has been exposed to
t changes in te
emperature. Pro
otect
the dev
vice against dam
mage by leaving
g it switched offf until it has reached room temperature.
• This de
evice falls underr protection clas
ss I. It is therefo
ore essential tha
at the device be
e earthed. Have
ea
qualifie
ed person carry out the electric
c connection.
• Make sure
s
that the available voltage does
d
not exceed
d the voltage sttated in the spec
cifications of thiis
manual.
• Do not crimp the powe
er cord and prottect it against damage.
d
Have an authorised de
ealer replace it if
necessary.
• Disconnect the device from the mains
s to clean it, fill the tank or whe
en it is not in us
se. Handle the power
p
cord by
y the plug only.
• Note th
hat damage cau
used by user mo
odifications to th
he device is not covered by the
e warranty.
• Keep th
he device away from fire and fllammable substtances.
• Keep th
he device away from children and
a
unauthorise
ed users.
3. Gen
neral Guide
elines
Refer to the
t
Velleman® Service and Quality
Q
Warran
nty on the last pages
p
of this ma
anual.
• This de
evice is designed
d for professional use on stage, in discos, thea
atres, etc. The VDL900HZ
V
should
only be
e used indoors and
a
connected to
t an alternating
g current of 230
0VAC ~ 50Hz.
• Do not shake the device. Avoid brute force when insttalling or operatting the device.
• Do not drink smoke liq
quid. If ingested
d, call a doctor immediately.
i
If smoke liquid co
omes in contact with
skin or eyes, rinse tho
oroughly with wa
ater.
• Familia
arise yourself wiith the functions
s of the device before
b
actually using it. Do nott allow operation
n by
unqualified people. An
ny damage that may occur will most probably be
b due to unpro
ofessional use of the
device..
• Use the
e original packaging if the devic
ce is to be trans
sported.
• All mod
difications of the
e device are forrbidden for safetty reasons.
• Only us
se the device fo
or its intended purpose.
p
All othe
er uses may lead to short circuits, burns,
electroshocks, crash, etc.
e
Using the device
d
in an unauthorised way will
w void the warranty.
me or any otherr liquid in the sm
moke liquid.
• Do not add oils, perfum
• The ins
stallation has to be approved by
y an expert befo
ore the device is taken into serrvice.
• Connec
ct the device to the mains with the power plug
g. Don't connectt it to a dimming
g pack.
09.11.2010
3
©Vellema
an nv
VDP900HZ
4. Installation
• Remov
ve all packing material from the
e shipping box. Check
C
that all fo
oam and plastic
c padding is
remove
ed.
• Clean the
t
spray nozzle
e and make sure
e nothing is obs
structing the output.
• Place the VDL900HZ horizontally on a flat surface. Remove
R
the liqu
uid tank cap.
ke liquid (VDLH
HLH5) into the tank,
t
being care
eful not to excee
ed the maximum
m
• Pour hiigh quality smok
fluid lev
vel. Do not overfill. Place the cap
c
back on the liquid tank and tighten.
• Connec
ct the remote co
ontrol into the slot
s
at the back of the device.
5. Use
e
a) The Device
he remote contro
ol into the slot at
a the back of th
he device. Plug the device into the mains using the
• Plug th
power cord.
n the power swiitch located at the
t
back of the device.
• Turn on
• The red
d light on the re
emote control will
w light up.
• The device must warm
m up. The period
d depends on th
he conditions bu
ut should not tak
ke more than 10
0
minute
es.
• The gre
een light on the
e remote controll will go up once
e the machine is
s ready to opera
ate (see "The
Remotte Control").
b) The Remote Contrrol
efer the illustration on page 2.
Please re
1
2
3
4
pow
wer LED
oke output everry x minutes (m
max.
smo
30 min)
output volume
fixe
ed time open LE
ED
5
6
7
8
output LED
successive spraying
s
for x se
econds (max. 15
seconds)
heated overr LED
spray button
n
6. Nottes
The VDP900HZ
V
doe
es not feature an
a automatic stop function when running
g out of fluid; the
t
pump will continue
e working. Alw
ways monitor the
t
tank fluid level during operation
o
as th
he
device can su
uffer damage when
w
run with
hout fluid!
• If you experience
e
low output, mechan
nical noise or no
o output at all, unplug
u
the device immediately.
Check the fluid level, the
t
external fus
se, the remote control
c
and the power cord. If all
a appears to be
e
g properly, plug
g in the unit aga
ain. If the device
e will not function after 30 seco
onds, discontinu
ue
working
operatiion to avoid perrmanent damage. Return the de
evice to your de
ealer. Remembe
er to drain the tank
t
before transporting the unit.
• Using the
t
device will produce
p
water drops at the nozzle. This is perffectly normal.
• A little smoke may con
ntinue to escape
e from the nozz
zle after operatio
on.
7. DMX
X Connectio
on
a. DMX512 Connection
n
Connect an XLR cable to
o the female 3-p
pin XLR output of
o your controlle
er and the otherr side to the ma
ale 3pin XLR input of the VDP
P900HZ. Multip
ple VDP900HZs
s can be linked through serial linking. The link
king
cable sho
ould be a two-co
ore screened ca
able with XLR input and output connectors.
b. DMX-5
512 Chain with
h Termination
n
A DMX term
minator is recom
mmended for installations where
e the DMX cable
e has
to run a long distance or is in an electrically noisy environ
nment (e.g. disc
cos).
ator prevents co
orruption of the digital control signal
s
by electrical
The termina
noise. The DMX
D
terminator is simply an XL
LR plug with a 120Ω
1
resistor
between pin
ns 2 and 3, whic
ch is then plugg
ged into the XLR
R output socket of
the last dev
vice in the chain. Please see illu
ustration.
c. DMX Start
S
Address
All DMX-c
controlled devic
ces need a digita
al start address so that the corrrect device resp
ponds to the sig
gnals.
This startt address is the channel numbe
er from which th
he device starts
s to "listen" to th
he DMX controlller.
Enter the
e correct numbe
er and read it fro
om the display located on the base
b
of the VDP
P900HZ.
You can use
u the same sttarting address for a whole gro
oup of devices or enter an indiv
vidual one for ev
very
device.
09.11.2010
4
©Vellema
an nv
VDP900HZ
When all devices have the same address, all the VDP900HZs will "listen" to the control signal on one
particular channel. In other words: changing the settings of one channel will affect all devices
simultaneously. If you set different addresses, each device will "listen" to a separate channel number.
Changing the settings of one channel will only affect the device in question.
In the case of the 1-channel VDP900HZ, you will have to set the start address of the first VDP900HZ to
1, the second VDP900HZ to 2 (1 + 1), the third to 3 (2 + 1) and so on.
8. Cleaning and Maintenance
1.All screws should be tightened and free of corrosion.
2.The housing, visible parts, mounting supports and the installation location (e.g. ceiling, suspension,
trussing) should not be deformed, modified or tampered with e.g. do not drill extra holes in mounting
supports, do not change the location of the connections.
3.The electric power supply cables must not show any damage. Have a qualified technician maintain the
device.
4.Disconnect the device from the mains prior to maintenance activities.
5.Clean the machine every 40 hours of operation. Use 80% water mixed with 20% vinegar.
a) Dismount and clean the nozzle with vinegar and make sure there are no particles left.
b) Empty the tank and fill with the cleaning mixture of water and vinegar. Spray the mixture until the
tank is empty.
c) Reassemble the nozzle and pour the smoke liquid for the next operation.
6.There are no user-serviceable parts.
7.Contact your dealer for spare parts if necessary.
9. Technical Specifications
power supply
power consumption
tank capacity
haze output
dimensions
weight
230VAC ~ 50Hz
max. 900W
1.3 litres
285m³/min
490 x 200 x 185mm
7.5kg
Use this device with original accessories only. Velleman nv cannot be held responsible in the
event of damage or injury resulted from (incorrect) use of this device. For more info
concerning this product and the latest version of this manual, please visit our website
www.hqpower.eu. The information in this manual is subject to change without prior notice.
© COPYRIGHT NOTICE
The copyright to this manual is owned by Velleman nv. All worldwide rights reserved.
No part of this manual or may be copied, reproduced, translated or reduced to any electronic medium or
otherwise without the prior written consent of the copyright holder.
09.11.2010
5
©Velleman nv
VDP900HZ
GEBRU
UIKERSHA
ANDLEID
DING
1. Inle
eiding
Aan alle
e ingezetenen van
v
de Europe
ese Unie
Belangrijke milieu-infformatie betre
effende dit pro
oduct
Dit symbool op
o het toestel off de verpakking geeft aan dat, als het na zijn levenscyclus wo
ordt
weggeworpen
n, dit toestel sch
hade kan toebre
engen aan het milieu.
m
Gooi dit toestel
t
(en
eventuele battterijen) niet bijj het gewone hu
uishoudelijke afv
val; het moet bij een
gespecialiseerd bedrijf terech
htkomen voor re
ecyclage. U moet dit toestel na
aar uw verdeler of
aal recyclagepun
nt brengen. Res
specteer de plaa
atselijke milieuw
wetgeving.
naar een loka
v
contac
cteer dan de plaatselijke auttoriteiten betrreffende de verwijdering.
Hebt u vragen,
Dank u voor
v
uw aankoop
p! Lees deze ha
andleiding grond
dig voor u het to
oestel in gebruik
k neemt. Werd het
toestel be
eschadigd tijden
ns het transportt, installeer het dan niet en raa
adpleeg uw dealler.
2. Veilligheidsinsttructies
Wees voorzichtig bij de installatie: raak
k geen kabels aa
an die onder strroom staan om
dodelijke
e elektroshocks te vermijden.
Raak hett toestel niet aan wanneer het in gebruik is: de
e behuizing worrdt warm.
Bescherm
m dit toestel teg
gen regen en vo
ochtigheid.
Verzekerr u ervan dat he
et toestel niet aa
angesloten is op
p een stroombro
on alvorens het te
openen.
• De garantie geldt niet voor schade do
oor het negeren van bepaalde richtlijnen
r
in dez
ze handleiding en
e uw
oordelijkheid afw
wijzen voor defe
ecten of problem
men die hier rec
chtstreeks verba
and
dealer zal de verantwo
ouden.
mee ho
• Laat dit toestel installe
eren en onderho
ouden door een geschoolde tec
chnicus.
• Om bes
schadiging te ve
ermijden, zet u het toestel bestt niet aan onmiddellijk nadat het werd blootge
esteld
aan tem
mperatuurschom
mmelingen. Wac
cht tot het toesttel op kamertem
mperatuur gekomen is.
• Dit toestel valt onder beschermingskl
b
asse I, wat wil zeggen
z
dat het toestel geaard moet zijn. Een
oolde technicus moet de elektris
sche aansluiting
g verzorgen.
gescho
• De bes
schikbare netspa
anning mag niett hoger zijn dan
n de spanning in
n de specificaties achteraan de
handleiding.
edingskabel mag
g niet omgeploo
oid of beschadigd zijn. Laat uw dealer zo nodig
g een nieuwe ka
abel
• De voe
plaatse
en.
• Trek de
e stekker uit het stopcontact (ttrek niet aan de kabel!) voordat u het toestel reinigt
r
of vult en
n als
u het niet
n
gebruikt.
• Schade
e door wijziginge
en die de gebru
uiker heeft aangebracht aan hett toestel vallen niet onder de
garantiie.
• Houd het
h toestel ut de
e buurt van vuur en brandbare goederen.
• Houd dit
d toestel uit de
e buurt van kind
deren en onbevo
oegden.
3. Alge
emene rich
htlijnen
• Dit toestel is ontworpe
en voor professiioneel gebruik op
o podia, in disc
co's, enz. U mag
g dit toestel enk
kel
n en aansluiten op een wisselsp
panning van maximum 230 VAC
C ~ 50 Hz.
binnenshuis gebruiken
mijd brute krachtt tijdens de installatie en de be
ediening van dit
• Schud het toestel niet dooreen. Verm
toestel.
g
rookvloeisttof. Is dit toch het
h geval, bel on
nmiddellijk een arts. Komt rook
kvloeistof in con
ntact
• Drink geen
met hu
uid of ogen, spoel dan overvloedig met water.
• Leer ee
erst de functies van het toestel kennen voor u het gaat gebruiken. Ongescho
oolde personen
mogen dit toestel niet gebruiken. Mee
estal is beschad
diging het gevolg
g van onprofess
sioneel gebruik.
• Gebruik de oorspronke
elijke verpakking wanneer u he
et toestel vervoe
ert.
n mag de gebru
uiker geen wijzig
gingen aanbreng
gen aan het toe
estel.
• Om veiiligheidsredenen
09.11.2010
6
©Vellema
an nv
VDP900HZ
• Gebruik het toestel enkel waarvoor het gemaakt is. Andere toepassingen kunnen leiden tot
kortsluitingen, brandwonden, elektrische schokken, enz. Bij onoordeelkundig gebruik vervalt de
garantie.
• Voeg geen oliën, reukstoffen of andere vloeistoffen toe aan de rookvloeistof.
• De installatie moet voor het eerste gebruik gekeurd worden door een expert.
• Sluit het toestel via de stekker aan op het lichtnet. Sluit het niet aan op een dimmerpack.
4. Installatie
•
•
•
•
Verwijder de verpakking. Zorg dat alle schuimrubber en plastic opvulling verwijderd is.
Maak het mondstuk schoon en zorg dat alle hinderende objecten zijn verwijderd.
Plaats de VDL900HZ horizontaal op een plat oppervlak. Verwijder de dop van het reservoir.
Vul het reservoir met een rookvloeistof van een hoge kwaliteit (VDLHLH5). Let erop dat u de
capaciteit van het reservoir niet overschrijdt. Plaats de dop terug en span aan.
• Sluit de afstandsbediening aan door de plug in de gleuf achteraan het toestel te steken.
5. Gebruik
a) Het toestel
• Sluit de afstandsbediening aan op de aansluiting achteraan het toestel. Steek de stekker van het
toestel in het stopcontact.
• Schakel het toestel in door middel van de voedingsschakelaar achteraan het toestel.
• Het rode lichtje op de afstandsbediening licht op.
• Laat het toestel opwarmen. De duur hangt af van de omstandigheden maar bedraagt niet meer dan 10
minuten.
• Eens het toestel opgewarmd is, licht het groene lampje op de afstandsbediening op (zie "De
afstandsbediening").
b) De afstandsbediening
Raadpleeg de afbeelding op pagina 2.
1
2
3
4
voedingsled
uitstoot elke x minuten (max. 30
minuten)
rookproductie
aanduidingsled
5
6
7
8
licht op wanneer er rook wordt uitgestoten
opeenvolgende verstuivingen gedurende x
seconden (max. 15 seconden)
oververhittingsled
activeringstoets
6. Opmerkingen
De VDP900HZ stopt niet automatisch wanneer de tank geen rookvloeistof meer bevat; de
pomp blijft werken. Houd het reservoir gedurende het gebruik van het toestel altijd in de
gaten. U kunt het toestel beschadigen wanneer u het zonder rookvloeistof laat werken!
• Produceert het toestel weinig of geen rook of maakt het mechanische geluiden, ontkoppel het toestel
dan onmiddellijk van het lichtnet. Controleer de reservoirinhoud, de externe zekering en de
voedingskabel. Ziet u niets verdachts, koppel het toestel terug aan het lichtnet. Werkt het toestel niet
na 30 seconden, schakel het dan uit om permanente beschadiging te vermijden. Breng het toestel naar
uw verdeler. Leeg de tank voor u het toestel vervoert.
• Tijdens het gebruik vormen er zich waterdruppels aan het mondstuk. Dit is normaal.
• Na een rookvlaag te hebben geproduceerd, kan er nog een beetje rook vrijkomen.
7. DMX-aansluiting
a. DMX512-aansluiting
Sluit een XLR-kabel aan de vrouwelijke 3-pin XLR-uitgang van de controller en de andere kant van de
mannelijke 3-pin XLR-ingang van de VDP900HZ. U kunt verscheidene VDP900HZ's aan elkaar koppelen
met behulp van een seriële koppeling. Gebruik daarvoor een 2-aderige afgeschermde kabel met XLR
ingang- en uitgangsaansluitingen.
09.11.2010
7
©Velleman nv
VDP900HZ
b. DMX
X512-keten me
et terminator
Een DMX terminator is aanbevolen als de DMX-kabel vrij lang is of wordtt
gebruikt in een
e
omgeving met
m veel elektris
sche ruis (bvb. een discotheek)).
De terminattor voorkomt co
orruptie van het digitale controllesignaal door
elektrische ruis. De DMX te
erminator is nietts meer dan een
n XLR-stekker met
m
een weersta
and van 120Ω van
v
pin 2 naar 3. Deze XLR-stek
kker wordt dan
aangesloten
n op de XLR uitg
gang van het laa
atste toestel in de reeks. Zie de
e
illustratie lin
nks.
c.
Starttadres van de projector kiez
zen
Alle DMX
X-gestuurde toes
stellen hebben een
e
digitaal starrtadres nodig, zodat
z
het juiste toestel reageerrt op
de signalen. Dit digitale startadres is he
et kanaalnumme
er van waarop het
h toestel "luisttert" naar het
v
de DMX conttroller. Geef hett correcte numm
mer in en lees het af op de disp
play onderaan uw
signaal van
VDP900HZ.
én enkel startad
dres gebruiken voor
v
een groep toestellen of u kunt per toeste
el een nieuw
U kunt éé
startadre
es ingeven.
Wanneerr u één enkel sta
artadres instelt,, zullen alle toes
stellen "luisteren" naar hetzelfd
de kanaal. Met
andere woorden:
w
wanne
eer u de instellin
ngen voor 1 kan
naal verandert, zullen
z
alle toesttellen er tegelijk
k op
reageren.
e adressen inste
elt, dan luistert elk toestel naarr een ander kanaal. Met andere
e
Wanneerr u verschillende
woorden: wanneer u de instellingen van
n een kanaal ve
erandert, zal enk
kel het toestel op
o dat kanaal
reageren.
eval van de 1-ka
anaals VDP900HZ, zult u het startadres
s
van het
h eerste toeste
el op 1 moeten
In het ge
instellen,, van het tweede toestel op 2 (1 + 1), van hett derde op 3 (1 + 2), enz.
8. Reiniging en onderhoud
o
1.
2.
3.
4.
5.
6.
7.
Alle gebruikte
g
schroe
even moeten go
oed zijn aangespannen en mog
gen geen sporen
n van roest vertonen.
De behuizing, de len
nzen, de montag
gebeugels en de
e montageplaats (bvb. het plaffond of het gebin
nte)
en niet vervorm
md zijn of aangepast worden (ge
een extra gaten
n in montagebeu
ugels, aansluitin
ngen
moge
niet verplaatsen
v
etc.).
De vo
oedingskabels mogen
m
niet besc
chadigd zijn. Laat het toestel onderhouden doo
or een geschoollde
techn
nicus.
Ontk
koppel het toeste
el van het lichtn
net voor u aan onderhoudswerk
o
kzaamheden begint.
Maak
k het toestel sch
hoon na elke 40
0 uur gebruik. Gebruik een men
ngeling van 80%
% water en 20%
%
azijn.
a) Demonteer
D
en maak
m
het monds
stuk schoon met azijn. Zorg dat er zich geen restjes
r
op het
m
mondstuk
bevinden.
b) Leeg
L
het reservo
oir en vul hem met
m de mengeling. Laat het toe
estel draaien tott het reservoir leeg
is
s.
c) Monteer
M
het mondstuk opnieuw
w en vul het rese
ervoir met rookv
vloeistof voor een volgend geb
bruik.
De gebruiker mag geen onderdelen vervangen.
el eventuele res
serveonderdelen
n bij uw dealer.
Beste
9. Tec
chnische sp
pecificaties
voeding
verbruik
tankinhoud
rookproductie
afmetingen
gewicht
23
30VAC ~ 50Hz
m
max.
900W
1..3 liter
28
85m³/min
49
90 x 200 x 185m
mm
7..5kg
Gebruik dit toestel enkel met origin
nele accessoire
es. Velleman nv
n is niet aansprakelijk voorr
schade of
o kwetsuren bij
b (verkeerd)
) gebruik van dit
d toestel. Voo
or meer inform
matie over dit
product en de laatste versie van deze handleiding
g, zie www.hq
qpower.eu. De informatie in deze
handleid
ding kan te allen tijde worde
en gewijzigd zonder
z
voorafg
gaande kennis
sgeving.
© AUTEU
URSRECHT
Velleman nv heeft hett auteursrechtt voor deze handleiding. Alle
e wereldwijde rechten
voorbeh
houden. Het is niet toegestaan om deze handlleiding of gedee
elten ervan overr te nemen, te
kopiëren,, te vertalen, te
e bewerken en op
o te slaan op een elektronisch medium zonder voorafgaande
schriftelijjke toestemming van de rechth
hebbende.
09.11.2010
8
©Vellema
an nv
VDP900HZ
NO
OTICE D'EMPLOI
I
1. Intrroduction
Aux résiidents de l'Uniion européenn
ne
Des info
ormations enviironnementale
es importantes
s concernant ce
c produit
Ce symbole su
ur l'appareil ou l'emballage indique que l'élimin
nation d'un appareil en fin de vie
v
peut polluer l'environnement. Ne pas jeter un
u appareil électtrique ou électro
onique (et des piles
p
p
les déchetts municipaux non
n
sujets au trii sélectif ; une déchèterie
d
traite
era
éventuelles) parmi
l'appareil en question.
q
Renvoyer les équipem
ments usagés à votre fournisseu
ur ou à un serviice de
recyclage loca
al. Il convient de
e respecter la ré
églementation lo
ocale relative à la protection de
e
l'environneme
ent.
En cas de
d questions, contacter
c
les autorités
a
locales pour élimin
nation.
Nous vou
us remercions de votre achat ! Lire la présente
e notice attentiv
vement avant la mise en service
e de
l'appareill. Si l'appareil a été endommag
gé pendant le transport, ne pas
s l'installer et co
onsulter votre
revendeu
ur.
2. Prescriptions de
d sécurité
é
Soyez prrudent lors de l'installation: tou
ucher un câble sous
s
tension peu
ut causer des
électroch
hocs mortels.
Ne touch
hez pas l'appare
eil lorsqu'il est en
e usage: le boîttier chauffe!
Protégez
z l'appareil contrre la pluie et l'humidité.
Débranchez le câble d'alimentation ava
ant d'ouvrir le bo
oîtier.
• La gara
antie ne s'appliq
que pas aux dom
mmages survenus en négligean
nt certaines dire
ectives de cette
notice et votre revendeur déclinera to
oute responsabilité pour les pro
oblèmes et les défauts
d
qui en
résultent.
• Un tech
hnicien qualifié doit s'occuper de
d l'installation et
e de l'entretien
n.
• Ne branchez pas l'appareil après expo
osition à des variations de temp
pérature. Afin d'éviter
d
des
ages, attendez jusqu'à
j
ce que l'appareil ait attteint la température ambiante avant
a
de l'utilise
er.
domma
• Cet app
pareil ressort à la classe de pro
otection I, ce qu
ui implique que l'appareil doit être
ê
mis à la terrre.
Un tech
hnicien qualifié doit établir la co
onnexion électrique.
• La tens
sion réseau ne peut
p
pas dépass
ser la tension mentionnée
m
dans
s les spécificatio
ons à la fin de ce
ette
notice.
n ne peut pas être
ê
replissé ou endommagé.
e
Demandez à votrre revendeur de
e
• Le câblle d'alimentation
renouv
veler le câble d'a
alimentation si nécessaire.
n
• Débran
nchez l'appareil s'il n'est pas utilisé, pour le nettoyer ou penda
ant que vos rem
mplissez le réserrvoir.
Tirez la
a fiche pour déb
brancher l'apparreil; non pas le câble.
c
• Les dom
mmages occasio
onnés par des modifications
m
à l'appareil
l
par le client, ne tomb
bent pas sous la
a
garantiie.
• Gardez
z l'appareil à l'éc
cart de substanc
ces inflammable
es ou du feu.
• Gardez
z votre VDL900
0HZ hors de la portée
p
de personnes non qualifiées et de jeune
es enfants.
3. Dire
ectives gén
nérales
• Cet app
pareil a été développé pour usa
age professionnel dans des disc
cothèques, des théâtres, etc.
Employ
yez cet appareil à l'intérieur et branchez-le à une
u
source de co
ourant CA de max.
m
230VCA / 50Hz.
5
• Evitez de secouer l'app
pareil et traitez l'appareil avec circonspection pendant l'installation et l'opéra
ation.
e un médecin ap
près ingestion. Si
S le liquide entrre en
• N'ingérrez pas le liquide fumigène. Consultez de suite
contactt avec la peau ou
o les yeux, rinc
cez abondamme
ent avec de l'eau.
• Familia
arisez-vous avec
c le fonctionnem
ment de l'appare
eil avant de l'utiliser. Ne perme
ettez pas aux
personnes non qualifié
ées d'opérer cett appareil. La plu
upart des dégâtts sont causés par
p un usage no
on
profess
sionnel.
• Transportez l'appareil dans son emba
allage originel.
• Toute modification
m
de l'appareil est in
nterdite pour des raisons de séc
curité.
09.11.2010
9
©Vellema
an nv
VDP900HZ
• N'utilisez votre VDL90
00HZ qu'à sa fo
onction prévue. Tout autre usag
ge peut causer des
d courts-circu
uits,
des brû
ûlures, des électtrochocs etc. Un
n usage impropre annule d'offic
ce la garantie.
• N'ajouttez aucun liquide, huile ou parffum au liquide.
• Faites approuver
a
l'insttallation par un technicien qualiifié avant sa mis
se en service.
• Branchez l'appareil au réseau à l'aide du cordon c'alimentation. Ne le
l branchez pas à un variateur..
4. Installation
• Retirez
z l'emballage. Vé
érifiez que tout remplissage de
e mousse et de plastique
p
soit en
nlevé.
• Nettoye
ez la bouche et retirez toute ob
bstruction empê
êchant la sortie.
• Placez la VDL900HZ dans
d
une positio
on horizontale sur
s une surface plane. Retirez le capuchon du
oir.
réservo
• Remplissez le réservoiir avec un liquid
de de haute qua
alité (VDLHLH5) tout en tenantt compte de la
eplacez le capuc
chon et serrez bien.
b
capacitté de celui-ci. Re
• Connec
ctez la commande à distance au port situé à l'a
arrière de l'appa
areil.
5. Emp
ploi
a) L'appareil
ée au dos de l'appareil. Branchez l'appareil au
• Branchez la commande à distance dans l'entrée situé
don d'alimentatiion.
réseau à l'aide du cord
aide de l'interrup
pteur d'alimenta
ation situé au dos de l'appareil.
• Allumez l'appareil à l'a
ant rouge s'allume sur la comm
mande à distanc
ce.
• Le voya
• Laissez
z l'appareil se ch
hauffer. La duré
ée dépend des conditions
c
mais ne devrait pas dépasser
d
les 10
0
minute
es.
• Le voya
ant vert s'allume sur la comma
ande à distance une fois que l'a
appareil est prêtt à l'usage (voir « La
commande à distanc
ce »).
b) La co
ommande à diistance (voir illl. 1)
Se référe
er à l'illustration
n en page 2.
1
2
3
4
LED
D d'alimentation
n
reje
et de brouillard toutes les x min
nutes
(ma
ax. 30 minutes))
déb
bit
LED
D
5
6
7
8
LED de niveau de sortie
rejets successifs pendant x secondes (max
x. 15
secondes)
LED de surchauffe
bouton d'acttivation
6. Rem
marque
La VDP900HZ
V
ne s'arrête
s
pas au
utomatiqueme
ent lorsque le réservoir est vide
v
; la pomp
pe
contiinue à fonction
nner. Tenez do
onc l'appareil à l'œil pendan
nt son service. L'appareil peut
s'endommag
ger s'il tourne sans liquide fu
umigène !
• Si l'app
pareil ne produitt que peu ou pa
as de fumée du tout ou des bru
uits mécaniques, débranchez-le
e tout
de suite. Contrôlez le niveau du liquid
de, le fusible extterne, la comma
ande à distance
e et le cordon
entation. Si tous
s apparaissent dans
d
un état de bon fonctionnement, rebranch
hez l'appareil. Sii
d'alime
celui-cii ne fonctionne pas après 30 se
econdes, interro
ompez son utilisation pour évite
er de l'endomma
ager
davanttage. Portez l'ap
ppareil chez votrre revendeur. N'oubliez
N
pas de vider le réservo
oir avant le
transpo
ort.
• Des go
outtelettes d'eau
u se forment pendant l'utilisatio
on. Ceci est parffaitement normal.
• Il est normal
n
qu'un peu de fumée s'éc
chappe de la bo
ouche après l'opération.
7. Con
nnexion DM
MX
a. Conn
nexion DMX51
12
Connecte
er un câble à fic
che XLR à la sorttie XLR femelle à 3 broches de votre contrôleu
ur et l'autre fiche XLR
mâle à 3 broches à l'enttrée du VDP900
0HZ. Il est poss
sible de relier plusieurs VDP900HZs à partir d'une
d
ser un câble de connexion
c
blind
dé à 2 conducteu
urs avec des connecteurs d'enttrée
connexion sérielle. Utilis
et de sorrtie XLR.
b. Conn
nexion DMX51
12 avec termin
naison
Une termina
aison DMX est à recommander si le câble DMX
X doit couvrir un
ne
grande dista
ance ou s'il est utilisé dans un environnement avec beaucoup de
bruit électriq
que (p.ex. une discothèque). La
L terminaison prévient
p
la
corruption du
d signal de con
ntrôle numérique
e par le bruit électrique. La
terminaison DMX n'est rien
n d'autre qu'une fiche XLR avec
c une résistance de
oche 2 vers broche 3 (voir illus
stration à gauche). Cette fiche XLR
X
120Ω de bro
est connecté
ée à la sortie XL
LR du dernier ap
ppareil de la sérrie.
09.11.2010
10
©Vellema
an nv
c.
VDP900HZ
Déterminer l'adresse de départ du projecteur
Avec des signaux DMX, chaque appareil doit avoir sa propre adresse de départ DMX pour assurer que les
appareils réagissent sur les signaux de contrôle corrects. Cette adresse de départ numérique indique le numéro
de canal sur lequel l'appareil écoute le contrôleur DMX. Programmez cette adresse de départ avec les
interrupteurs DIP.
Vous avez le choix entre une seule adresse de départ pour toute une série d'appareils ou une adresse de
départ par appareil. Dans le cas d'une seule adresse, tous ces appareils "écouteront" les signaux d'un
seul canal. Changer les réglages d'un seul canal manipulera donc tous les appareils simultanément. Si
vous attribuez des adresses individuelles, chaque appareil "écoutera" un autre canal. Changer les
réglages d'un canal n'influencera donc qu'un seul appareil.
Dans le cas du VDP900HZ, un appareil à 1 canal, vous devez mettre l'adresse de départ du premier
appareil sur 1, le second appareil sur 2 (1 + 1), le troisième sur 3 (2 + 1), etc.
8. Nettoyage et entretien
1.
2.
3.
4.
5.
6.
7.
Serrez les écrous et les vis et vérifiez qu'ils ne rouillent pas.
Le boîtier, les lentilles, les supports de montage et la construction portante ne peuvent pas être
déformés, adaptés ou bricolés p.ex. pas de trous additionnels dans un support, ne pas déplacer les
connexions etc.
Les câbles d'alimentation ne peuvent pas être endommagés. Un technicien qualifié doit entretenir
l'appareil.
Débranchez l'appareil avant de le nettoyer.
Nettoyez l'appareil après chaque 40 heure de service. Utilisez une mixture composée de 80% d'eau
et de 20% de vinaigre.
a) Démontez et nettoyez la bouche avec du vinaigre en enlevant toute particule obstructive.
b) Videz le réservoir et remplissez-le avec la mixture. Laissez l'appareil gicler la mixture jusqu'à ce
que le réservoir soit vidé.
c) Remontez la bouche et versez le liquide fumigène dans le réservoir pour une utilisation future.
Il n'y a pas de parties maintenables par l'utilisateur.
Commandez des pièces de rechange éventuelles chez votre revendeur.
9. Spécifications techniques
alimentation
consommation
capacité du réservoir
débit
dimensions
poids
230VCA ~ 50Hz
max. 900W
1.3 litres
285m³/min
490 x 200 x 185mm
7.5kg
N'employer cet appareil qu'avec des accessoires d'origine. SA Velleman ne sera aucunement
responsable de dommages ou lésions survenus à un usage (incorrect) de cet appareil. Pour
plus d'information concernant cet article et la dernière version de cette notice, visiter notre
site web www.hqpower.eu. Toutes les informations présentées dans cette notice peuvent être
modifiées sans notification préalable.
© DROITS D'AUTEUR
SA Velleman est l'ayant droit des droits d'auteur pour cette notice. Tous droits mondiaux
réservés. Toute reproduction, traduction, copie ou diffusion, intégrale ou partielle, du contenu de cette
notice par quelque procédé ou sur tout support électronique que se soit est interdite sans l'accord
préalable écrit de l'ayant droit.
09.11.2010
11
©Velleman nv
VDP900HZ
MAN
NUAL DEL
L USUAR
RIO
1. Intrroducción
A los ciu
udadanos de la
a Unión Europe
ea
Importa
antes informac
ciones sobre el
e medio ambie
ente concernie
ente este producto
Este símbolo en este aparato
o o el embalaje indica que, si tira las muestras
s inservibles, podrían
dañar el mediio ambiente. No
o tire este apara
ato (ni las pilas eventuales) en la basura
doméstica; de
ebe ir a una empresa especializ
zada en reciclaje
e. Devuelva estte aparato a su
distribuidor o a la unidad de reciclaje local.
Respete las le
eyes locales en relación con el medio
m
ambiente
e.
Si tiene dudas, contac
cte con las auttoridades locales para residu
uos.
¡Gracias por haber comp
prado la VDP90
00HZ! Verifique si el aparato ha
a sufrido algún daño en el
ha. Si es el caso, no conecte el aparato a la red
d y póngase en
transportte antes de la puesta en march
contacto con su distribuiidor.
2. Instrucciones de segurid
dad
Cuidado durante la insta
alación: puede sufrir
s
una peligrrosa descarga eléctrica al tocarr los
cables co
on un voltaje pe
eligroso.
¡No toqu
ue el aparato durante su operac
ción: la caja se calienta!
No expon
nga este equipo
o a lluvia o humedad.
Desconecte el cable de alimentación
a
de
e la red antes de
e abrir la caja.
• Daños causados por descuido de las instrucciones de
e seguridad de este
e
manual inv
validarán su gara
antía
stribuidor no se
erá responsable de ningún daño
o u otros problemas resultantes
s.
y su dis
• La insta
alación y el man
ntenimiento deb
ben ser realizados por personall especializado.
• No conecte el aparato si ha estado ex
xpuesto a grand
des cambios de temperatura.
t
Es
spere hasta que
e el
aparato
o llegue a la tem
mperatura ambiente.
• Este ap
parato pertenece a la clase de protección
p
I, Po
or lo tanto, es es
sencial que el aparato esté pue
esto a
tierra. La conexión elé
éctrica debe llev
varla a cabo un técnico
t
cualifica
ado.
ensión de red no sea mayor qu
ue la tensión ind
dicada en las esp
pecificaciones.
• Asegúrrese de que la te
• No apla
aste el cable de alimentación y protéjalo contrra posibles daño
os causados por algún tipo de
superficie afilada. Si es necesario, pid
da a su distribuidor reemplazar el cable de alim
mentación.
necte siempre el aparato si no va
v a usarlo dura
ante un largo pe
eríodo de tiempo o antes de
• Descon
limpiarrlo. Tire siempre
e del enchufe pa
ara desconectar el cable de red, nunca del propio cable.
• Los dañ
ños causados po
or modificacione
es no autorizada
as, no están cub
biertos por la ga
arantía.
• Manten
nga el aparato le
ejos del alcance
e de sustancias inflamables o fu
uego.
• Manten
nga la VDP900H
HZ lejos del alcance de personas no capacitad
das y niños.
3. Norrmas generrales
• Este ap
parato ha sido diseñado
d
para us
so profesional en
e una discoteca
a, un teatro, etc
c. Utilice este
aparato
o en interiores y conéctelo a un
na fuente de corrriente CA de máx.
m
230VCA / 50Hz.
5
• No agitte el aparato. Ev
vite usar excesiva fuerza duran
nte la instalación
n y la reparación.
• No trag
gue el líquido de
e humo. Contacte con un médic
co después inge
estión. Si el líquido entra en
contactto con la piel o los ojos, enjuag
gue con agua ab
bundante.
• Familia
arícese con el funcionamiento del
d aparato. Sólo
o personas cualificadas pueden
n manejar este
aparato
o. La mayoría de los daños son
n causados por un
u uso inadecua
ado.
• Transporte el aparato en su embalaje
e original.
zones de segurid
dad, las modific
caciones no auto
orizadas del apa
arato están proh
hibidas.
• Por raz
• Utilice sólo la VDP900
0HZ para aplicaciones descritas
s en este manua
al a fin de evitar p.ej. cortocirc
cuitos,
as eléctricas etc
c. Un uso desauttorizado anula la garantía completamente.
quemaduras, descarga
ada líquido, aceite o perfuma al líquido.
• No aña
• Un exp
perto debe proba
ar la instalación
n antes de la puesta en marcha.
• Conectte el aparato a la red eléctrica. No lo conecte a un dimmerpac
ck.
09.11.2010
12
©Vellema
an nv
VDP900HZ
4. Instalación
•
•
•
•
Desembale el aparato. Asegúrese de que quite todo el material de relleno
r
de espum
ma y de plástico
o.
segúrese de que
e nada bloquee la salida.
Limpie la boquilla y as
Ponga la VDP900HZ en
e una posición horizontal en una
u
superficie plana. Saque la tapa
t
del depósitto.
e depósito con un
u líquido de altta calidad (VDL
LHLH5). Asegúrrese de que no sobrepase
s
la
Llene el
capacid
dad del depósito
o. Vuelva a pone
er la tapa y ciérrrelo bien.
• Conectte el mando a diistancia al puertto de la parte trrasera del apara
ato.
5. Uso
o
a) El ap
parato
• Conectte el mando a diistancia a la enttrada de la parte
e trasera del ap
parato. Conecte el aparato con el
cable de
d alimentación a la red eléctric
ca.
• Active el aparato con el
e interruptor de
e alimentación de
d la parte trase
era del aparato..
• El LED rojo se ilumina en el mando a distancia.
• Deje qu
ue aparato se caliente. La dura
ación depende de
d las condicione
es pero no sobrepasa los 10
minuto
os.
• El LED verde se ilumin
na en el mando a distancia si ell aparato está listo para utilizarr (véase « El mando
a dista
ancia »).
b) El mando a distanc
cia
Véase la figura en la pág
gina 2.
1
2
3
4
LED
D de alimentació
ón
máx.
salida de niebla cada x minutos (m
30 minutos)
salida de niebla
LED
D
5
6
7
8
LED de nivel de salida
salidas sucesivas de niebla durante x segundos
egundos)
(máx. 15 se
LED de sobrrecalentamiento
botón de acttivación
6. Notta
La VD
DP900HZ no se desactive au
utomáticamente si el depósiito está vacío; la bomba sigu
ue
funcionando. Por tan
nto, siempre vigile
v
el depósito durante su
u funcionamien
nto. ¡Puede da
añar
el aparato
o al utilizarlo sin
s líquido de humo!
• Si el ap
parato produce sólo un poco de
e humo, si no prroduce humo en
n absoluto o si oye
o
ruidos
mecániicos, desconécte
elo inmediatamente. Controle el
e nivel del líquido, el fusible ex
xterno, el mando a
distanc
cia y el cable de alimentación. Si
S todo parece funcionar
f
correc
ctamente, vuelv
va a conectar el
aparato
o. Si sigue sin fu
uncionar despué
és de 30 segund
dos, desconécte
elo de nuevo para evitar dañarllo
aún má
ás. Devuelva el aparato a su distribuido. No se
e olvide de vacia
ar el depósito antes del transpo
orte.
• Se form
man gotas de ag
gua durante el uso.
u
Esto es norrmal.
• Un poc
co de humo puede escaparse de
e la boquilla des
spués del uso. Esto
E
es normal.
7. Con
nexión DMX
X
a. Cone
exión DMX-512
2
Conecte la salida XLR he
embra 3 polos de
d su controlado
or a la entrada XLR
X
macho de 3 polos de su
ble conectar variias VDP900HZ en serie. Utilice
e un cable XLR
VDP900HZ con un cable XLR. Es posib
blindado con dos hilos co
onductores y co
onectores XLR de entrada y saliida.
b. Cone
exión DMX-512
2 con una term
minación DMX
Se recomien
nda una termina
ación si el cable
e DMX debe cubrir una gran
distancia o si
s se usa en un medio ambiente con mucho ru
uido eléctrico (ejj.
una discotec
ca). La terminac
ción impide que
e el ruido eléctrico corrompa la
señal de con
ntrol numérico. La terminación DMX no es más
s que un conecttor
XLR con una
a resistencia de 120Ω de polo 2 a polo 3 (véas
se figura a la
izquierda). Este
E
conector XLR
X
está conecta
ado a la salida XLR
X
del último
aparato de la serie (Véase figura de la izqu
uierda).
c.
Dete
erminar la dire
ección inicial del
d proyector DMX
D
Si se usa
a una señal DMX
X, cada aparato tiene su propia dirección inicia
al DMX para asegurar que los
aparatos reaccionen a la
as señales de co
ontrol correctas.. Esta dirección inicial digital es
s el primer cana
al en
onará a las seña
ales DMX del co
ontrolador DMX. Determine esta
a función con lo
os
el cual el aparato reaccio
interruptores DIP.
ón inicial para to
oda una serie de
e aparatos o una dirección inicial por
Es posible elegir entre una sola direcció
p
una serie de
d aparatos, tod
dos los aparatos
s reaccionarán
aparato. Con una sola dirección inicial para
09.11.2010
13
©Vellema
an nv
VDP900HZ
sincronizadamente a la misma señal. Por lo tanto, cambiar los ajustes de un solo canal afecta a los
ajustes de todos los canales. Con varias direcciones iniciales, cada aparato reaccionará
independientemente. Por lo tanto, cambiar los ajustes de un solo canal sólo afecta al canal en cuestión.
En el caso de la VDP900HZ de 1 canal, la dirección inicial del primer aparato es 1, del segundo aparato
2 (1 + 1), del tercero 3 (2 + 1), etc.
8. Limpieza y mantenimiento
1.
2.
3.
4.
5.
6.
7.
Apriete bien las tuercas y los tornillos y verifique que no hay señales de oxidación.
No modifique la caja, los soportes y las ópticas p.ej. no taladre agujeros adicionales en un soporte o
no modifique las conexiones, etc.
No dañe los cables de alimentación. Contacte con un técnico especializado para instalar el aparato.
Desconecte el aparato de toda fuente antes de limpiarlo.
Limpie el aparato después de cada 40 horas de funcionamiento. Utilice una mezcla compuesta de
80% de agua y 20% de vinagre.
a) Desmonte y limpie la boquilla con vinagre. Asegúrese de que elimine todos los residuos.
b) Vacíe el depósito y llénelo con la mezcla. Deje que el aparato funcione hasta que el depósito esté
vacío.
c) Vuelva a montar la boquilla e introduzca el líquido de humo en el depósito para un uso posterior.
El usuario no habrá de efectuar el mantenimiento de ninguna pieza.
Contacte con su distribuidor si necesita piezas de recambio.
9. Especificaciones
alimentación
consumo
capacidad del depósito
salida de niebla
dimensiones
peso
230VAC ~ 50Hz
máx. 900W
1.3 litros
285m³/min
490 x 200 x 185mm
7.5kg
Utilice este aparato sólo con los accesorios originales. Velleman nv no será responsable de
daños ni lesiones causados por un uso (indebido) de este aparato. Para más información sobre
este producto y la versión más reciente de este manual del usuario, visite nuestra página web
www.hqpower.eu. Se pueden modificar las especificaciones y el contenido de este manual sin
previo aviso.
© DERECHOS DE AUTOR
Velleman nv dispone de los derechos de autor para este manual del usuario. Todos los
derechos mundiales reservados. Está estrictamente prohibido reproducir, traducir, copiar, editar y
guardar este manual del usuario o partes de ello sin previo permiso escrito del derecho habiente.
09.11.2010
14
©Velleman nv
VDP900HZ
BEDIE
ENUNGSANLEITU
UNG
1. Einfführung
An alle Einwohner
E
derr Europäischen
n Union
Wichtige
e Umweltinforrmationen übe
er dieses Produ
ukt
Dieses Symbo
ol auf dem Prod
dukt oder der Ve
erpackung zeigtt an, dass die En
ntsorgung diese
es
Produktes nac
ch seinem Lebe
enszyklus der Um
mwelt Schaden zufügen kann. Entsorgen Sie die
d
Einheit (oder verwendeten Batterien)
B
nicht als
a unsortiertes Hausmüll; die Einheit oder
verwendeten Batterien müss
sen von einer sp
pezialisierten Firrma zwecks Rec
cycling entsorgt
e Einheit muss an den Händlerr oder ein örtlich
hes Recycling-Unternehmen
werden. Diese
retourniert we
erden. Respektiieren Sie die örttlichen Umweltv
vorschriften.
Falls Zw
weifel bestehen
n, wenden Sie sich für Entso
orgungsrichtlin
nien an Ihre örtliche
ö
Behörd
de.
Wir bedanken uns für de
en Kauf der VDP
P900HZ! Bitte lesen
l
Sie vor Inb
betriebnahme de
es Gerätes diese
e
Bedienun
ngsanleitung sorg
gfältig durch. Üb
berprüfen Sie, ob
o Transportsch
häden vorliegen.. Sollte dies derr Fall
sein, verw
wenden Sie das
s Gerät nicht und wenden Sie sich an Ihren Hä
ändler.
2. Sich
herheitshin
nweise
Seien Sie
e während der Installation
I
des Gerätes sehr vo
orsichtig: das Berühren
B
von un
nter
Spannun
ng stehenden Le
eitungen könnte
e zu lebensgefäh
hrlichen elektris
schen Schlägen
führen.
Berühren
n Sie das Gehäu
use während des Betriebs nichtt, denn das Gehäuse heizt auf.
Schützen
n Sie das Gerät vor Feuchtigkeit und Feuchte.
Trennen Sie das Gerät vom
v
Netz bevorr Sie das Gehäus
se öffnen.
• Bei Sch
häden, die durch
h Nichtbeachtun
ng der Bedienun
ngsanleitung verursacht werden
n, erlischt der
Garantieanspruch. Fürr daraus resultie
erende Folgesch
häden übernimm
mt der Hersteller keine Haftung.
ät von einem Fa
achmann installieren und warte
en.
• Lassen Sie dieses Gerä
en Sie das Gerätt nicht sofort in Betrieb, nachde
em es von einem
m kalten in eine
en warmen Raum
m
• Nehme
gebracht wurde. Lasse
en Sie das Gerät solange ausge
eschaltet, bis es
s die Zimmertem
mperatur erreich
ht
hat.
es entspricht de
er Schutzklasse I. Gemäß den Vorschriften
V
muss das Gerät ge
eerdet
• Der Aufbau des Geräte
D elektrische Anschluss
A
darf nur
n von einer Fa
achkraft durchge
eführt werden.
sein. Der
• Vergew
wissern Sie sich,, dass die anzus
schließende Netzspannung nich
ht höher ist als die
d Netzspannun
ng
beschriieben in dieser Bedienungsanle
eitung.
• Achten Sie darauf, das
ss die Netzleitun
ng nicht gequetscht oder durch
h scharfe Kanten
n beschädigt we
erden
kann. Bei
B Beschädigun
ngen soll eine Fa
achkraft das Ka
abel ersetzen.
• Trenne
en Sie das Gerätt bei Nichtbenuttzung und vor je
eder Reinigung vom Netz. Fass
sen Sie dazu den
n
Netzste
ecker an der Grifffläche an und ziehen Sie nie an der Netzleitu
ung.
• Bei Sch
häden verursach
ht durch eigenm
mächtige Änderu
ungen erlischt der Garantieansp
pruch.
• Halten Sie das Gerät von
v
Feuer und brennbaren
b
Mate
erialien fern.
• Halten Sie Kinder und Unbefugte vom
m Gerät fern.
3. Allg
gemeine Ric
chtlinien
• Dieses Gerät wurde fü
ür den professionellen Einsatz auf
a Bühnen, in Discotheken,
D
Theatern, usw.
ng
entworrfen. Die VDP90
00HZ ist nur zur Verwendung in Innenräumen
n und mit einer Wechselspannu
W
von 230VAC / 50Hz ko
onzipiert worden
n.
• Vermeiden Sie Erschüttterungen. Vermeiden Sie rohe Gewalt
G
während der Installation und Bedienung des
s.
Gerätes
• Trinken
n Sie keine Rauc
chflüssigkeit. Wenn
W
dies der Fa
all ist, rufen Sie sofort einen Arzt an. Sollte das
s
Nebelfluid mit der Hau
ut oder den Augen in Kontakt kommen,
k
spülen
n die dann reichlich mit Wasser.
• Nehme
en Sie das Gerätt erst in Betrieb, nachdem Sie sich
s
mit seinen Funktionen vertraut gemacht
haben. Lassen Sie das
s Gerät nicht von Personen bedienen, die sich nicht mit dem Gerät
G
auskennen
n.
Meist is
st die Beschädig
gung des Geräte
es das Ergebnis von unfachmän
nnischer Bedien
nung.
• Verwen
nden Sie die Oriiginalverpackung, wenn das Ge
erät transportierrt werden soll.
• Eigenm
mächtige Veränd
derungen sind aus Sicherheitsgründen verbote
en.
09.11.2010
15
©Vellema
an nv
VDP900HZ
• Verwenden Sie das Gerät nur für Anwendungen in dieser Bedienungsanleitung beschrieben, sonst kann
dies zu Schäden am Produkt führen und erlischt der Garantieanspruch. Jede andere Verwendung ist mit
Gefahren wie Kurzschluss, Brandwunden, elektrischem Schlag, usw. verbunden.
• Fügen Sie dem Nebelfluid niemals Öle, Duftstoffe oder andere Flüssigkeiten hinzu.
• Die Installation muss vor Inbetriebnahme von einem Experten genehmigt werden.
• Schließen Sie das Gerät an das Hauptnetz und nicht an einen Dimmer an.
4. Installation
• Packen Sie das Gerät aus. Sorgen Sie dafür, dass Sie alle Schaumgummi- und Plastikfüllungen
entfernen.
• Reinigen Sie die Düse und sorgen Sie dafür, dass nichts den Ausgang versperrt.
• Stellen Sie die VDP900HZ horizontal auf eine ebene Oberfläche. Entfernen Sie den
Tankverschlussdeckel.
• Füllen Sie den Behälter mit Nebelfluid einer hohen Qualität (VDLHLH5). Achten Sie darauf, dass Sie die
Kapazität des Behälters nicht überschreiten. Schrauben Sie den Deckel wieder fest.
• Stecken Sie den Anschlussstecker der Fernbedienung in die entsprechende Buchse auf der Rückseite
des Gerätes.
5. Gebrauch
a) Das Gerät
• Schließen Sie die Fernbedienung an die Buchse auf der Rückseite des Gerätes an. Stecken Sie den
Netzstecker in die Steckdose.
• Schalten Sie das Gerät über den Netzschalter auf der Rückseite des Gerätes ein.
• Die rote Anzeige der Fernbedienung leuchtet.
• Lassen Sie das Gerät aufheizen. Der Aufheizvorhang hängt von den Umständen ab und dauert nie mehr
als 10 Minuten.
• Wenn das Gerät die genaue Temperatur erreicht hat, leuchtet die grüne Anzeige der Fernbedienung
(siehe "Die Fernbedienung").
b) Die Fernbedienung
Siehe Abbildung auf Seite 2.
1
2
3
4
Stromversorgungs-LED
Nebelausstoß alle x Minuten (max. 30
Minuten)
Ausstoßvolumen
Anzeige-LED
5
6
7
8
Leuchtet bei Nebelausstoß
Aufeinander folgende Nebelstöße während x
Sekunden (max. 15 Sekunden)
Überhitzung-LED
Nebelausstoß-Taste
6. Bemerkungen
Die VDP900HZ stoppt nicht automatisch wenn der Behälter leer ist; die Pumpe bleibt
funktionieren. Achten Sie darauf, dass der Behälter während des Betriebs nie leer wird. Ein
Betrieb ohne Nebelfluid kann zu Schäden führen.
• Erzeugt das Gerät wenig oder keinen Nebel, oder macht es mechanische Geräusche, trennen Sie es
dann sofort vom Netz. Überprüfen Sie den Tankeinhalt, die externe Sicherung und das Stromkabel.
Sehen Sie nichts ungewohnt, schließen Sie das Gerät dann wieder an das Netz an. Funktioniert es nicht
nach 30 Sekunden, schalten Sie es wieder aus, um Schäden zu vermeiden. Bringen Sie das Gerät zu
Ihrem Verteiler. Entleeren Sie den Tank, ehe Sie das Gerät transportieren.
• Während des Betriebs bilden sich Wassertropfen an der Düse. Dies ist normal.
• Nach einem Nebelausstoß, kann das Gerät immer noch ein bisschen Nebel erzeugen.
7. DMX-Anschluss
a. DMX512-Anschluss
Verbinden Sie ein XLR-Kabel mit dem 3-Pin XLR-Ausgang der Steuerung und die andere Seite mit dem 3Pin XLR-Eingang der VDP900HZ. Sie können verschiedene VDP900HZ in Serie schalten. Verwenden Sie
ein 2- adriges abgeschirmtes Kabel mit XLR Ein- und Ausgangsanschlüssen.
09.11.2010
16
©Velleman nv
VDP900HZ
b. DMX
X-512-Kette mit Abschlusswiderstand
Ein DMX-Ab
bschlusswidersta
and ist empfehle
enswert für Insttallationen, bei
denen das DMX-Kabel
D
lang ist oder in eine
er Umgebung mit vielem
elektrischem
m Rauschen (z.B
B. Discos). Der Abschlusswiderstand verhinderrt
Störung des
s digitalen Steue
ersignals durch elektrisches Ra
auschen. Der DM
MXAbschlusswiiderstand ist nur eine XLR-Buch
hse mit einem 120Ω
1
Widerstan
nd
zwischen 2 und 3, die den XLR-Ausgang des letzten Gerätts in der Kette
sen wird. Siehe Abbildung links
s.
angeschloss
c.
Starttadresse des Projektors
P
wählen
Alle DMX
X-gesteuerten Geräte brauchen eine digitale Sttartadresse, sod
dass das richtige
e Gerät auf die
Signale reagieren
r
kann. Diese digitale Startadresse
S
ist die Kanalnumm
mer, von der das
s Gerät die Befe
ehle
der DMX--Steuerung emp
pfängt und ausfführt. Geben Sie
e die korrekte Nummer
N
ein und
d lesen Sie es im
m
Display auf
a der Unterseite.
Sie könne
en dieselbe Startadresse für eine ganze Grupp
pe von Geräten verwenden ode
er eine separate
Startadre
esse für jedes Gerät
G
eingeben. Wenn alle Gerä
äte dieselbe Startadresse haben
n, werden sie au
uf
einem sp
pezifischen Kana
al das Steuersignal empfangen.. Mit anderen Worten,
W
wenn Sie
e die Einstellung
gen
von einem
m Kanal ändern
n, werden alle Geräte
G
zur gleich
hen Zeit beeinflu
usst. Wenn Sie verschiedene
Adressen
n einstellen, wird
d jedes Gerät auf einem andere
en Kanal Signale empfangen. Wenn
W
Sie die
Einstellun
ngen ändern, wird nur das besa
agte Gerät beeinflusst.
Im Falle der 1-Kanal-VD
DP900HZ, ist die Startadresse der ersten Einheit 1, der zweite
en Einheit 2 (1 + 1),
en Einheit 3 (1 + 2), usw.
der dritte
8. Reinigung und
d Wartung
1.
2.
3.
4.
5.
6.
7.
Alle verwendeten
v
Sc
chrauben müsse
en fest angespannt werden und
d dürfen keine Rostspuren
R
zeige
en.
Das Gehäuse,
G
die Linsen, die Montage
ebügel und der Montageort
M
(z.B. Decke oder Geb
binde) dürfen nic
cht
angepasst werden, z..B. bohren Sie ke
eine zusätzlichen
n Löcher in Monta
agebügel, veränd
dern Sie die
Ansch
hlüsse nicht, usw
w.).
Sorgen Sie dafür, da
ass die Netzkabel nicht beschäd
digt sind. Lassen Sie das Gerätt von einer Fach
hkraft
warte
en.
Trenn
nen Sie das Gerrät vom Netz eh
he Sie mit den Servicearbeiten
S
anfangen.
Reinigen Sie das Gerät alle 40 Betriiebstunden. Verrwenden Sie ein
ne Mischung von
n 80% Wasser und
u
20% Essig.
a) Demontieren
D
Sie
e die Düse und machen Sie diese mit Essig sau
uber. Sorgen Sie dafür, dass Sie alle
R
Rückstände
entffernen.
b) Entleeren
E
Sie de
en Behälter und befüllen Sie ihn
n mit der Mischu
ung. Lassen Sie
e das Gerät
f
funktionieren
bis
s der Behälter.
c) Montieren
M
Sie diie Düse wieder und befüllen Sie
e den Behälter mit
m Nebelfluid fü
ür einen nächste
en
G
Gebrauch.
Die Teile
T
dürfen nich
ht eigenmächtig
g ersetzt werden
n.
Beste
ellen Sie eventu
uelle Ersatzteile bei Ihrem Fachhändler.
9. Tec
chnische Da
aten
Stromverrsorgung
Stromverrbrauch
Tankinha
alt
Ausstoßv
volumen
Abmessu
ungen
Gewicht
23
30VAC ~ 50Hz
m
max.
900W
1..3 Liter
28
85m³/Min.
49
90 x 200 x 185m
mm
7..5kg
Verwend
den Sie dieses
s Gerät nur mitt originellen Zubehörteilen.
Z
Velleman nv übernimmt
ü
ke
eine
Haftung für Schaden oder
o
Verletzun
ngen bei (falsc
cher) Anwendung dieses Ge
erätes. Für mehr
Informa
ationen zu dies
sem Produkt und
u
die neuestte Version dies
ser Bedienung
gsanleitung, siehe
www.hq
qpower.eu. Alle Änderungen
n ohne vorherige Ankündigu
ung vorbehalte
en.
© URHEBERRECHT
Velleman nv besitzt das Urheberrec
cht für diese Bedienungsanle
B
eitung. Alle weltweiten Rechte
vorbeha
alten. Ohne vorherige schriftliche Genehmigun
ng des Urhebers
s ist es nicht ges
stattet, diese
Bedienun
ngsanleitung ganz oder in Teilen zu reproduzie
eren, zu kopieren, zu übersetze
en, zu bearbeiten
oder zu speichern.
s
09.11.2010
17
©Vellema
an nv
®
Velleman Service and Quality Warranty
®
Velleman has over 35 years of experience in the electronics world
and distributes its products in more than 85 countries.
All our products fulfil strict quality requirements and legal
stipulations in the EU. In order to ensure the quality, our products
regularly go through an extra quality check, both by an internal
quality department and by specialized external organisations. If, all
precautionary measures notwithstanding, problems should occur,
please make appeal to our warranty (see guarantee conditions).
General Warranty Conditions Concerning Consumer Products
(for EU):
• All consumer products are subject to a 24-month warranty on
production flaws and defective material as from the original date of
purchase.
®
• Velleman can decide to replace an article with an equivalent
article, or to refund the retail value totally or partially when the
complaint is valid and a free repair or replacement of the article is
impossible, or if the expenses are out of proportion.
You will be delivered a replacing article or a refund at the value of
100% of the purchase price in case of a flaw occurred in the first
year after the date of purchase and delivery, or a replacing article at
50% of the purchase price or a refund at the value of 50% of the
retail value in case of a flaw occurred in the second year after the
date of purchase and delivery.
• Not covered by warranty:
- all direct or indirect damage caused after delivery to the article
(e.g. by oxidation, shocks, falls, dust, dirt, humidity...), and by the
article, as well as its contents (e.g. data loss), compensation for loss
of profits;
- frequently replaced consumable goods, parts or accessories such as
batteries, lamps, rubber parts, drive belts... (unlimited list);
- flaws resulting from fire, water damage, lightning, accident, natural
disaster, etc.;
- flaws caused deliberately, negligently or resulting from improper
handling, negligent maintenance, abusive use or use contrary to the
manufacturer's instructions;
- damage caused by a commercial, professional or collective use of
the article (the warranty validity will be reduced to six (6) months
when the article is used professionally);
- damage resulting from an inappropriate packing and shipping of
the article;
- all damage caused by modification, repair or alteration performed
®
by a third party without written permission by Velleman .
®
• Articles to be repaired must be delivered to your Velleman dealer,
solidly packed (preferably in the original packaging), and be
completed with the original receipt of purchase and a clear flaw
description.
• Hint: In order to save on cost and time, please reread the manual
and check if the flaw is caused by obvious causes prior to presenting
the article for repair. Note that returning a non-defective article can
also involve handling costs.
• Repairs occurring after warranty expiration are subject to shipping
costs.
• The above conditions are without prejudice to all commercial
warranties.
The above enumeration is subject to modification according to the
article (see article's manual).
®
Velleman service- en kwaliteitsgarantie
®
Velleman heeft ruim 35 jaar ervaring in de elektronicawereld en
verdeelt in meer dan 85 landen.
Al onze producten beantwoorden aan strikte kwaliteitseisen en aan
de wettelijke bepalingen geldig in de EU. Om de kwaliteit te
waarborgen, ondergaan onze producten op regelmatige tijdstippen
een extra kwaliteitscontrole, zowel door onze eigen kwaliteitsafdeling
als door externe gespecialiseerde organisaties. Mocht er ondanks
deze voorzorgen toch een probleem optreden, dan kunt u steeds een
beroep doen op onze waarborg (zie waarborgvoorwaarden).
Algemene waarborgvoorwaarden consumentengoederen
(voor Europese Unie):
• Op alle consumentengoederen geldt een garantieperiode van 24
maanden op productie- en materiaalfouten en dit vanaf de
oorspronkelijke aankoopdatum.
• Indien de klacht gegrond is en een gratis reparatie of vervanging
van een artikel onmogelijk is of indien de kosten hiervoor buiten
®
verhouding zijn, kan Velleman beslissen het desbetreffende artikel
te vervangen door een gelijkwaardig artikel of de aankoopsom van
het artikel gedeeltelijk of volledig terug te betalen. In dat geval krijgt
u een vervangend product of terugbetaling ter waarde van 100% van
de aankoopsom bij ontdekking van een gebrek tot één jaar na
aankoop en levering, of een vervangend product tegen 50% van de
kostprijs of terugbetaling van 50% bij ontdekking na één jaar tot 2
jaar.
• Valt niet onder waarborg:
- alle rechtstreekse of onrechtstreekse schade na de levering
veroorzaakt aan het toestel (bv. door oxidatie, schokken, val, stof,
vuil, vocht...), en door het toestel, alsook zijn inhoud (bv. verlies van
data), vergoeding voor eventuele winstderving.
- verbruiksgoederen, onderdelen of hulpstukken die regelmatig
dienen te worden vervangen, zoals bv. batterijen, lampen, rubberen
onderdelen, aandrijfriemen... (onbeperkte lijst).
- defecten ten gevolge van brand, waterschade, bliksem, ongevallen,
natuurrampen, enz.
- defecten veroorzaakt door opzet, nalatigheid of door een
onoordeelkundige behandeling, slecht onderhoud of abnormaal
gebruik of gebruik van het toestel strijdig met de voorschriften van
de fabrikant.
- schade ten gevolge van een commercieel, professioneel of collectief
gebruik van het apparaat (bij professioneel gebruik wordt de
garantieperiode herleid tot 6 maand).
- schade veroorzaakt door onvoldoende bescherming bij transport
van het apparaat.
- alle schade door wijzigingen, reparaties of modificaties uitgevoerd
®
door derden zonder toestemming van Velleman .
• Toestellen dienen ter reparatie aangeboden te worden bij uw
®
Velleman -verdeler. Het toestel dient vergezeld te zijn van het
oorspronkelijke aankoopbewijs. Zorg voor een degelijke verpakking
(bij voorkeur de originele verpakking) en voeg een duidelijke
foutomschrijving bij.
• Tip: alvorens het toestel voor reparatie aan te bieden, kijk nog
eens na of er geen voor de hand liggende reden is waarom het
toestel niet naar behoren werkt (zie handleiding). Op deze wijze kunt
u kosten en tijd besparen. Denk eraan dat er ook voor niet-defecte
toestellen een kost voor controle aangerekend kan worden.
• Bij reparaties buiten de waarborgperiode zullen transportkosten
aangerekend worden.
• Elke commerciële garantie laat deze rechten onverminderd.
Bovenstaande opsomming kan eventueel aangepast worden
naargelang de aard van het product (zie handleiding van het
betreffende product).
®
Garantie de service et de qualité Velleman
®
Velleman jouit d'une expérience de plus de 35 ans dans le monde
de l'électronique avec une distribution dans plus de 85 pays.
Tous nos produits répondent à des exigences de qualité rigoureuses
et à des dispositions légales en vigueur dans l'UE. Afin de garantir la
qualité, nous soumettons régulièrement nos produits à des contrôles
de qualité supplémentaires, tant par notre propre service qualité que
par un service qualité externe. Dans le cas improbable d'un défaut
malgré toutes les précautions, il est possible d'invoquer notre
garantie (voir les conditions de garantie).
Conditions générales concernant la garantie sur les produits
grand public (pour l'UE) :
• tout produit grand public est garanti 24 mois contre tout vice de
production ou de matériaux à dater du jour d'acquisition effective ;
• si la plainte est justifiée et que la réparation ou le remplacement
d'un article est jugé impossible, ou lorsque les coûts s'avèrent
®
disproportionnés, Velleman s'autorise à remplacer ledit article par
un article équivalent ou à rembourser la totalité ou une partie du prix
d'achat. Le cas échéant, il vous sera consenti un article de
remplacement ou le remboursement complet du prix d'achat lors
d'un défaut dans un délai de 1 an après l'achat et la livraison, ou un
article de remplacement moyennant 50% du prix d'achat ou le
remboursement de 50% du prix d'achat lors d'un défaut après 1 à 2
ans.
• sont par conséquent exclus :
- tout dommage direct ou indirect survenu à l'article après livraison
(p.ex. dommage lié à l'oxydation, choc, chute, poussière, sable,
impureté…) et provoqué par l'appareil, ainsi que son contenu (p.ex.
perte de données) et une indemnisation éventuelle pour perte de
revenus ;
- tout bien de consommation ou accessoire, ou pièce qui nécessite un
remplacement régulier comme p.ex. piles, ampoules, pièces en
caoutchouc, courroies… (liste illimitée) ;
- tout dommage qui résulte d'un incendie, de la foudre, d'un
accident, d'une catastrophe naturelle, etc. ;
- tout dommage provoqué par une négligence, volontaire ou non,
une utilisation ou un entretien incorrect, ou une utilisation de
l'appareil contraire aux prescriptions du fabricant ;
- tout dommage à cause d'une utilisation commerciale,
professionnelle ou collective de l'appareil (la période de garantie sera
réduite à 6 mois lors d'une utilisation professionnelle) ;
- tout dommage à l'appareil qui résulte d'une utilisation incorrecte ou
différente que celle pour laquelle il a été initialement prévu comme
décrit dans la notice ;
- tout dommage engendré par un retour de l'appareil emballé dans
un conditionnement non ou insuffisamment protégé ;
- toute réparation ou modification effectuée par une tierce personne
®
sans l'autorisation explicite de SA Velleman ;
®
- frais de transport de et vers Velleman si l'appareil n'est plus
couvert sous la garantie.
• toute réparation sera fournie par l'endroit de l'achat. L'appareil doit
nécessairement être accompagné du bon d'achat d'origine et être
dûment conditionné (de préférence dans l'emballage d'origine avec
mention du défaut) ;
• conseil : il est conseillé de consulter la notice et de contrôler
câbles, piles, etc. avant de retourner l'appareil. Un appareil retourné
jugé défectueux qui s'avère en bon état de marche pourra faire
l'objet d'une note de frais à charge du consommateur ;
• une réparation effectuée en-dehors de la période de garantie fera
l'objet de frais de transport ;
• toute garantie commerciale ne porte pas atteinte aux conditions
susmentionnées.
La liste susmentionnée peut être sujette à une
complémentation selon le type de l'article et être mentionnée
dans la notice d'emploi.
®
Garantía de servicio y calidad Velleman
®
Velleman disfruta de una experiencia de más de 35 años en el
mundo de la electrónica con una distribución en más de 85 países.
Todos nuestros productos responden a normas de calidad rigurosas y
disposiciones legales vigentes en la UE. Para garantizar la calidad,
sometimos nuestros productos regularmente a controles de calidad
adicionales, tanto por nuestro propio servicio de calidad como por un
servicio de calidad externo. En el caso improbable de que surgieran
problemas a pesar de todas las precauciones, es posible apelar a
nuestra garantía (véase las condiciones de garantía).
Condiciones generales referentes a la garantía sobre
productos de venta al público (para la Unión Europea):
• Todos los productos de venta al público tienen un período de
garantía de 24 meses contra errores de producción o errores en
materiales desde la adquisición original;
• Si la queja está fundada y si la reparación o la sustitución de un
artículo es imposible, o si los gastos son desproporcionados,
®
Velleman autoriza reemplazar el artículo por un artículo equivalente
o reembolsar la totalidad o una parte del precio de compra. En este
caso, recibirá un artículo de recambio o el reembolso completo del
precio de compra al descubrir un defecto hasta un año después de la
compra y la entrega, o un artículo de recambio al 50% del precio de
compra o la sustitución de un 50% del precio de compra al descubrir
un defecto después de 1 a 2 años.
• Por consiguiente, están excluidos entre otras cosas:
- todos los daños causados directamente o indirectamente al aparato
y su contenido después de la entrega (p.ej. por oxidación, choques,
caída,...) y causados por el aparato, al igual que el contenido (p.ej.
pérdida de datos) y una indemnización eventual para falta de
ganancias;
- partes o accesorios que deban ser reemplazados regularmente,
como por ejemplo baterías, lámparas, partes de goma... (lista
ilimitada);
- defectos causados por un incendio, daños causados por el agua,
rayos, accidentes, catástrofes naturales, etc.;
- defectos causados a conciencia, descuido o por malos tratos, un
mantenimiento inapropiado o un uso anormal del aparato contrario a
las instrucciones del fabricante;
- daños causados por un uso comercial, profesional o colectivo del
aparato (el período de garantía se reducirá a 6 meses con uso
profesional);
- daños causados por un uso incorrecto o un uso ajeno al que está
previsto el producto inicialmente como está descrito en el manual del
usuario;
- daños causados por una protección insuficiente al transportar el
aparato.
- daños causados por reparaciones o modificaciones efectuadas por
®
una tercera persona sin la autorización explicita de SA Velleman ;
®
- se calcula gastos de transporte de y a Velleman si el aparato ya
no está cubierto por la garantía.
• Cualquier reparación se efectuará por el lugar de compra. Devuelva
el aparato con la factura de compra original y transpórtelo en un
embalaje sólido (preferentemente el embalaje original). Incluya
también una buena descripción del defecto;
• Consejo: Lea el manual del usuario y controle los cables, las pilas,
etc. antes de devolver el aparato. Si no se encuentra un defecto en
el artículo los gastos podrían correr a cargo del cliente;
• Los gastos de transporte correrán a carga del cliente para una
reparación efectuada fuera del periodo de garantía.
• Cualquier gesto comercial no disminuye estos derechos.
La lista previamente mencionada puede ser adaptada según el
tipo de artículo (véase el manual del usuario del artículo en
cuestión)
®
Velleman Service- und Qualitätsgarantie
®
Velleman hat gut 35 Jahre Erfahrung in der Elektronikwelt und
vertreibt seine Produkte in über 85 Ländern.
Alle Produkte entsprechen den strengen Qualitätsforderungen und
gesetzlichen Anforderungen in der EU. Um die Qualität zu
gewährleisten werden unsere Produkte regelmäßig einer zusätzlichen
Qualitätskontrolle unterworfen, sowohl von unserer eigenen
Qualitätsabteilung als auch von externen spezialisierten
Organisationen. Sollten, trotz aller Vorsichtsmaßnahmen, Probleme
auftreten, nehmen Sie bitte die Garantie in Anspruch (siehe
Garantiebedingungen).
Allgemeine Garantiebedingungen in Bezug auf Konsumgüter
(für die Europäische Union):
• Alle Produkte haben für Material- oder Herstellungsfehler eine
Garantieperiode von 24 Monaten ab Verkaufsdatum.
• Wenn die Klage berechtigt ist und falls eine kostenlose Reparatur
oder ein Austausch des Gerätes unmöglicht ist, oder wenn die Kosten
dafür unverhältnismäßig sind, kann Velleman® sich darüber
entscheiden, dieses Produkt durch ein gleiches Produkt zu ersetzen
oder die Kaufsumme ganz oder teilweise zurückzuzahlen. In diesem
Fall erhalten Sie ein Ersatzprodukt oder eine Rückzahlung im Werte
von 100% der Kaufsumme im Falle eines Defektes bis zu 1 Jahr nach
Kauf oder Lieferung, oder Sie bekommen ein Ersatzprodukt im Werte
von 50% der Kaufsumme oder eine Rückzahlung im Werte von 50 %
im Falle eines Defektes im zweiten Jahr.
• Von der Garantie ausgeschlossen sind:
- alle direkten oder indirekten Schäden, die nach Lieferung am Gerät
und durch das Gerät verursacht werden (z.B. Oxidation, Stöße, Fall,
Staub, Schmutz, Feuchtigkeit, ...), sowie auch der Inhalt (z.B.
Datenverlust), Entschädigung für eventuellen Gewinnausfall.
- Verbrauchsgüter, Teile oder Zubehörteile, die regelmäßig
ausgewechselt werden, wie z.B. Batterien, Lampen, Gummiteile,
Treibriemen, usw. (unbeschränkte Liste).
- Schäden verursacht durch Brandschaden, Wasserschaden, Blitz,
Unfälle, Naturkatastrophen, usw.
- Schäden verursacht durch absichtliche, nachlässige oder
unsachgemäße Anwendung, schlechte Wartung, zweckentfremdete
Anwendung oder Nichtbeachtung von Benutzerhinweisen in der
Bedienungsanleitung.
- Schäden infolge einer kommerziellen, professionellen oder
kollektiven Anwendung des Gerätes (bei gewerblicher Anwendung
wird die Garantieperiode auf 6 Monate zurückgeführt).
- Schäden verursacht durch eine unsachgemäße Verpackung und
unsachgemäßen Transport des Gerätes.
- alle Schäden verursacht durch unautorisierte Änderungen,
Reparaturen oder Modifikationen, die von einem Dritten ohne
®
Erlaubnis von Velleman vorgenommen werden.
®
• Im Fall einer Reparatur, wenden Sie sich an Ihren Velleman Verteiler. Legen Sie das Produkt ordnungsgemäß verpackt
(vorzugsweise die Originalverpackung) und mit dem OriginalKaufbeleg vor. Fügen Sie eine deutliche Fehlerumschreibung hinzu.
• Hinweis: Um Kosten und Zeit zu sparen, lesen Sie die
Bedienungsanleitung nochmals und überprüfen Sie, ob es keinen auf
de Hand liegenden Grund gibt, ehe Sie das Gerät zur Reparatur
zurückschicken. Stellt sich bei der Überprüfung des Geräts heraus,
dass kein Geräteschaden vorliegt, könnte dem Kunden eine
Untersuchungspauschale berechnet.
• Für Reparaturen nach Ablauf der Garantiefrist werden
Transportkosten berechnet.
• Jede kommerzielle Garantie lässt diese Rechte unberührt.
Die oben stehende Aufzählung kann eventuell angepasst
werden gemäß der Art des Produktes (siehe
Bedienungsanleitung des Gerätes).